Product Design 'Cleans Up' and Office Hygiene Gets a Boost
January 10, 2022 | By Scott Star
Right before we started working from home in March 2020, my office distributed a bottle of hand sanitizer and a container of disinfecting wipes to every employee. I remember thinking two things: "Very thoughtful" and "We're never going to clean our way out of this one."
Months into the pandemic, science confirmed that COVID-19 is largely an airborne illness, but even though transmission through contaminated surfaces is less likely, it's still possible, and this appears to be impacting peoples' perceptions of the workplace and their willingness to return.
In November 2021, Gensler conducted a research survey to better understand U.S. workers' attitudes toward office hygiene. While 44.8% of the 1,031 survey respondents were moderately-to-extremely concerned about contracting COVID in their companies' offices from respiratory droplets or aerosols, an almost equal number of respondents (42.9%) were concerned about contracting the disease from contaminated surfaces.
The upshot is that for most workers, COVID-related office hygiene and cleaning protocols are playing a role in their decision to go back to the office instead of continuing to work from home, with 47.7% moderately-to-extremely influenced by their impressions.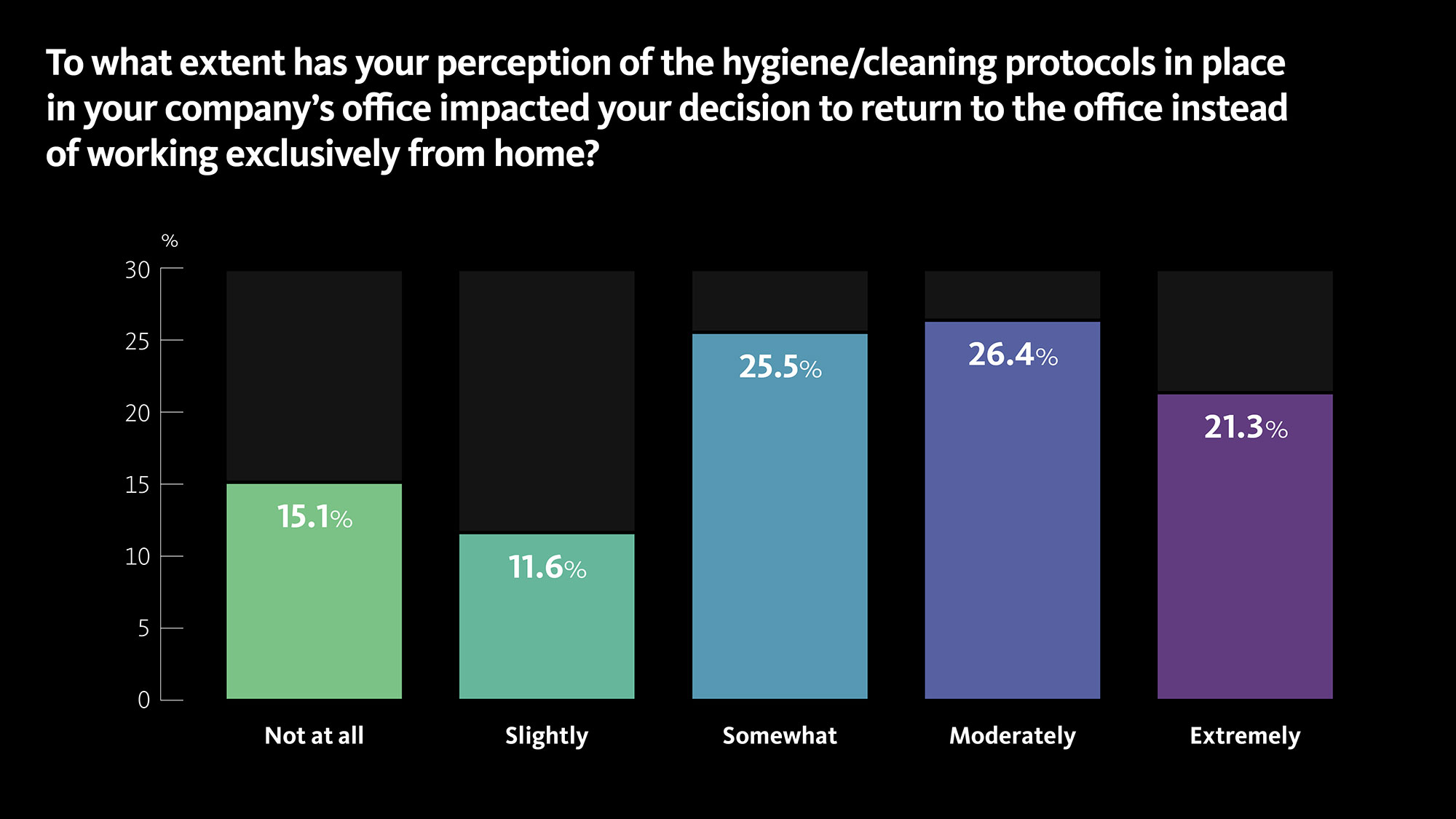 Cold and flu viruses and bacterial infections are also perceived as threats. Right now, fewer office workers regard them with the same level of concern as SARS-CoV-2, even though they've been with us for far longer, but the numbers are significant and expected to endure.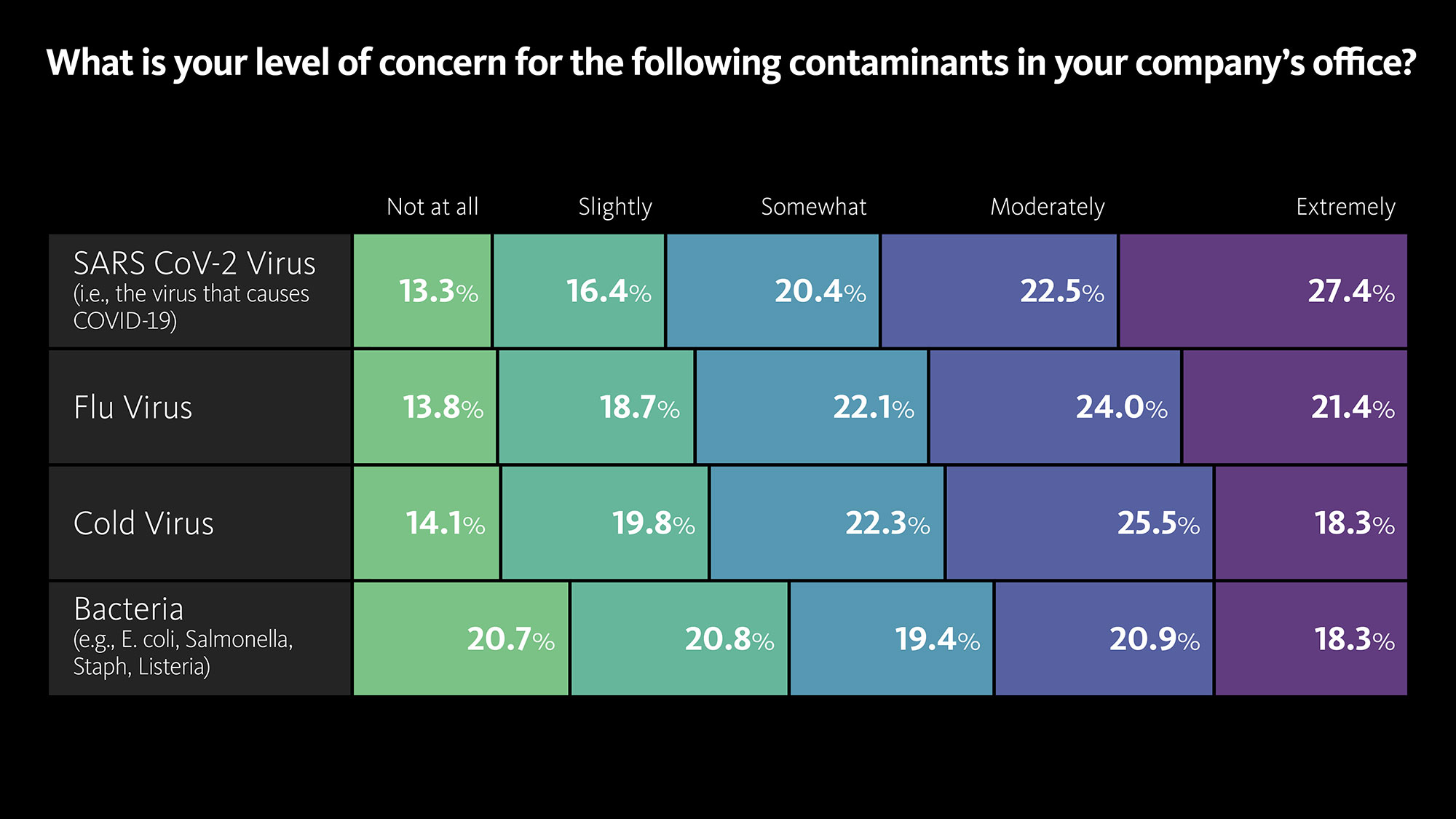 So, what are workers doing to keep things clean when they're in the office? Apparently, a lot. Our research indicates that, on average, they're washing their hands with soap and water and applying hand sanitizer more than six times per day, each. They're also tearing through the disinfecting wipes, using them four to five times per day on their work surfaces and computer peripherals.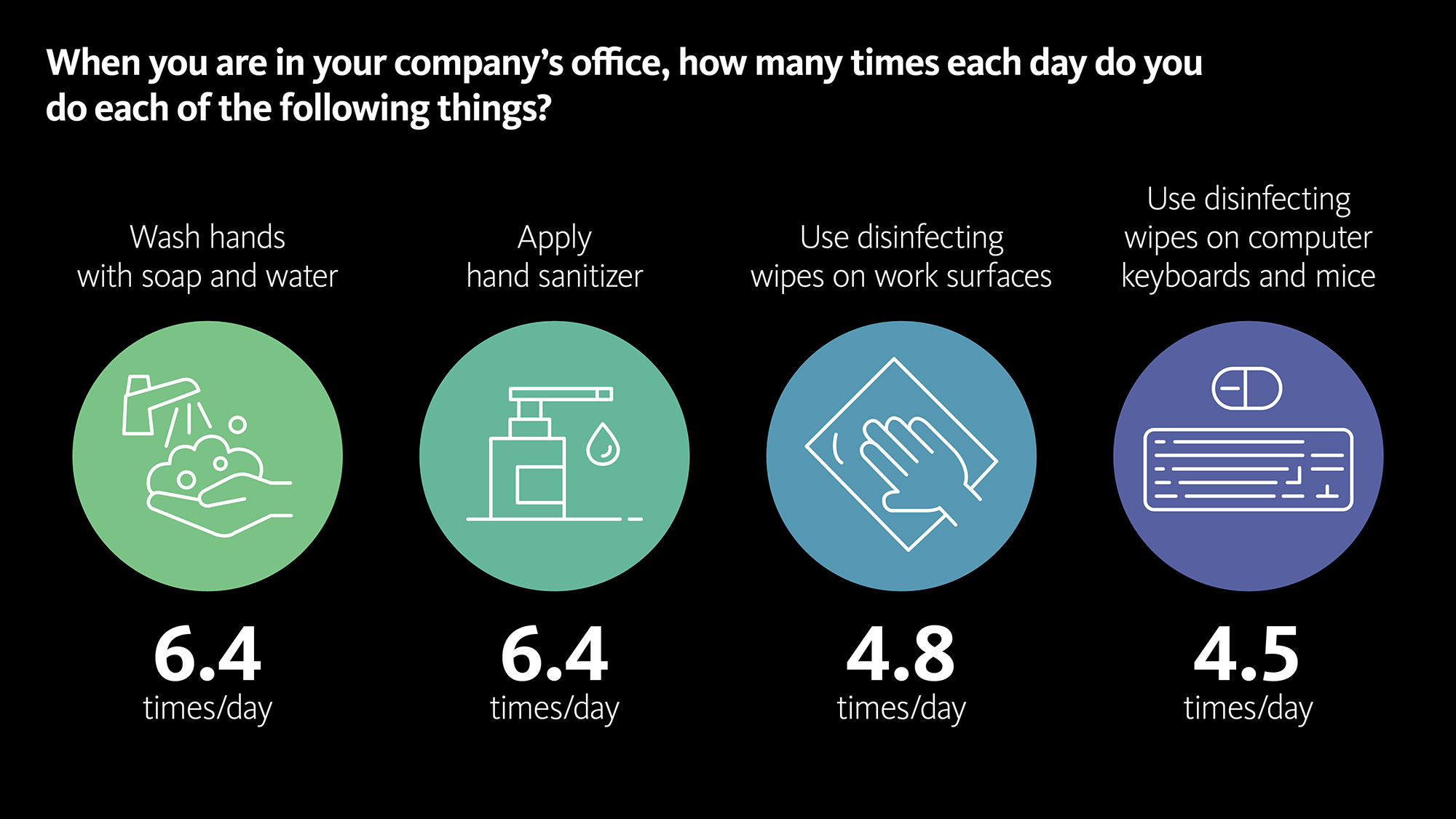 Workers' manual cleaning procedures will remain critical, at least for the time being, but why put all the burden on the staff and maintenance crew? Why can't office hygiene be more automated and better integrated into the workplace itself?
Product design for a more hygienic workplace
At the same time employees have been keeping their mitts and immediate work areas less germy, Gensler's Product Development practice has embarked on a range of initiatives to help organizations take office hygiene to the next level. With COVID-19 likely to become endemic, and the nervousness surrounding infectious disease predicted to continue, products like these were conceived as part of a long-term solution for making workplace hygiene programs more effective and employees more comfortable in returning to the office.
UV-Free Antimicrobial Lighting
Based on patented technology, these spec grade linear pendant and recessed slot fixtures emit a specific wavelength of visible, UV-free light — 405 nanometer light to be exact — that's highly effective against the pathogens that proliferate on desks, keyboards, tables, countertops, vanities, toilet seats, door handles, and everywhere in between. Unlike UV spectrum light, 405 nanometer light meets the International Electrotechnical Commission's (IEC) standards for continuous, unrestricted use around people, pets, and plants. It delivers crisp, comfortable, white task and ambient illumination while supplementing conventional cleaning and disinfection methods to provide a more sanitary environment for employees and guests. And an optional violet light mode — controlled by a manual switch, sensor, preset, or timer — delivers enhanced UV-free antimicrobial action during off hours and periods of vacancy.
UV-FREE ANTIMICROBIAL LIGHTING
SLIDESHOW — 3 IMAGES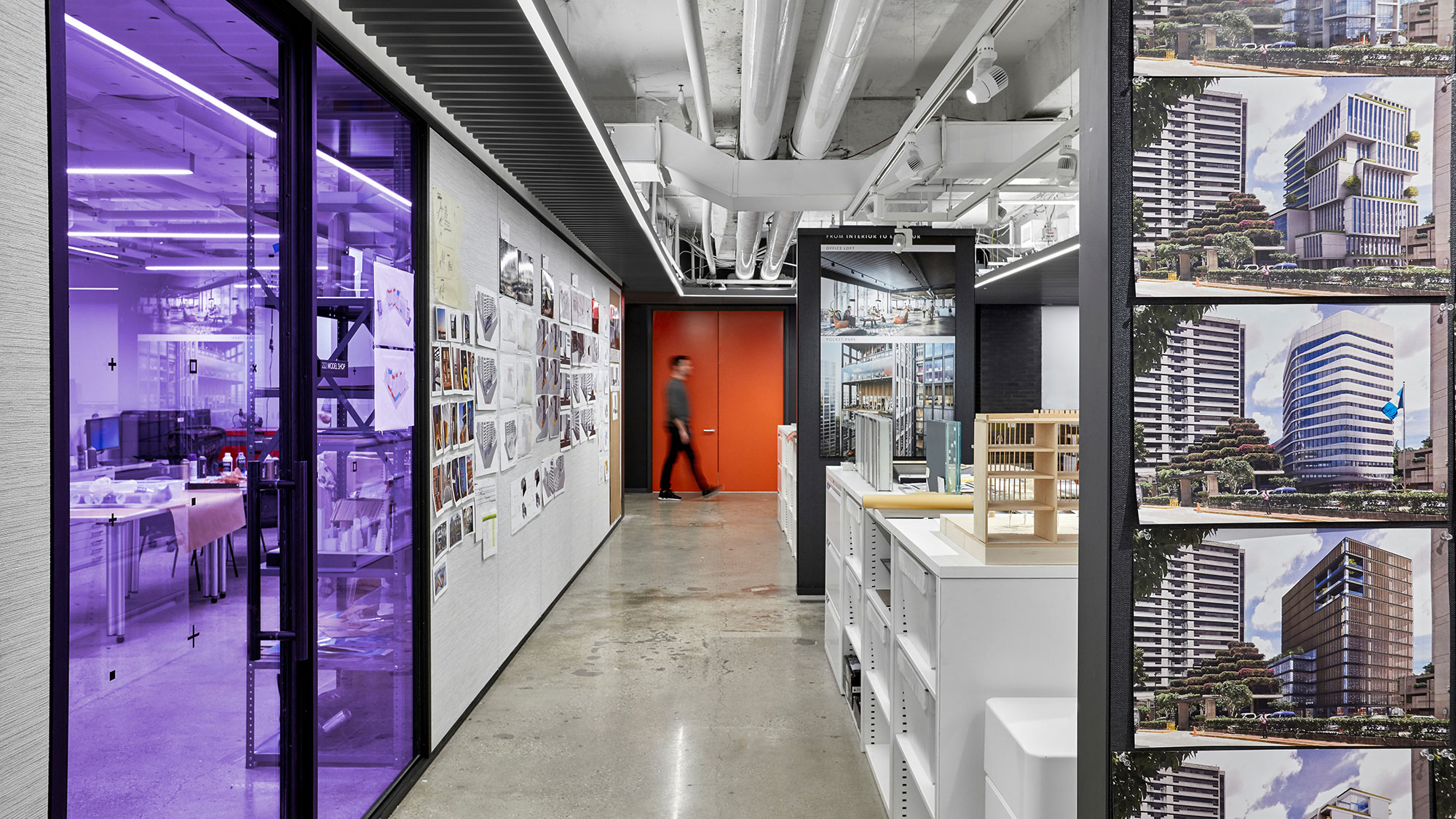 Antimicrobial Hardware
Nearly 59% of survey respondents (58.6%) have a moderately-to-extremely favorable perception of applying antimicrobial coatings and/or additives to the things we touch. For one of the hottest hot spots — the office bathroom — there's now a comprehensive range of stainless steel accessories that can be specified with optional antimicrobial protection in the form of a transparent, white, or black finish. Highly durable and easy to maintain, these surface treatments are especially relevant for the most hands-on items, such as toilet stall grab bars.
And the same antimicrobial coatings can be applied to millwork pulls, making peoples' interactions with custom furniture, cabinetry, and closets more hygienic. Like the bathroom accessories, they're designed to meet the ADA accessibility requirements, so they help create an environment that's not only cleaner, but one that's also more inclusive.
ANTIMICROBIAL HARDWARE
SLIDESHOW — 3 IMAGES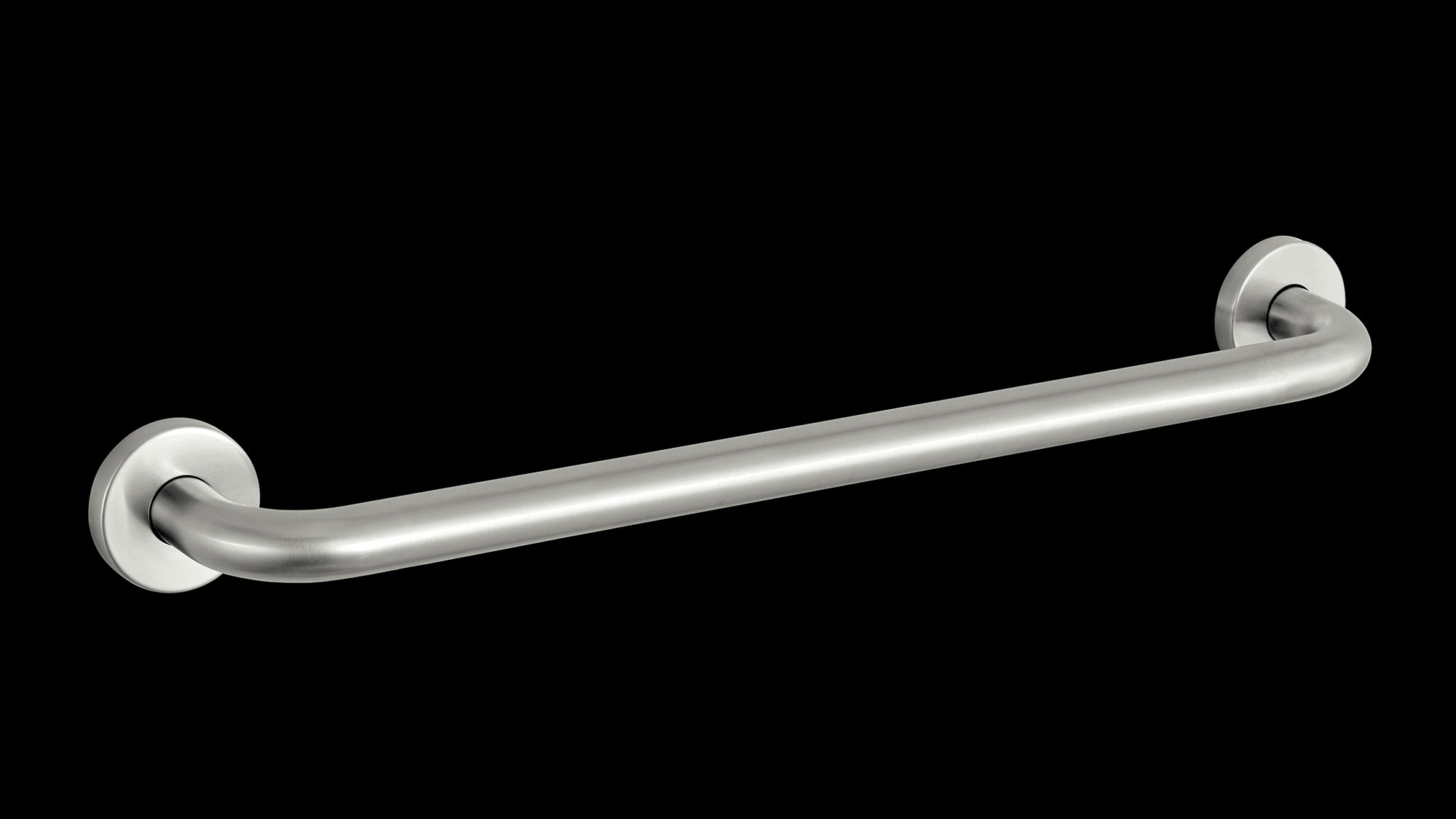 Copper Hardware
Copper has long been touted as a natural antimicrobial, with ancient civilizations benefiting from its properties well before microbiologists identified the germs it combats. The Egyptians, Greeks, Romans, and Aztecs all used the metal for good hygiene and to treat disease, and bacteria-ridden water has been purified in copper vessels for millennia.
Millwork pulls and bathroom accessories were recently introduced with copper finishes, where an alloy of 97% pure, uncoated copper is applied over steel to create an EPA-registered, always-on defense against a host of harmful contaminants. All meet the ADA accessibility requirements, and all add a rich, warm look to serial touchpoints in offices, as well as healthcare and hospitality environments.
COPPER HARDWARE
SLIDESHOW — 3 IMAGES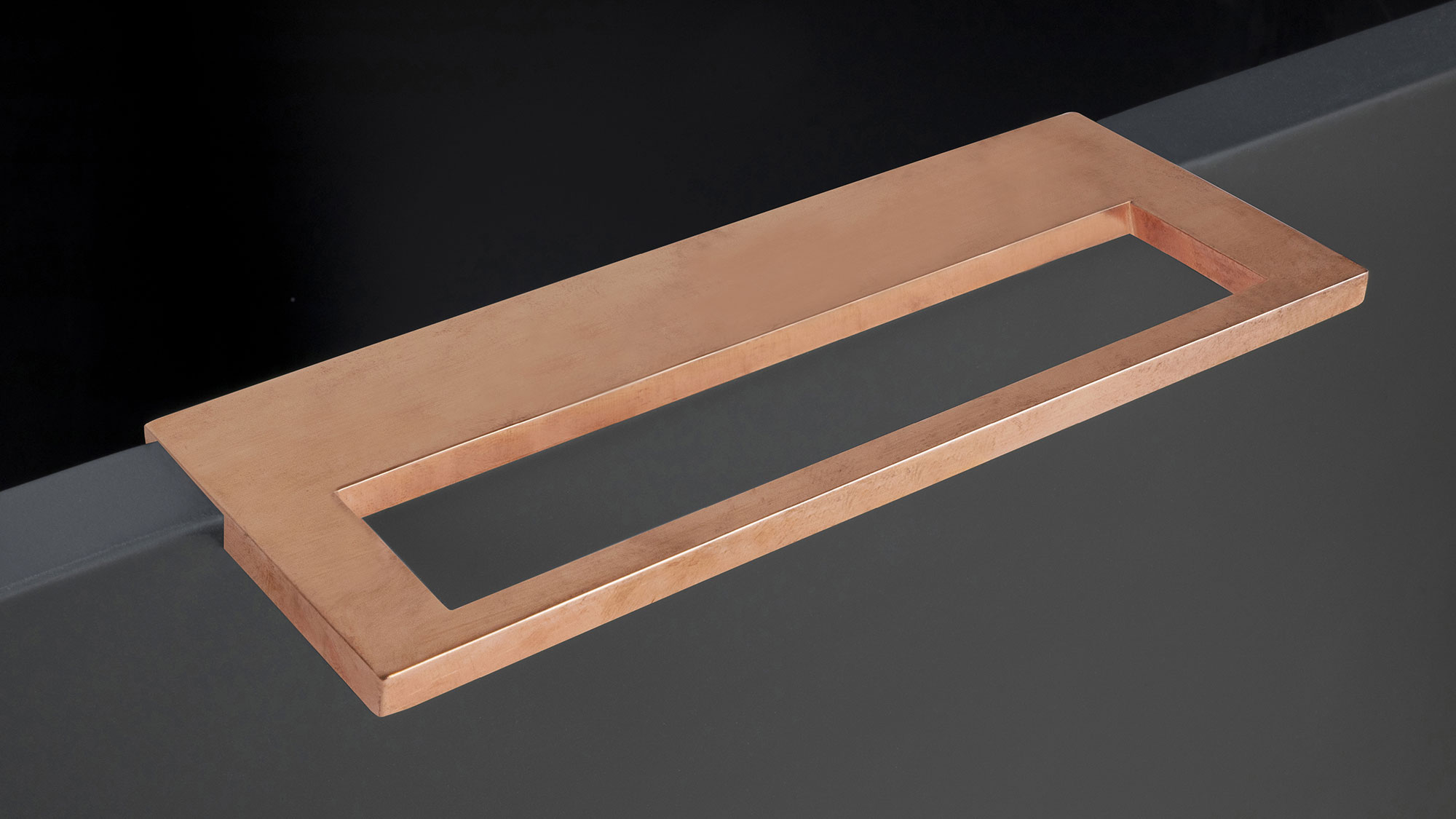 Hands-Free Door Pulls
Since the pandemic began, and touchless interface became an imperative, one of the most frequent requests from Gensler's interiors teams and clients has been for well-designed hands-free door pulls — hardware that allows users to enter and exit with their wrists, forearms, and elbows instead of their fingers and palms. So, it wasn't surprising to see hands-free hardware and equipment receiving some of the highest favorability ratings in our survey, with 69.1% of respondents moderately-to-extremely "thumbs-up" for their use.
A new collection of 13 geometric and gestural options addresses the need, and all are available in finishes to suit an extensive range of tastes and spaces. ADA compliant and mountable to metal, wood, and glass doors, they're the new threshold to a smarter, more inclusive, more hygienic built environment.
HANDS-FREE DOOR PULLS
SLIDESHOW — 3 IMAGES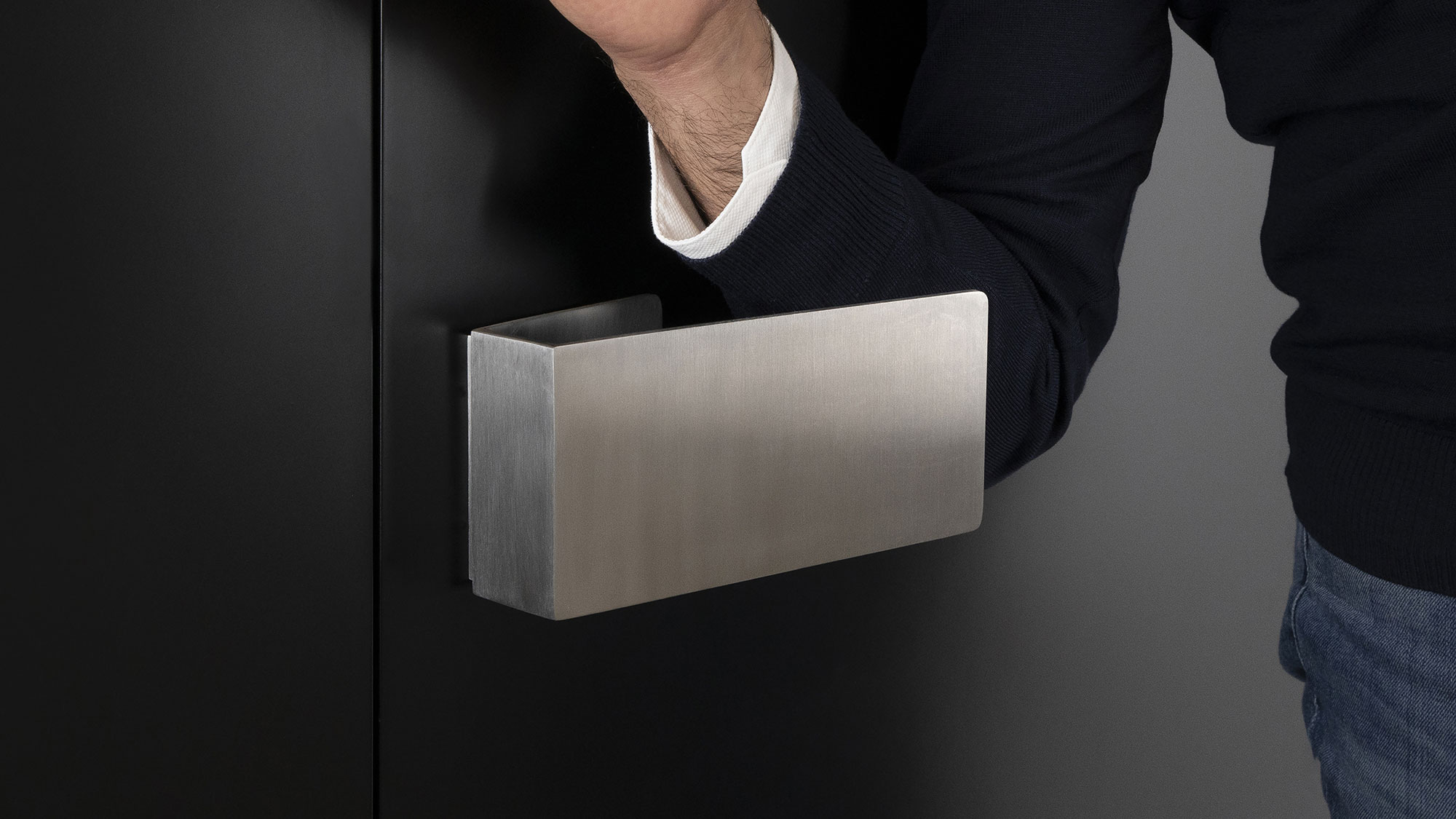 Hand Sanitizer Covers
You can safeguard against the proliferation of germs from the plenum to the elevator pit, but CDC guidelines and workers' hard-learned habits are bound to keep the hand sanitizer flowing. Still, who wants the office looking like a Walgreens? And aren't we tired of staring at all the plastic dispensers bobbling on poles and hanging off walls — a constant reminder of something none of us can wait to forget?
Cleverly conceived hand sanitizer covers demonstrate how a little ingenuity can make hand hygiene a lot more attractive, elevating the appearance of the workplace and all public-facing spaces. Suitable for office, hospitality, retail, education, healthcare, and aviation applications, these freestanding, wall-mounted, and countertop units are engineered from high-grade stainless steel and accept motion-activated hand sanitizer dispensers from multiple manufacturers. They're a beautifully minimal design solution — there but not there — and also easy to use and maintain.
HAND SANITIZER COVERS
SLIDESHOW — 3 IMAGES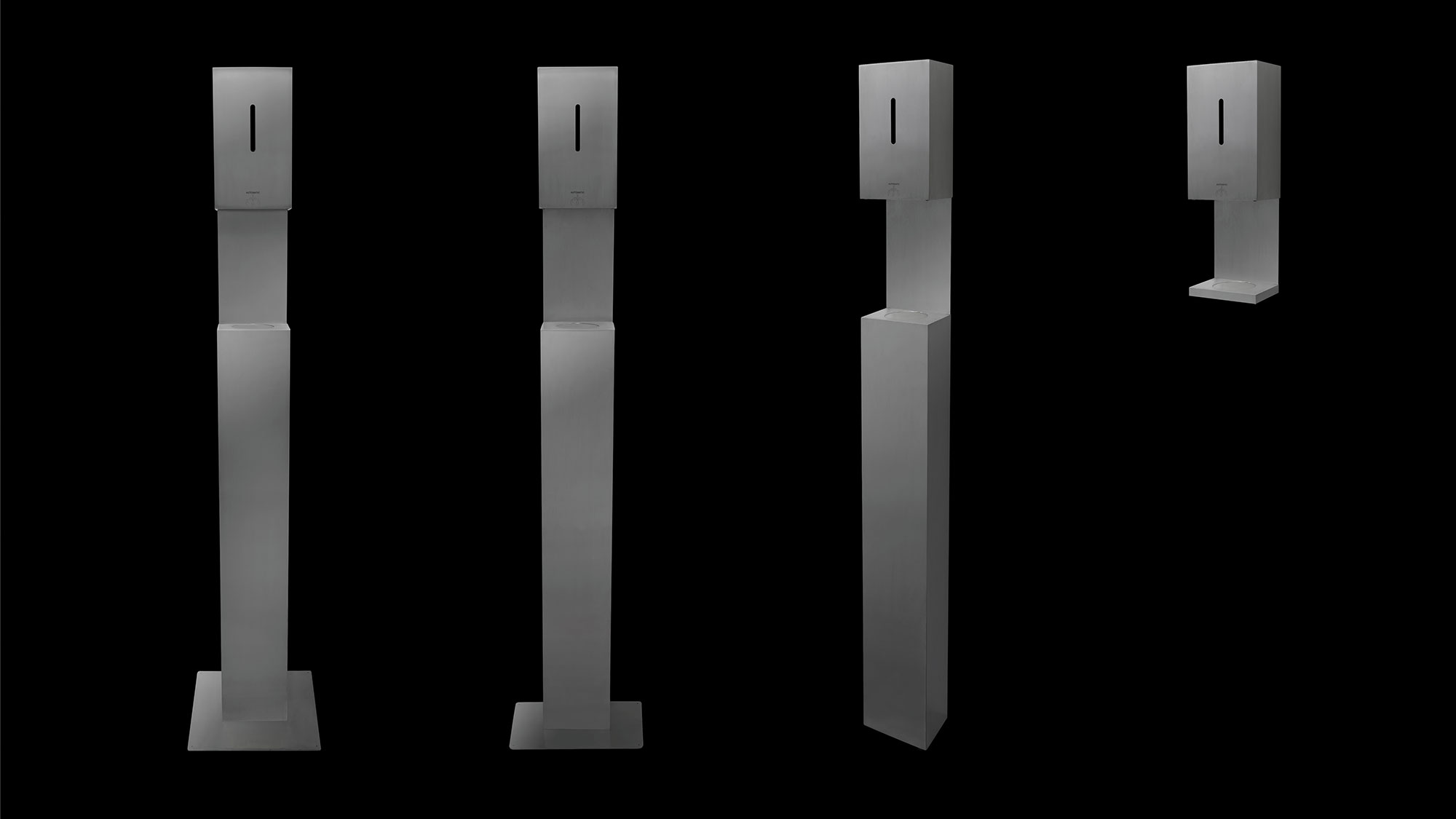 Why stop now?
The good news is that most offices appear to be doing a decent job with their cleaning protocols, since 61.7% of survey respondents are moderately-to-extremely satisfied with the procedures already in place. But why stop now? With employees firmly believing that office hygiene is important for office comfort and office enjoyment, there's always room for improvement.
Click here for more information on UV-Free Antimicrobial Lighting
Click here for more information on Antimicrobial Bathroom Accessories
Click here for more information on Antimicrobial Millwork Pulls
Click here for more information on Copper Bathroom Accessories
Click here for more information on Copper Millwork Pulls
Click here for more information on Hands-Free Door Pulls
Click here for more information on Hand Sanitizer Covers
NOTE: The products described in this blog are intended to supplement, not replace, conventional cleaning and disinfection methods.
To learn more about the complete study, please contact Scott Star at .
For media inquiries, email .