Product Design With the World in Mind: Just What the Doctor Ordered
March 18, 2022 | By Scott Star and David Briefel
Continuing with a challenge Gensler set at the United Nations Climate Summit in 2019, the firm has established a goal to achieve net zero carbon emissions in its project portfolio by 2030. And this is more than just an internal objective. It is also a rallying cry to the entire A&D community, our architecture and interiors clients, and vendors across all associated industries.
To achieve net zero, Gensler is focused on minimizing two primary sources of CO2 emissions: emissions related to using buildings — the operating carbon — and emissions related to making buildings — the embodied carbon. Embodied carbon, specifically, includes the equivalent CO2 emissions generated through the creation of building materials and all of the products that make spaces more functional and attractive.
As one of the largest specifiers of furniture, fixtures, and equipment (FF&E), and aware of our objective, many of Gensler's product design clients have started asking for our reporting requirements for embodied carbon so they, as manufacturers, can be more responsive to the needs of our architecture and interiors projects. The first step in reducing embodied carbon is knowing where you stand, and the right documentation will not only provide the numbers we need to help meet our goal but can also serve as a jumping-off point for a producer's own carbon reduction initiatives.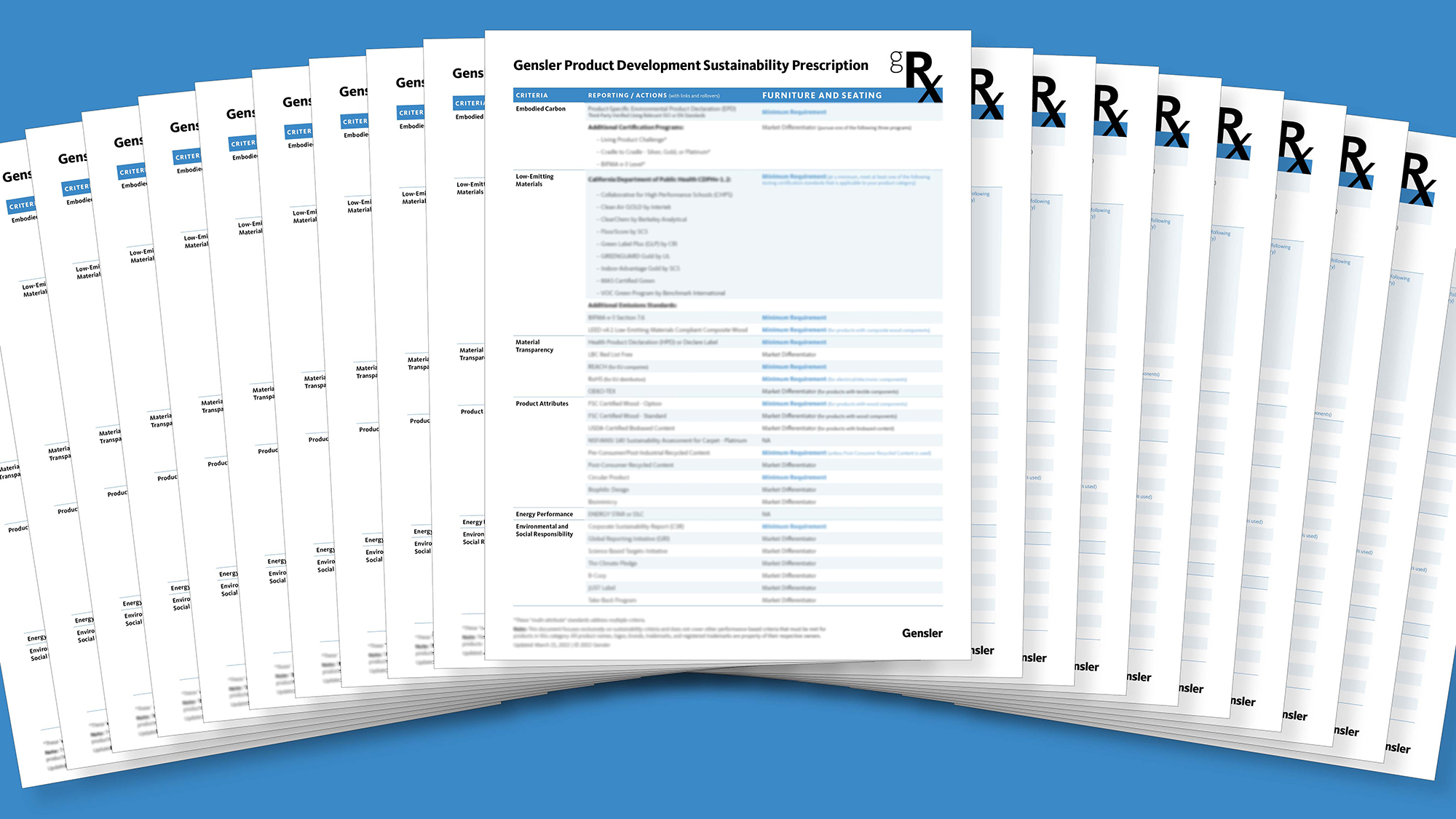 To bring direction and clarity to this inquiry, Gensler's New York Product Development and Design Resilience leaders have teamed up to prepare a series of 20 category-specific prescriptions detailing our preferred reporting format for embodied carbon (a product-specific Environmental Product Declaration), as well as other sustainability credentials that are becoming increasingly more important in the firm's evaluation and specification process. There are prescriptions for furniture and seating, demountable partitions, lockers, carpet, wood flooring, porcelain and ceramic tile, toilet partitions, washroom accessories, and the list goes on and on.
In creating the program, we previewed the prescription template to multiple vendors — including leaders in the furniture, flooring, and lighting industries — to confirm its practicality and to fine-tune its interpretability. And what we arrived at is a list of detailed recommendations that clearly delineate baseline requirements and programs that can be pursued to take a product above and beyond.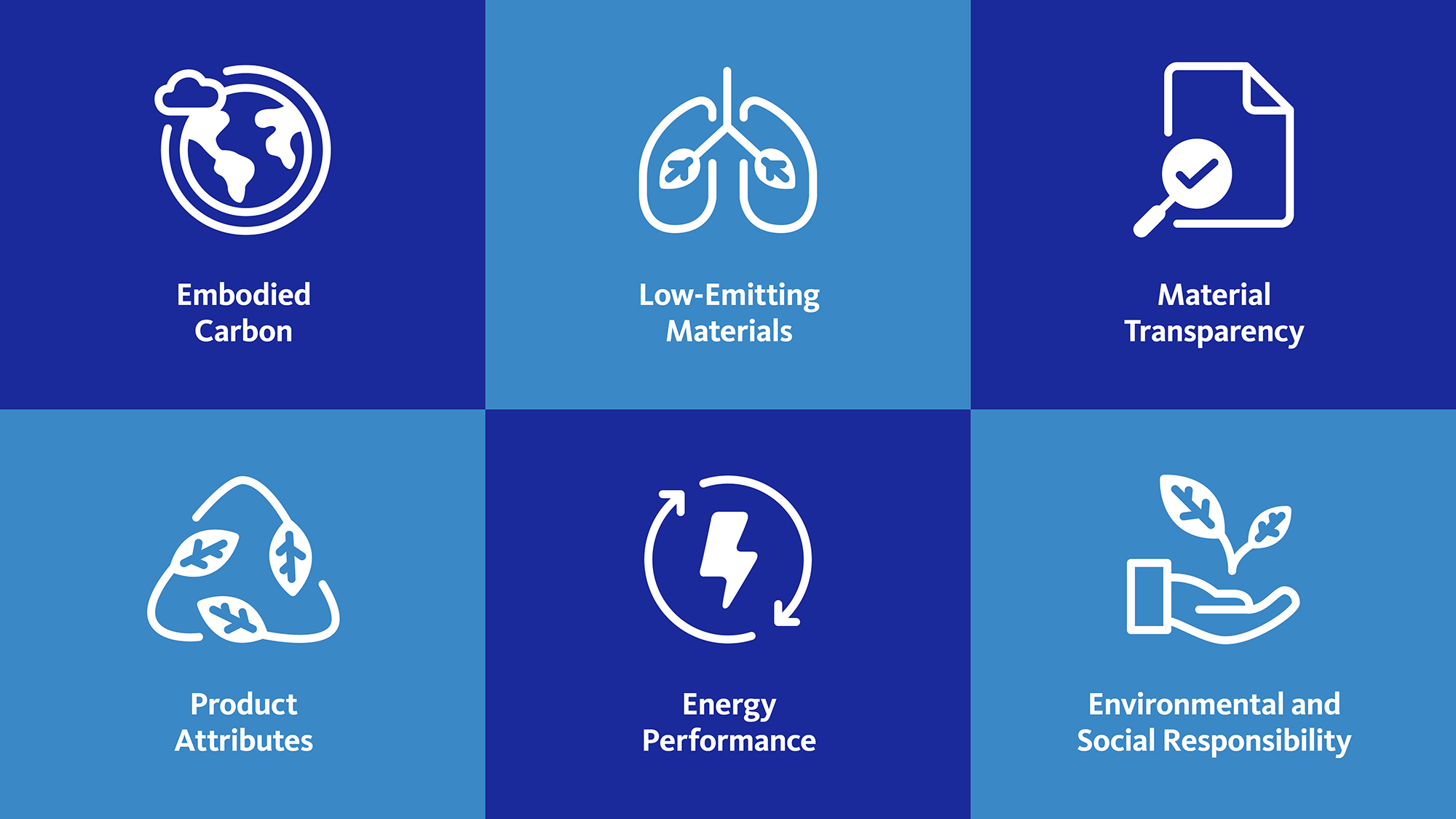 Each prescription is organized into six sections or criteria: 1) embodied carbon; 2) low-emitting materials; 3) material transparency; 4) product attributes; 5) energy performance; and 6) environmental and social responsibility. The relevant reporting and actions are noted with "Minimum Requirement," for what we feel are must-haves, and "Market Differentiator," where we believe a company can achieve a definitive competitive edge.

While many of our recommendations are similar from product category to product category, each prescription has its own nuances, making this type of prepackaged approach especially powerful. It allows Gensler to communicate its aspirations in a tailored yet efficient and consistent manner, and it gives our product design partners what they're after: a roadmap for aligning a product's sustainability profile with the evolving expectations of the market.
To learn more about Gensler's Product Development Sustainability Prescriptions, please contact .
For media inquiries, email .