How the EveryFan Journey Drives Engagement in Stadium Design
August 22, 2023 | By Ryan Sickman, Andrew Jacobs, Michelle DeCurtis
Editor's note: This is the third entry in a four-part series from the Gensler Research Institute reporting on our 2023 Sports Experience Survey. Click here to read part one and click here to read part two.
In today's sports and entertainment landscape, the venue experience is no longer solely about the event itself. It is intrinsically connected to the fan journey. Whether a fan holds a premium VIP ticket or a general admission pass, their engagement throughout the stadium plays a crucial role in their overall experience.
At Gensler, we have developed the EveryFan Journey, a new methodology that explores targeted improvements to enhance the stadium experience for fans at all levels. Think of it as a universal approach to creating an elevated experience for every type of guest. Through our research-driven approach, we identified five key tenets of the journey: Plant a SEAD, Celebrate Arrival, Reward Exploration, Connect with Content, and Amplify the Social Experience. By focusing on these principles, we can extend a venue's usable life and connect it with fans on a meaningful level.
Plant a SEAD (Sports Entertainment Anchored District)
Traditionally, large assembly venues were solely focused on the event happening within their walls. The area surrounding the venue was merely a threshold that visitors had to cross before entering. However, the results of our 2023 Sports Experience Survey show that fans have a strong desire to have new experiences at the event long before actually being "at the game." In fact, 33% of fans believe that having restaurants and bars in close proximity is an important experiential factor in attending a game or event. This includes opportunities for enhanced socializing with friends and family, regardless of whether they are seated together. Couple this with the data found in our 2022 survey that indicated that 70% of avid fans and 57% of average fans expect to have a variety of other things to do while at the event. This is vital to creating experiences for the entirety of the fan base at our venues.
Sports and Entertainment Anchored Districts, also known as SEADs, have emerged as a solution to address this desire. SEADs are mixed-use developments with a unifying theme that creates brand engagement on game day and beyond. Examples such as The Star in Frisco, Texas; The Battery in Atlanta; and The Hub on Causeway in Boston demonstrate how SEADs engage fans even before they enter the venue, extending the fan experience beyond the athletic event they've come to watch.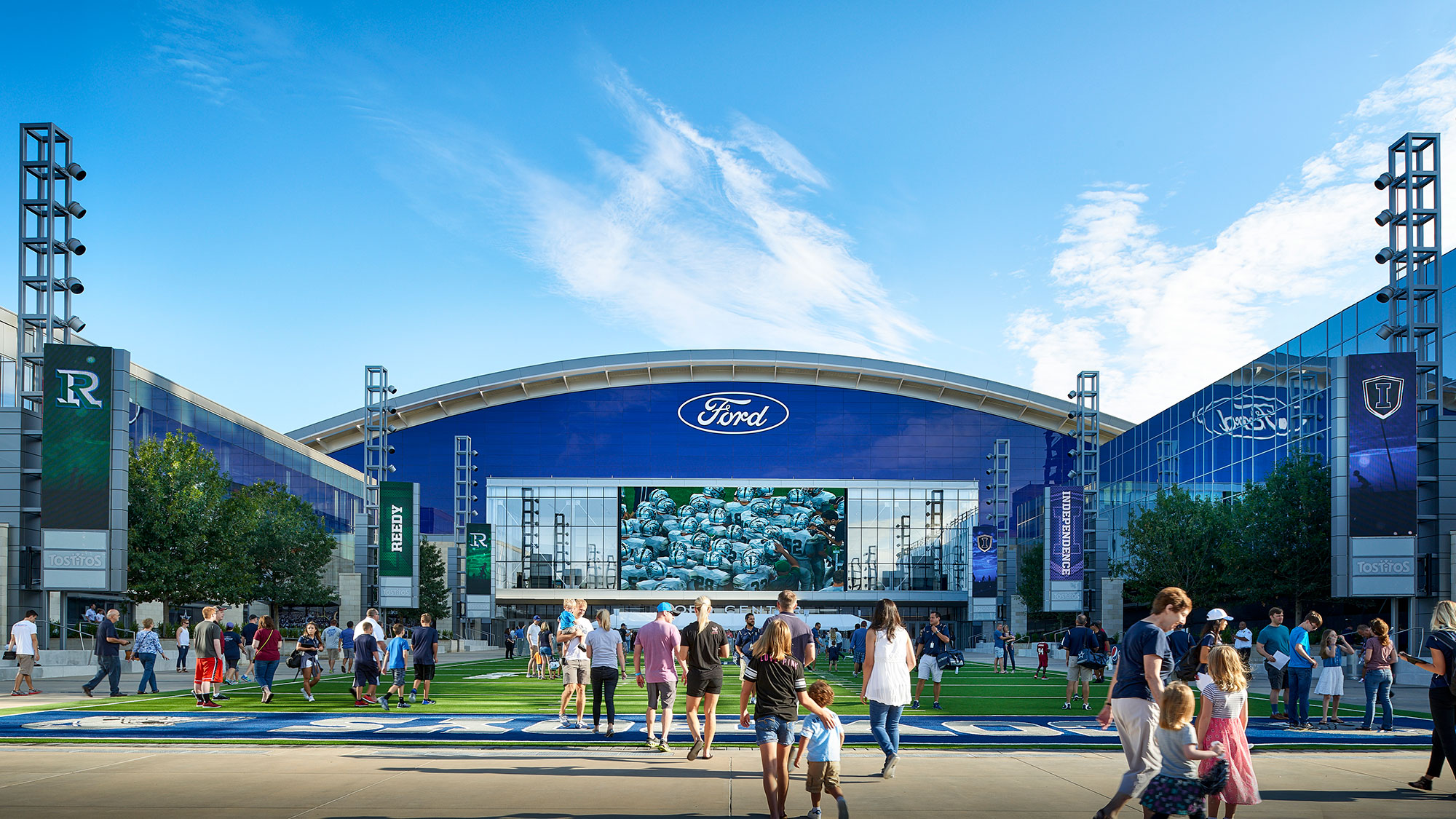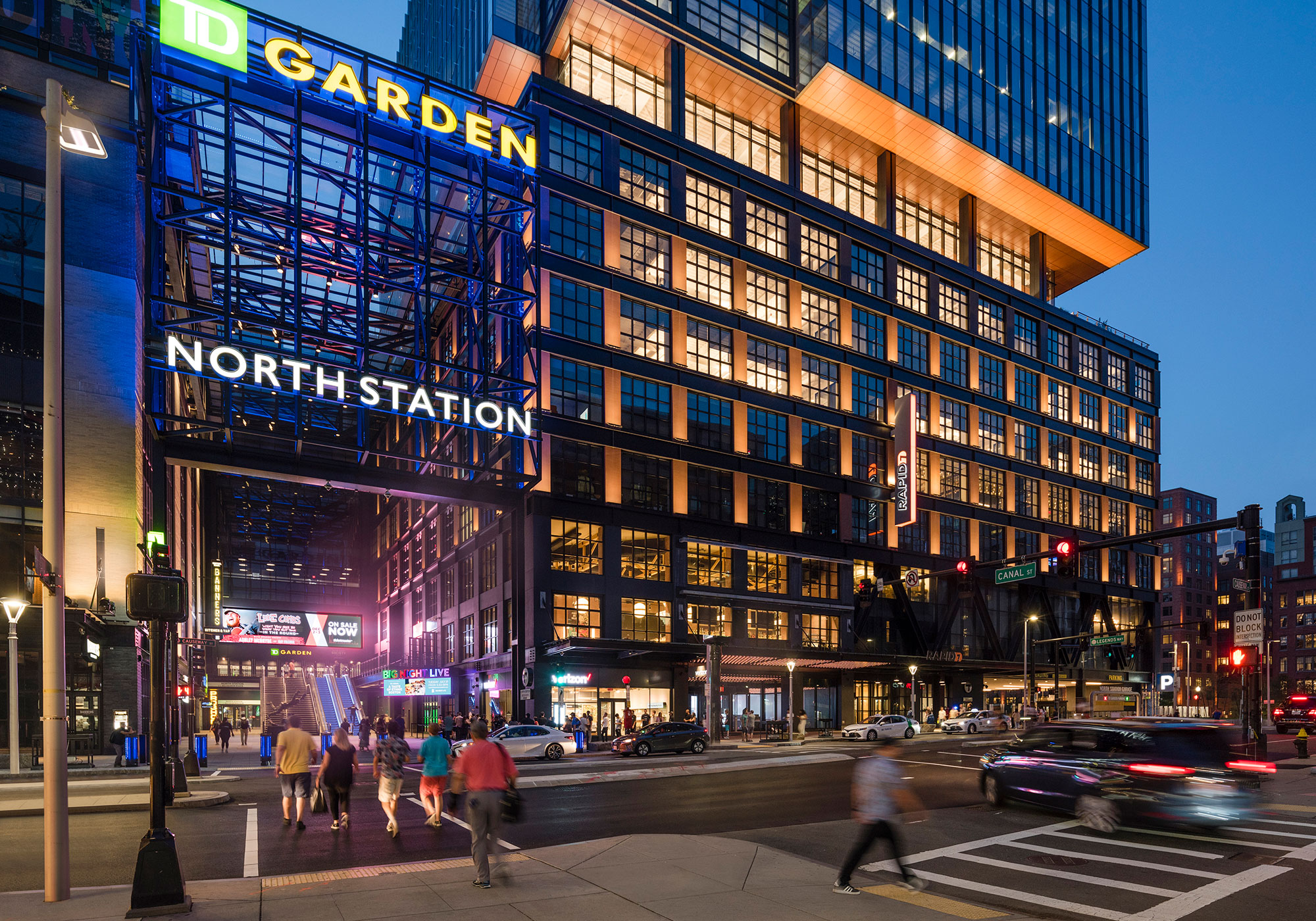 Celebrate Arrival
The arrival experience sets the tone for the entire visit, and every guest deserves to feel welcomed and included, regardless of their ticket type. Our survey results have shown that the arrival experience strongly influences the overall perception of a venue. In fact, survey respondents reported high levels of satisfaction when asked about ability to locate their gate or seat (74%), ease of navigation (73%), and entry experience (69%). This means that different ticket types might require different attributes to create a positive experience as fans arrive. For the EveryFan, this could be as simple as utilizing new technology to ensure a seamless entry process, including streamlined security and ticketing.
Our survey also confirmed that digital interactions on game day are widespread, with 84% of attendees reporting they used some form of technology or digital means. The most common interactions were the use of mobile ticketing and social media engagement, followed by digital food ordering, contactless payments, and use of a digital directory or map. These point to the current dominant use of technology for the sake of convenience, seamlessness, and social engagement.
However, the arrival experience also presents an opportunity to leverage the building architecture to create a sense of wonder and engagement. Rocket Mortgage Fieldhouse in Cleveland, for instance, transformed its lobby to create a performative facade that changes colors and integrates video, offering a fan engagement moment as guests approach the venue. This "last mile" approach underscores the power of architecture to contribute to fans' anticipation and excitement.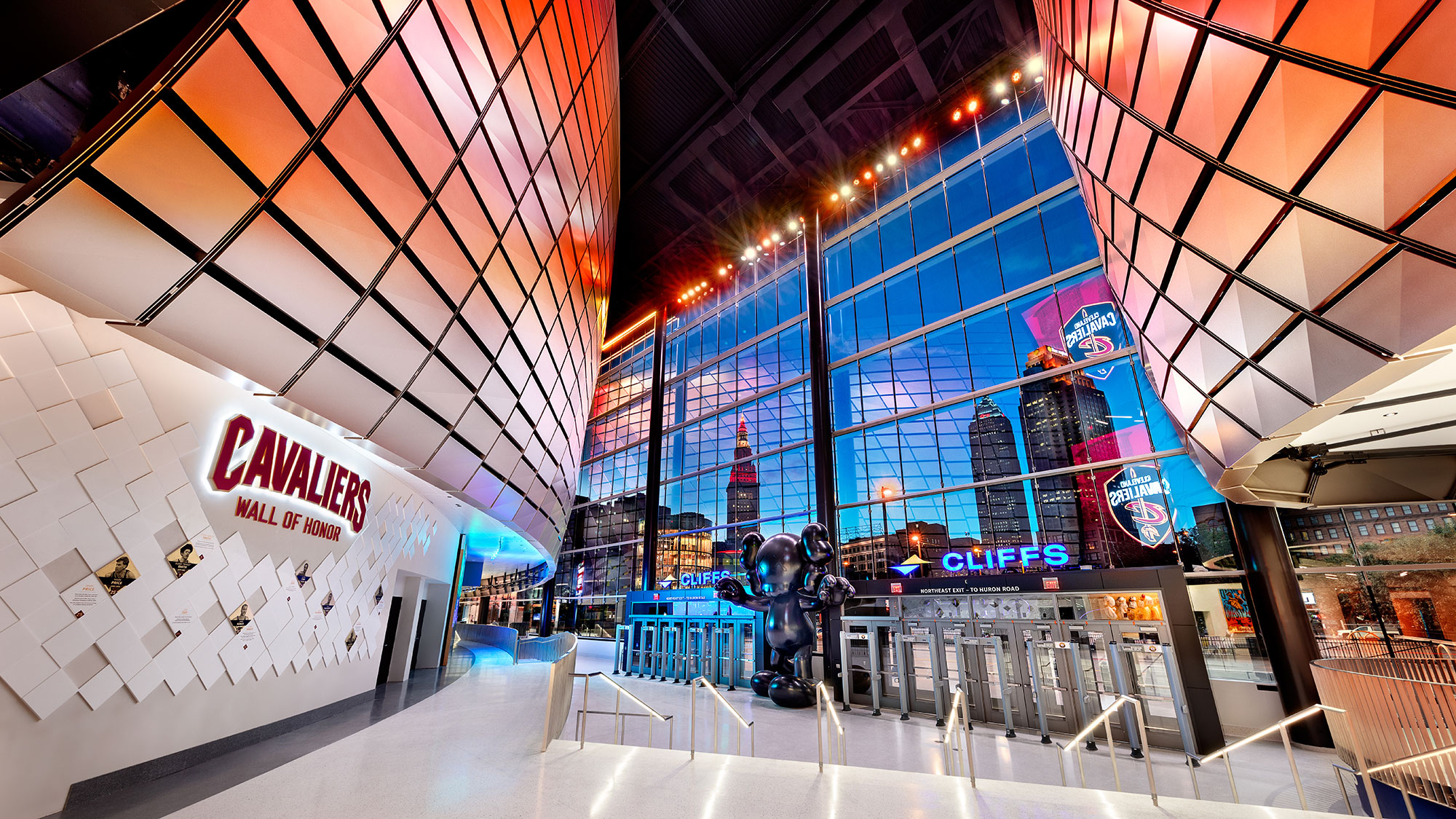 Reward Exploration
Our research also indicates that, once fans are inside the venue, they utilize the concourse to socialize and meet new people, with a significant 61% of respondents agreeing that the stadium/arena is a great place to meet new people. Additionally, 75% say venue fosters community among fellow fans and attendees. This finding highlights the need for easily identifiable landmarks, social hubs, and other brand engagement opportunities throughout the stadium. The venue should encourage exploration by offering unique experiences and anchor bars that are accessible to all ticket holders. For example, Mercedes-Benz Stadium in Atlanta provides a successful example of this with its 200 Level, where fans can enjoy engaging neighborhood bars to socialize and connect with the partner brands.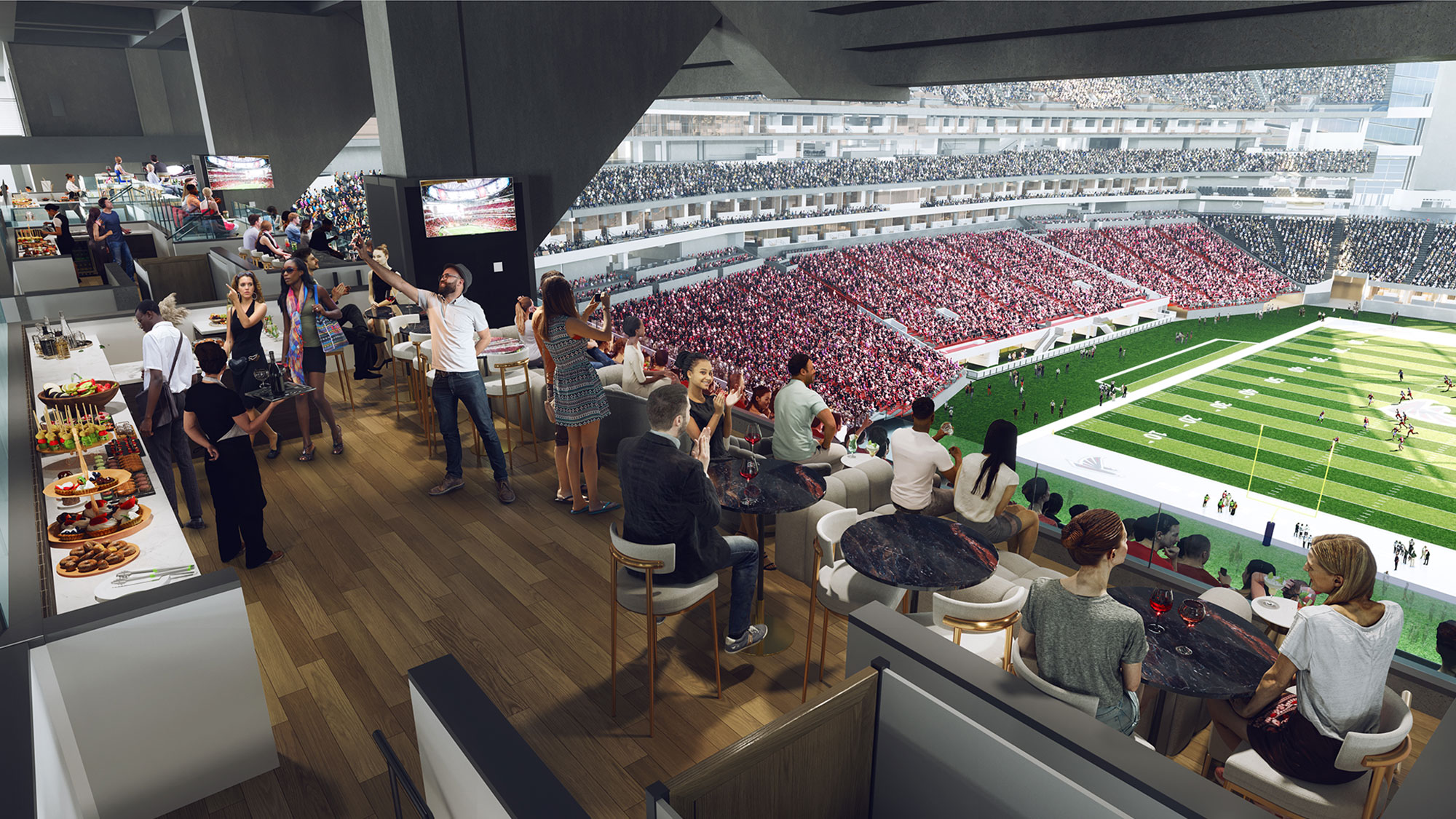 Connect to Content
The heart of any venue is the athletic contest and the players who bring excitement to the game. So, establishing a strong connection between fans and the various forms of content is paramount for the EveryFan experience. The most common way fans experience the game is from their seats, where quality sightlines and optimal viewing angles are essential. Thus, ensuring visual connectivity to the playing surface becomes crucial, regardless of the price of the seat or ticket. Fans should feel connected to the action on the field, fostering a shared sense of immersion and excitement. To achieve this, stadium design should prioritize quality sightlines.
Beyond the action on the field, many fans are simultaneously engaged with digital content. We learned from our research that 34% of respondents post something on social media related to the event while in attendance. A smaller percentage (11%) said they use technology to participate in interactive games or contests. In addition, incorporating technology that enhances the viewing experience, such as large video screens and interactive displays, can further engage fans and provide additional content beyond what is happening on the field. By connecting fans to the content, the game, and the players, stadiums can create a more immersive and satisfying experience.
Amplify the Social Experience
Last, stadiums should embrace the social aspect of attending live events. Our research confirmed that the social nature of live sports experiences is the primary factor that motivates people to attend sporting events. Nearly half of respondents said spending quality time with their family or friends was the top driver for attending a recent live sports event.
Given this feedback, it's essential that we design spaces within sports venues that facilitate social interaction. Creating gathering areas, communal seating arrangements, and social hubs encourages fans to connect with one another, fostering a fun and energetic atmosphere throughout the stadium. These spaces can also be programmed for pre- and post-game activities, enhancing the overall fan experience and extending engagement beyond the time frame of the event itself.
Overall, Gensler's design philosophy revolves around a deep understanding of the EveryFan Journey and its impact on fan engagement in stadium design. By focusing on these five tenets, stadiums can create experiences that resonate with fans at all levels. By taking a data-driven approach and incorporating research-backed insights, we can adapt venues to the evolving expectations of fans and improve stadiums' potential to be places where unforgettable moments unfold.
For media inquiries, email .