Fans Are Hungry for New Seating Options at Sports Venues
July 27, 2023 | By Ryan Sickman, Andrew Jacobs, Michelle DeCurtis
Editor's note: This is the second entry in a four-part series from the Gensler Research Institute reporting on our 2023 Sports Experience Survey. Click here to read part one.
In the hyper-competitive world of sports design, the battle for fans is intensifying as the entertainment options vying for people's attention rapidly multiply. Now, experiential culture is driving a fundamental shift in the design of sports stadiums and arenas.
In recent years, we've seen more and more evidence that the time-tested traditions of spectator behavior are being challenged by new expectations from new generations of sports fans. Now we have the data to support that. Our 2023 Sports Experience Survey, conducted earlier this year (a follow up to our 2022 survey), affirms that we must move beyond the general admission seat/private suite dichotomy. The future is about providing fans a wide range of options for socializing with one another and connecting on a human-to-human level while the action plays out on the field.
That means the "one ticket, one seat" model has run its course. From standing only tickets with access to communal viewing decks to sponsored zones and boxes, a full menu of ticket types is needed to meet consumer demand. In turn, new alternatives will expand the range of what fans will spend on amenities, food and beverages, and merchandise. It all adds up to a heightened game day experience.
Fans are craving social experiences at sporting events.
Our research emphasizes the social nature of live sports experiences. Nearly half of respondents said spending quality time with family and/or friends was the top motivation for attending a recent live sports event. Three-fourths of recent attendees feel that the venue they visited fosters community among fellow fans and attendees.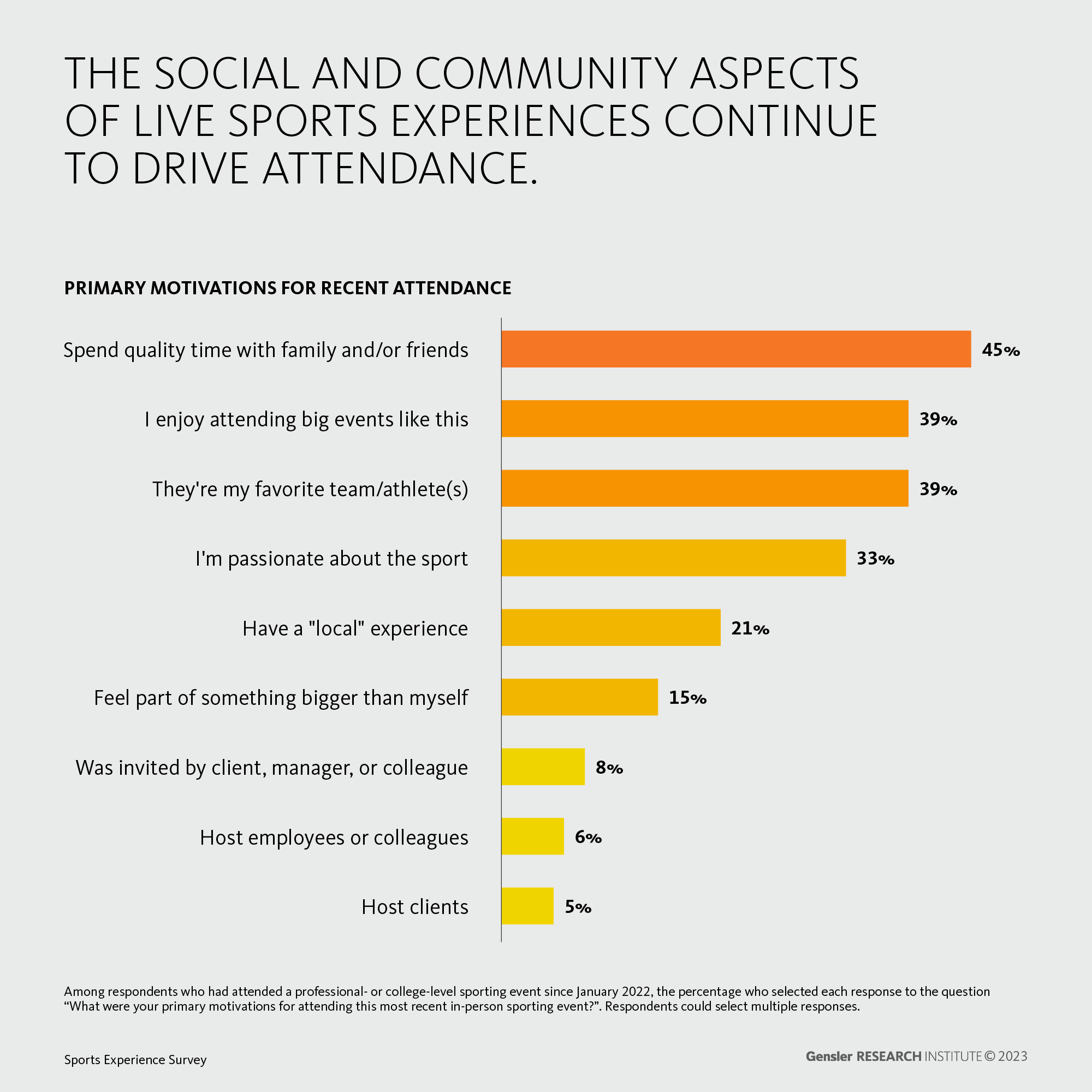 By the same token, 62% perceived their most recently visited venue as a great place to meet new people and 61% were satisfied with the variety of other activities beyond the event. While these are encouraging numbers, we see room for improvement as we develop more social-oriented sports experiences.
And the younger the fan, the stronger the appeal of social spaces. Gen Z (24%) and Millennial (21%) respondents indicated they would be more likely to consider the variety of things to do as a priority for attending a live sports event, compared to Baby Boomers (8%).
Stadium seating is a key ingredient in offering fans comfort, good views, and choice.
It's important to get the basics of seating right, and our research calls out many of the essentials that respondents value. Affordability rated highest (63%) among the top considerations for attending a sports event. Next in line is the quality of available seating options (47%), which indicates people want choice for their money.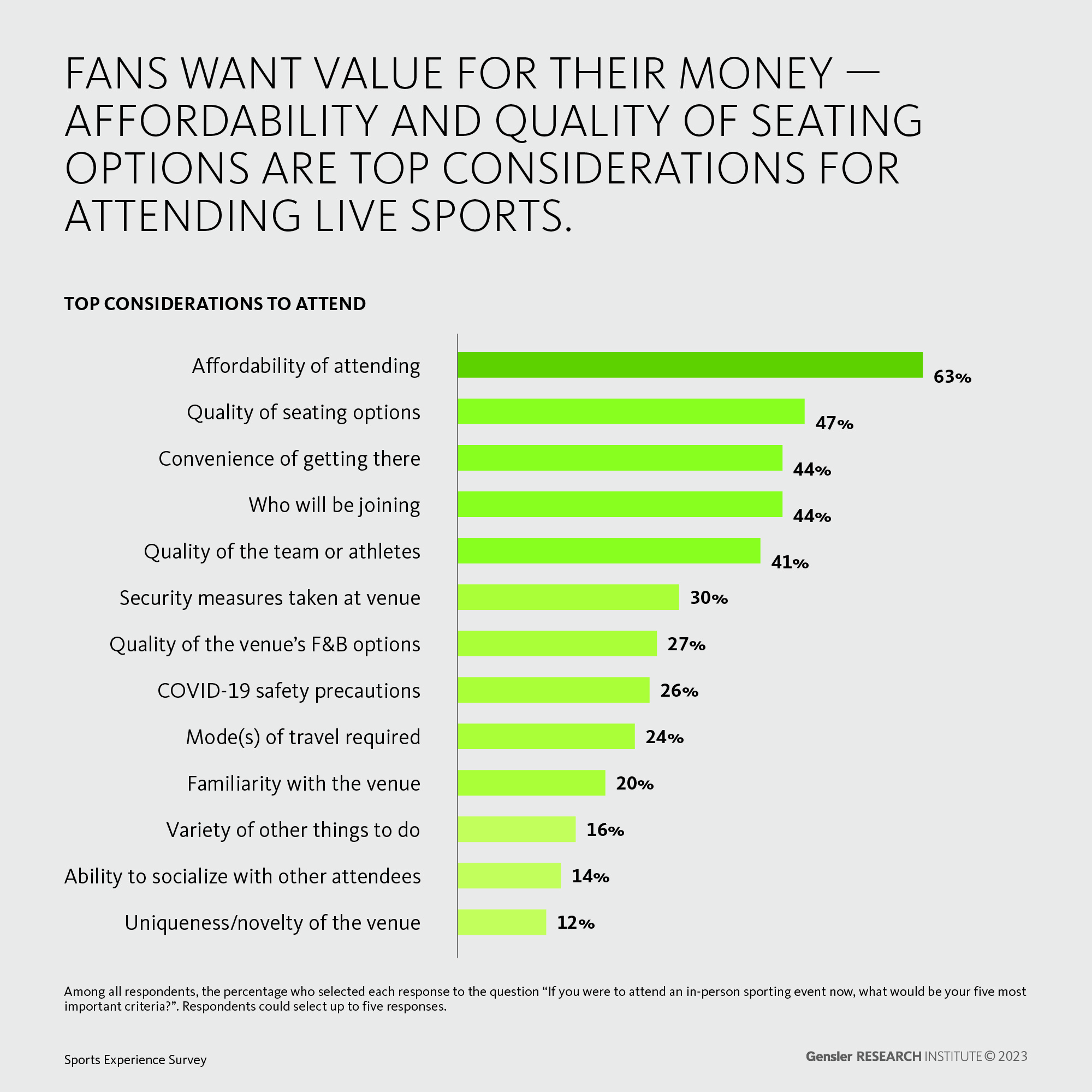 For some guests, seating comfort may compete with seating location and other priorities. In short, the more engaged you are as a fan, the more you care about the quality of seating options. And older fans place a higher priority on the quality of seating options, with Gen X (50%) and Baby Boomer (52%) respondents rating quality higher than the Gen Z cohort (30%).
Innovations in seating — one size should not fit all.
Our survey explored fans' affinity for a variety of ticket types and seat offerings to help us understand what innovations in seating could meet their expectations. First, we asked about Standing Room Only (SRO) tickets, which give fans access to decks inside the stadium or arena where they can stand and watch the game.
We found SRO tickets have wide appeal as a budget-friendly option. Seven in 10 respondents would be willing to pay for SRO tickets for their favorite team. Our data also suggests SRO would likely be an appealing ticket option for many younger attendees and those with young children. It could also make attending live sports more affordable to the "every fan," broadening the market. While SRO would be most appealing to those who describe themselves as avid sports fans, a surprising 65% of casual or non-fans would consider the offering.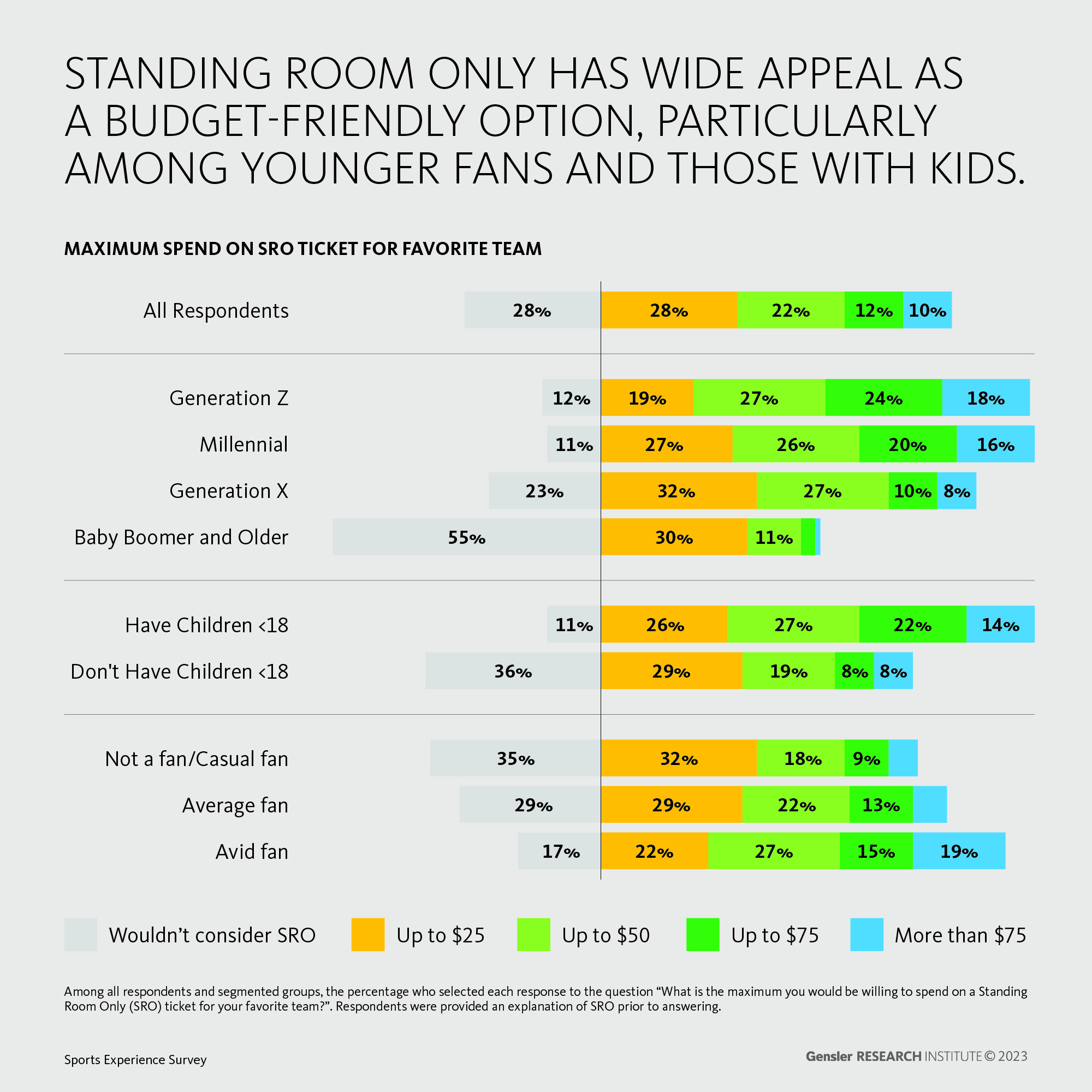 Other questions focused on Standard-level tickets, which give fans assigned or reserved seats. Standard seating provides a middle ground between SRO and premium seats but can be elevated through enhancements to comfort and food and beverage (F&B) offerings. When considering Standard seating in both college- and professional-level sports venues, access to diverse F&B offerings are what respondents most expect, followed by upgraded seating.
Younger respondents are more likely to expect Standard seating experiences to include places to charge their personal devices. Respondents who consider themselves stronger sports fans also expressed a higher expectation for charging stations. We see this being realized in projects such as the AT&T Lofts at Mercedes Benz Stadium in Atlanta.
The enhanced experiences within a stadium provides guests the opportunity to purchase added value and maintain status. Our results suggest that fans would be most willing to pay for premium tickets that include added comfort via padded seats and extra legroom, along with perks such as complimentary parking passes and private restrooms for ticketholders.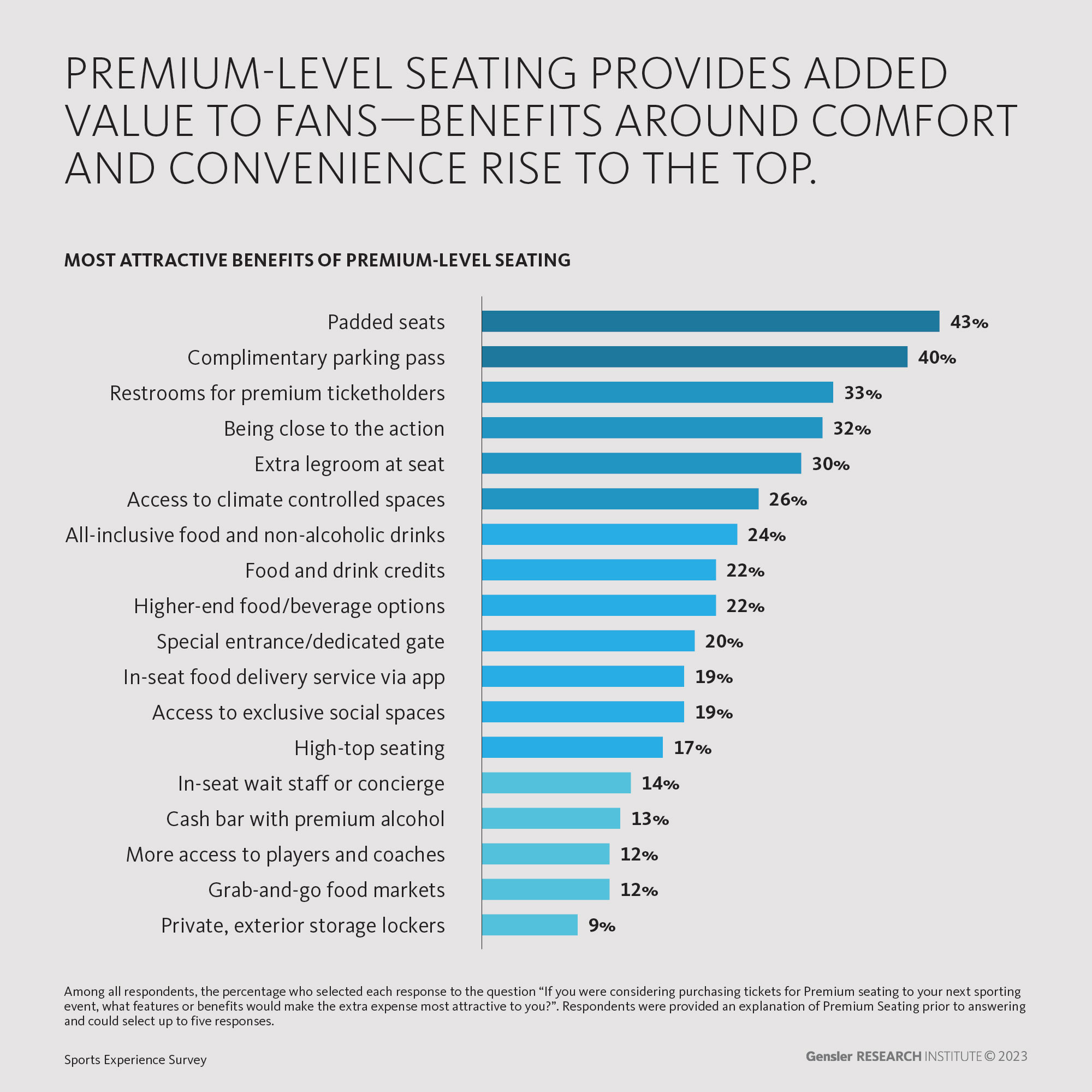 We also found notable differences across generations. Older respondents' ideal premium experiences are more likely to include being close to the action, complimentary parking passes, padded seats, and dedicated restrooms. Younger respondents' ideal premium experiences are more likely to include a cash bar with premium alcohol, grab-and-go food markets, and private, exterior storage lockers.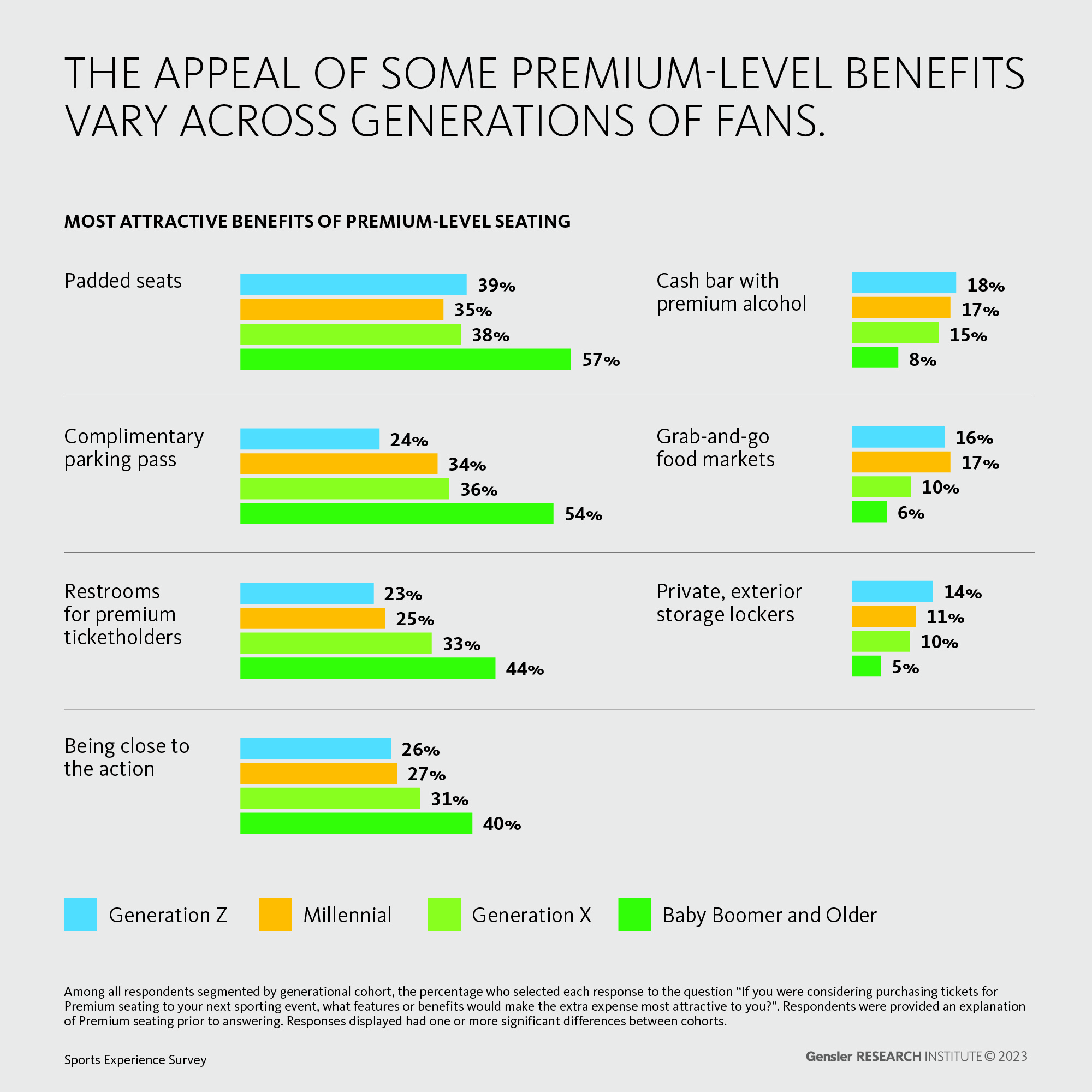 Seating options should foster human interaction.
We don't want to overlook diehard fans who live and breathe their team's colors and culture. It's important to our clients that connections to the game and the team remain strong. But we must acknowledge that, as our research indicates, a broadening segment of the public is looking for a game day experience that provides people-to-people connections, regardless of the matchup on the field or the court. As existing venues are renovated and new ones designed and built, fans will expect more real estate dedicated to a diversity of enhanced experiences at all ticket levels.
For media inquiries, email .