What Two Leading Edge Venues Reveal About the Future of College Sports
August 22, 2023 | By Steve Chung
Today's student athletes, fans, and community members are demanding more from their on-campus sports venues. But for universities who are balancing a scarcity of real estate, efficiency, and profitability, many of these facilities haven't kept up with the times. To stay relevant and drive revenue, college sports venues must go beyond game day and do more for the team, the campus community, and the public by becoming hyper-efficient, multipurpose, and designed for year-round use.
Two groundbreaking facilities for Division 1 athletics programs are raising the bar and setting a new benchmark for collegiate sports venue design: Snapdragon Stadium for San Diego State University, and Moody Center for the University of Texas at Austin. Despite being distinctly different venues — designed for football and basketball as primary tenants, respectively — both share critical techniques and planning strategies to engage with fans of all types and create a valuable return on investment.
Here's what we've learned in designing these two leading collegiate sports venues:
More Than Sports
For Moody Center — which was recently named one of the world's highest-grossing arenas — the arena is centrally located adjacent to other sports, training, and education facilities with an accessible entry plaza. This plaza space is now a pre- and post-game activation zone for Longhorn Football games at Darrell K Royal Memorial Stadium next door. Inside, Moody Center accommodates everything from student and classroom activities to private events, concerts, and rodeos. Club spaces, patios, and expanded concourse zones offer usable indoor event opportunities for activation at a variety of scales.
At SDSU, Snapdragon Stadium is the first phase to be completed of the university's Mission Valley Innovation Campus, an 80-acre satellite campus district for business, education, and entertainment that is 4 miles west of main campus. The stadium becomes a district sports anchor for both academic and cultural events, drawing in the community year-round to drive growth and revenue. For example, club spaces are immediately accessible on non-game days, with clubs that can function as keynote speech areas for academic conferences, suites that can become break out spaces, and an outdoor concourse with a beer garden and extensive food & beverage options for socializing and networking.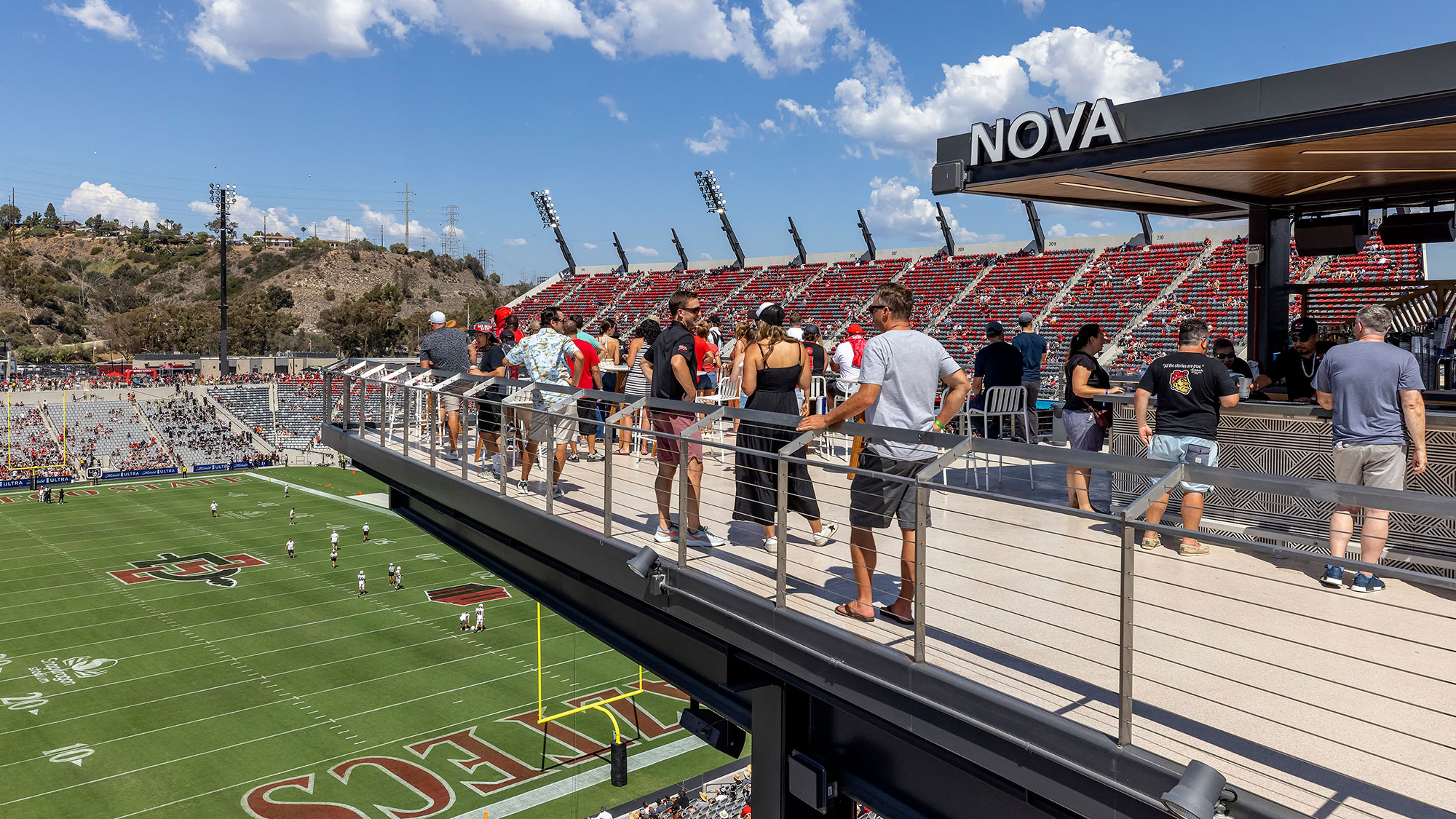 Right-Sizing to Find the Sweet Spot
To maintain relevance, collegiate sports venues must be right sized for activities that serve their primary use on game day, such as basketball or football, while also being able to scale up or down in a way that feels natural and seamless to create the right atmosphere for concerts and all kinds of different university events as demand occurs. This ability to flex allows these venues to become cultural gathering places that are highly valued by their local communities.
For sports venues, bigger isn't always better. Smaller, more intimate venues can create a greater connection between the fans, making the place feel alive and teams feel supported without being crowded. Fans surveyed in our ongoing Sports Experience Index research identify visibility from seat and ease of navigation from entry to seat as some of the top priorities defining the success of the game-day experience. Right-sizing venues gets fans closer to the action and allows them to access a host of new amenities besides the game itself to focus and enjoy.
Snapdragon Stadium actively considered how it might be impacted by larger non-football events during its design. The solution was to maintain a leaner 35,000-seat facility but design for the opportunity to expand capacity through temporary seating for concerts, dirt shows, or international soccer matches.
Designed to be the best concert venue in a city defined by music, Austin's Moody Center required a 15,000-seat capacity to meet the demands of the top acts playing in town. However, the right fit for UT Basketball has historically targeted 10,000 attendees. To solve this challenge, Gensler developed an operable, fabric partition that conceals the upper-level seating areas when lowered. In addition to generating the intimacy needed for basketball, these partitions offer an additional benefit as a flexible projection space for home team and prospective sponsorship branding opportunities.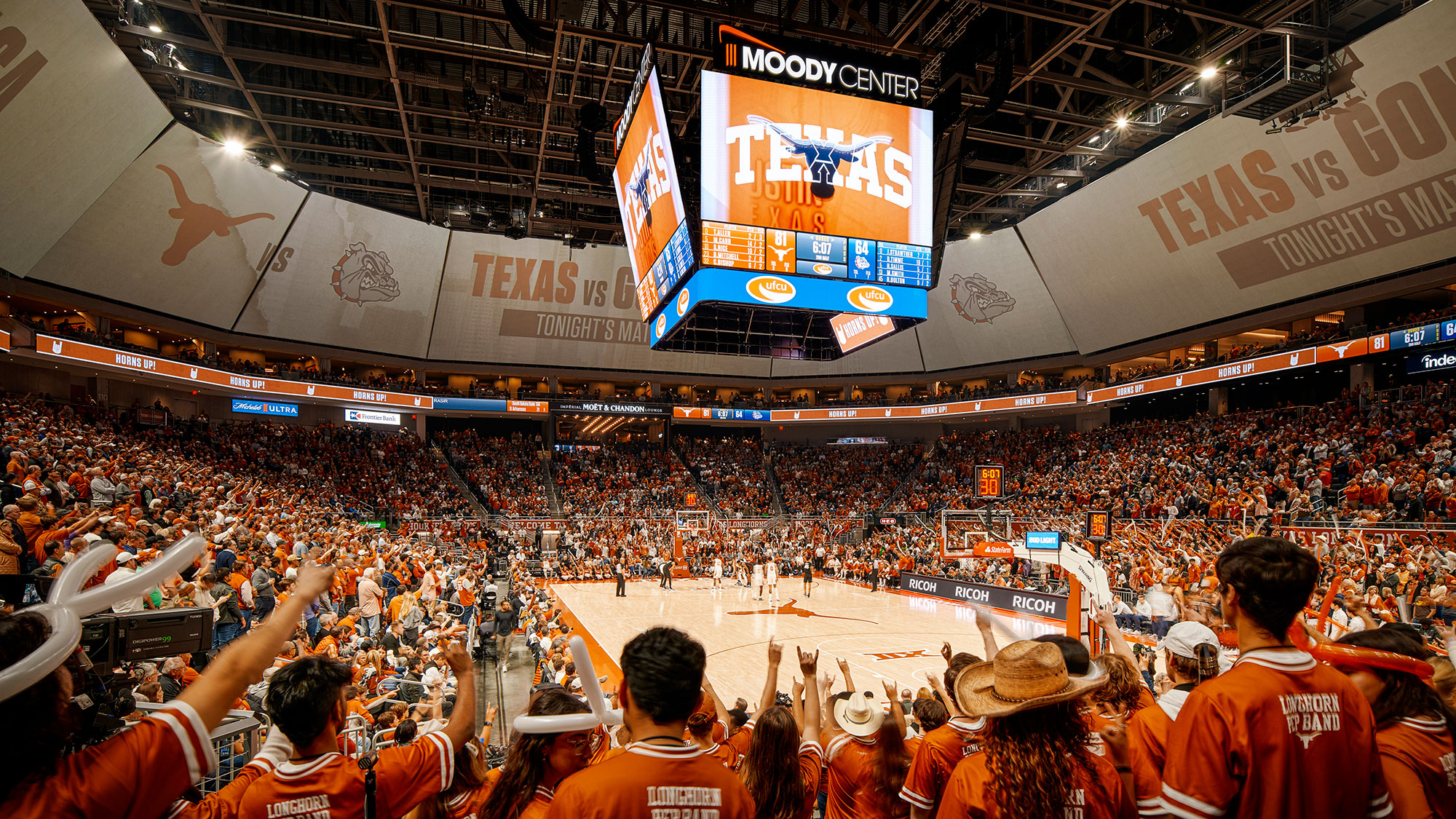 Guest Personalization Reigns Supreme
Our research continues to show that a wide range of seating types and F&B offerings are top qualities for fans. Whether it's a satellite location of an established local restaurant or a sponsor zone with views to the match, getting the right mix of in-venue amenities and activities give fans choice and agency to define their traditions or discover new experiences. For both Moody Center and Snapdragon Stadium, we provided different premium experiences for the broadest range of fans — from hyper-exclusive clubs to loge boxes for people who want to be surrounded by other fans.
Moody Center includes substantial F&B offerings, from traditional concessions to walk-in marketplaces. Four sponsored clubs create a diverse range of premium experiences for fans, including the Moët & Chandon club that accommodates 50 VIP guest directly across from center stage. Snapdragon Stadium was designed to be authentically "of San Diego," for specialty food offerings to local breweries and regionally appropriate murals and art. The character of this stadium creates a casual openness that is still able to broaden the spectrum of guest experiences and a variety of price points that appeal to each visitor. Not only is this a greater experience for the fans but a greater return on investment for SDSU.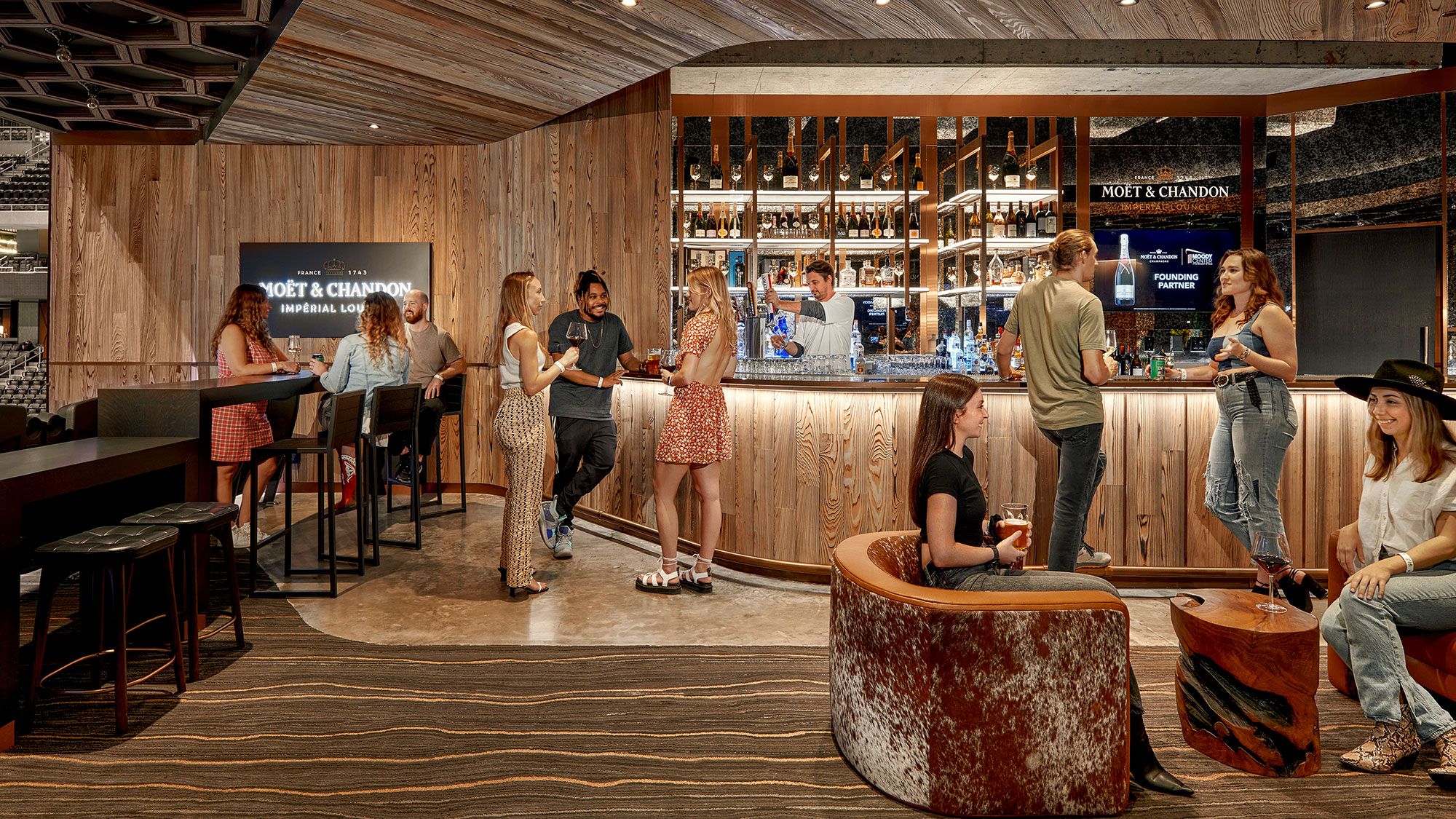 By going beyond game day and using as much of the venue as possible to engage students, athletes, and the larger community, collegiate sports venues can become cultural and community anchors that increase revenue opportunities year-round — rather than single-use facilities that sit vacant in the off season.
For media inquiries, email .