The Future of Residential Design Must Balance Affordability, Satisfaction, and Experience
October 06, 2021 | By Leigh Cowan, Michelle DeCurtis, Rebecca Luong
People have always changed where they live with some frequency, but the pandemic may have shifted how we make housing decisions. Whether residents move a few blocks down or across the world, migratory trends are catalyzing new conversations in the industry. In the U.S. alone, 40 million people move per year — that's about 10% of the entire population. As architects and designers, we are focused on what people want from their next home. But across the world, the pandemic has fundamentally altered residential experiences. Remote work creates new needs for residential units, and rising housing costs forces compromise on what to prioritize. Among the factors impacting people's decisions about where to live, what matters most?
Gensler's Residential Experience Index unpacks this question. Our research leverages two major surveys conducted across nine diverse markets in winter and summer 2021. We investigated residents' current housing experiences and what they value for the future. Gensler has taken on dozens of residential projects so far this year, consulting new challenges and opportunities while also helping to add much-needed supply to the more than 120 million housing units in the United States and countless housing units across the world. Our firm shares the responsibility to focus on building new places to live and offering research-backed designs that support diverse human needs.
As we continue to dig into the data, three themes are emerging:
1. Affordability is the primary driver for residents regardless of location, housing type, and even income.
Pressures around affordable housing have been building for decades. Today, people across the income spectrum share anxieties about rising costs. On average, 45% of survey respondents said the housing around them is unaffordable, and 40% are worried about getting priced out of their neighborhoods. However, affordability is not solely a problem of low-income residents — many of those with higher incomes reported having trouble making monthly rent or mortgage payments.
Affordability fundamentally permeates residents' housing decisions. It is the top driver behind people's housing decisions and the home they will choose next. While some spaces are more important to residents, many would be willing to sacrifice extraneous amenities and features in exchange for a reduction in their housing costs.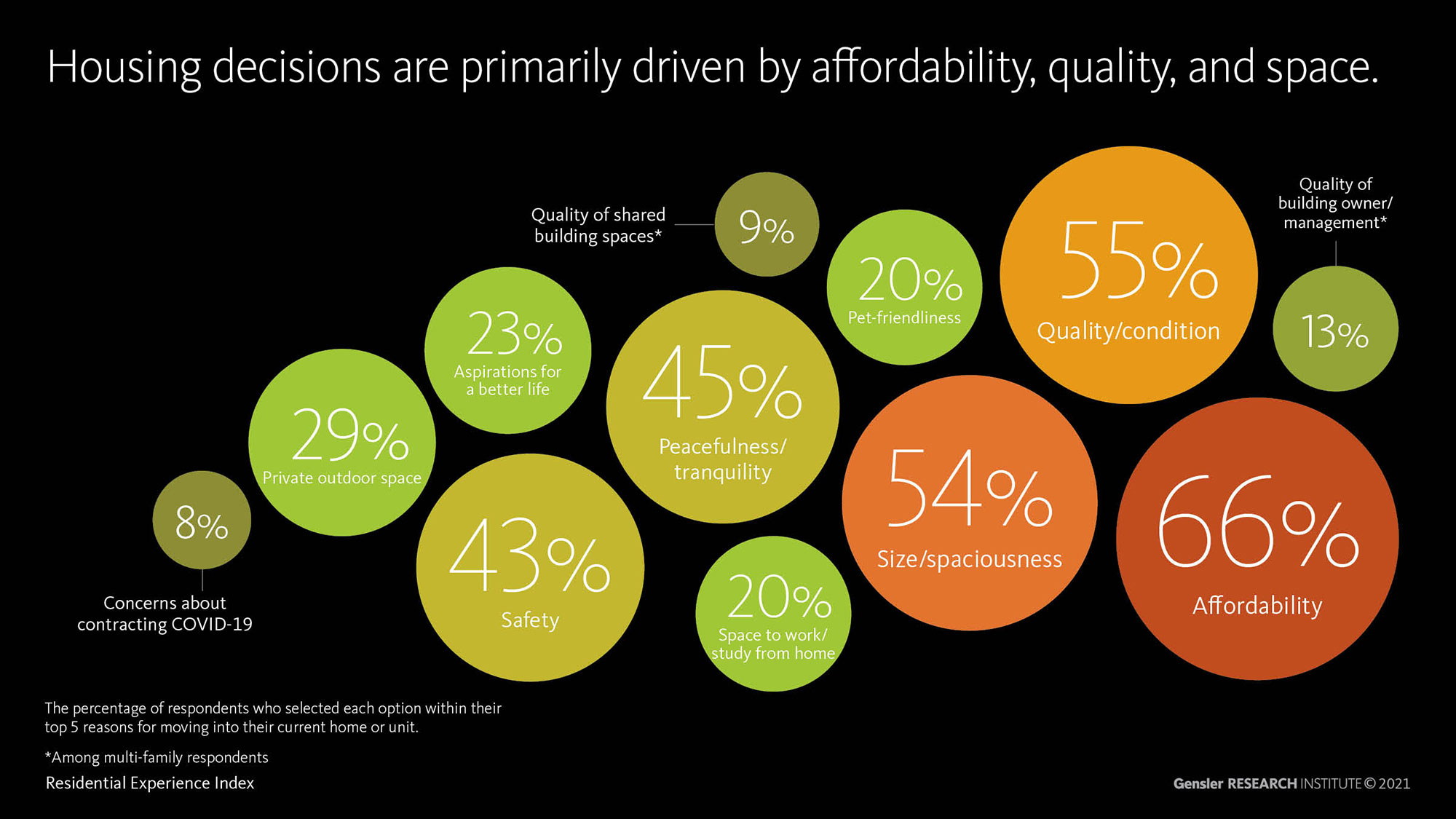 2. Design has an enormous impact on satisfaction — especially within the unit.
After affordability, a home's design quality is the top priority. This was consistent across our markets surveyed, although the solutions themselves would vary based on location. While the size and spaciousness of the unit are also key drivers behind housing decisions, 62% of multifamily respondents said they would prefer a well-built, well-designed unit that is less spacious over a more spacious, poorly designed unit.
In recent years, residential design has concentrated innovation on shared spaces and amenities, but the largest opportunity lies within the unit. The unit design and experience make the most significant impact — driving 53% of overall home satisfaction. In particular, finding innovative solutions to the issues of limited layout flexibility, noise, and inadequate storage provide the best opportunities to close the gap between those most and least satisfied with their units.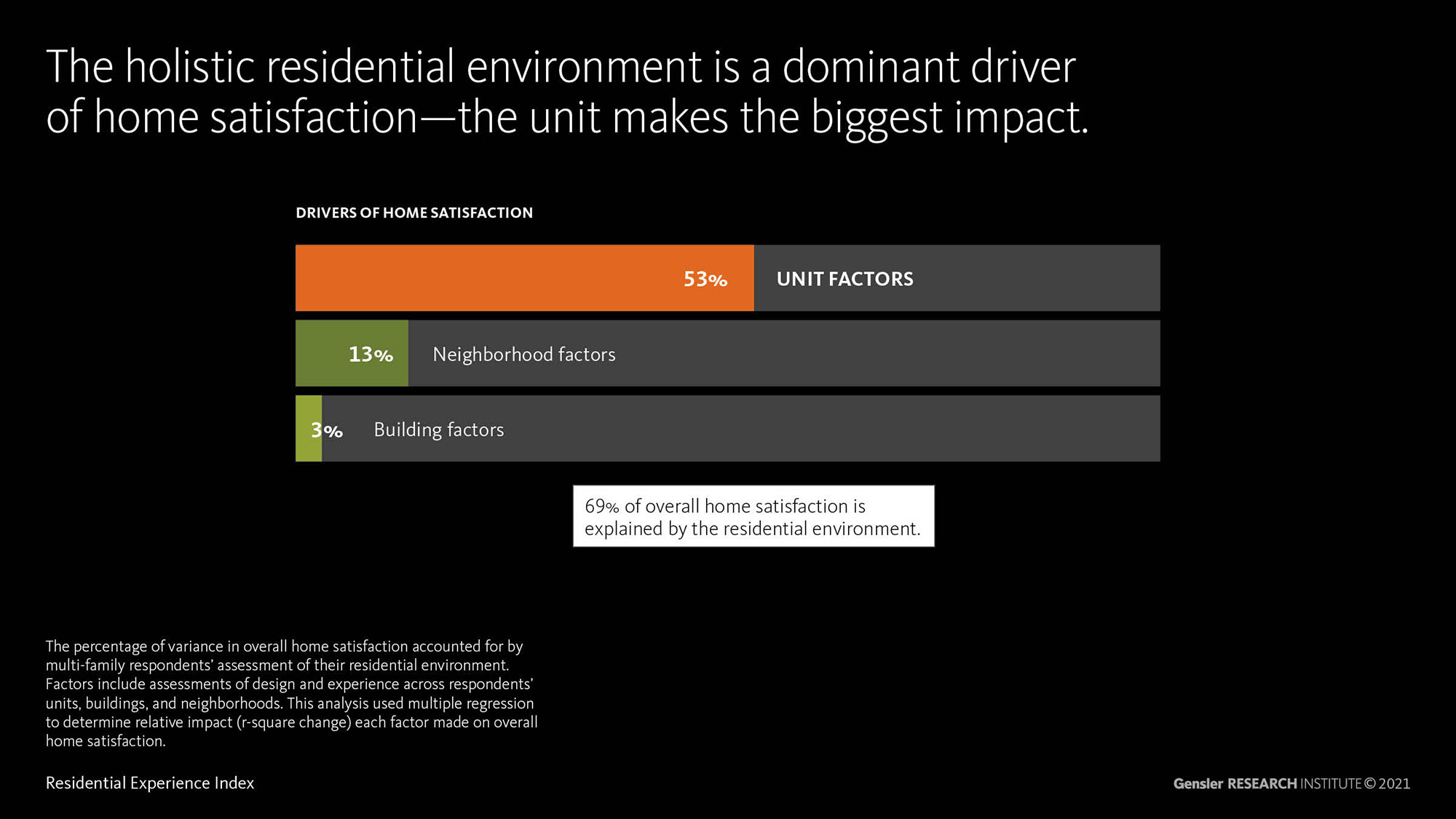 3. Units need to support well-being — and that will also support working from home.
The pandemic has transformed the day-to-day lives of office workers around the world. Homes are rapidly adapting to new uses and behaviors; many now expect their residence to support remote work long after the pandemic ends. Not all workers have the ability to work from home, but in creating homes that support well-being, developers will also be supporting key needs of remote workers.
We found that residents with homes that provide access to fresh air, natural light, and private outdoor space were more likely to say their home environment supports working from home. Homes that support well-being are about more than just integrating the outdoors — those with higher unit safety and a host of diverse establishments nearby are also associated with more optimal home workspaces.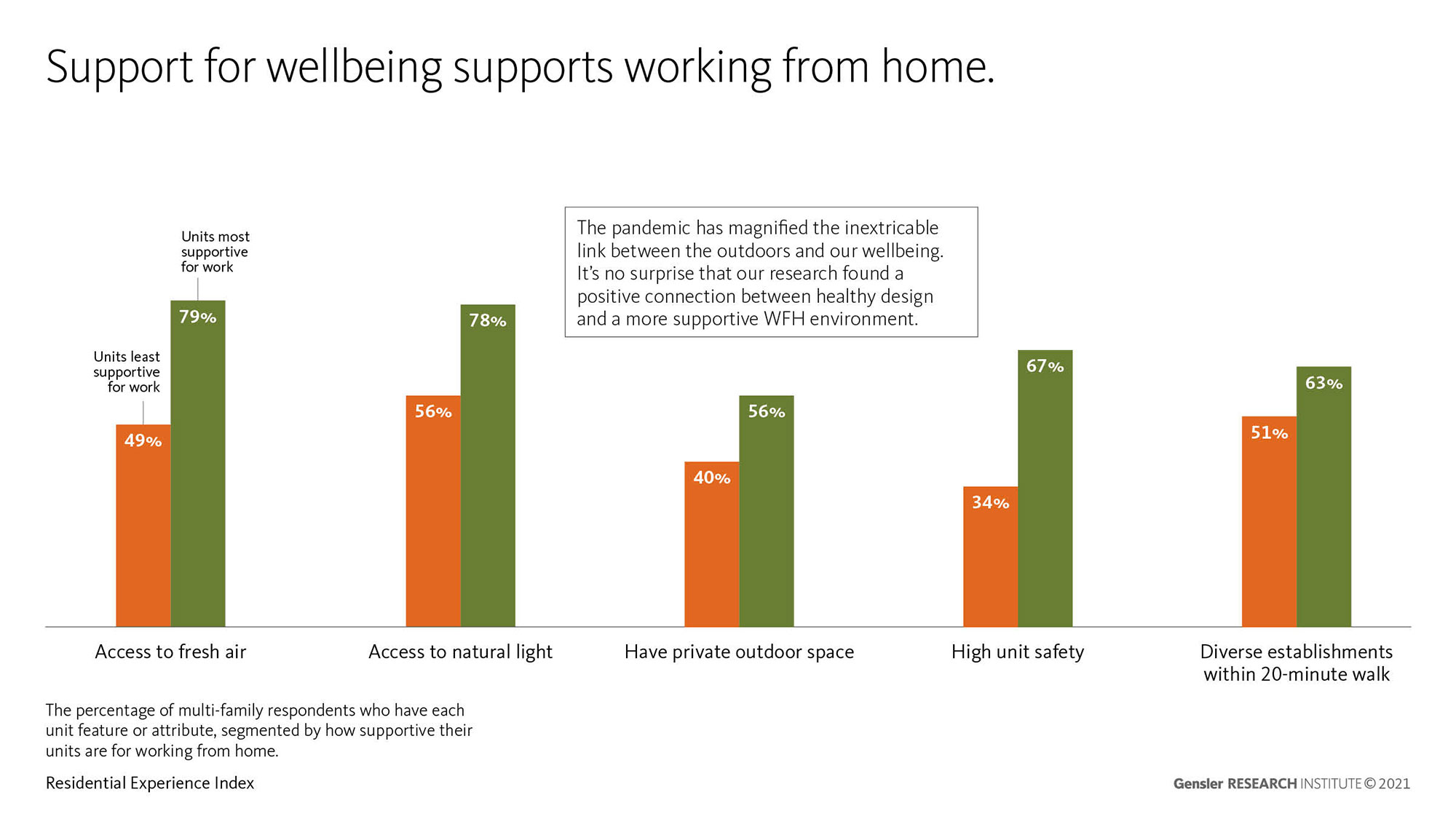 People's housing experiences are diverse, complex, and incredibly personal. Gensler's Residential Experience Index seeks to understand residents' unique perspectives and uncover the multitude of factors driving housing satisfaction through our research. Most importantly, these insights help shape new, forward-thinking approaches to residential development strategy, design, and delivery.
This blog is part of a series exploring Gensler's Residential Experience Index — a multi-part investigation focused on the future of the home. Our research points to shifts in how we think about the design of our homes and the resident experience.
Methods: This anonymous, panel-based survey was conducted in two waves: January 20 to February 26, 2021 (n=8,990), and July 8 to 29, 2021 (n=4,559). Survey respondents in both waves were required to live within specified zip codes within metropolitan areas of New York City, San Francisco, Atlanta, Austin, Dallas, Seattle, Chicago, London, and Singapore. Respondents were demographically diverse across gender, age (18+), race/ethnicity, income, employment, and education levels, and were residents of both multifamily and single-family homes.
For media inquiries, email .