Resuscitating Buildings for Life Sciences and Healthcare
July 19, 2023 | By Joseph Lauro
Architects play a central role in the evolving ecosystems of the U.S. healthcare and life sciences sectors — both of which have evolved dramatically in recent years due to the pandemic and rapid advancements in medicine. Like many businesses, critical challenges such as inflation, labor shortages, supply issues, tech integration, and fierce out-of-industry competition have changed the fundamental ways in which these sectors operate. Healthcare staff are working differently, and pharmaceutical and life science offices are trying to keep pace.
In response, the industry has shifted focus to facilities such as ambulatory care centers, community health hubs, urgent care clinics, and virtual care settings. Opportunities for pursuing building transformations have increased tenfold. When compared to ground-up construction, not only does this approach shorten the construction timeline, allowing the facility to be delivered to the community at a faster rate, but transformations typically minimize building material waste and carbon use by averting construction materials from landfills.
Modernizing infrastructure and leaning on community engagement to build new hospitality-driven, tech-enabled environments increases the productivity of healthcare workers while improving consumer experience and access. Through capitalizing on reuse opportunities with existing buildings, such as empty retail stores and office buildings that are typically well-positioned within their cities, architects have greater opportunities to bring health and wellness services closer to the communities in which they serve.
Office-to-life sciences: 345 Park Avenue South
While the pandemic increased market demand for the life sciences sector, it simultaneously created a new problem for owners: an unprecedented volume of empty office space. According to Colliers, as of April 2023, a record 94 million square feet of office space sits vacant in Manhattan alone. To help combat the operational obsolescence of some older city office buildings caused by flight-to-quality, many city owners have explored office-to-residential conversions, but local zoning and technical constraints have presented their own challenges, impeding widespread success.
To help solve for the glut of empty space, office-to-life sciences conversions are increasingly favored for their speed to market and shortened construction timelines. Where ground-up construction can often take 3-5 years, conversion projects typically take only 1-2 years to finish. This aligns with CBRE's forecast that total life sciences lab/R&D space may increase by more than 20% over the next two years, as a record-high amount of new construction is currently underway.
Located in Manhattan's 'Silicon Alley,' the Gensler team repositioned 345 Park Avenue South into a modernized vertical sciences campus to support multiple teams of scientists. The space, known as CURE., which houses Deerfield's new HQ, comprises 11 floors of lab-ready spaces to allow life sciences, digital health, and tech-enabled companies to collaborate or work privately alongside other innovators. Access to unparalleled resources and high-quality infrastructure further support capabilities for the tenants.
The vision, program, design, and implementation of this project demonstrate a new model for how companies can innovate together to solve big challenges in a reimagined building in the heart of a big city.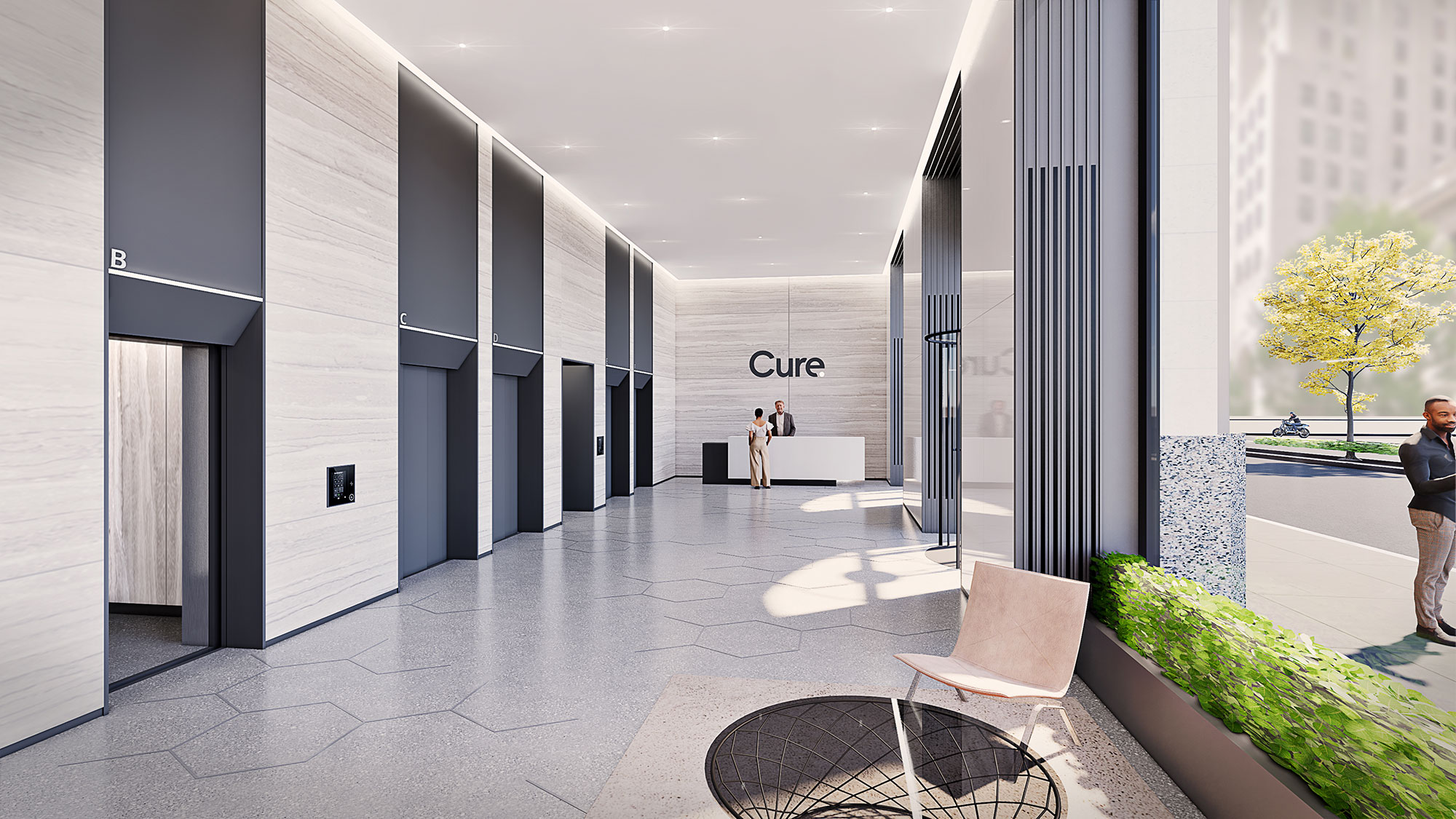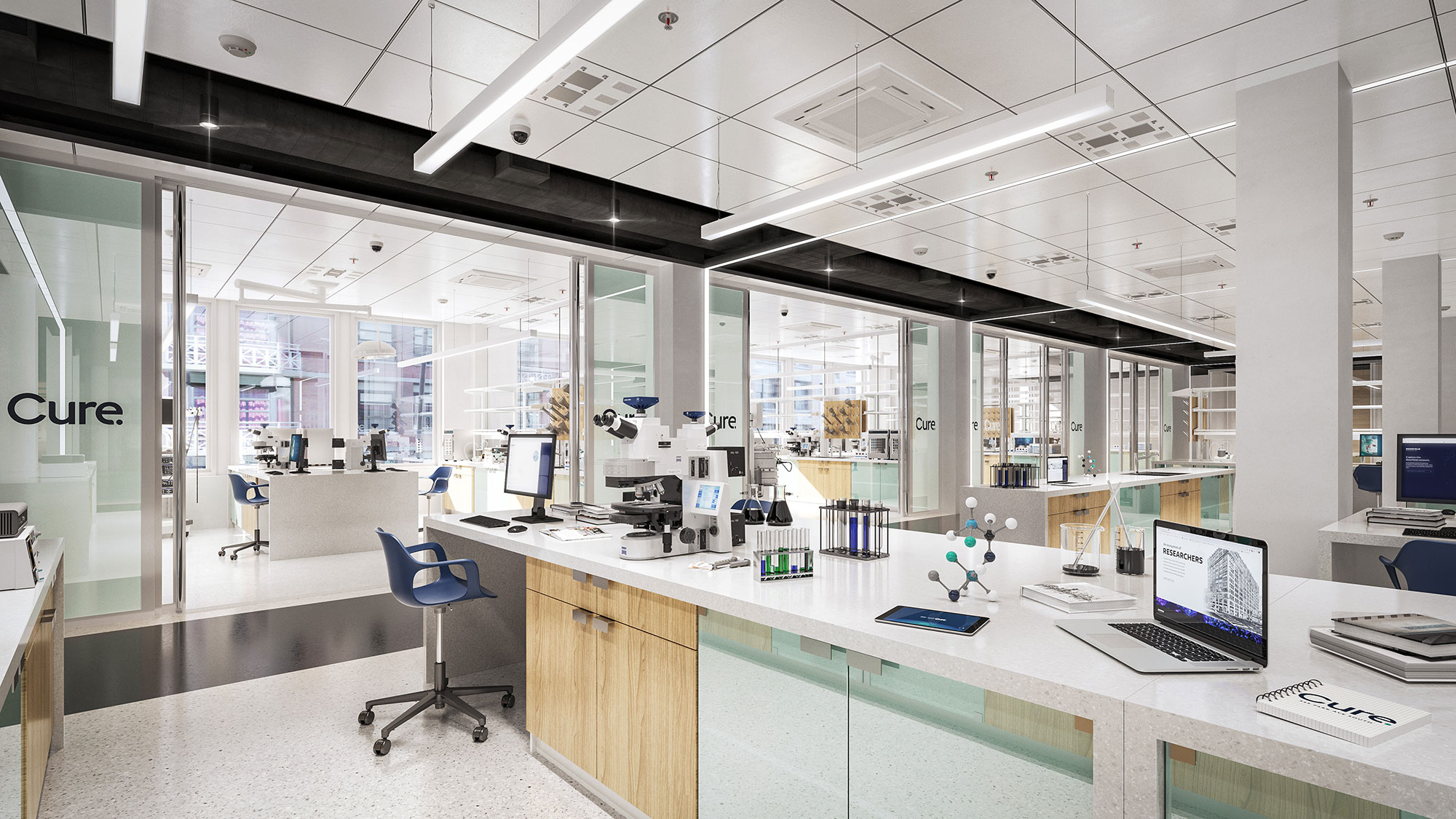 Office-to-Healthcare
According to JLL, the nationwide office occupancy rate is at approximately 20%, and sublease availabilities are rising as occupiers attempt to shed underutilized office space. These historic office vacancies have opened the door to building transformations that can keep healthcare and life and sciences growing. Transforming offices into an entirely different asset class is not a new trend, but an aging population and expanded healthcare delivery is fueling demand for new types of healthcare spaces to be delivered quickly.
The Summit Health Multispecialty Hub in Clifton, New Jersey — an office-to-healthcare transformation — spans three floors and 100,000 square feet, bringing primary, specialty, and urgent care together in a comprehensive facility. Some of the services the Clifton hub offers include a cancer center, diagnostic imaging, multi-specialty clinics, and an onsite walk-in CityMD urgent care location.
The conversion of this standard office building into an ambulatory care center transformed a center courtyard into an area of respite for staff, patients, and family members, while providing ample natural light into the waiting and registration areas. Similarly, as a prototype for Summit Health and CityMD to combine their clinical integration and large network of providers, the new hub enhances the patient experience, improves circulation and flow throughout the building, and aligns with the new shared vision and delivery model that prioritizes efficiency.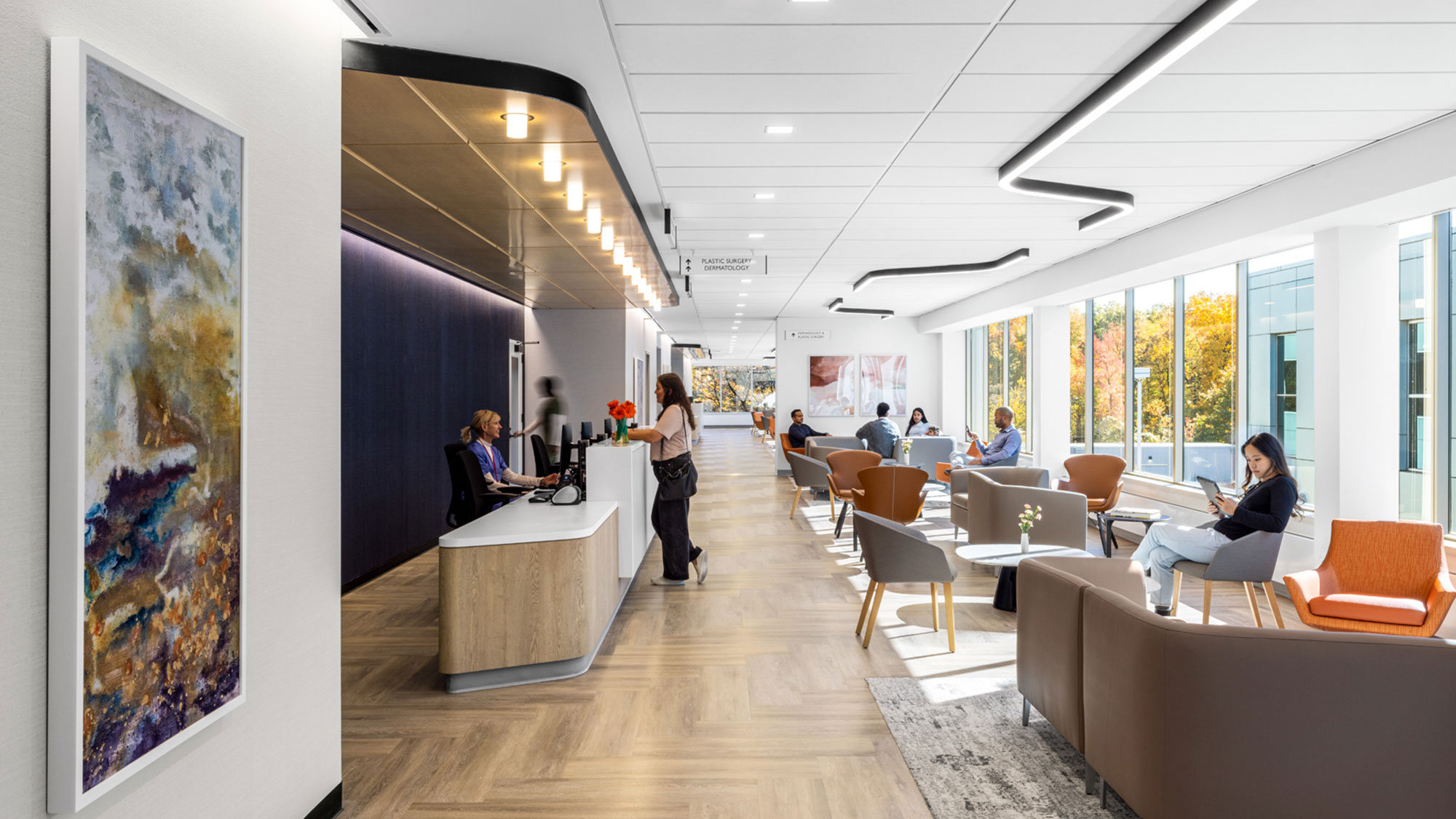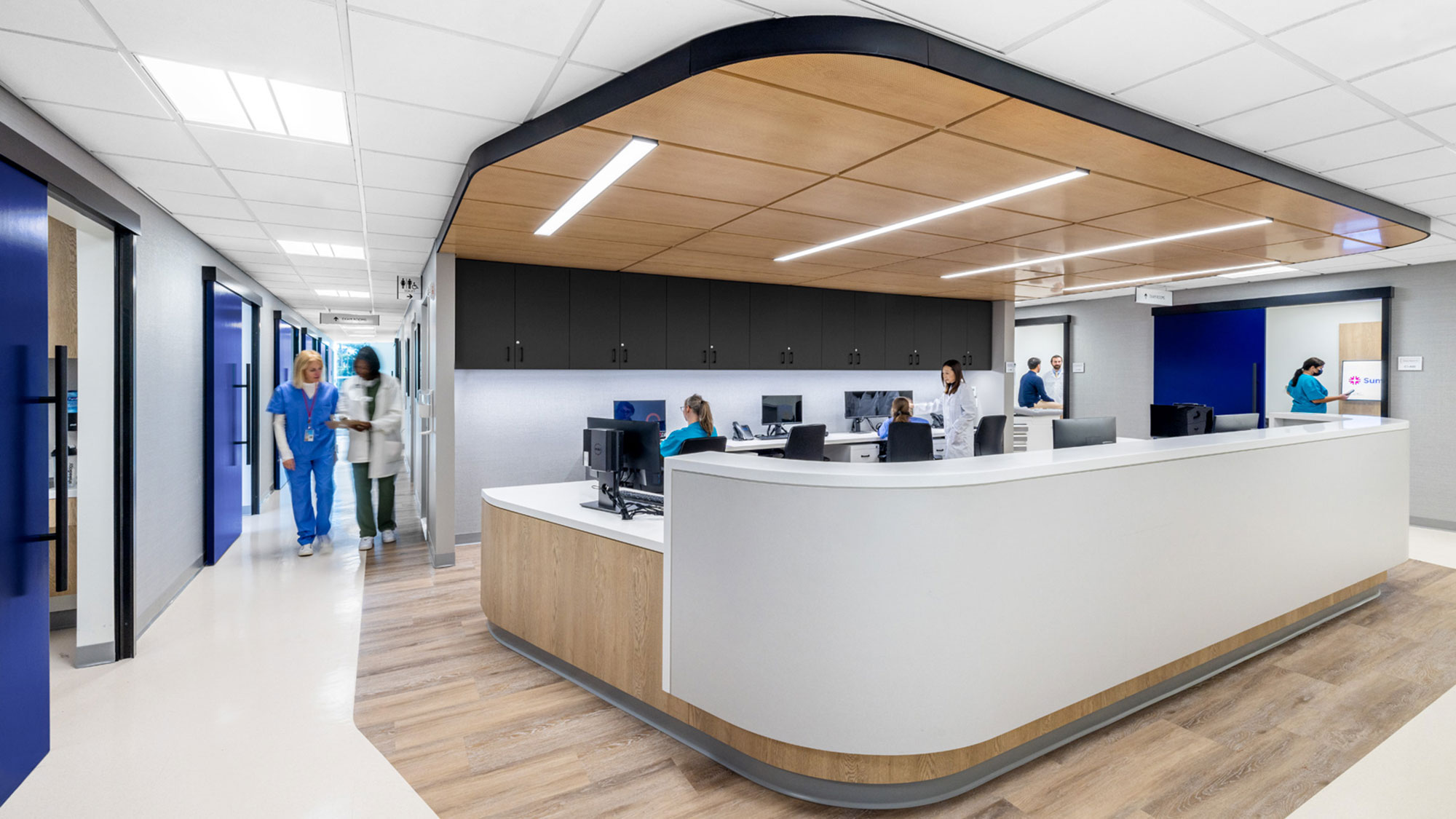 Retail-to-healthcare
A trend dubbed 'medtail,' healthcare providers are increasingly favoring former big box stores for their clinics and offices. Similar to the office vacancy puzzle spurred by the pandemic, the shuttering of retail stores and high vacancy rates at shopping malls have facilitated new opportunities for retail-to-healthcare conversions. These retail stores' geographic location within the community — often close to other consumer opportunities — improves ease-of-access for healthcare customers. In the same vein, as the demographic of the suburbs continues to climb, increasing the percentage of senior citizens — the largest healthcare consumers — highly-accessible areas with ample parking are ideal.
The retail conversion of a former Crate & Barrel into a 34,000 square foot ambulatory care center in Bridgewater, New Jersey exemplifies this trend. To increase efficiency — and because the existing building did not support traffic, flow, or the patient population for the building's new function — an elevator and connecting stair was added at the arrival. Aligning with the design of the healthcare provider's other locations, waiting areas are shared between exam pods to maximize efficiency, and face the main façade of the building to allow for ample natural lighting. In working with existing interior architecture, exam pods are designed as modular, providing maximum efficiency within the space. To ensure the visual cohesiveness of the interior, the team ensured that new architectural materials brought into the space, such as metal, aligned with the existing materiality.
As architects and designers working to create a better world through the power of design, it's important that our projects both serve and reflect the communities in which they live. Since 30% of carbon emissions come from the building industry — and approximately 80% of buildings that will exist in 2050 currently exist today — we have a responsibility to actively seek out viable opportunities for building transformations and continue to think beyond architectural norms defined by pre-pandemic standards. Community-based approaches are essential in delivering exceptional experiences while earning patient provider loyalty and improving overall population health.
For media inquiries, email .