Designing Empathetic Workplaces Can Be a Key Differentiator
July 17, 2023 | By Emer Lynam, Louise Jorden
For many knowledge workers, the pandemic opened a glimpse into colleagues' home lives with Zoom calls revealing children, pets, hobbies, and deliveries — domestic noise that we had previously been expected to mute but which now signaled the many competing demands of life and work. This blurring of traditional boundaries has accelerated conversations about well-being, engagement, purpose, and belonging, and has humanised employees. We must translate this awareness into our design process.
There has long been a focus on 'activity-based workplaces.' But a successful workplace program does not simply design for activity; it embraces the workplace as a space that contains human emotions such as joys, fears, and hopes. Empathy is the ability to understand how people feel emotionally and to see things from their perspective; it is being able to put yourself in others' shoes. Designing with empathy increases the chances of equity and allows design from the margins to flourish. Any effort to shape workplace experience must start here if it is to successfully engage people and promote a purpose.
We have also seen a need for empathy as we settle into new work patterns following initial phases of the COVID-19 pandemic. For the most part, organisations have proceeded cautiously with their return to office, but they have not always shown empathy in responding to people's changed circumstances or in tackling the practical worries and emotional responses elicited by these plans.
As designers, we need an empathetic process centred on listening. Our goal must be to create experiences that embrace employees' full range of emotional, psychological, and physical needs. This includes acknowledging emotions like fear and sadness and not just designing with happy moments in mind.
Empathy as a design process
Empathy should be demonstrated first in the design process itself. Actively listening to employees will show they are valued and make them feel engaged; it also helps drive design solutions that better suit people's needs. This works well with the prototype approach that many organisations are taking in the workplace; it does not require a slow or overly considered approach, but it must be inclusive, listening to the many different user types. Regular pulse checks are important, particularly as our comfort levels about returning to the office evolve. Traditionally falling under change management, genuine listening should start early in the design process so that the result is more than a communications programme.
Empathetic design solutions
The goal of an interior environment is to advance the intention of the space and engage people in meaningful ways. Our experience of the world is multisensory and by engaging all of the senses we can create more memorable and meaningful experiences. The Stephen Lawrence Centre is an example of how colour, texture, and materiality can be used to promote healing. The building interiors were refreshed by Gensler with the intent of revitalizing the space and supporting a new business model where coworking spaces could create greater self-sufficiency for the organisation. The entrance façade, based on a Chris Ofili drawing, provides a cultural reference based on a traditional African pattern and as light shines through, there is a sense of movement and joy.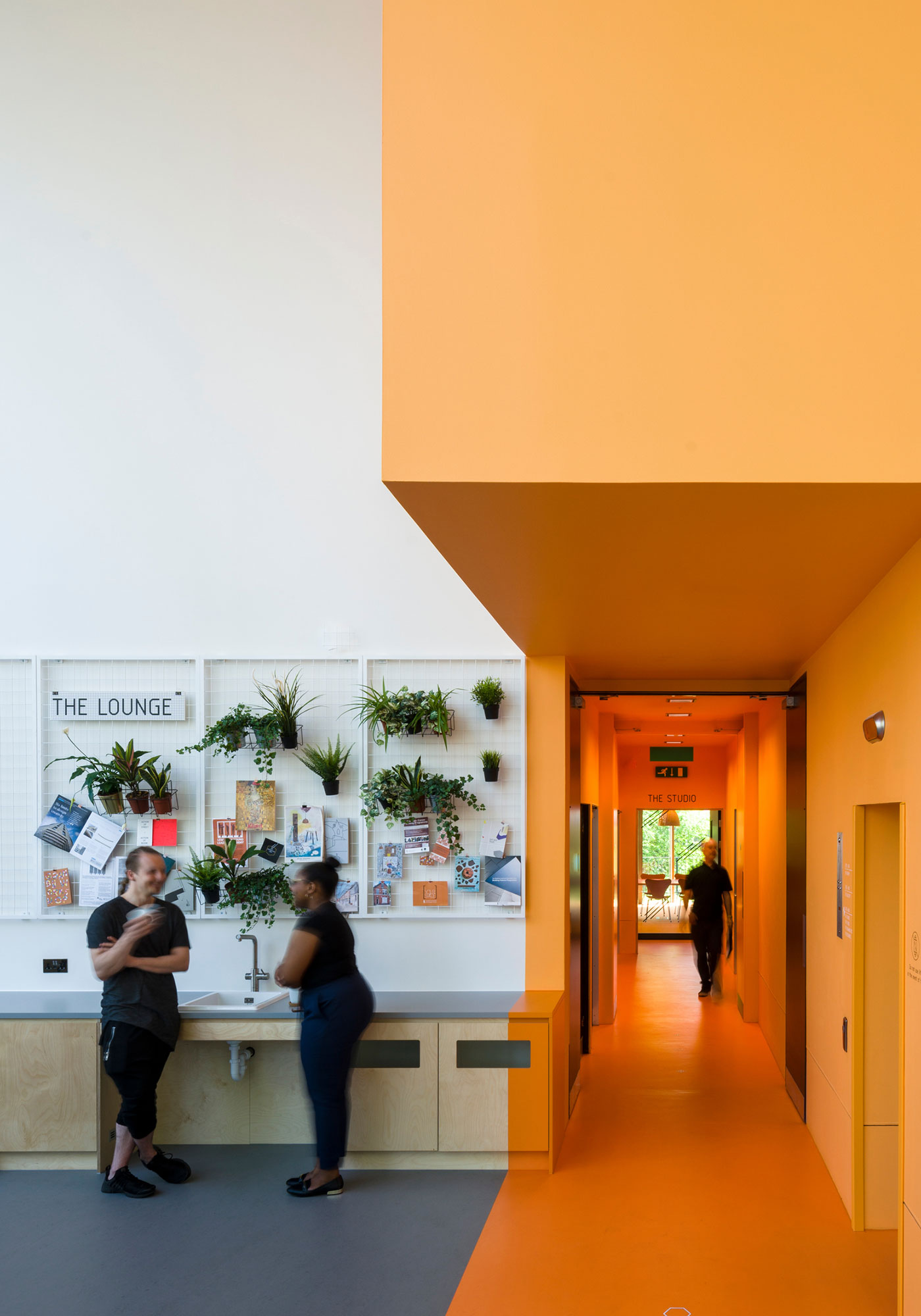 Neuroarchitecture draws on the discipline of neuroscience to design spaces that incorporate our knowledge of sensation, perception, learning, memory, decision-making, and processing of new experiences. Our senses shape our reality and by designing spaces to activate the five basic senses, we can be vividly tied to our experience. While visual activation is perhaps most frequently considered, we have seen retail and hospitality industries be particularly successful in activating experience through touch, taste, and smell. Gensler has been supporting Procter & Gamble in designing workspaces that incorporate these neuroscience learnings, with spaces designed to promote psychological well-being. Lighting that supports circadian rhythms, building legibility, and biophilic features, such as planting and organic, flowing lines all help to create a restorative environment.
Technology advancements will require a human-centric approach
Empathy will become even more important with the advancement of artificial intelligence (AI). Workplace purpose will need to home in on the unique traits that humans bring to tasks. At the same time, the advancement of AI will move building systems from automation to forecasting. Smart buildings will need to take a human-centric approach that learns from the experience of building occupiers and doesn't just pay attention to efficiency metrics or the needs of certain groups.
Delos, the creator of the WELL Building Standard, engaged Gensler to design its headquarters in New York and to create a branded digital experience that illustrates its mission. Real-time interactive information displays engage guests and employees. These include data visualisations of building systems and feedback on user behaviours designed to encourage movement. Information is displayed in harmony with circadian rhythms, with the display screens sitting within a perennial background colour that changes throughout the day and year based on the position of the sun.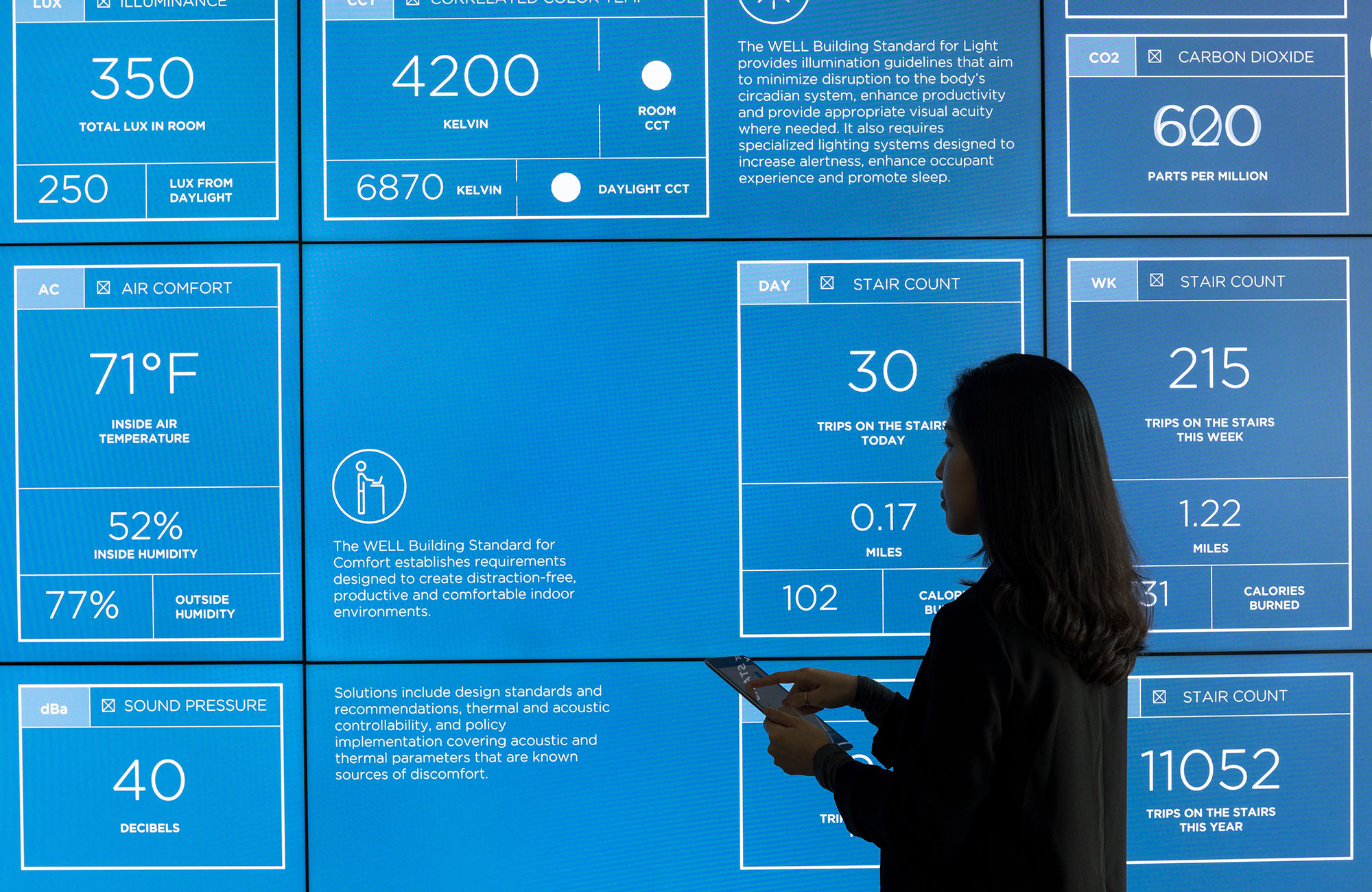 Empathy at every scale
Empathetic approaches aren't just needed within our buildings; they are needed at all scales. Barcelona's superblocks are a great example of where a city has taken an empathetic, people-based approach to its smart cities strategy. Barcelona's City Council have sought diversity and inclusivity in terms of gender, ethnicity, and disability in their community engagement. This led to the creation of their superblocks — neighbourhood zones, three blocks wide and three blocks deep, that are only accessible to residents' cars. On other nearby streets, the remaining cars are reduced to traveling at 6 miles per hour and must yield to pedestrians, suddenly creating safe places for children to play.
Empathy is not just a tool for change; it is a required trait of healthy workplaces and communities that is to be sustained over time in both the culture and physical fabric of a place. Project teams must have a clear vision that is meaningful for end users and commit to an inclusive process. Empathy needs to be at the core of design thinking, acting as a key differentiator for those who want to offer a better workplace for the future.
For media inquiries, email .