5 Trends Driving the New Workplace
July 12, 2023 | By Janet Pogue McLaurin
For many knowledge workers across the globe, the pandemic upended the nature of work and accelerated workplace trends that were already underway. Among the key lessons: the longer we worked from home and away from our colleagues, the more being together mattered. Zoom was not a replacement for human connection and a shared workplace experience — either with our extended families or with our coworkers and teams. We realized the importance of meeting face-to-face, socializing, brainstorming, and connecting with each other again. This is how we build community, strengthen relationships, coach and mentor, and reinforce our shared purpose and culture.
As we return to the office, employees report that the most important reason to come into the office has shifted — now the key reason is to focus on their work. Other top reasons to go to the office include access to technology, scheduled meetings with colleagues or clients, and access to specialized spaces, materials, or resources. Socializing and professional development are still important, but employees have reprioritized the office as a place to get their work done individually and with colleagues.
Employers should not need to sell the upsides of the office — their employees instinctively already know them. But there is a gap between current office utilization and what employees say they need. In Gensler's recent global workplace research, conducted across nine countries and 10 industries, office workers report that they ideally need to be in the office more often to maximize their productivity. The pandemic has fundamentally changed not only how we work, but also the spaces and resources that we need to do our best work and meet our expectations of the office. Some of this change was already underway pre-COVID; however, new needs, priorities, and expectations have emerged as we continue to return to the office.
Here are five workplace trends that are driving priorities for the new workplace:
1. Mobility: Workers will now expect the ability to work from anywhere, and the autonomy to match work to the right setting far beyond the pandemic.
Many organizations, including Gensler, maintained strong productivity when they suddenly had to transition to work from home in March 2020. This was not a surprise, as our pre-COVID research has consistently shown that people who spend at least a portion of their typical workweek outside the office have higher workplace satisfaction, job commitment, and engagement, and score higher on indicators of innovation. We were not the only firm to measure this; Gallup reported that in order to attract a new generation of talent, companies will have to adopt a forward-thinking mobility strategy. Gensler's Workplace Surveys in the U.S. and among global regions found that "hybrid employees," (those balancing days at the office with working from home) appear more deliberate with how they use their time, have better awareness of what their colleagues are working on, and have higher job satisfaction overall.
As employees return to the office, we see that globally, workers are mobile — spending only 21%, on average, of their typical workweek working from home. Employees spend about half their week at the office, but the balance is spent working at client/customer sites, third places, coworking spaces, and on business travel. This mobility will continue, requiring the ability to work anywhere and everywhere.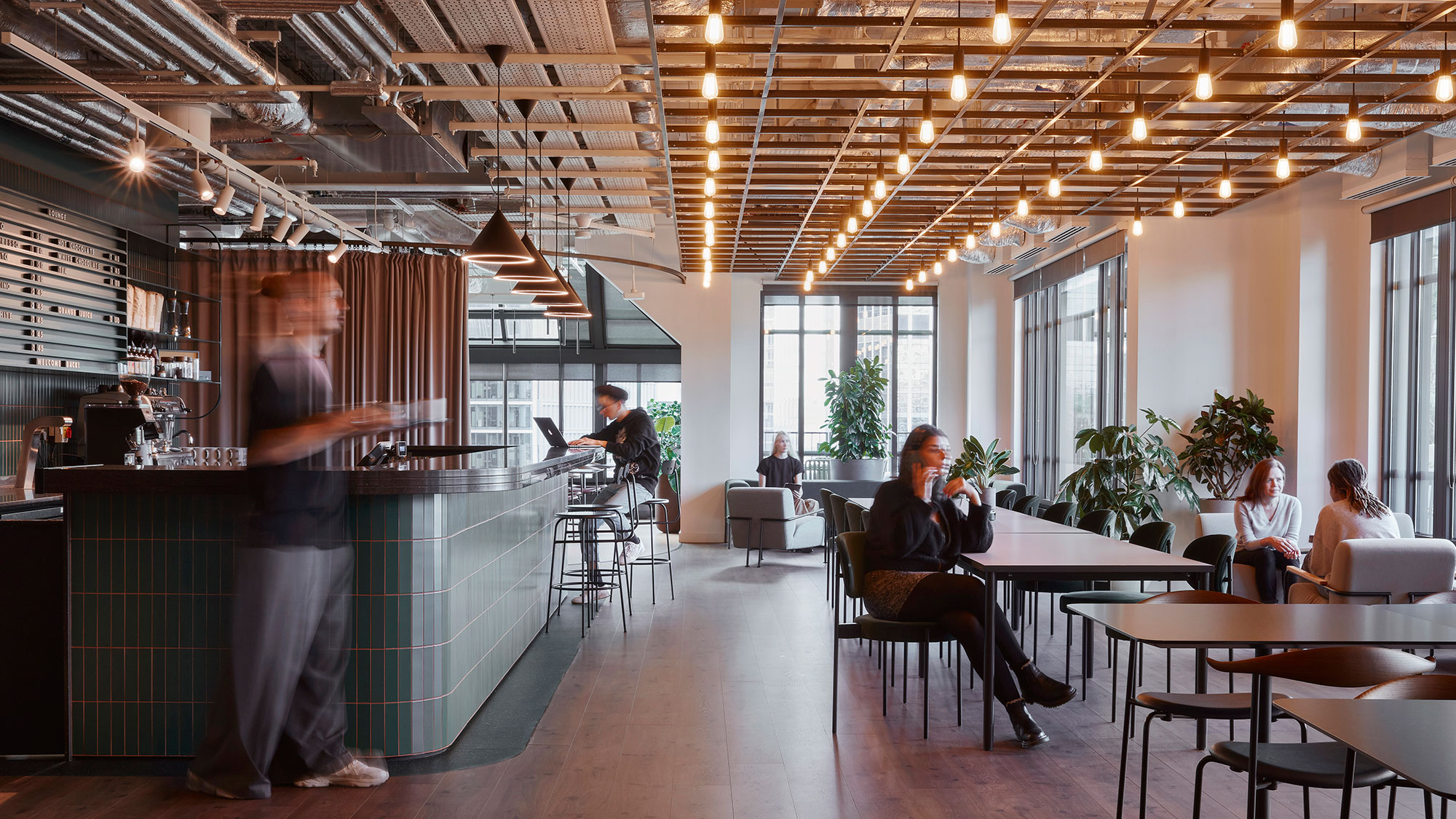 2. Choice: Employees' ideal mix of experiences and variety of work settings must now include a workplace ecosystem beyond the office.
Workers' desire for choice in the workplace is not new. For context, Gensler's 2013 U.S. Workplace Survey found that employers who provide a spectrum of choices for when and where to work were seen as more innovative and had higher-performing employees. And in 2016, we found that workers at innovative companies spend more time collaborating away from their desk and spend only about 3.5 days (74%) of their workweek in the office. The preference for flexibility in the new workplace continues to grow, but that doesn't mean that there is a one-size-fits-all strategy for companies: many workers depend on specific resources at their offices. But the nature of work is changing — we're becoming more versatile, agile, and collaborative. We need a wider array of solutions — both inside and outside the office — to support all workers.
Cities and neighborhoods will play a critical role in providing third places for workers, such as coffee shops or coworking spaces, as additional choices within the workplace ecosystem. In fact, companies with high-performing workspaces are more likely to be located in amenity-rich neighborhoods, which can act as an extension of the office to offer a variety of work settings as well as a mix of different experiences for employees.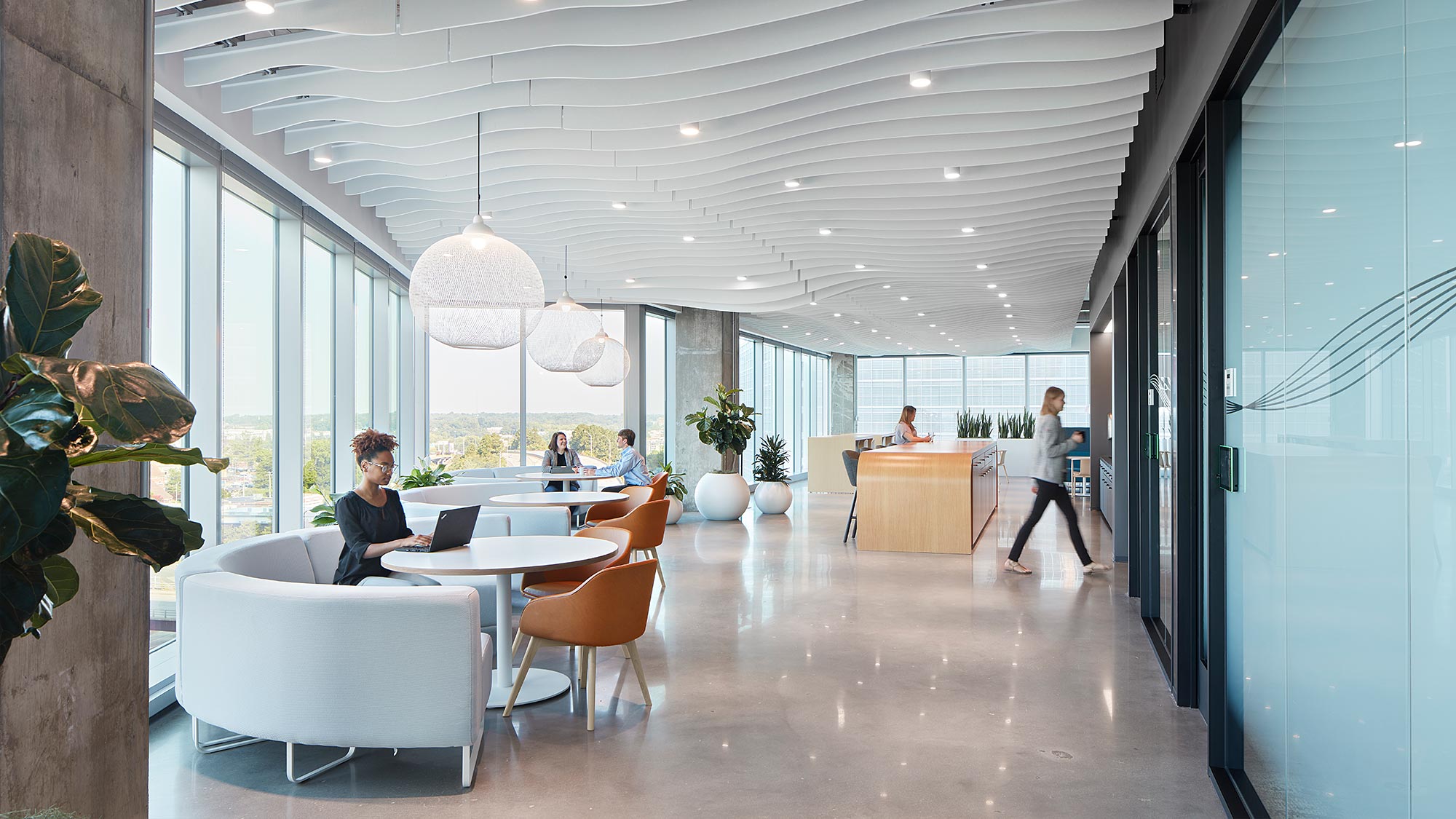 3. Privacy: Many workers already struggled to find privacy in the workplace — now they expect to maintain the privacy they have become accustomed to at home.
The workplace design trend toward more open environments has led to the rise of unassigned seating to provide more space for collaborative areas for group work, but to the detriment of space for focusing or personal use. Employees don't want a complete reversal of these trends, but better space allocation to optimize their time in the office. In 2019, we created a "degrees of openness" scale to measure employees' total work environment, accounting for the balance of open workstations with rooms dedicated to enclosed meetings, team meetings, and focus spaces. We found that "mostly open" workplaces were associated with higher performance and greater experience, but noise, privacy, and the ability to focus remain key determinants of workplace effectiveness. Striking the right balance of open/private and individual/group spaces will be key in the future.
Gensler's latest global workplace research found that employees spend 35% of their time working alone, yet this is one of the least effective work modes in the workplace. Spaces for individual work, such as quiet/tech-free zones, libraries, and focus rooms, as well as spaces to reflect or restore, such as mediation spaces, rest/nap areas, and outdoor workspaces, greatly impacted both workplace effectiveness and experience, according to survey data.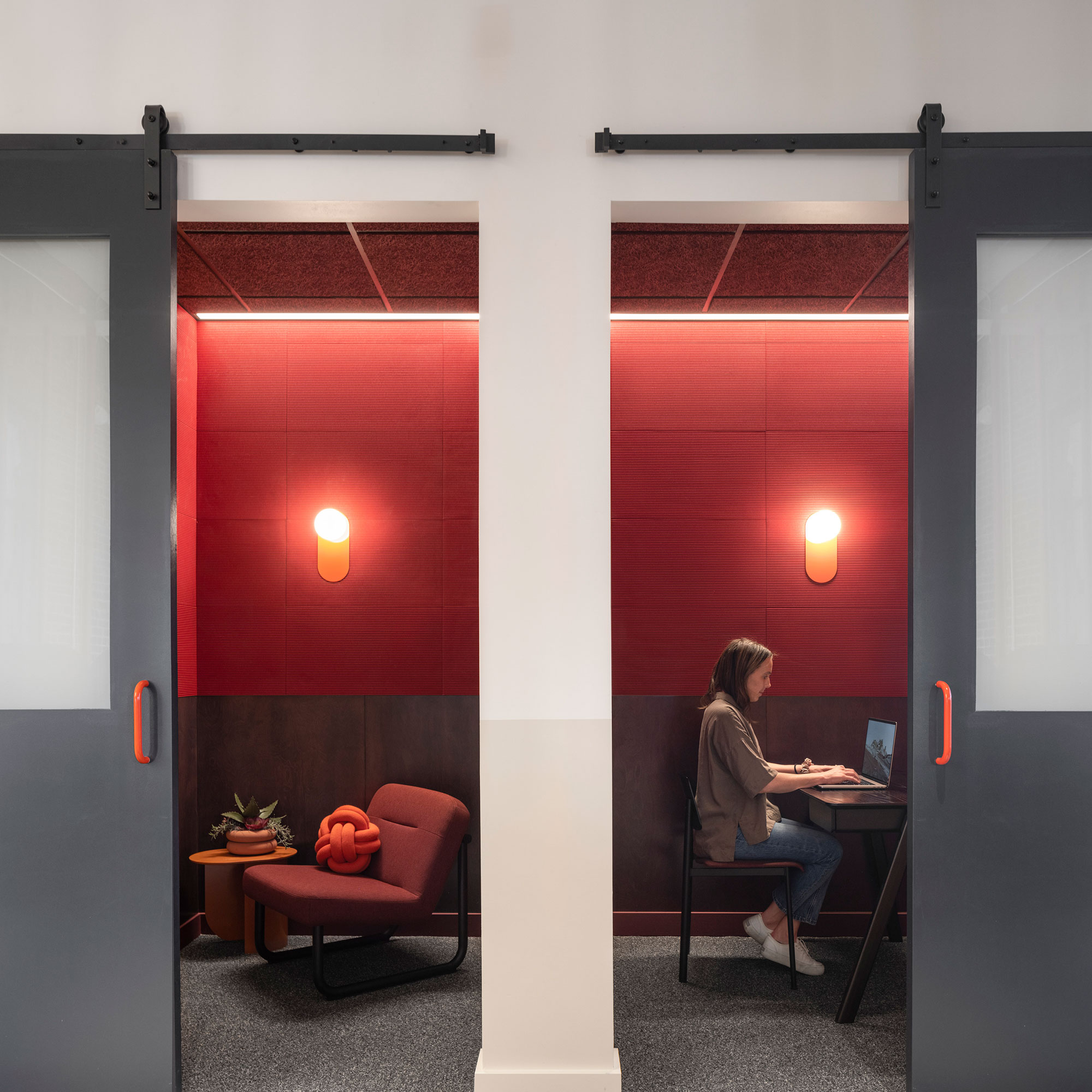 4. Hybrid: Hybrid work is here to stay, so it's time to improve the hybrid experience at the office too.
Work is no longer where you are, but what you do. During the pandemic, work and location became even more untethered. All companies had to shift their work to the cloud when many workers across the globe suddenly had to work from home. We became adept at working virtually, collaborating on Zoom, working across time zones, and with distributed teams. Employees reported feeling more inclusive with everyone equally represented as faces tiled across the computer monitor.
Although it may vary by industry and by role, hybrid work is here to stay. Currently, on average globally, 56% of meetings hosted in the office are hybrid, with both in-person and virtual participants. But in our latest global workplace research, we found that working with others virtually has steadily declined since we first started measuring it in 2016 and is now at its lowest effectiveness rating. To improve working with others virtually while in the office, it will require better technology, behavioral training on leading hybrid meetings and collaboration, and better work settings designed specifically for different types of hybrid work. Only one-third of office workers report that their office environments have been remodeled in the last three years. It's time to rethink the workplace experience for those who are working in the office in-person, as well as those who are there virtually.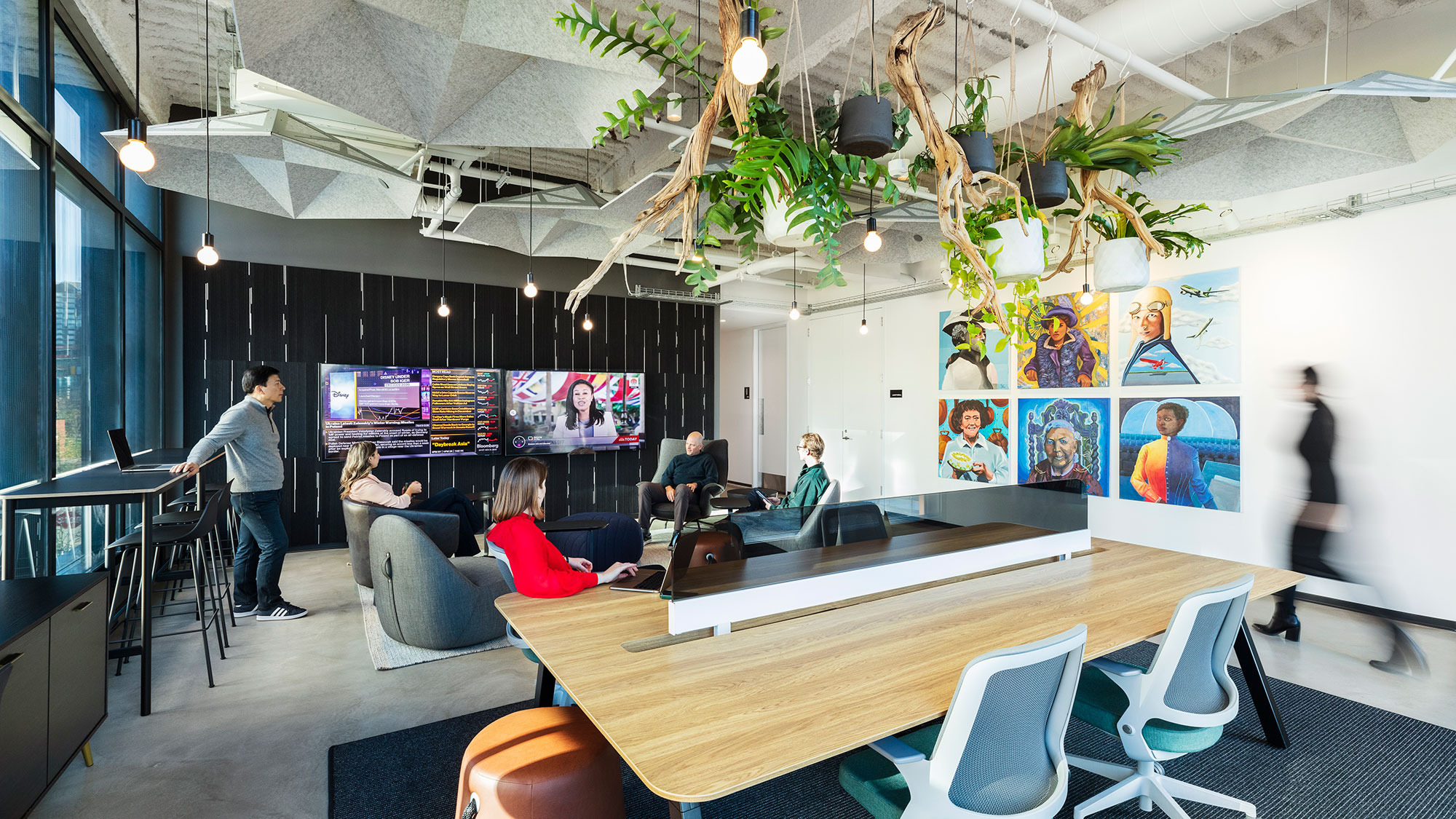 5. Health & well-being: Great workplaces always supported more than just work — now people expect health and wellness to be built into everything.
As workers around the world prioritize the importance of health and well-being, employers now face mounting pressure to synergize indoor and outdoor spaces, nudge healthy behaviors, and support a sense of psychological well-being. During the pandemic, many employees reported their home environments provided better access to the outdoors and better environmental adjustability and comfort than their workplace. Employers must now work harder to establish how their post-pandemic offices and workplace policies can better support the health and well-being of employees.
Spaces within the office that offer an environment to reflect and restore have a greater impact on space effectiveness and workplace experience than food amenities, according to our 2023 global workplace research. We also measured that working in the office has a number of positive outcomes. Employees in high-performing workplaces are almost three times more likely to say working in the office positively impacts work/life balance and personal health and well-being than those in low-performing workplaces. And they are almost two times more likely to say that working in the office positively impacts their sense of inclusion, relationships with colleagues, and connection to team purpose.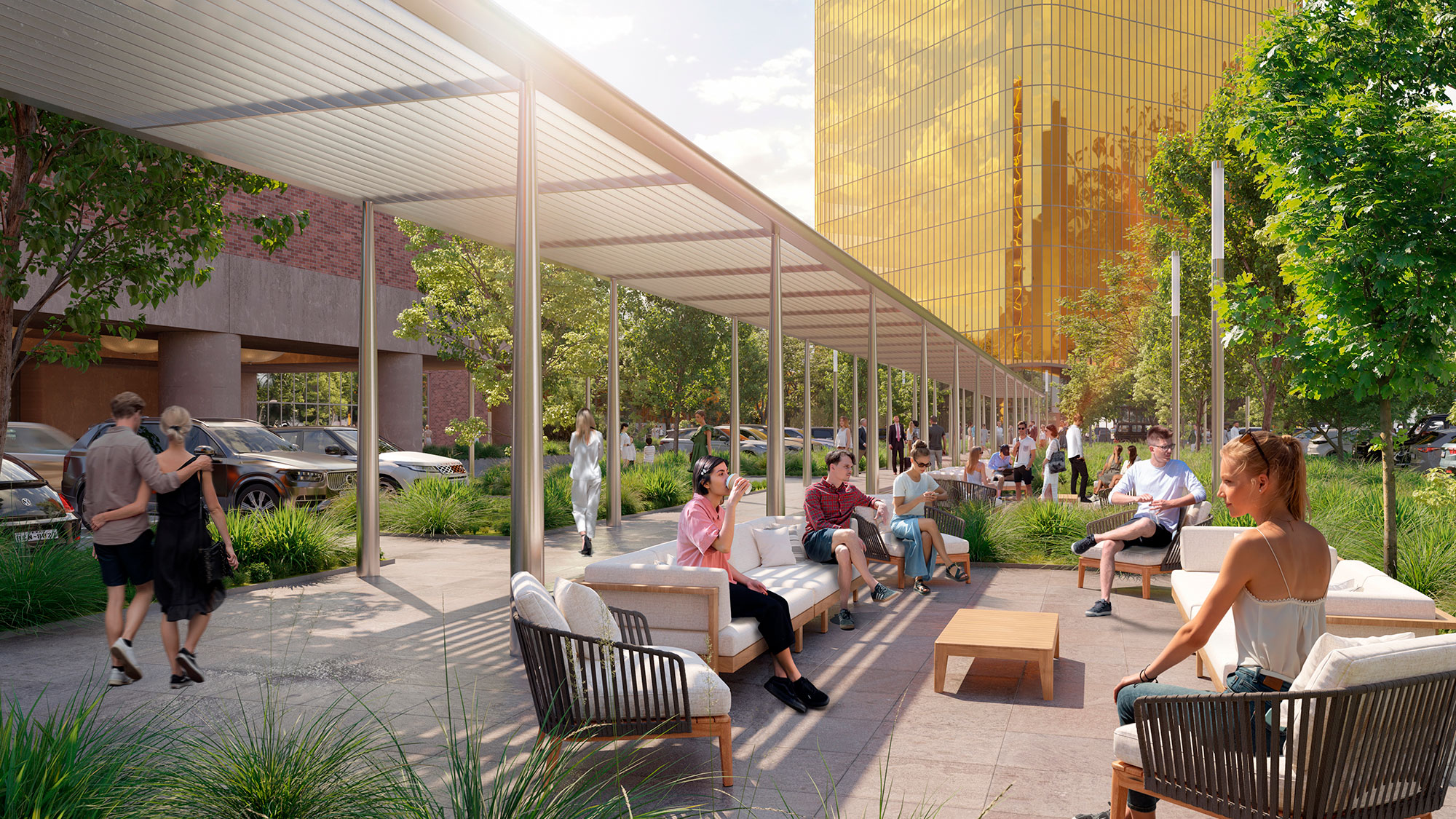 Reexamining the future of work and the future workplace
As we rethink the future of office space, we must realize that most issues facing today's workplace weren't created, but rather, exacerbated, by COVID-19. We now value space and the experience of being together more than ever, but it first and foremost must also support getting work done. The post-pandemic office matters as a place to come together for both individual and team productivity. And for employees, mobility, choice, privacy, working with others virtually, and well-being are top of mind priorities.
Our pre-pandemic research consistently found that great offices are employees' preferred place to work. But there's a catch — offices must be designed to effectively support work for employees to want to use them. Our blueprint for what constitutes a great workplace will evolve as work and expectations continue to evolve, but that workplace evolution is built on a deep, global, employee-informed vision of what organizations need to be successful. With the transition back to the office and the long-term adoption of hybrid work well underway, this is an opportunity to rethink the physical office to create workspaces where employees want to be — and where they are supported to do their individual and collective best work.
For media inquiries, email .