New Gensler Workplace Survey Findings: Employee Expectations for Future Office Design and Culture
February 23, 2022
Editor's note: this podcast episode originally appeared on the Gensler Design Exchange podcast.
Since 2005, the Gensler Research Institute has been studying workers' expectations for the office and the impacts on space and culture. These findings are now more valuable than ever as employers plan and implement their return-to-office strategies. In our ninth workplace survey since the start of the pandemic, Gensler's latest U.S. Workplace Survey contains data collected from more than 2,300 U.S. office workers from October to November 2021. This particular survey digs into both employers' and employees' preferences and expectations for the future.
Our data shows that while companies continue to formulate their return-to-office plans, there remains a gap between people's preferences and expectations. There is an opportunity to create a series of culture and design changes that can encourage employees to return to in-person work.

In this episode of Gensler Design Exchange, Gensler workplace experts share key findings from the survey. Gensler's Cheryl Duvall, regional Consulting practice area leader, joins guests Janet Pogue McLaurin, global workplace research leader, and Elaine Asal, strategy director, to offer insights helping clients balance business goals with employee desires to embrace purposeful change for a more meaningful future of work.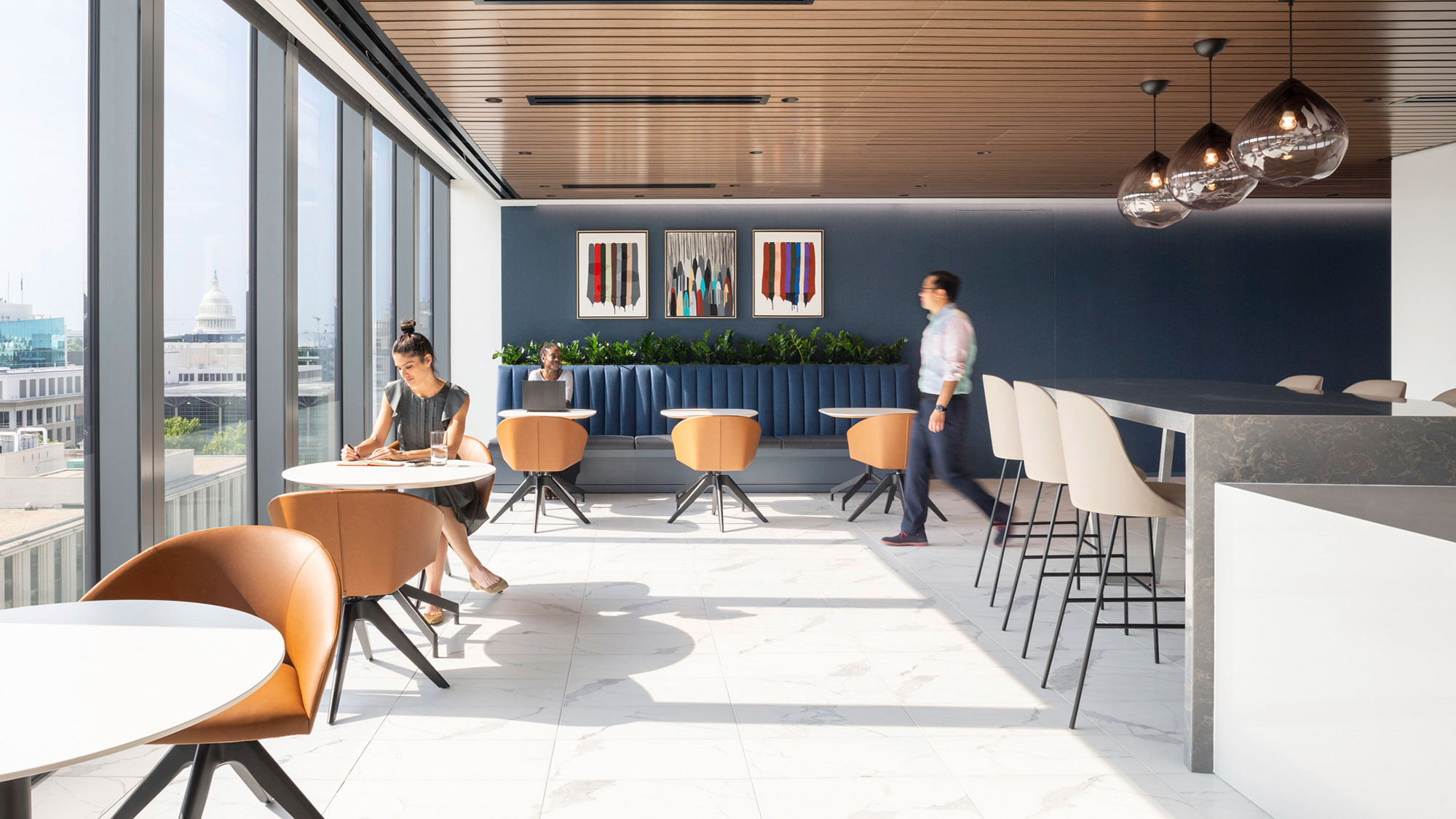 As the pandemic evolves and return-to-office plans adapt, the latest survey depicts that four out of five U.S. employees worked from their company's workplace at some point during the pandemic. Those people say that they view the physical office as important to make connections, feel included, and advance their careers. The fear of missing out is real, and it's pulling employees back to the office. But different characteristics of employees and employers matter, with key factors such as company performance, role type, age, and tenure impacting if and how often they want to return.
"Work patterns have changed. Many people have reprioritized work in their life. So, the new question for many is 'why should I even need to go to the office?' We've seen the percentage of those who prefer hybrid work [working remotely and at the office] continue to increase the longer the pandemic continues."
— Janet Pogue McLaurin, global director of workplace research, Gensler
So how can offices best support employees as they return? In this episode, our experts discuss the wide spectrum of answers to this question, but what is consistent is the importance of using focus groups and direct feedback from employees to shape their return strategy. This dedication to empathy in the process is distinct from the responses recorded in previous surveys and demonstrates employers' willingness to better understand their employees as they design office space and formulate change management plans and workplace strategies to better support changing expectations and needs in the future. Data can validate tough decisions, and the workplace is full of both qualitative and quantitative data ready to be captured.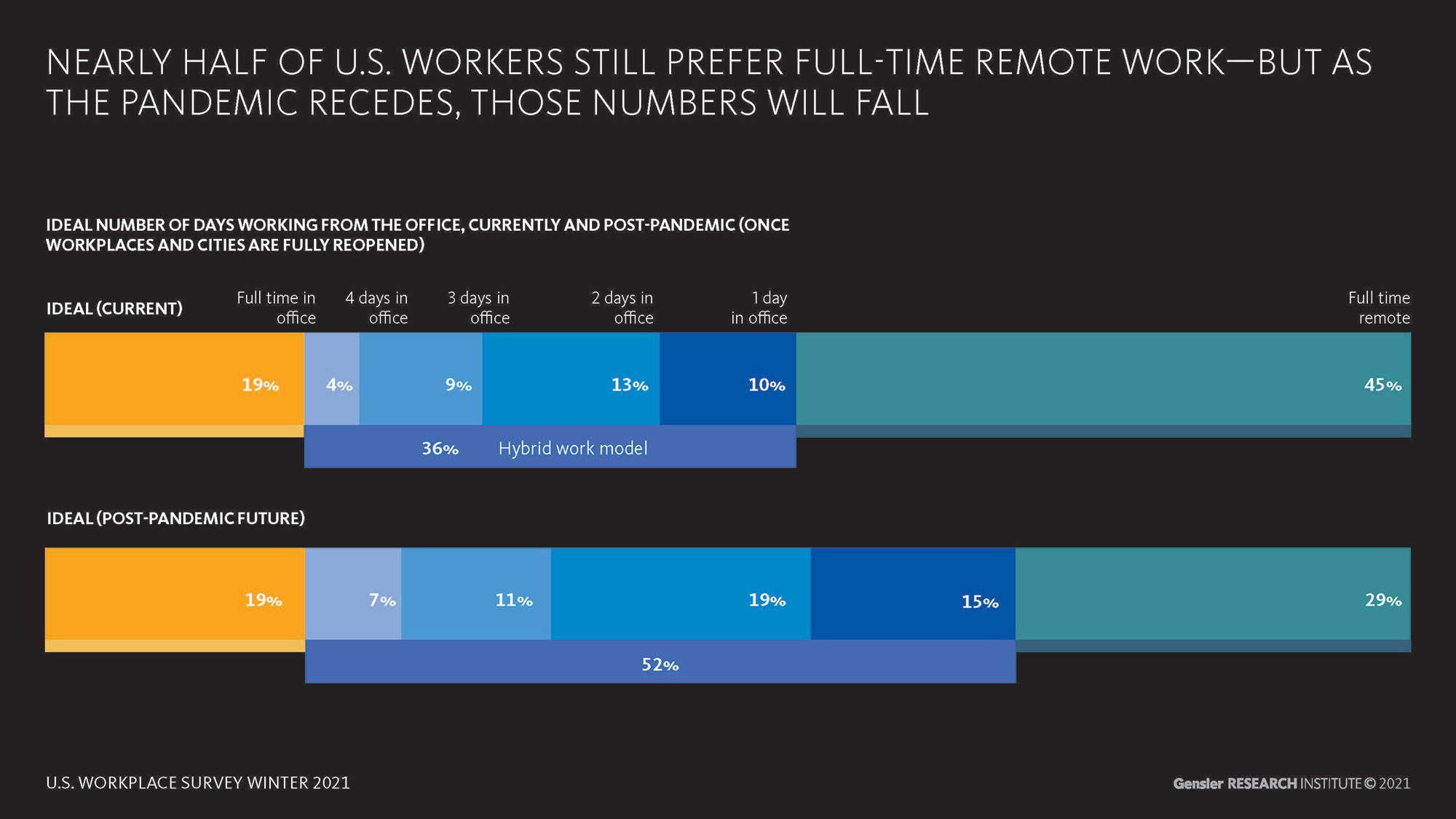 "A majority of our clients seem to be pursuing 2–3 days in the office as a part of their return strategy. There is a smaller sub-set who plan for 1–2 days in the office, and an even smaller minority exploring monthly or more infrequent engagement of the office. It's a range that is fundamentally changing the purpose and role of offices."
—Elaine Asal, strategy director, Gensler
So how does this data impact future workplace design and culture? In terms of amenities, there's a notable trend toward incorporating more health and wellness-focused features, along with spaces that can flex to support how people work best. The survey also highlights employees' desire to have access to more private spaces in the office. Over the course of Gensler's pre-pandemic global workplace surveys, office workers were already reporting an increasing need for more access to private spaces in the office — the pandemic has simply exacerbated that need.
We saw clear generational differences in our workplace survey findings. While all generations reported that the primary purpose of the office is to collaborate with their team, Generation Z put a greater emphasis on the ability to maximize individual productivity than all other generations. Gen Z also ranks visibility for promotion and creative inspiration higher in their top 10 reasons to visit the office. Younger generations, especially, also prefer partial days in the office — a finding that is supported by our previous workplace survey findings that younger generations prefer third places to complement their in-office and remote work locations.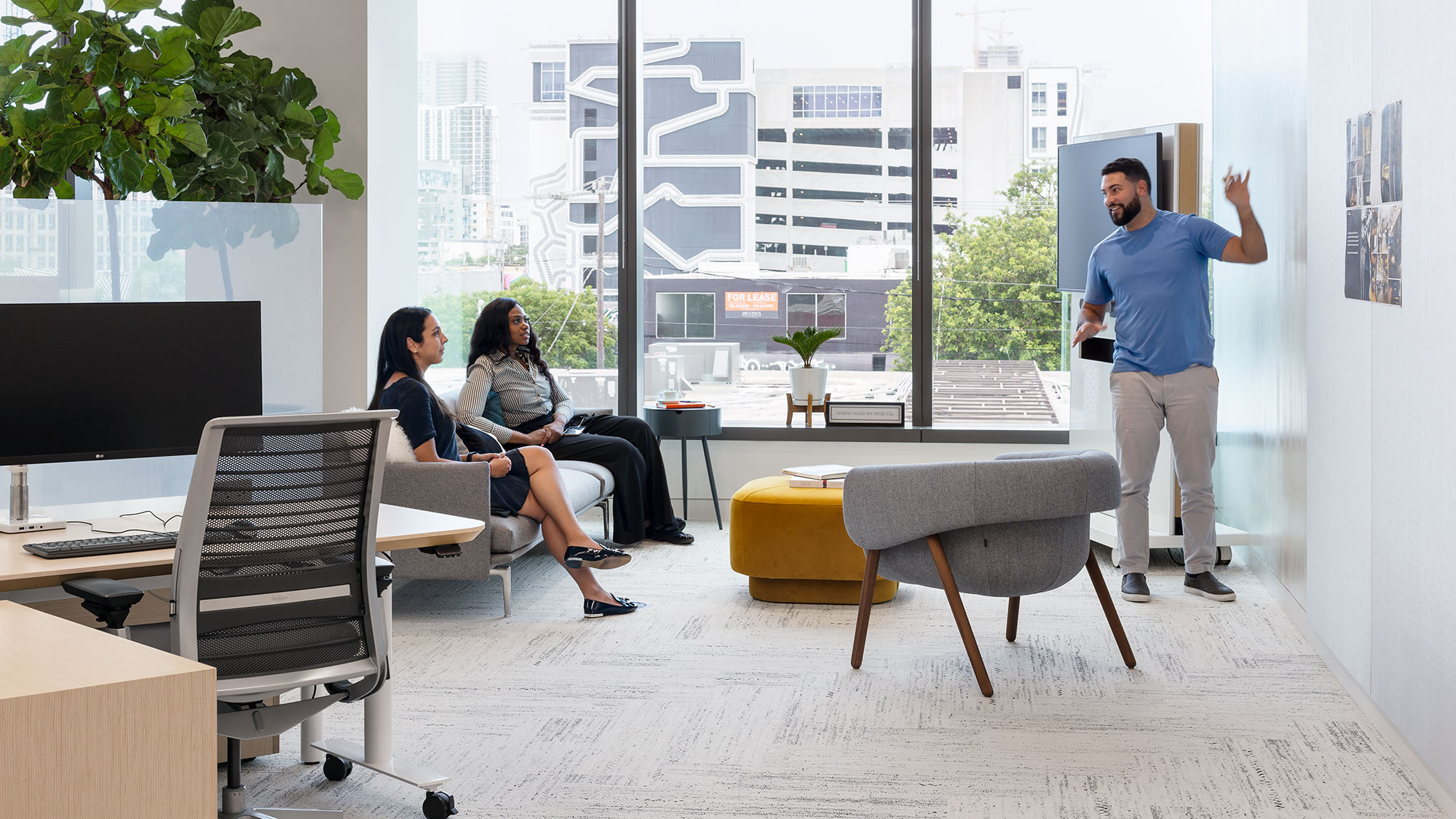 "The desire for privacy in the office has become a growing expectation during the period of remote work. We're also seeing a larger influence of hospitality and residential design incorporated into the workplace to make employees feel more comfortable, after almost two years of working from home."
—Cheryl Duvall, regional Consulting practice area leader, Gensler
Companies should also consider external aspects of their office, including terraces, rooftops, local restaurants, and retail, when considering amenities that might help draw employees back. Third places to work outside of the home and office are rising in popularity — from coffee shops, to libraries, to outdoor space. These additional considerations are resulting in a more campus-like approach to planning what's next for real estate footprints and workplaces.
One clear consensus among our guests: we are embarking on an exciting time of experimentation in the workplace to optimize a range of hybrid, in-office, and remote workers. By piloting new real estate strategies and new design approaches to support new ways of working, we can focus on what the office does best — provide the best tools, spaces, and experiences that can't be replicated remotely. Moving forward, we must create workplace environments that people want to be a part of.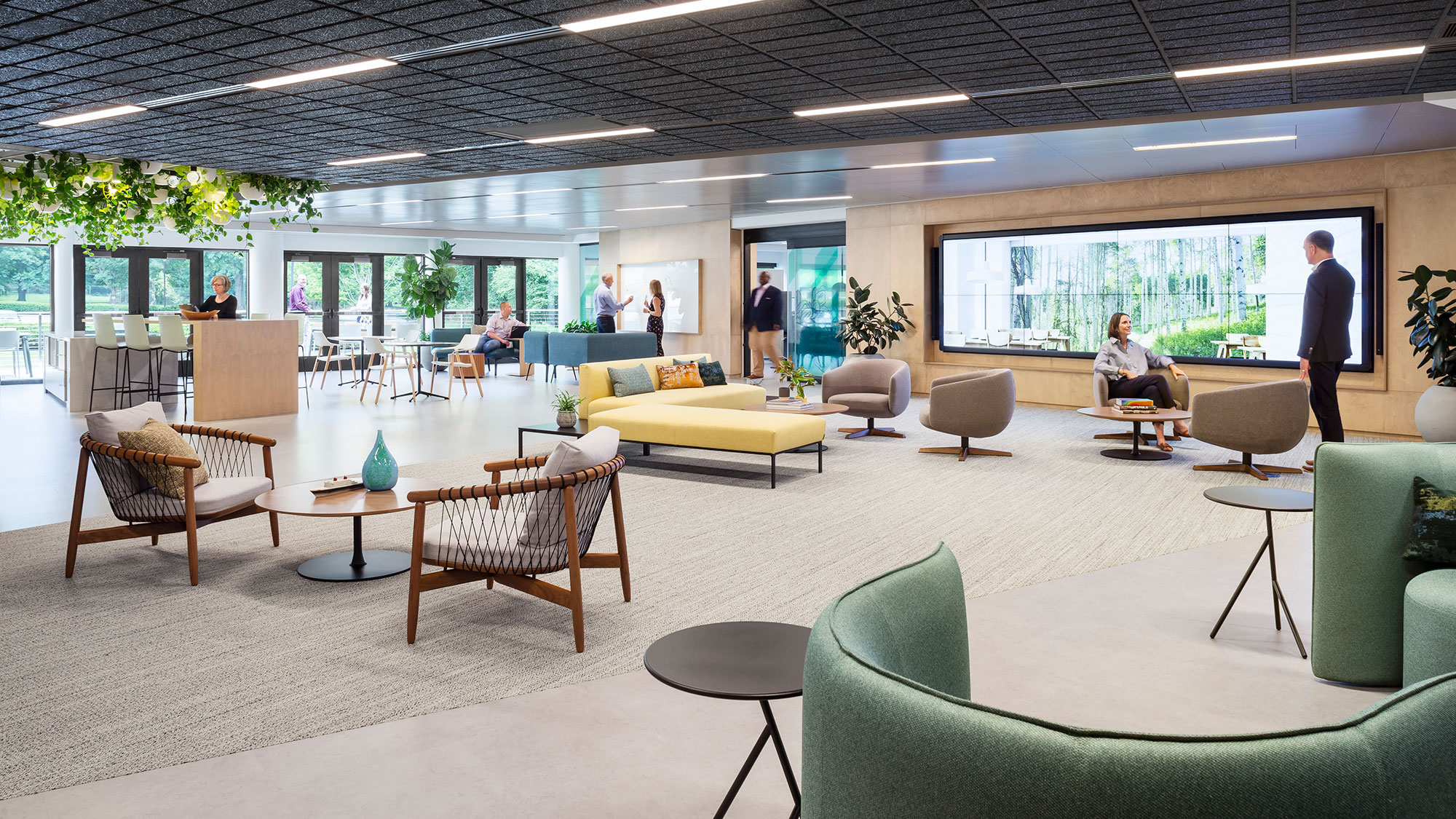 It's clear that there will be more challenges ahead — if not the continuation of COVID, the climate crisis, or the next pandemic will introduce new habits — but by giving employees the power to tailor their own work experience, we can create an office that's ready for multiple futures.
Tune in to hear the full conversation.
For media inquiries, email .