Most companies have announced initial return plans — two-thirds of which have flexible policies, but only 9% which give workers total control.
In our U.S. Workplace Survey Winter 2021, we surveyed workers during a period where companies are beginning to bring them back to the workplace. Most companies have announced initial policies and approaches for the return to the office—ranging from mandates for full-time return to allowing employees to fully define the times they are needed in the office. Our data shows that while companies are increasingly making their plans clear, there exists a gulf between company and individual worker expectations—but also a series of policy and workplace changes that might encourage employees to return to in-person work.
This data is collected from an anonymous, panel-based online survey of 2,364 U.S. office workers, conducted from October 6-12 and November 12-14, 2021.
Learn more about our methods.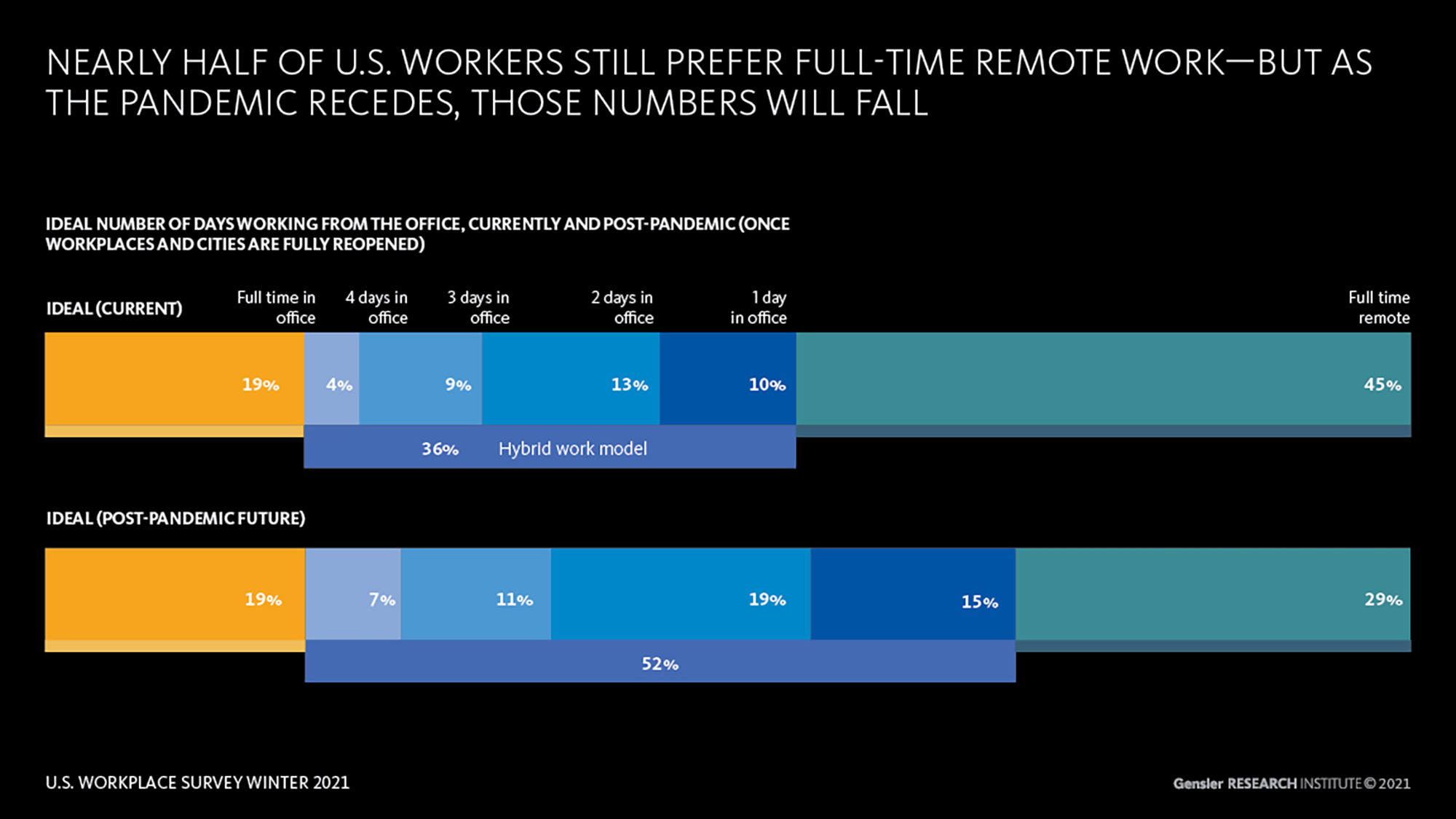 Most companies will be asking employees to return to the office at a greater rate than workers currently consider ideal.
As the pandemic continues — despite rising vaccination rates — many employees are still reluctant to return to the office. 45% of U.S. office workers say they currently want to work remotely full-time, however, as they consider a post-pandemic future, that number drops to 29%, according to responses to Gensler's U.S. Workplace Survey Winter 2021. These work preferences of employees do not align with company expectations, which skew toward a focus on in-person work in the coming year. Two-thirds of workers expect they will be required to work in the office for at least the majority of the week. For companies that have already announced specific policies, that number rises to three-fourths.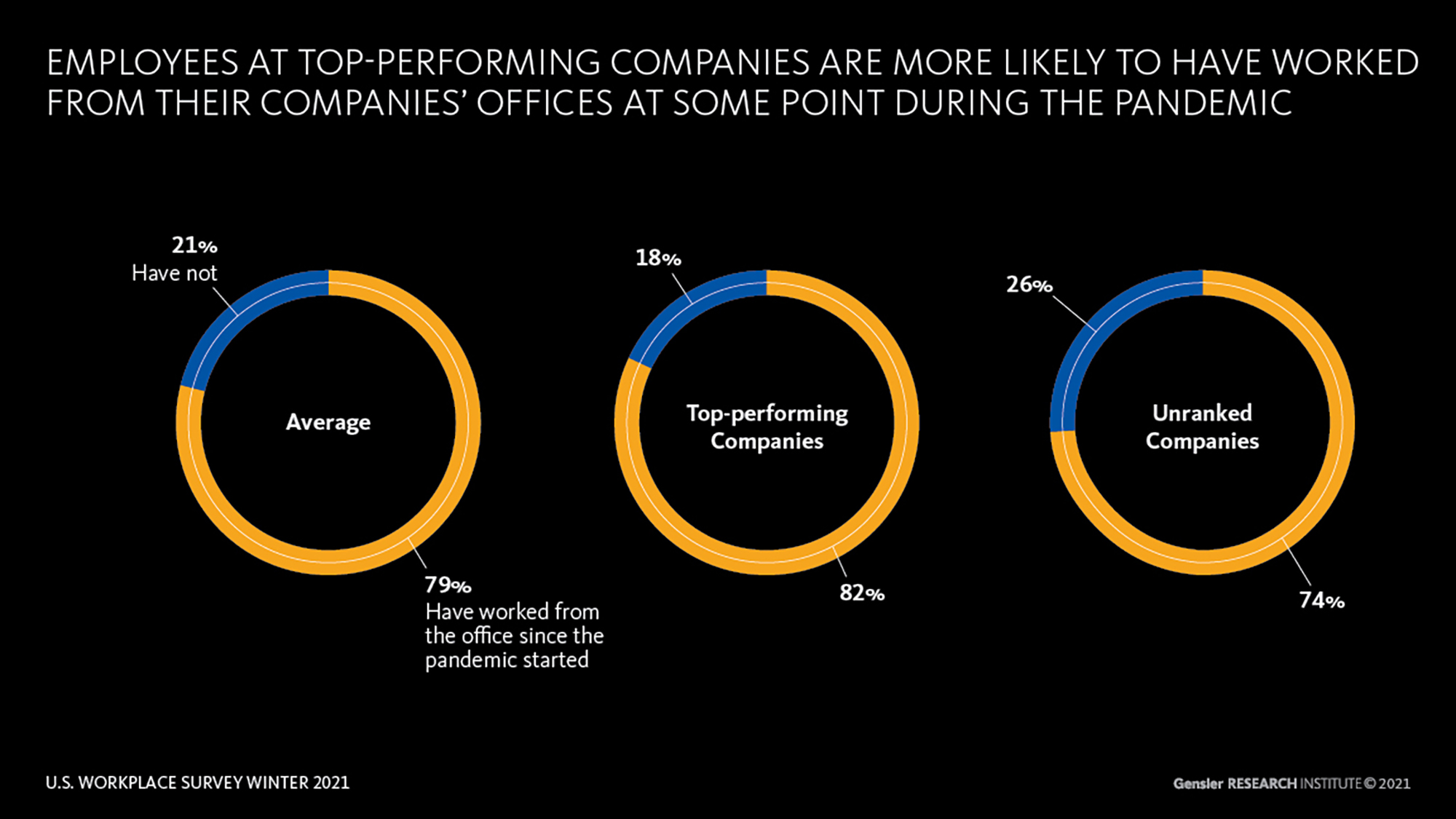 Four out of five workers have spent at least some time working from their offices since the beginning of the pandemic.
While remote work is still a focus, the vast majority of employees have spent some time on-site since the start of the pandemic, our latest U.S. Workplace Survey found. Most workers still have a choice in where they work, but many chose to return to the office to fulfill job-related needs that are better supported in the physical workplace than the home or non-office locations.
Distinctions around who has and has not returned may inform change management and policy approaches moving forward. For example, professional/technical employees and employees who began working at their current company during the pandemic are least likely to have returned during this time. Conversely, senior leaders and employees at top-performing companies (defined as companies that have appeared on Best Places to Work, Most Admired, and Most Innovative lists) are more likely to have returned.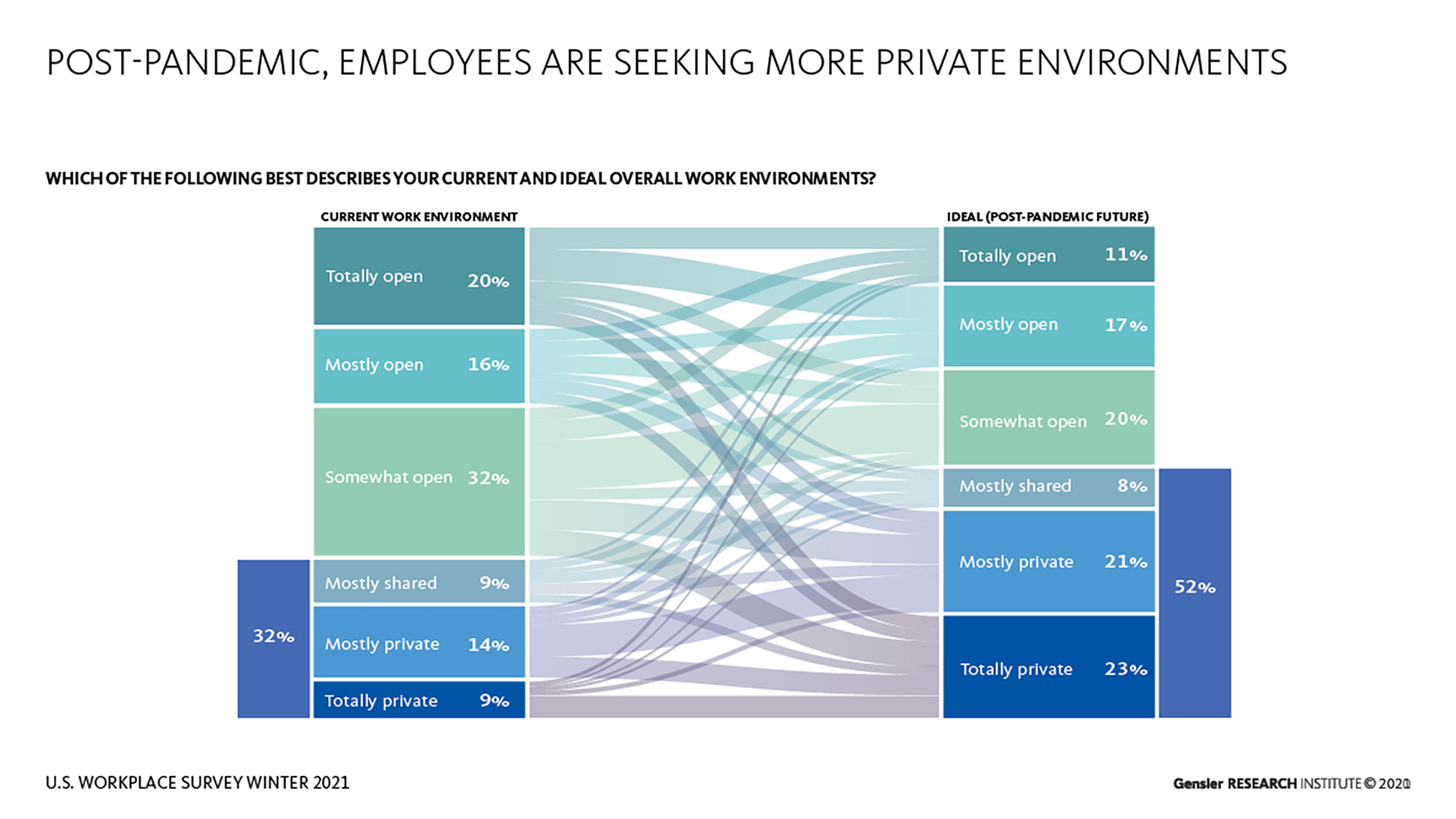 The desire for more private spaces is not new — but as workers return to the office, this is increasingly becoming an expectation.
Pre-pandemic, two-thirds of U.S. office workers worked in some form of an open office environment — but only half would consider this ideal going forward. While this is consistent with our pre-pandemic research, the desire for privacy in the office has become a growing expectation during the period of remote work.
Moreover, employees clearly expect changes to the work environment as they return to the office — over one-third of surveyed office workers feel their company's workplace is not prepared for hybrid work. When asked what would make them more comfortable returning, three-fourths of employees ranked access to private spaces in the office as a priority — a factor outranked only by enhanced air filtration and cleaning protocols.
U.S. Workplace Survey Winter 2021 Methodology
This anonymous, panel-based survey of 2,364 U.S. workers was conducted online — from October 6-21 and November 12-14, 2021. Respondents were required to be working full-time for a company, organization, or firm of 100 or more people, and to have worked in an office environment prior to the COVID-19 pandemic. At the time of data collection, respondents worked in a variety of scenarios: full-time from home, part-time in the office, and full-time in the office. Respondents were distributed across 10 industries and represent a wide range of seniority levels, roles, ages, and geographies across the U.S.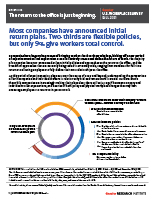 U.S. WORKPLACE SURVEY WINTER 2021
GENSLER RESEARCH INSTITUTE
DOWNLOAD AS PDF
Download the full Gensler U.S. Workplace Survey Winter 2021 Report to explore how companies and employees have evolving expectations as they return and plan for the future of the office. Our data shows opportunities for workplace changes to encourage employees to return to in-person work.