People Have Choice in the Workplace, But Not the Choices They Need
July 18, 2023 | By Janet Pogue McLaurin
This is the second in a blog series on Gensler's Global Workplace Comparison 2023. Read Part 1 here.
When it comes to choice, more isn't always better. Imagine you're looking for a specific outfit for a special occasion, but you visit multiple stores and browse numerous websites only to find an abundance of options that don't match your requirements. There is an overwhelming variety of clothing available, but none of them fit the style, color, or size you're looking for. This idea extends to the workplace. Gensler's global workplace surveys found that employers are providing choice in the workplace, but not the choice that workers say they need.
In fact, choice is at an all-time high.
In 2016, our research uncovered that only 27% of U.S. workers have choice in where they work within their workplace. However, that number had steadily grown to 48% having choice right before the pandemic, rising to 72% in the U.S. and 73% worldwide currently, according to our latest global research. We also found that choice is a powerful contributor to both space effectiveness and a great workplace experience — Gensler's two key measures of a high-performing workplace.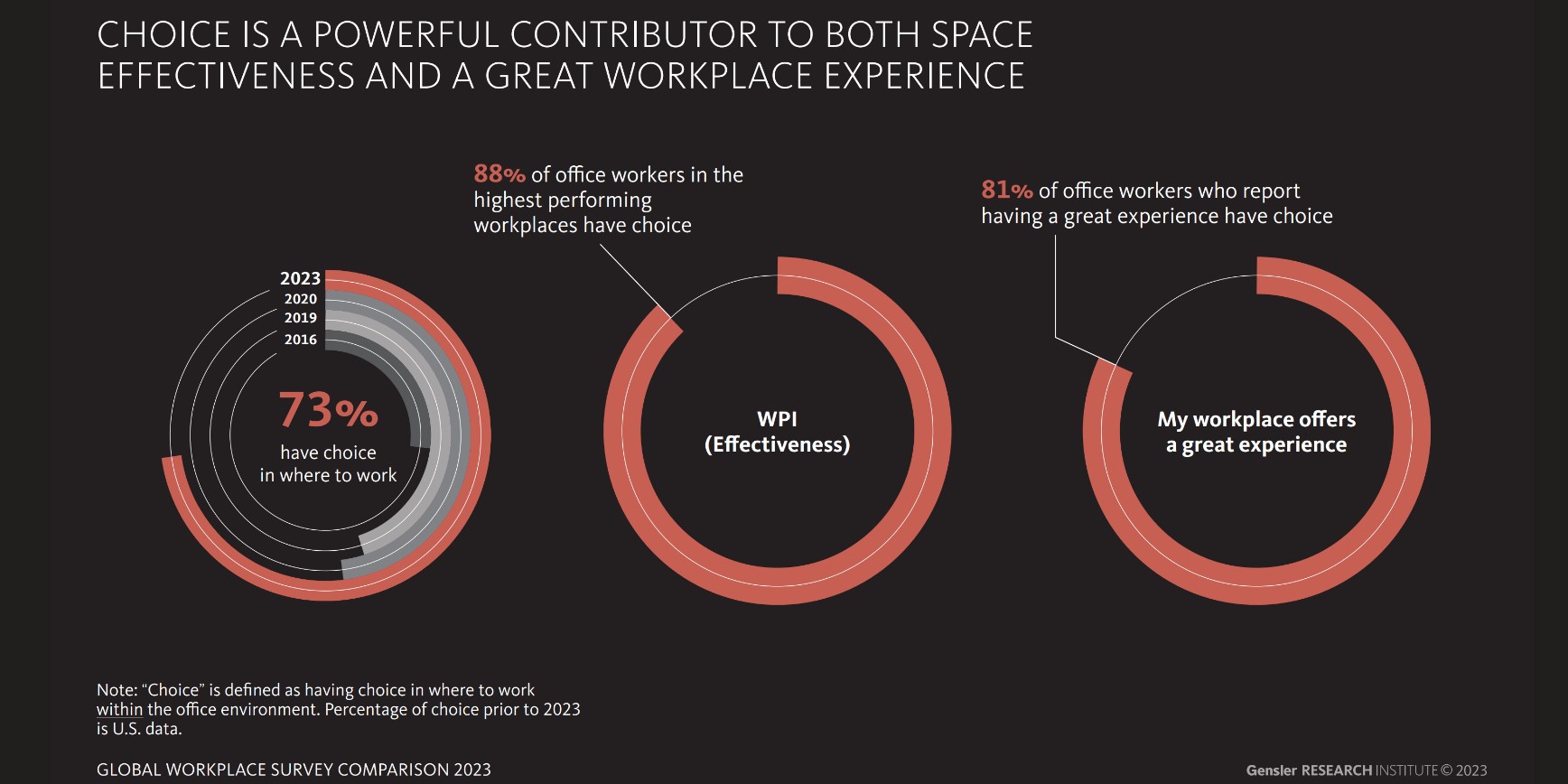 In our research, we wanted to understand which spaces employees have in their office environments beyond their individual workspaces and enclosed meeting rooms. We asked about 16 different spaces, ranging from focus rooms to break rooms. Many are work settings, but we also asked about amenities that are no longer optional, such as outdoor workspaces, libraries, and meditation spaces. In this blog, we'll focus on the top 12, which were organized into four key categories. You can find the detailed analysis in our Global Workplace Comparison 2023 report on how much each contributed to space effectiveness and a great workplace experience.
4 categories of spaces that make the most impact
It is important to provide spaces from four key categories to best support how people work today. Much like we think about the four food groups for well-rounded nutrition, these four space categories provide a well-rounded mix of experiences and work settings. In fact, we found that employees who work in high-performing workspaces are 1.7X more likely to have spaces to work with other in-person, 2X more likely to have spaces for video conference, 2.5X more likely to have spaces for focused concentration or confidential conversations, and 3.2X more likely to spaces to relax or recharge. Providing spaces for these critical work activities doesn't just enhance the workplace experience; it can positively impact individual, team, and organizational outcomes, which ultimately lead to better business performance.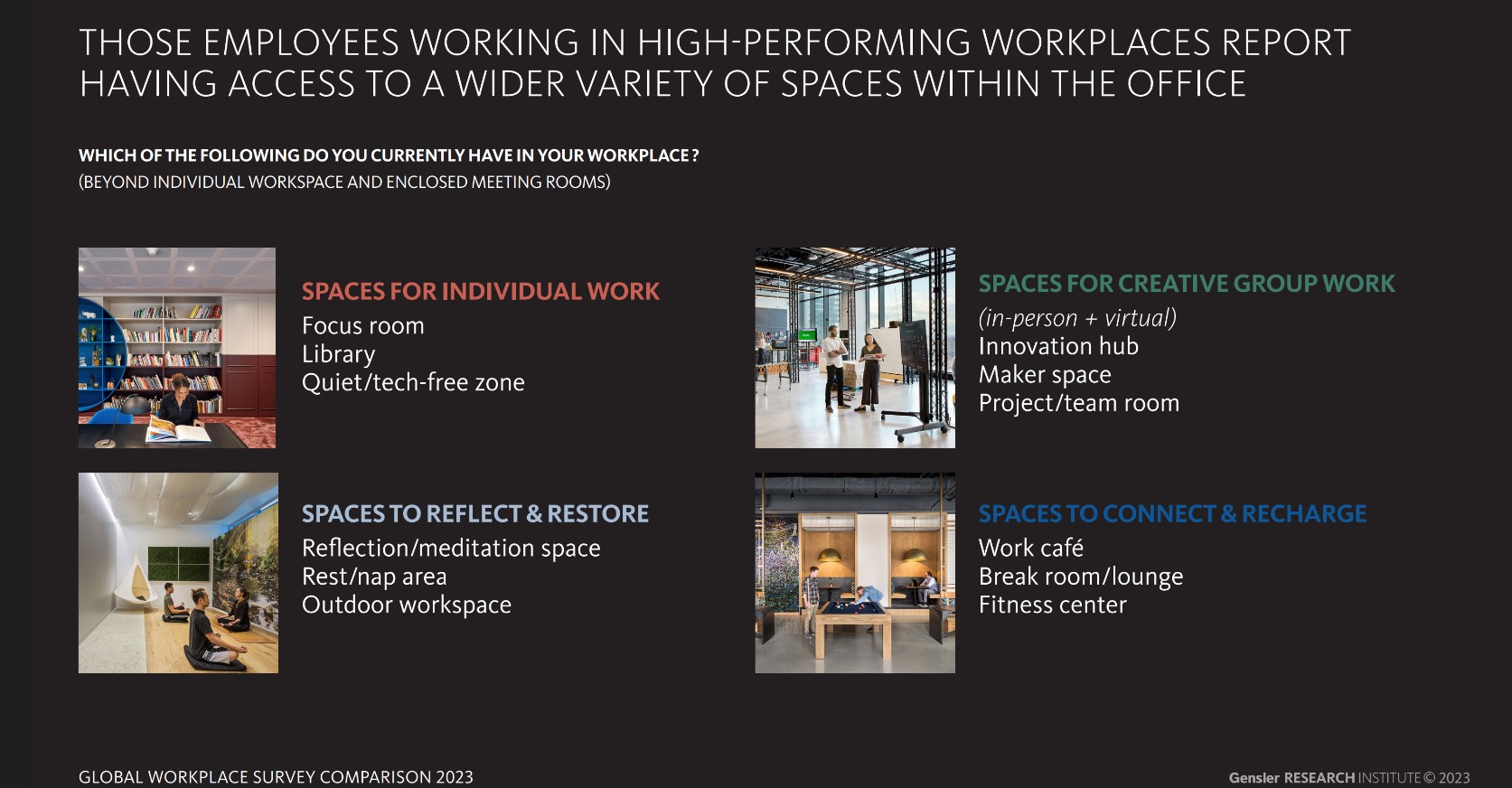 Employees working in high-performing workplaces report having access to a wider array of spaces to work within the office beyond their individual workspace and enclosed meeting rooms. These spaces are no longer optional amenities, but critical work spaces, which fall into four key categories:
Spaces for Individual Work can be open or semi-open, like quiet/tech-free zones for quiet work or more enclosed focus rooms and libraries for distraction-free work and to accommodate neurodiverse work styles.
Spaces for Creative Group Work need to be flexible to support both in-person and virtual participants. These spaces include project/team rooms, as well as maker spaces for co-creating with colleagues or innovation hubs for co-creating with clients, consumers, and/or academia.
Spaces to Reflect & Restore designed around wellness and mental health provide antidotes to workplace stress and anxiety. They include outdoor workspaces to connect to nature, reflection or mediation spaces, and even rest/nap spaces (which were the most impactful in the U.K.).
Spaces to Connect & Recharge have relocated from windowless break rooms to destinations equipped for work, including work cafes, fitness areas, and lounges. Although they rank the lowest impact on our list of spaces, they contribute to both space effectiveness and a great experience.
The flight to experience
Companies don't have to provide all these spaces for their employees — the key is to provide access to these spaces by paying attention to office location. Companies that provide both an effective space and a great experience are more likely to be located in amenity-rich neighborhoods. Coffee shops, restaurants, libraries, parks, and other third spaces play a critical role in the new workplace ecosystem. More than 80% not only have food amenities on-site or nearby, but outdoor space, grocery stores, health facilities, and pharmacies as well.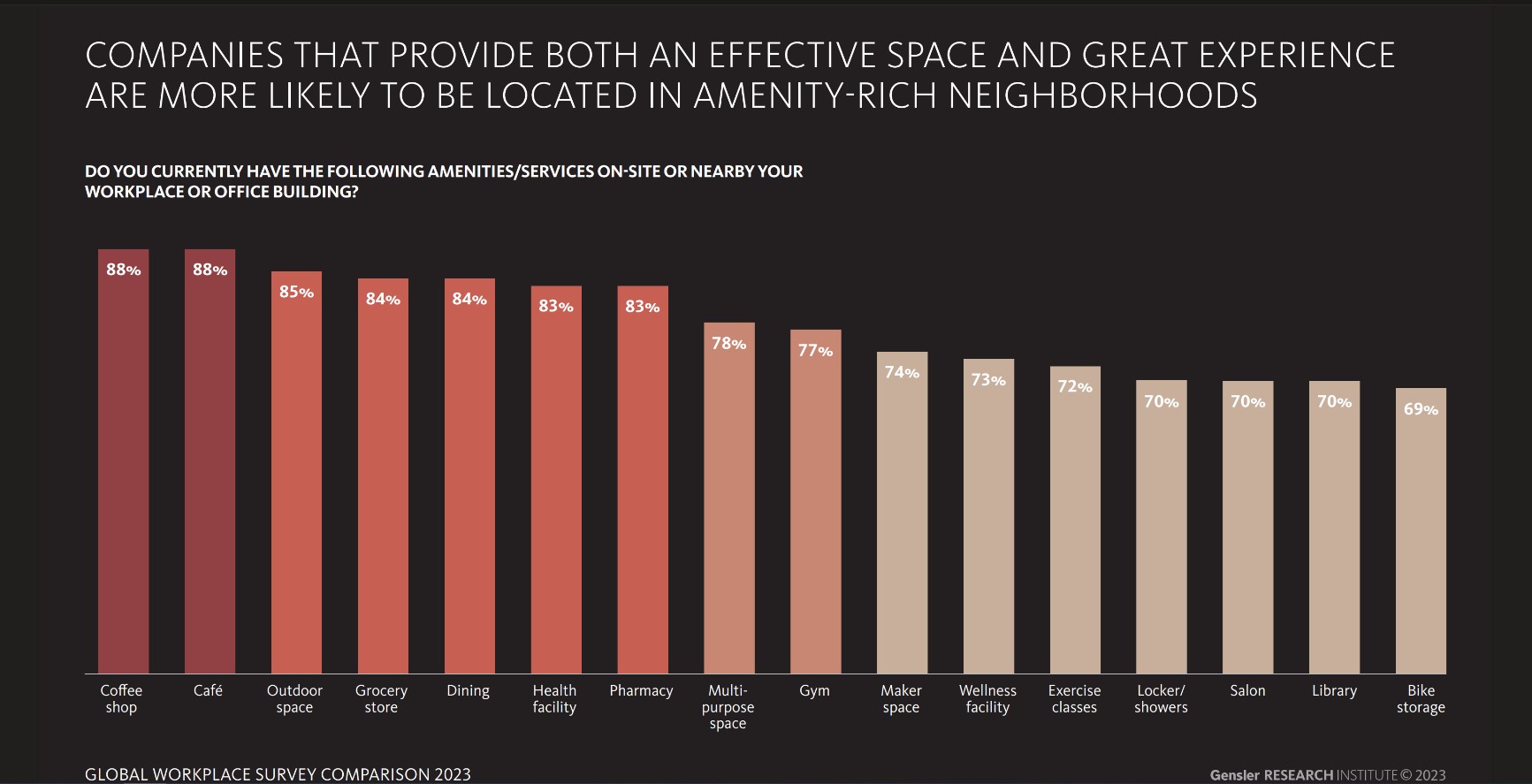 The key is curating the right mix. What spaces and experiences do you want or need to provide on-site, and what can be supplemented in the neighborhood? Elements of the workplace ecosystem will provide a strong framework for how employees can embrace a hybrid future of work. Office buildings will play a large role in revitalizing and redefining downtown areas. Conference/learning centers, innovation hubs, multi-use spaces, and common areas not only engage employees across an organization and work as an extension of the workplace but could also be leveraged to engage the local community as well.
The "flight to quality" and best Class A office buildings has been supplanted with a "flight to experience" in mixed-use and amenity-rich neighborhoods. It's no longer enough to simply incorporate amenities into a single building. Locating in neighborhoods that are/will be activated during the workday and beyond can provide access to experiences that are worth the commute. Mixed-use areas, such as Hudson Yards in New York, The Hub on Causeway in Boston, and Fifth + Broadway in Nashville, are all examples of urban developments that created 20-minute neighborhoods where office buildings are an anchor but also act as an extension of the workplace with third places to work, as well as daycare, healthcare, entertainment, and social spaces that provide choices for the range of experiences that people crave.
Autonomy is the desire for agency or control of one's own life. Peter Drucker identified that autonomy was one of the six factors determining knowledge worker productivity. In short, knowledge workers need autonomy, or the ability to manage themselves, to be productive. In the workplace, autonomy is simply giving employees choice of where to work within the office in whatever environment suits them best.
We are each unique individuals with different needs and expectations for the office who work and create differently, at different paces, and in different places. This transcends generalities of generation, role, or industry. Gone are the days of corporate standards designed around hierarchy. Designing inclusive workplaces has now become mainstream. Providing even greater choice in where to work within the work environment provides a more effective space for people to work and a great workplace experience. It not only makes people sense; it also makes business sense.
For media inquiries, email .