How the Flight to Experience Can Unlock Value for Commercial Office Buildings
January 11, 2023 | By Peter Weingarten
Commercial office development is stalled. Real estate goes through cycles, and we are in a classic down cycle exacerbated by the hybrid work modes that have disrupted the demand side. The current market has historically high vacancy rates, historically high construction costs, and rising interest rates. The workforce is coming out of the pandemic with the upper hand even as companies grapple with workforce reductions in response to economic headwinds, which is leading to tenant hesitancy regarding their return to office approach and real estate needs. This is ultimately resulting in another pervasive issue facing the industry: limited to no debt for projects.
One reason lenders may not be lending is because they are uncertain what "value" is as they are assessing prospects relative to the debt they're providing. To unlock the flow of debt to new development, stakeholders need to clearly see the "value." As designers and architects, we must respond to the current context and adapt how we define "quality" in office buildings.
However dire the near-term prospects seem, there is an opportunity to finally reinvent the commercial office building model, which hasn't significantly changed in over 60 years. This old model of office building design was for a different workforce era entirely when employers held the leverage and there was overt hierarchy, and where the primary focus was squarely on corporate efficiency and an obedient monoculture.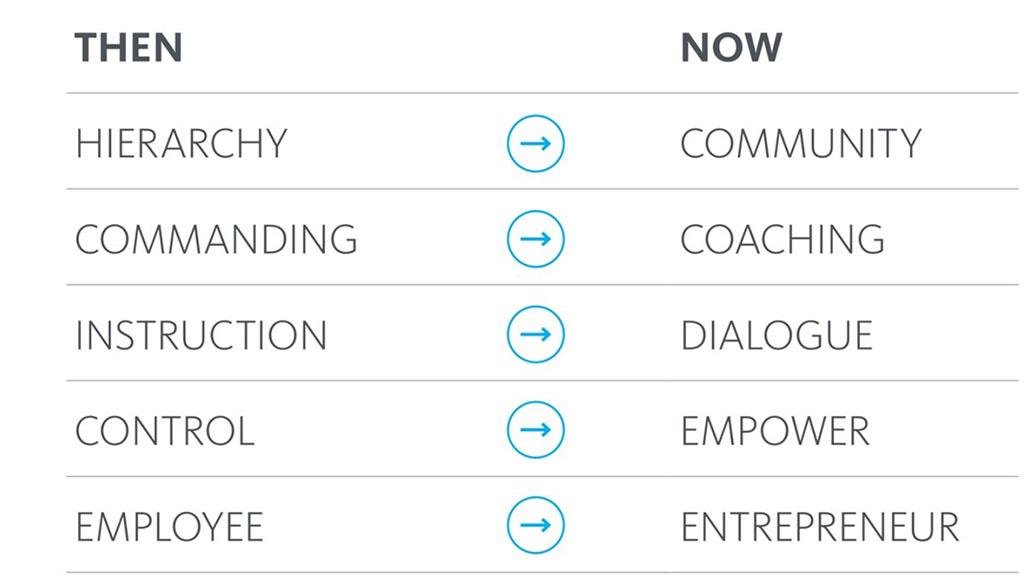 Talent Rules!
Companies know that their human capital is their biggest asset and the competition for talent rages on with a workforce that is demanding new ways of working. More and more, we are circling a hybrid reality where the office no longer needs to be just a container for people who can do focused work anywhere — instead, office buildings must support new ways of working and foster memorable experiences for the tenants who use them.
Flight to Experience
Given the high stakes of finding the right workplace for top performing companies the prevailing opinion is that there is a "flight to quality," where only the best of the best Class A assets will continue to be attractive in the market. A reason why lenders may be uncertain about how to assess "value" is because all the lenses of evaluation for "quality" have historically under appreciated the intangibles of "experience," which is much harder to quantify.
Quality is often described by objective real estate elements but what we really have today is a shift to the transaction of user experience... a "flight to experience" that is based on the workforce's post-COVID desire for compelling places to work that justify their personal investment in their time and energy to show up.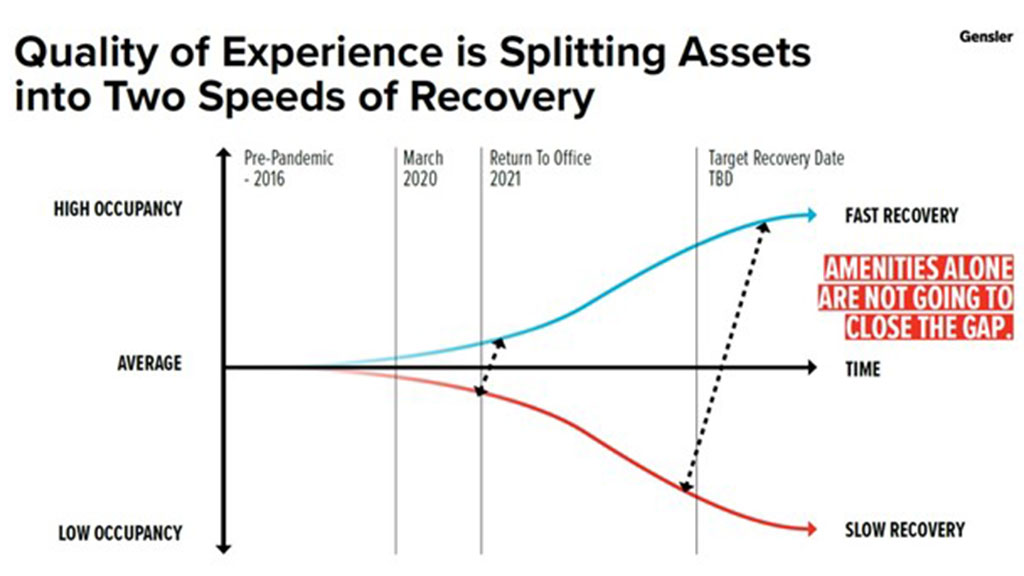 As hard as it is to assess what could be a great experience, it is the key to unlocking what tenants really want. Charles Eames believed that "thinking of how a chair looks comes pretty far down on the list of things I worry about when designing one." Value transcends beauty, aesthetics, and style. It's a problem elegantly solved!
This goes way beyond upgraded finishes and amenities within the current building model. It means changing the container into something more "elegantly solved" or holistically considered to meet the moment — to entice people enough to want to return to the office every day.
Target Strategy: Embrace Mixed Use
Provide active and connected ground floor experiences that are part of the community. This will facilitate office buildings to become anchors of the 20-minute city.
Introduce more than just "third places," such as retail and other amenities. Instead, create an ecosystem with other needs such as daycare, healthcare, and entertainment to provide proximity to daily needs, while catering to a diversity of people making trips to the building.
Ignore social spaces at your peril; places that support community and social connection contribute to higher job satisfaction in the workplace.
Provide the ability to disperse amenities throughout the building stack with designs that increase occupancy and egress, floor loading, and bathrooms.
Hitting the Bullseye
At the heart of user experience is "intention" — the reason for being there. Overlaid on that is a kind of Venn diagram of "space," "interaction," and "expectation" that ultimately inform a person's perception of their experience as being positive or negative. The "expectations" bucket drives people's anxiety about returning to the office. Expectations are heavily influenced by past experiences and there's a lot of baggage there for workers and how they remember what it was like to be at the office.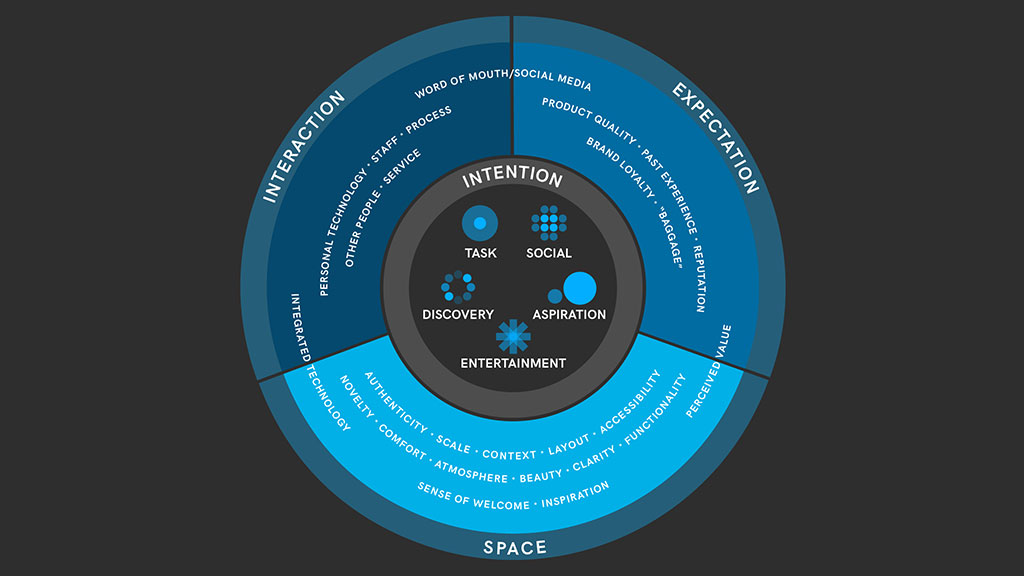 We can look at this issue as a series of concentric rings with the outermost ring being the most macro of influences down to the bullseye of getting workers in the office. All of these rings are rooted in expectations and the fundamental question of how people perceive their experience across the entirety of their journey to, during, and from work.
The outermost ring probably starts with how you feel about where you live. In Gensler's recent City Pulse Survey, we found that despite high levels of satisfaction with their urban experience, many residents would not recommend their cities as great places to live, and over one-third of respondents say they are likely to move out of their current city. So now we have the first stress point in the experience of going to the office: "it's not great to be downtown or maybe even in town."
The next ring perhaps speaks to what workers hope to achieve if they come into the office and for this, we can look at Gensler's recent Workplace Surveys and some differences among generational perspectives. In our most recent U.S. Workplace Survey, all the generations surveyed listed "to focus on my work" as the number one reason to be back in the office. Generally, the survey respondents' top four reasons were driven by the intention of focusing on work, whether independently or with teams, or driven by means to get work done through access to certain technologies or materials. Notably, focus is particularly important for younger generations.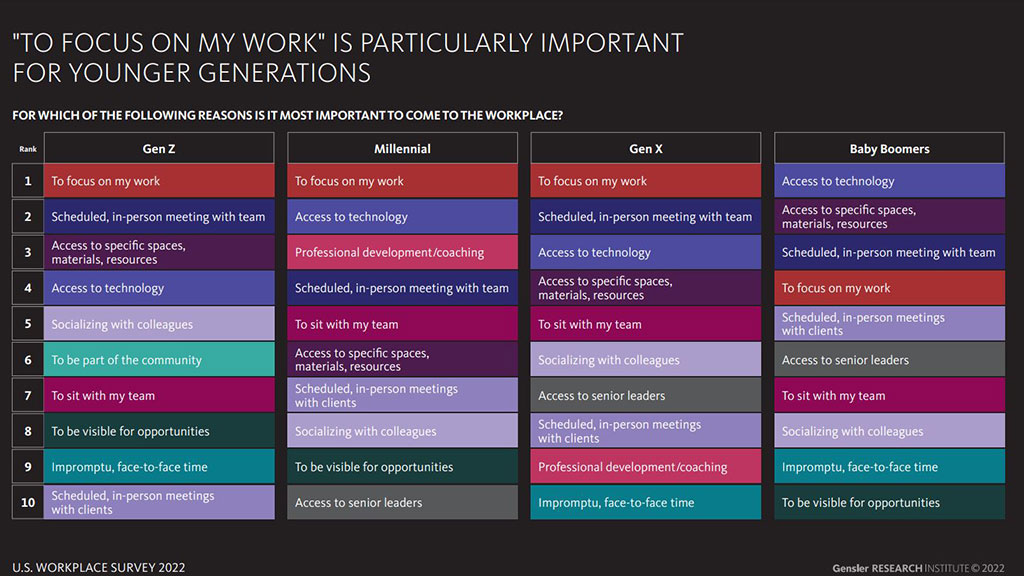 It's vital to strike the right experience mix in order to support productivity and to keep workers engaged. Gensler's research also found that younger generations prefer more amenity-rich spaces, while older workers prefer corporate and business-like environments. They also report a greater willingness than their older counterparts to return to the office for their ideal work experience mix.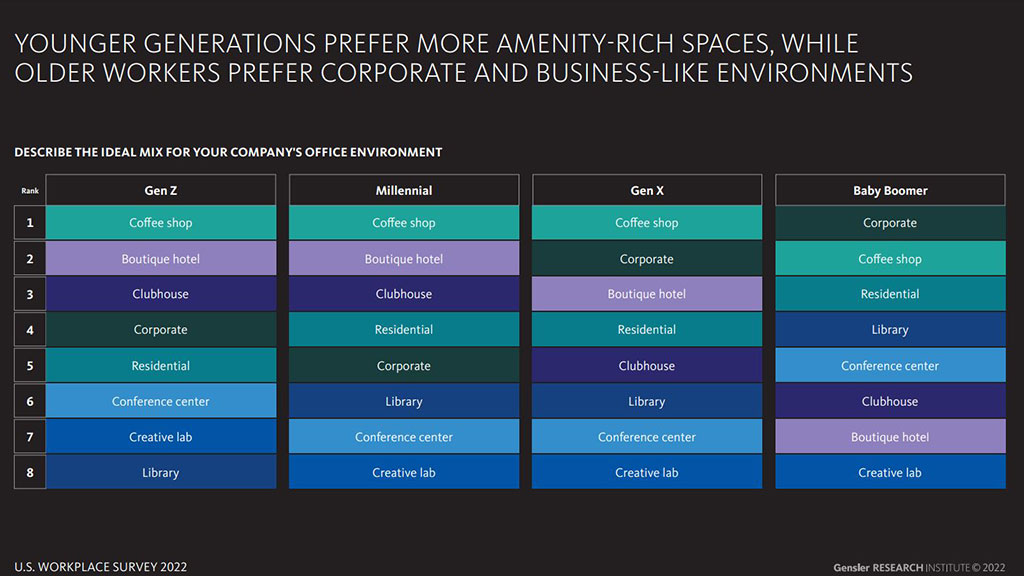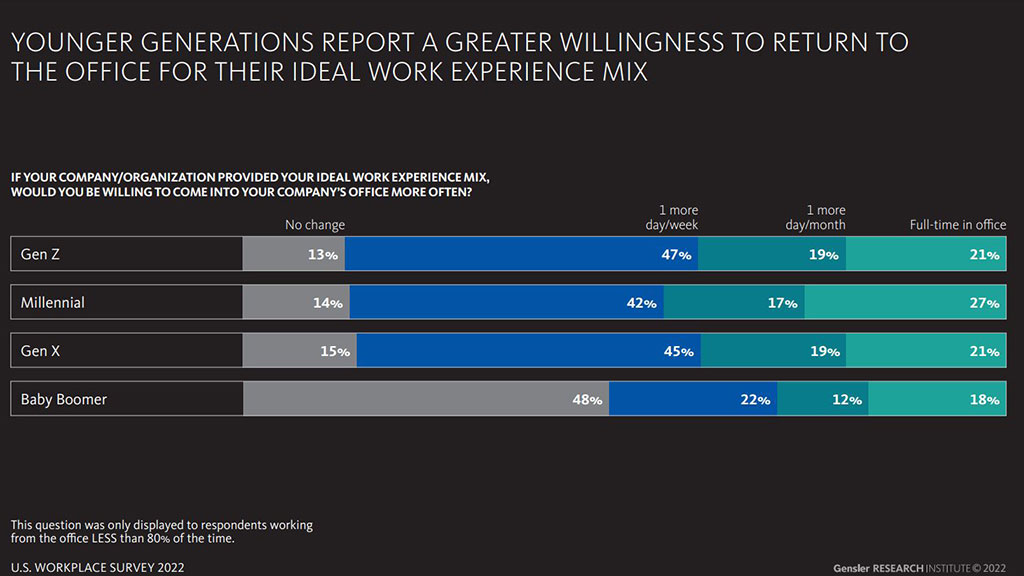 Speculative versus Purpose-Built
The new workplace ecosystem must be gratifying in the near term, while also fostering an environment to achieve longer-term goals. Office floor plates had been designed to be flexible for multi-tenancy to accommodate the widest spectrum of corporate users and tenants, conceived as ubiquitous racetracks of unobstructed floor area around a vertical core. Not an employee experience driver in sight!
On the other end of the spectrum and scale lives build-to-suit buildings. These purpose-built investments in an improved workplace are a cultural touchstone, brand beacon, community investment, and an innovation accelerator. All the experience provided by a build-to-suit workplace is exactly what the current workforce is expecting, and our challenge is to find a way to make it work in a speculative development in this most hostile of economic situations.
Target Strategy: More Connectivity
Establish connections to high-performance outdoor space — equip outdoor areas with mechanical systems, such as radiant heating and cooling, to support meetings, focus space, and more.
Rethink the central core elements — eliminate obstructive center cores if possible.
Allow greater flexibility for tenants to customize both visual and literal connections between floors beyond communicating stairs and less dependency on elevators.
Provide a diversity of floor plate sizes and dimensions to allow for a variety of spaces with specific uses and allow for more unique experiences across multiple floors.
Design for more curated views and access to daylight in lieu of continuous floor-to-ceiling glass facades.
Sustained Value and ROI
Traditional office buildings are inherently neither proactively healthy nor sustainable, accounting for 39% of global carbon emissions. We should consider the broader value these buildings can have as investments in everyone's well-being. ESG, wellness, and biophilia are significant contributors to a great tenant experience, and they are the key to unlocking the sustained value of those assets.
Theodore Roosevelt was a great champion of the value in real estate and stated emphatically that "Every person who invests in well-selected real estate in a growing section of a prosperous community adopts the surest and safest method of becoming independent, for real estate is the basis of wealth." With today's informed knowledge of the workplace, Roosevelt surely would amend his statement to include that the most valued places go beyond location to prioritize human experience, which is why human experience design is such a powerful opportunity. Therefore, we should not succumb to a crisis of confidence and trust the intrinsic value of real estate development.
However, now is the time to rethink the traditional commercial office building model — by redefining "quality" in office buildings and creating compelling places to work that foster memorable experiences that today's tenants desire.
For media inquiries, email .