Accessible Design for All in the Post-COVID Workplace
July 02, 2020 | By Gail Napell
The impacts of the COVID-19 pandemic have been particularly acute for people with disabilities, many of whom face unique challenges, such as a lack of accessible healthcare spaces or medical equipment. Frequent hand-washing is not always possible for people with certain types of physical disabilities, and physical distancing is especially challenging for those who rely upon personal aides or caregivers.
At the same time, an unintended byproduct of the post-pandemic recovery is the rapid acceleration of high- and low-technology solutions that might also benefit the disabled community. From touchless entries to wider streets, many interventions are now being implemented in our cities and our workplaces that make them more accessible to everyone. As we begin to imagine what a post-pandemic world needs, we believe that now, more than ever, we have an opportunity to remake the places where we live, work, and play more accessible and more inclusive.
Before the global pandemic compelled many of us to work from home, designers of the built environment were making positive steps to create spaces that are engaging, inclusive, and universally accessible in response to the changing nature of how we work, live, and play.
Now, in a time where designers are using this moment to reimagine the future of spaces and places, we must take a closer look at how we're addressing the needs of people with varying abilities, and reexamine the design responses created through complying with building codes and standards like the Americans with Disabilities Act (ADA).
In the U.S., ADA Standards for Accessible Design have undoubtedly paved the way for an increasing integration of accessibility into design practice. However, they are utilitarian in nature and often not sufficient in themselves to support the expanded definition of an inclusive experience.
Eddie Ndopu, founder and CEO of Beyond Zero Ventures, says that accessibility is about more than making physical changes to a space. "For all of its symbolic value as a gesture of accommodation, a ramp, does not make a space accessible," he says. "It may facilitate entry into a building for people who use mobility devices. What makes a space accessible is the empathy, connection, freedom, and possibility it engenders for people of all abilities and identities to come together."
In the immediate term, we need to get people back to the office and we need to ensure that all spaces and touch points will be accessible, inclusive, and deliver a feeling of safety to everyone who returns to the workplace and office buildings.
Here are some inclusive design strategies we can take to make the return to work accessible:
1. Entrances and queuing
Make sure the single entry is fully accessible with a clear width that meets accessibility requirements and notifies visitors about how the door is operated. If only one entrance is open, make sure it is the accessible entrance (no revolving doors). Foot or mobility aid activated power door operators should be provided when installing any new operators.
Include barriers where the door swings into the path of travel.
Make floor decals tactile and color contrasting so those with limited vision or vision loss can note their presence and message.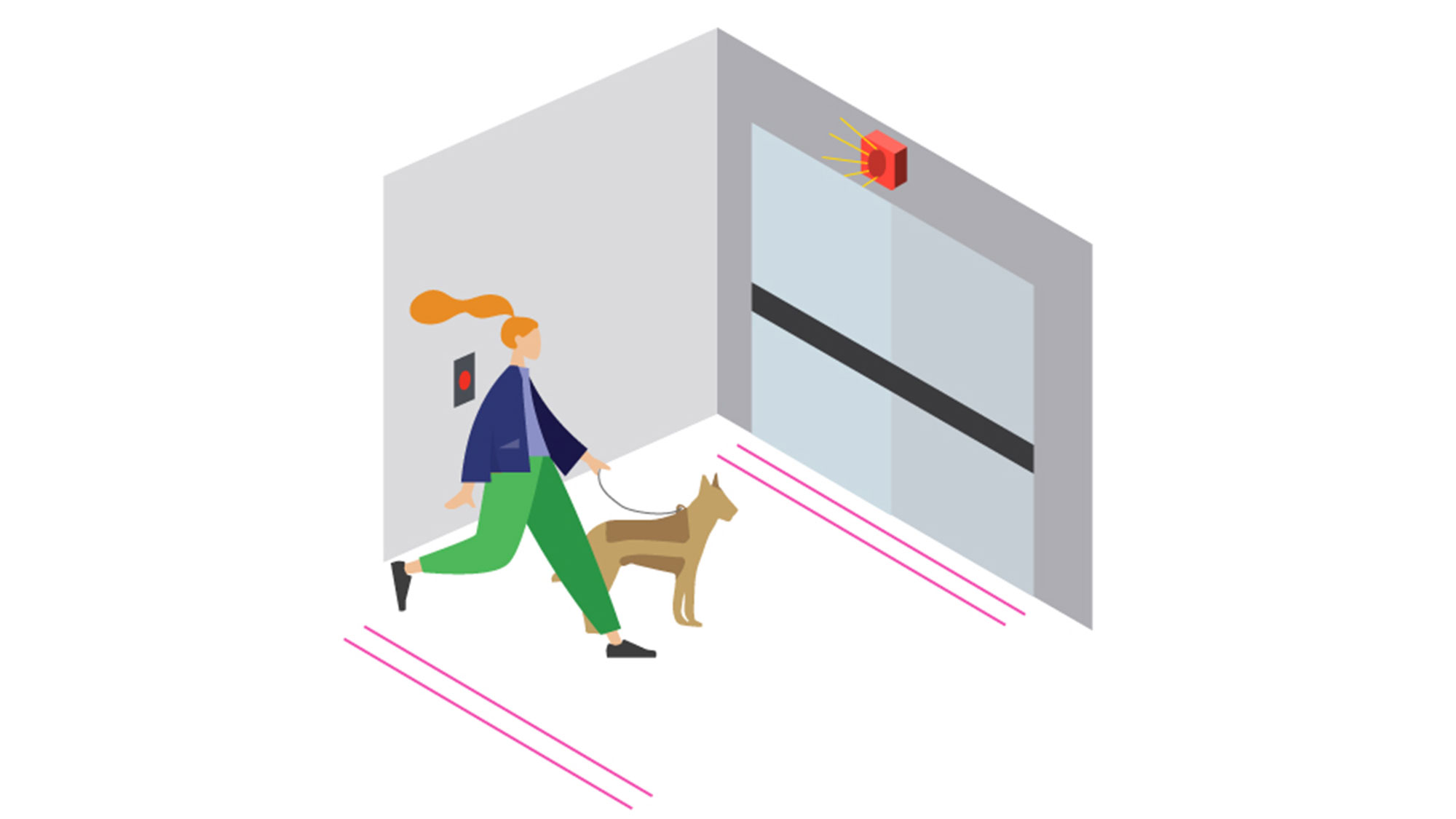 2. Check-in and security
When providing barriers for reception/check-in, make sure that you can still maintain clear knee space for people using mobility devices, and allow for face-to-face interaction — even if distanced or through plexiglass.
Provide accommodation for individuals who are d/Deaf or hard of hearing.
Ensure spaces in waiting areas will accommodate persons using mobility devices and also allow for physical distancing.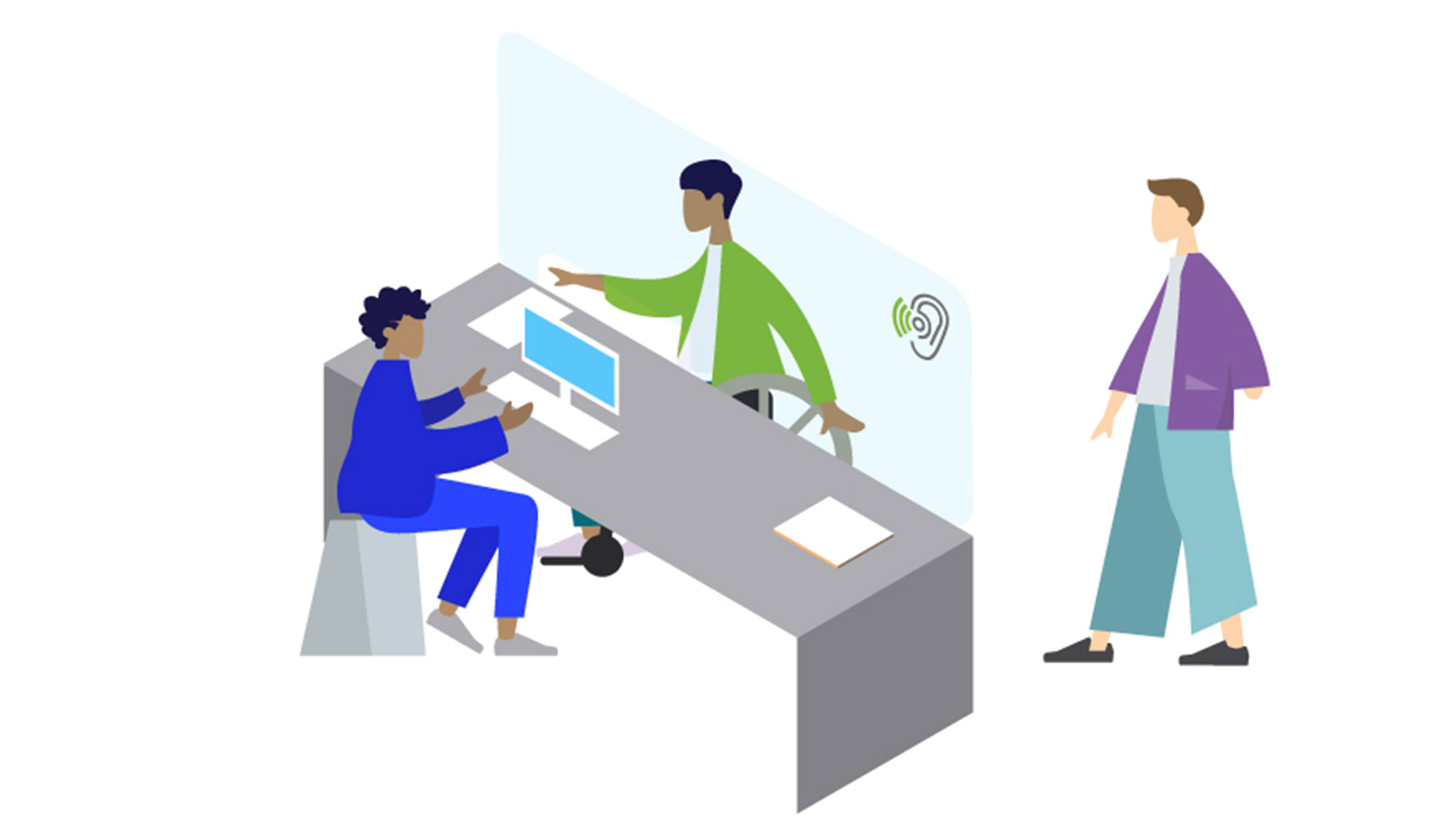 3. Building circulation: elevators
Introduce signage at elevators that recognizes the need for more space when someone is using a mobility device or is accompanied by a service animal.
Include tactile and color contrasting floor decals or information provided in alternate formats.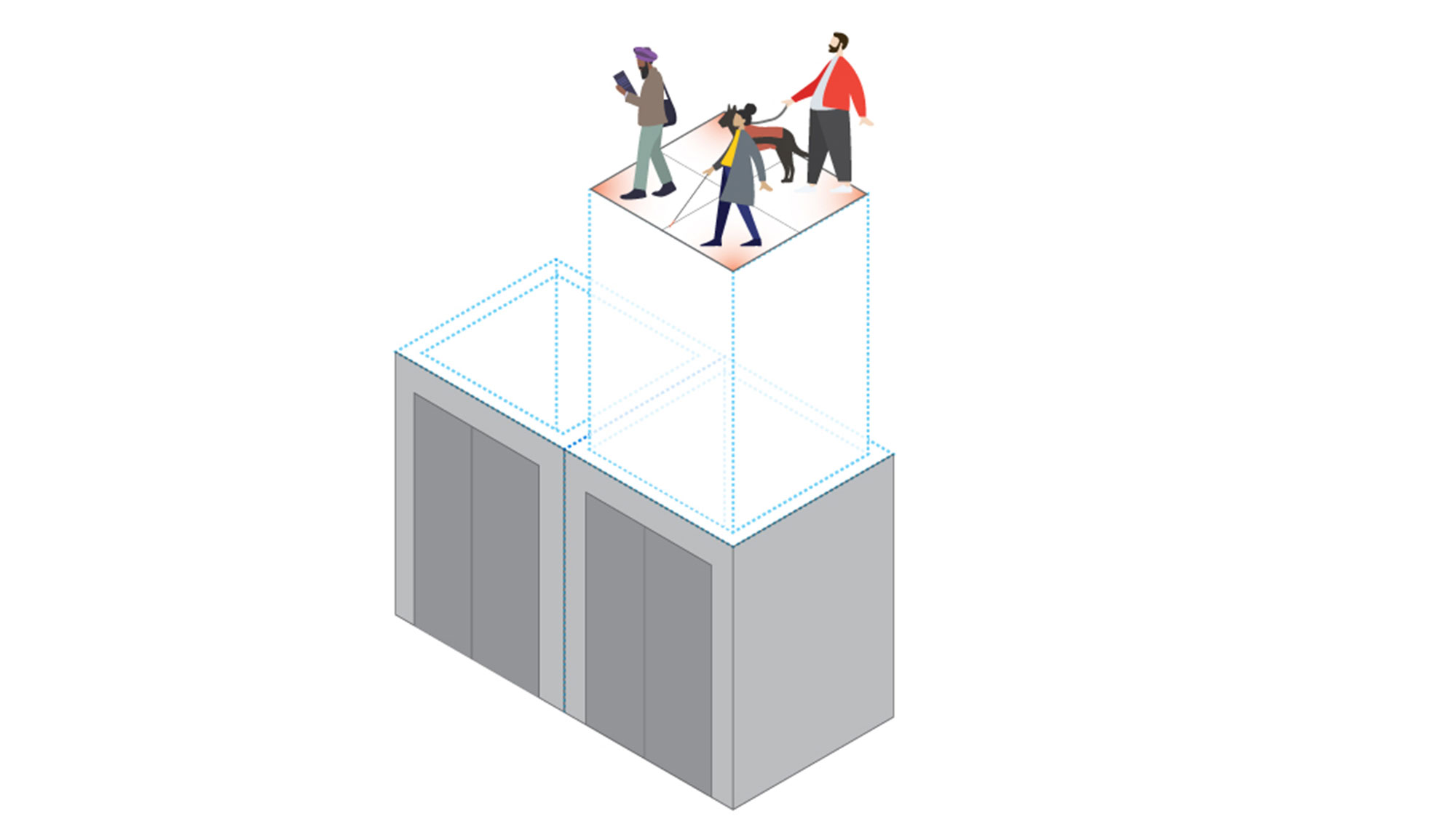 4. Building circulation: fire stairs
Avoid language on signage that could create discriminatory practices; not every person who needs to use the elevator is using a mobility aid.
Ensure stairs have adequate handrails, contrast at the nosing, and tactile indicators at the top of a flight of stairs or where a door is introduced.
Have rest areas near the stair with seating that has arm rests and that are located outside the path of travel.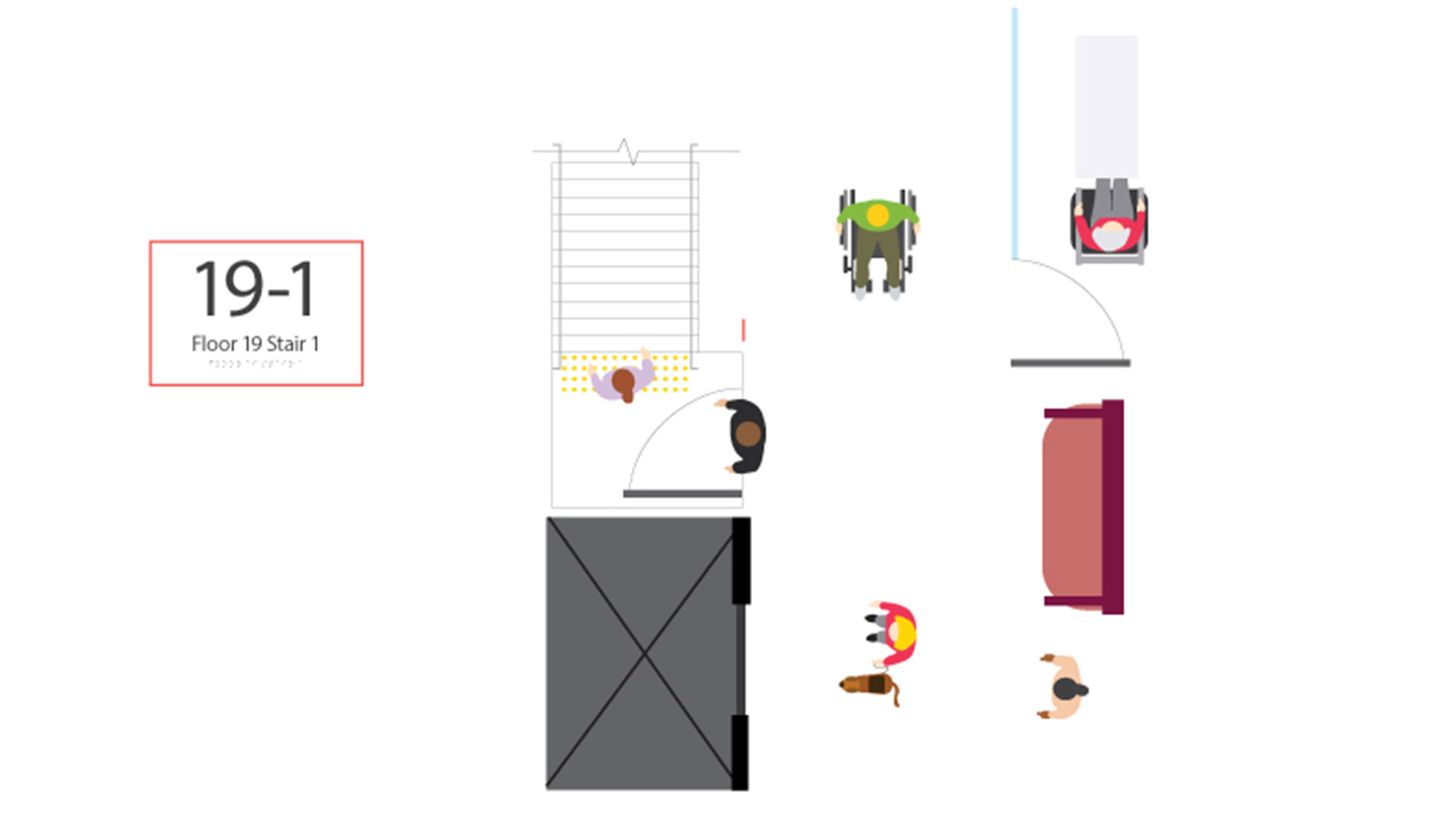 5. Building public space: restrooms
Ensure soap dispensers and paper towels holders/hand driers can be utilized without requiring a person using a mobility device to wheel away from the sink.
Never restrict the accessible stalls/bathrooms as part of limitations of use.
Remove doors from bathrooms or provide power door operators to open doors; include elongated power door operators that can be opened with a foot or mobility aid.
Provide information in multiple formats that allow persons with limited vision or vision loss to absorb any changes to the environment.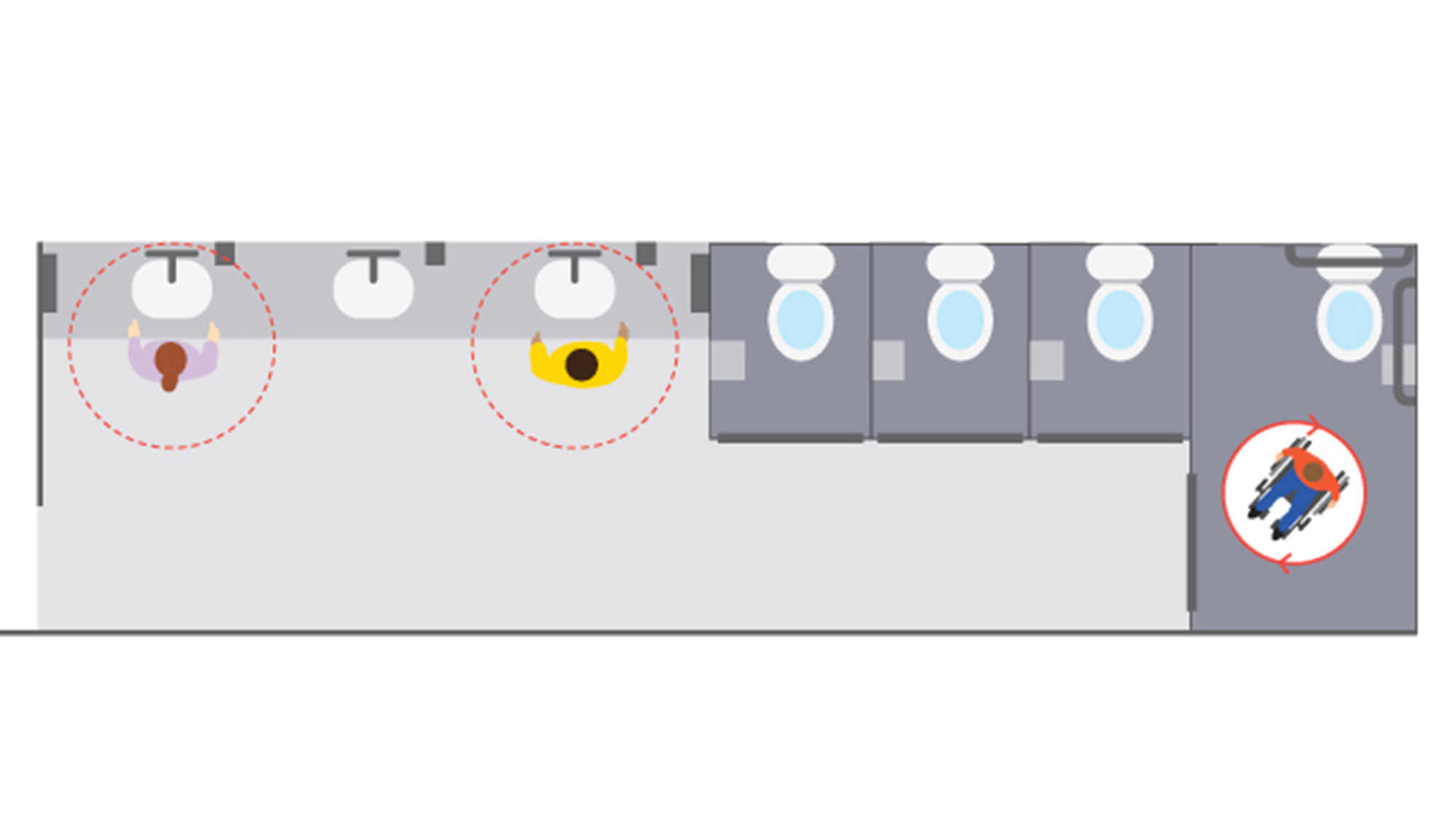 6. Wayfinding, signage, and graphics
Create signage that recognizes and respects differences.
Information should be available in multiple formats.
Avoid visual signage as the only method to provide information.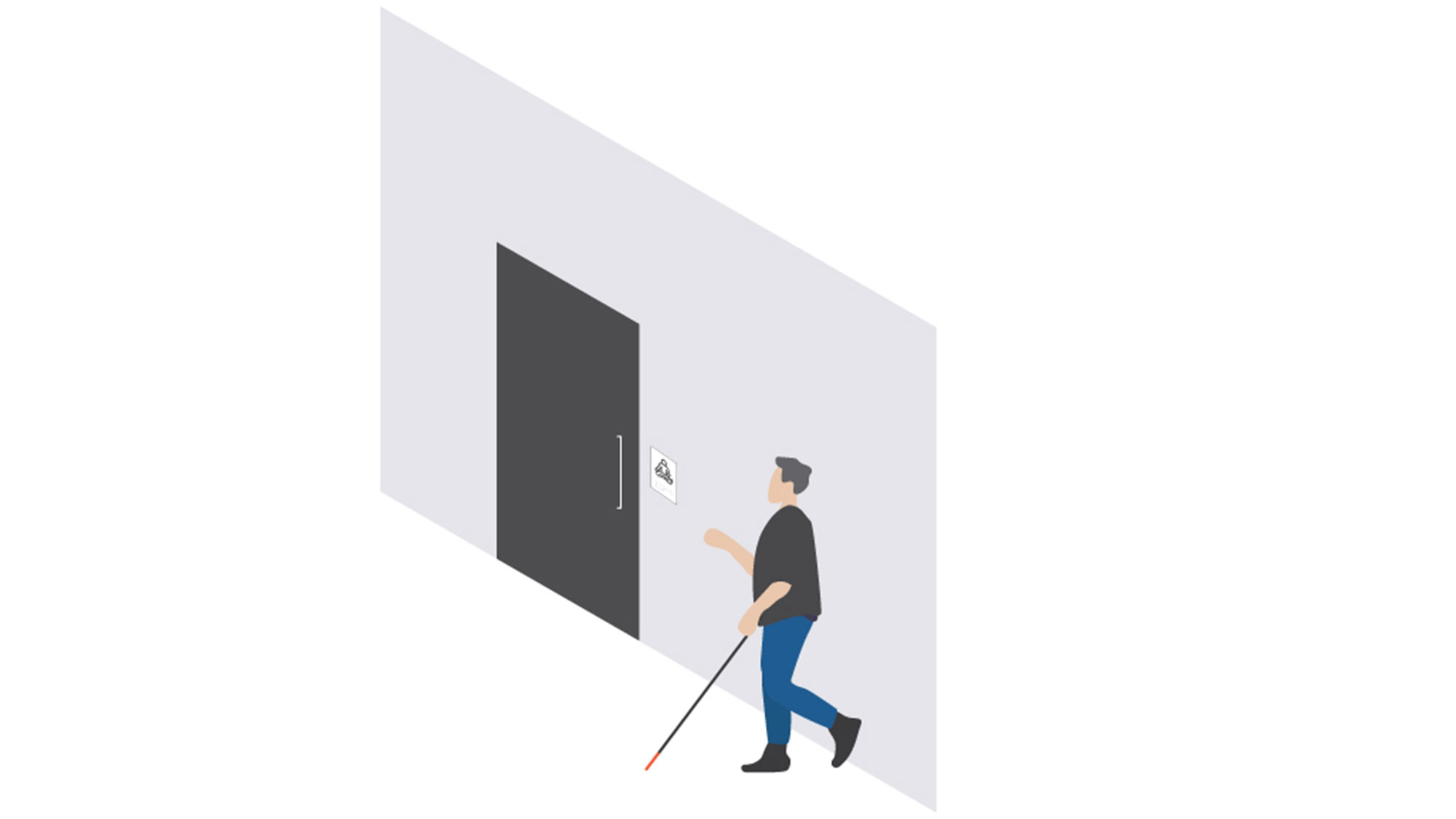 7. Protocols and cleaning
Cleaning is important, but chemical sensitivity hasn't gone away. Ensure chemicals used are still safe and appropriate.
Many of us have spent the last few months reflecting on the impact we want to have in the world. When we create barriers for others, we are sending the message that people who can't access this environment are not welcome.
Truly accessible space means going above minimum codes and standards, using creative design processes and talents to make environments that work for all. If every project started with the evaluation of achieving Universal Design Goals, like those identified by the Inclusive Design and Environmental Access Center (IDeA Center) at the University of Buffalo, N.Y., the conversation around inclusion would happen earlier, and reduce the potential for exclusion later on.
As design professionals, we must recognize our role in creating accessible environments and reconsider previous design solutions that will no longer be accepted. We believe every organization should have the tools needed to plan for the return to the office during these uncertain times, and we want to help. Please contact us to begin a conversation about how we can support you now and into the future.
For media inquiries, email .