How Workplaces in Tokyo Are Embracing the Hybrid Era
September 08, 2023 | By Chinatsu Kaneko
Tokyo is embracing hybrid work to support a diverse workforce and companies are taking careful steps to design workplaces that meet modern expectations as workers seek a fulfilling work-life balance.
Today, Japanese office workers are working from home around 30% of the time, a number that continues to decrease as return-to-office mandates continue. Yet hybrid work seems as though it will remain a trend for the foreseeable future, for both social and economic reasons. Since the start of 2017's Japanese government-driven Work Style Transformation mandate, companies have become more modernized to address some of the challenges the country is facing, such as labor shortages, an aging population, the need to increase birth rates, employee well-being, and gender equality and diversity in the workplace.
Hybrid work allows for different work styles and creates accessibility that supports a diverse workforce. Following the pandemic, traditionally underrepresented groups, like those with disabilities and members of the LGBTQ+ community, have expressed stronger preferences for the flexibility that comes with hybrid work. The inclusive hybrid workplace creates a sense of trust and support for employees that increases productivity and retention, while also offering an environment that empowers employees to do their best work.
Recurring Themes in Today's Workplace
Gensler's most recent Global Workplace Survey Comparison report reveals striking similarities worldwide in how employees are engaging with work and how the workplace is adapting to these changes. When it comes to designing high-performing workplaces for hybrid environments, we are seeing similar trends emerging in Tokyo, including:
Collaboration and knowledge sharing, both formally and informally, can be found in learning centers, multi-purpose event and collaboration spaces, and large staircases that connect all floors with surrounding communication spaces. Gensler transformed the Fujitsu executive floor to create a more communicative environment for staff and executives. The workplace reinvented the executive space as a useful and approachable environment for all Fujitsu staff.
Focus space for concentrated work and private conversations as employees seek environments that support concentration.
Wellness through amenities and by creating a healthier environment with access to natural light, shower rooms, and a range of food options in the employee café.
Strengthening people's sense of belonging to the culture and mission of the brand with branded interior design that goes beyond putting corporate mission on the wall, and digital touchpoints throughout the workplace. The new Shiseido office in Tokyo embodies the global beauty company's new vision — Work x Life x Beauty — through the creation of an immersive workplace where people can experience Shiseido's values and mission come to life, providing a great example of the power of collaboration with ample dynamic working environments that encourage employees to interact and exchange ideas.
Working in tandem with coworkers both in-person and virtually requires improved technology, training on leading hybrid meetings, and better spaces to execute different types of hybrid work.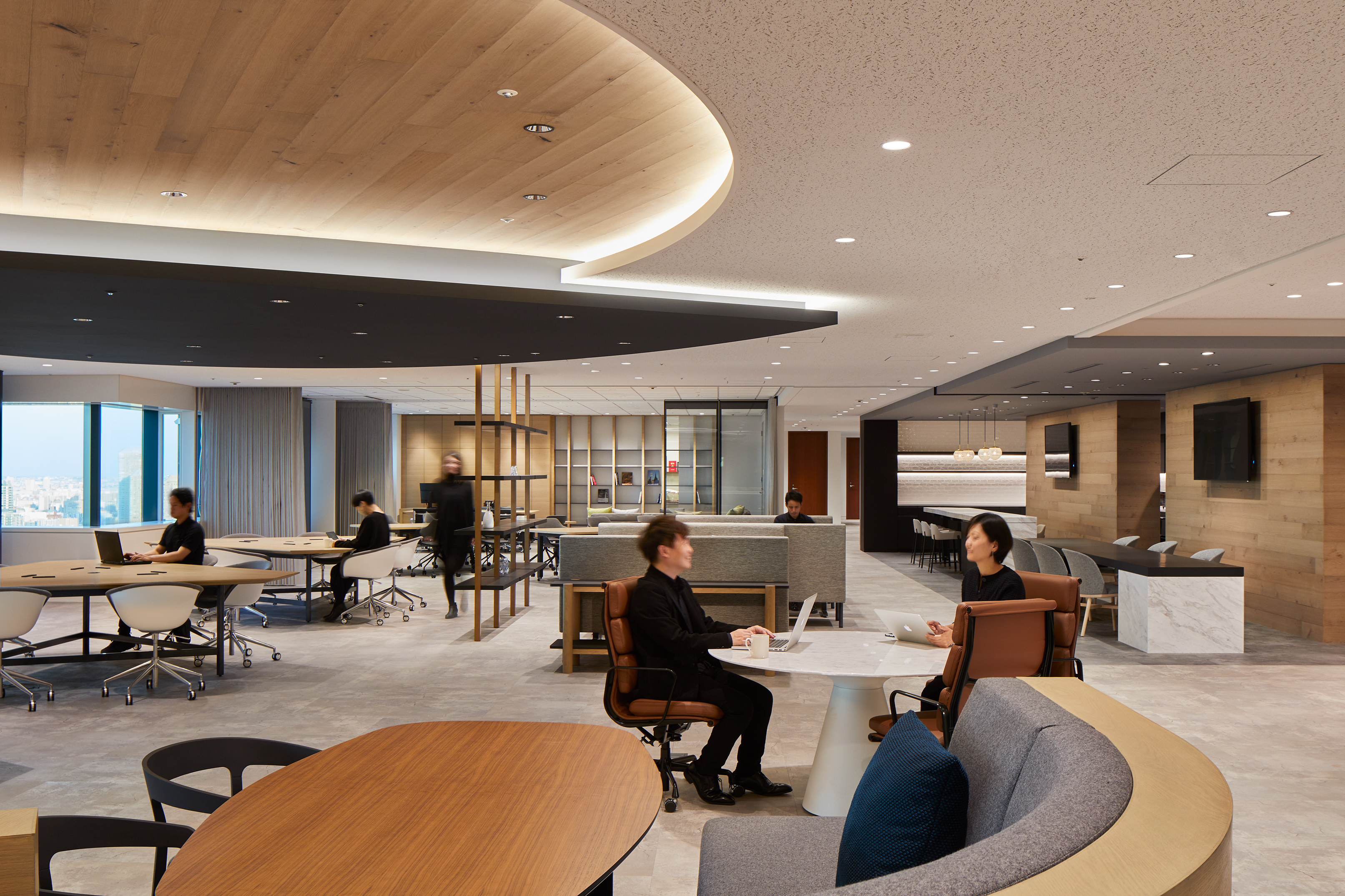 Empowering Change Through Collaborative Pilots and Adaptation
In Tokyo, our collaborative approach to pilot projects is a differentiator. By working with our clients to constantly reevaluate their space and make adjustments based on their people's needs, organizations can quickly transition to new ways of working, one step at a time. Our clients are empowered to make informed decisions about their future work dynamics while finding thoughtful responses to a diverse array of questions such as: How do employees best collaborate with one another? What are the technologies and tools we need in these spaces? How are these spaces supporting neurodivergent and disabled employees?
By piloting new space types, we identify which aspects are working, and which need adjustments, which means we can be more intentional in designing the solutions. We can test ideas, collect user feedback, and continuously improve the design. The critical component in successfully executing pilots is to set the right parameters and evaluation criteria. For example, a digital transformation consulting client tested a variety of spaces and decided that teamwork was most valuable to them. Our final design kept the office configuration that best supported that outcome.
Piloting engages stakeholders and end-users in the final decision-making for workplace design. Not only is the experimentation process engaging, but it also fosters dialogue among employees about how to improve their work style for the future. Similarly, we see executives asking deep questions about productivity, employee well-being, how they are creating value and innovation, and defining what offices are for in their own way.
While we know many workers want to be in the office, these workplaces must be destinations that support a variety of work styles and a range of employee priorities like mobility, choice, privacy, and working with others virtually. The future of hybrid work in Tokyo and beyond hinges on creating inclusive workplaces where employees can be empowered to be their best.
For media inquiries, email .