Designing a New Workplace to Embrace Future Workstyles
October 24, 2023 | By Bill Bouchey
Navigating the realities of the new workplace has made some things clear: hybrid is here to stay, it is lifestyle encompassing, and it is both an operational model and a workstyle. What this looks like in practice is making the office a destination, offering a mixed-use setting for a variety of experiences, and seamless technology integration. What companies are still confronting is how to create a workplace experience that aligns with workers' renewed focus on their values, purpose, and lifestyle shifts, with satisfaction, excitement, and well-being at the center, while being resilient to market fluctuations.
Tethering to Place
Place and experience continue to merge in new ways to define hybrid work. Interestingly, for those who have become accustomed to working remotely, we're seeing some fallout around a lack of a tether and not having enough of the right physical environment. This underscores the importance of not solely a return to a physical office space, but also providing a compelling, engaging in-person experience. The impact of not having enough engagement with people can affect people's physical and mental health. There is an unmet need of the distributed worker around this lack of a tether that companies have an opportunity to address. This reality requires that the workplace experience be elevated to provide a higher-quality physical space with curated content for users to experience.
A lifestyle-focused workplace gives employees autonomy for how they want to experience the office, maximizing the environments that are most conducive and inspiring to the goals of the individual, team, and organization. This focus also emphasizes "return to essential needs" before adding on extras amenities. Daylight presence, movement, nature and biophilic presence, control of lighting and sound levels, and a variety of scaled settings demand integration.
To that end, an experience manager is becoming a critical role that is essential to the success of any workplace program implementation and is a link between people and activities as a "Place Ambassador." The rise of experience managers and in-house workplace teams can treat talent as VIP visitors every time they visit the office, not dissimilar from a hotel concierge. This role can maximize the experience for employees and optimize spaces for companies with programming that employees are excited about. What's more, an experience manager helps connect people to the physical environment in a way that architecture alone cannot foster.
Experimenting on Experience
The future of work is a journey through experience. It's creating a "living lab" model, which can be modified for future shifts in workstyles and market shifts. The implications for the office include a higher degree of resilience in the design, including increased journey-based movement throughout, intuitive technology to reduce set-up time individually or for group gatherings, increased emphasis on acoustical and lighting controls, comfort-driven spaces for a range of public and private uses, and a variety of home and third spaces. Think "many sizes fit all," as opposed to one, to provide flexibility for seamless collaboration, concentrated work, and a vast range of workstyles. While designing with an individual's preference in mind, one can think of the entire workforce as one community where broad choice and variety in setting types and amenities are key to flexibility.
Defining the experience through equity-based group engagement is a differentiator. Communities foster social well-being, and even in the conceptual phase of the approach, the client can experience and feel a sense of community through connection and contributing ideas in workshop formats. Being intentional in other collaborative ways in the process through surveys, interviews, focus groups, and learned behaviors can help organizations create a workplace that delivers a return on impact on multiple levels.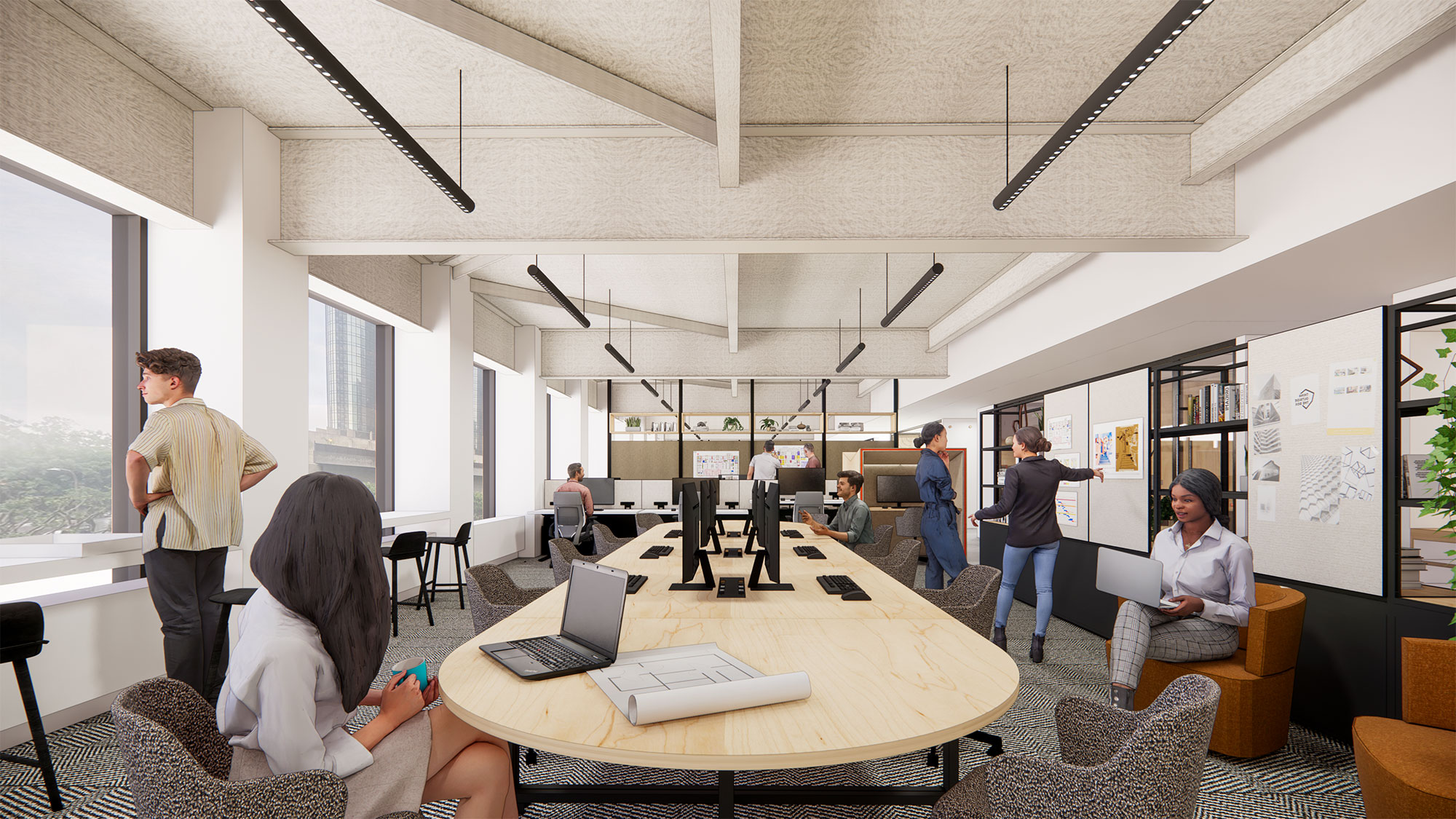 Designing the Office of the Future
At Gensler Los Angeles, we're in the midst of a phased redesign of our own "office of the future" (OOTF), where we are implementing resilient design strategies. Our OOTF is very data-driven, and data trumps opinion. The design team deployed a year of learnings and applied the same approach and research strategies that are successful with our clients. By applying this discovery process to ourselves, we are making design decisions based on findings and data that will also be measured for post-occupancy impact and effectiveness and rolled into the following phases, creating a loop of experimentation that allows us to adapt and create a place and experience that is responsive to the varying needs of our users. The result is a first-step prototype, which is becoming a place to gather rather than simply work, encouraging people to come together in various ways.
Our OOTF addresses specific needs without attaching a stigma to them. The interventions begin with a planning approach that allows each studio (or team) to apply a planning diagram that best supports their specific and varying workstyle personas. Each studio is empowered to customize and care for their studio space by creating a worksheet expressing their commitment to their studio's unique norms.
Community spaces include the "Den" and "Lounge" amenity spaces, which provide intimate small and medium group gatherings with flexibility and communal elements. These also function as alternative work lounges for serendipitous use. Meeting rooms have been redefined as a family of varying "huddle rooms," a hybrid setting based on the family room while supported by seamless technology. "Focus rooms" allow for exclusive one or two person heads-down work or extended virtual work. The "reading room" is intended for quiet work; a contemplative space fortified by a curated collection of reading material and art emphasizing our diverse communities.
The experience in the new workplace needs to capitalize on capturing a style of work that is derived from our experiences of working from home during the pandemic and our renewed lifestyles. Emphasis on ease, convenience, comfort, choice, journey, while improving functional deficits and human interactions that position the workplace as an experience that is socially activated, mutable, and inspiring.
For media inquiries, email .