3 Lessons From Today's Students That Will Shape the Future Workplace
February 22, 2022 | By Patricia Nobre, Erin Cubbison, Meghan Webster, Janet Pogue McLaurin
For anyone who experienced their early career years prior to the pandemic, the formative interactions with co-workers, bosses, and mentors looked very different than for those who entered the workforce in 2020. There is a growing population whose college memories will be deprived of large lecture halls, dorm rooms, and the in-person professional experiences that shape so many U.S. workers' memories of their early adult years.
The current generation's experiences in remote and hybrid learning environments are shaping a new set of expectations for their future work environments. At the same time, organizations are looking to better support the evolved ways of working and learning they have observed across their workforce. In our work and research, we've had the opportunity to work with myriad clients — from educators, to students, to CEOs, to workers across diverse industries.
Gensler's latest U.S. Workplace Survey outlines results from 2,364 U.S. office workers and pinpoints several key observations about the future workplace. In a similar effort, we engaged 2,500+ students and 500+ educators through our national Education Engagement Index to better understand the impact of the pandemic experience.
Coupling the results of this research unpacks this emerging reality, identifying three key findings that the future workplace cannot ignore:
1. The future is hybrid.
When we talk to and survey undergraduate and graduate students about the ongoing pandemic, we invariably hear of the challenges with remote learning. The results of our national Education Engagement Index last fall were grim. Nearly half (44%) of students feel less successful academically now than prior to the pandemic. Only 14% of students reported being very satisfied with the remote learning experience, compared to 42% of workplace employees with their remote working experience.
However, when we asked this generation that is about to enter the workforce about their ideal future, only 8% of students report they want to go back to a fully in-person learning experience. Despite all of the hurdles, there is something to be said for the remote experience. For 68% of undergraduate and graduate students, the ideal future is hybrid.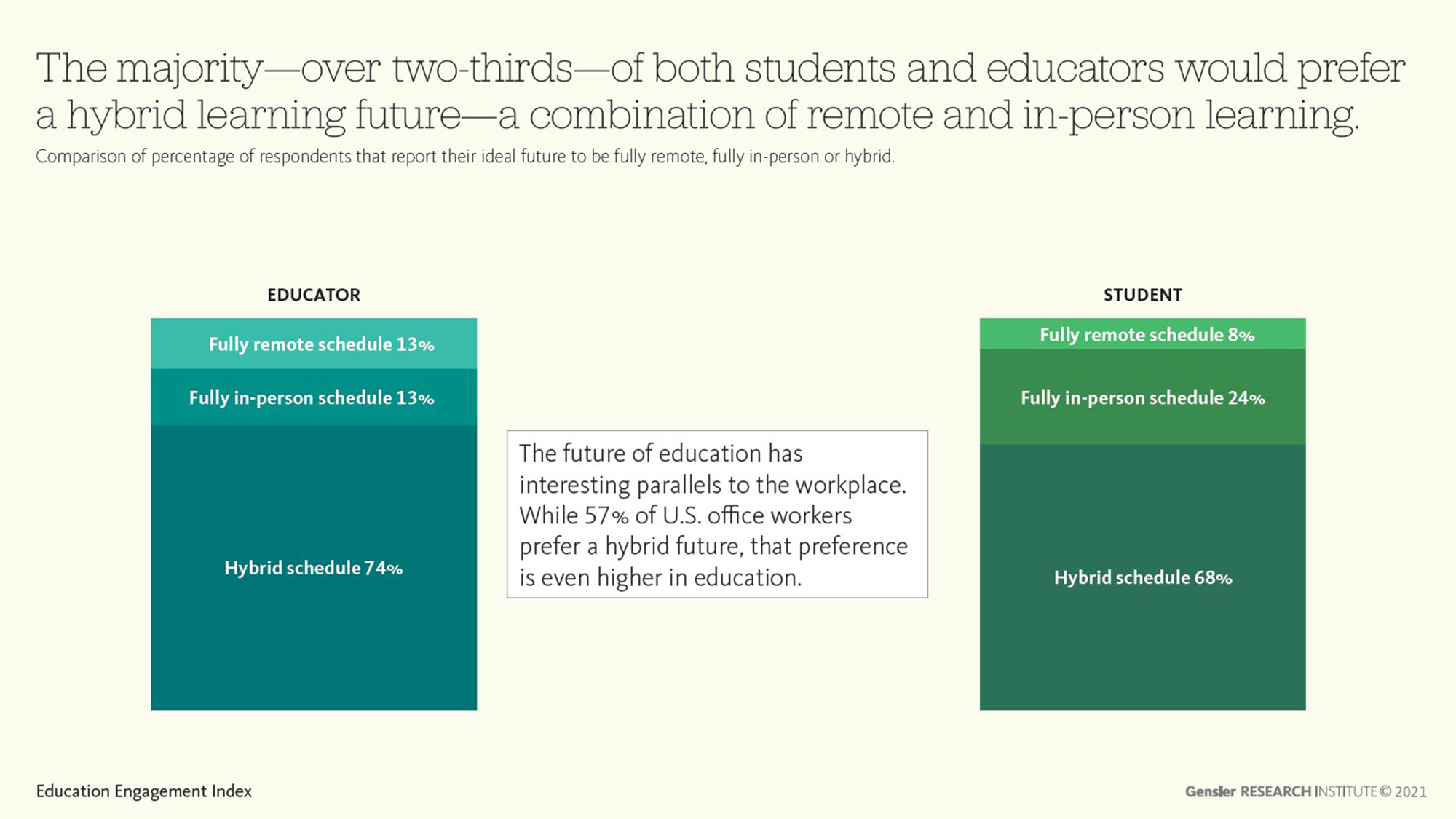 With 68% of students and 57% of workers opting for a hybrid future, it's clear that neither the classroom as the sole learning space, nor the office as the sole workplace will meet the needs of many workers and students.
2. The office as a campus.
When we asked all 2,500+ students what would draw them to an in-person experience, 71% of student reported that socializing is what they miss most about being on campus. At the same time, when asked them to rank which learning activities are the most valuable to do in-person on campus, students ranked individual activities (such as studying at the library) among the top three.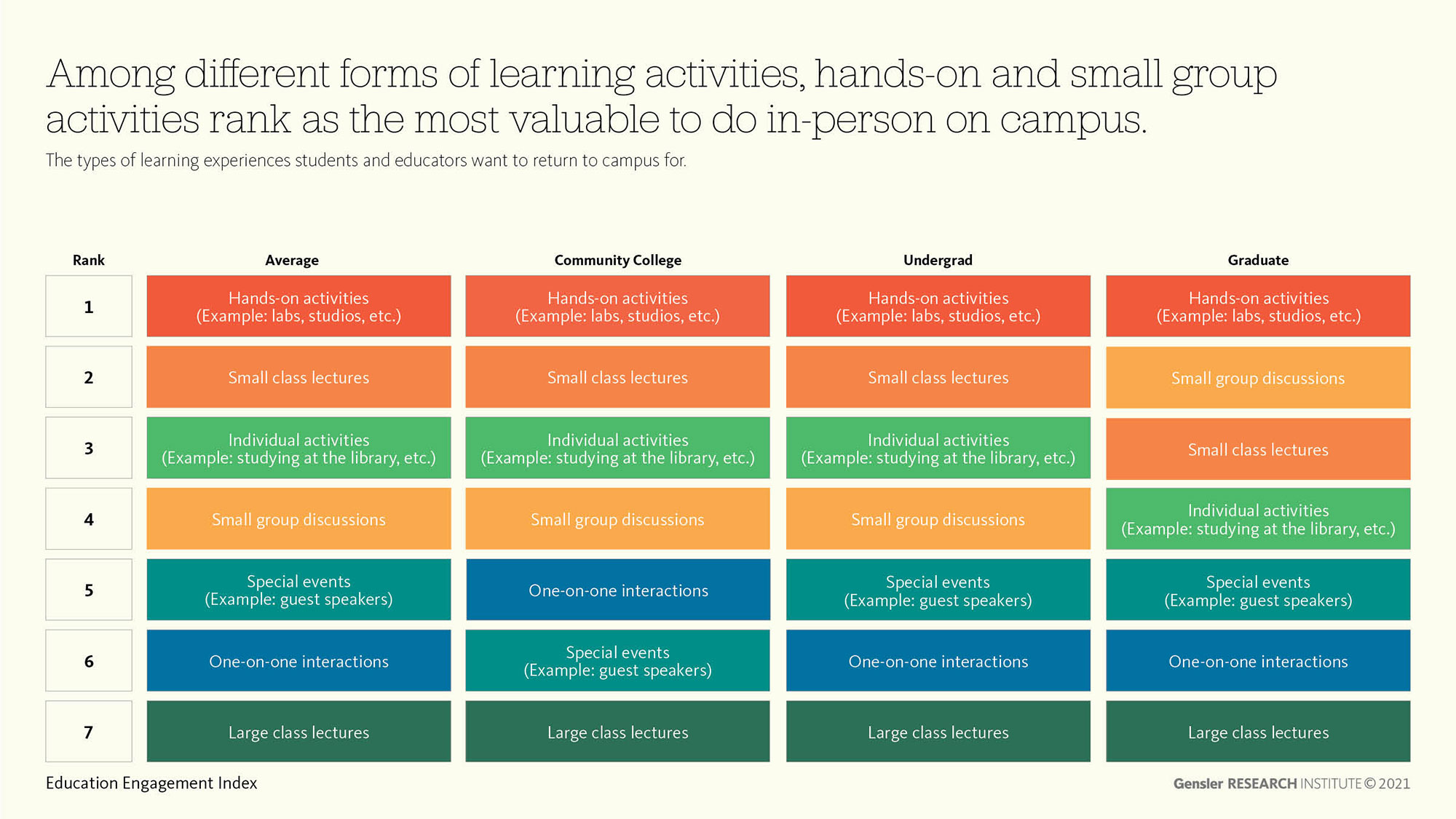 This finding is aligned with Gensler's latest U.S. Workplace Survey results, where Gen Z workers ranked in-person collaboration with their team, meeting with clients, and building social connections among the top primary purposes of the office. At the same time, they also ranked the ability to maximize individual productivity among the top three.
New college grads are used to activating and using their whole college campus for group learning, individual study, and socializing. Just like college campuses, the workplace will need to provide a variety of spaces — not only for gathering and community spaces to build relationships and access mentorship, but also for individual, quiet spaces to reflect or concentrate.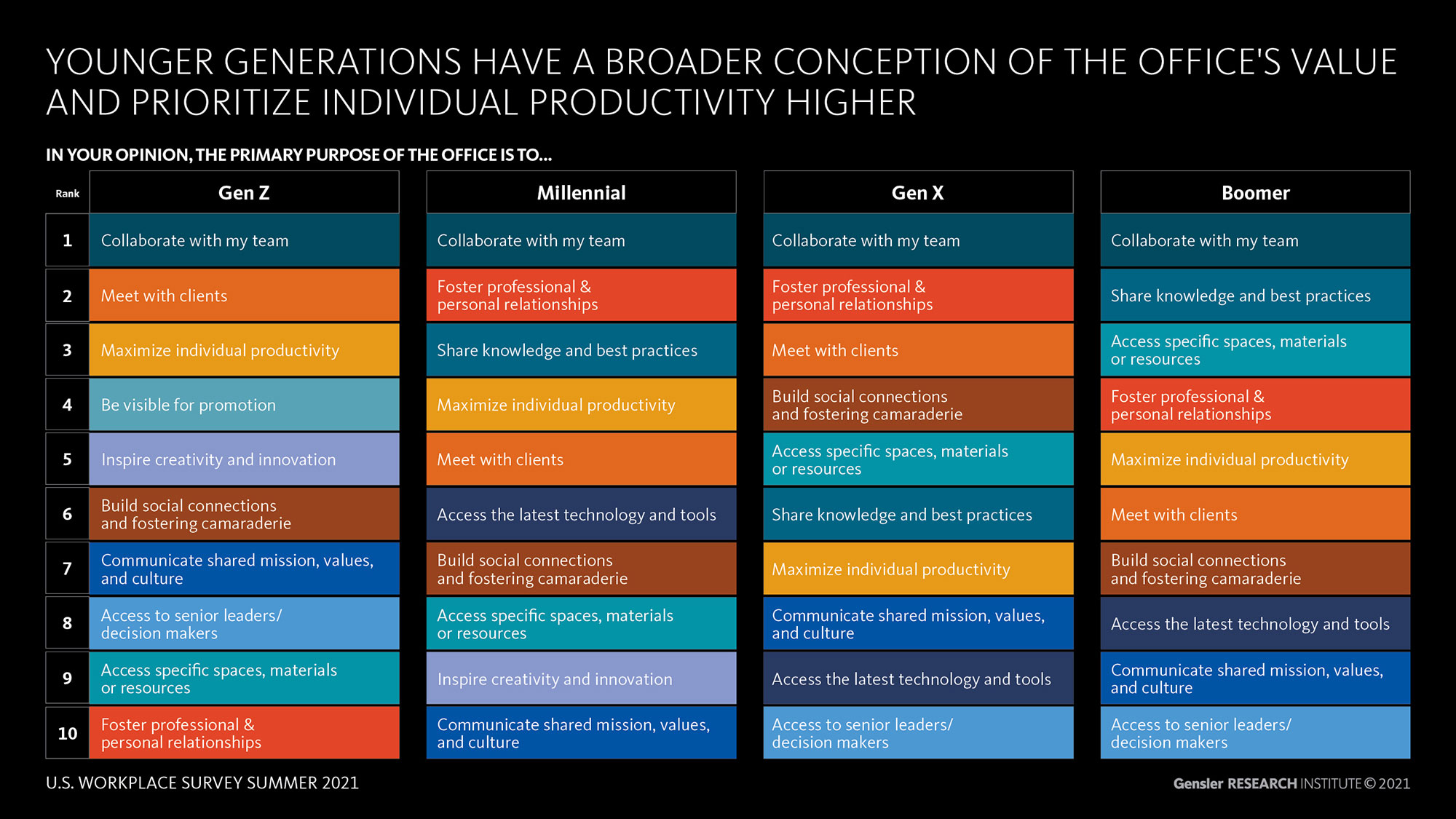 Just as college students don't only study in their dorm room, for younger workers, remote work doesn't only mean working from home — it means working from anywhere. Unlike older generations, just 66% of Gen Z workers prefer working from home, 24% prefer an alternative office location, 16% prefer a coworking location, and 13% prefer coffee shops, libraries, or other third places. In fact, two out of three Gen Z workers would trade an assigned desk for increased opportunity to work beyond the desk or office walls. As employers rethink their physical workplaces, they should create a wide variety of places and experiences empowered by choice and autonomy, just like a college campus.
3. Relationships matter.
The pandemic is causing acute and urgent impacts on mental health, specifically among students. In our Education Engagement Index, students reported feelings of loneliness and an overall decline in their relationships with others.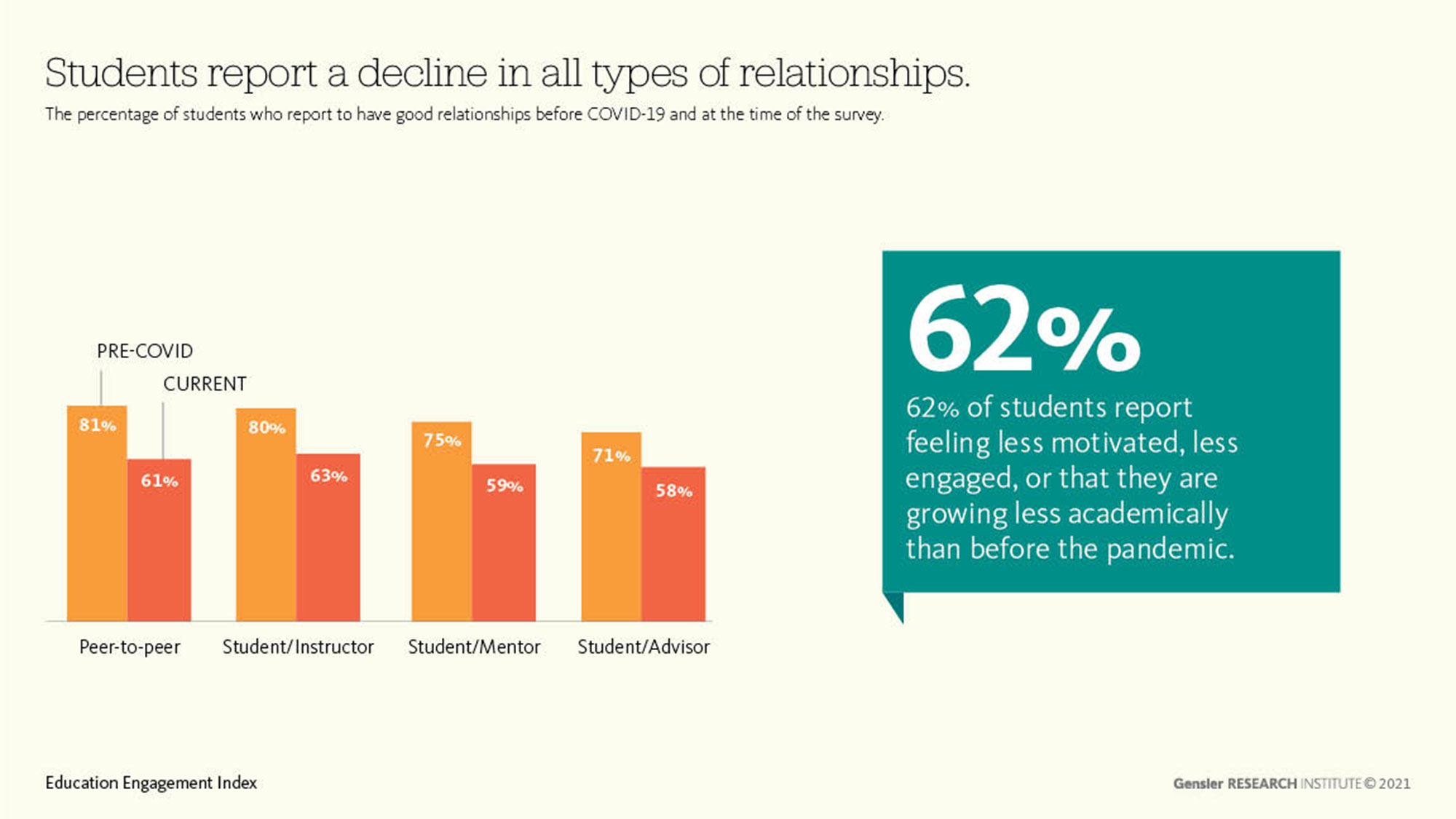 However, students with positive relationships reported higher scores for all motivational and emotional well-being factors.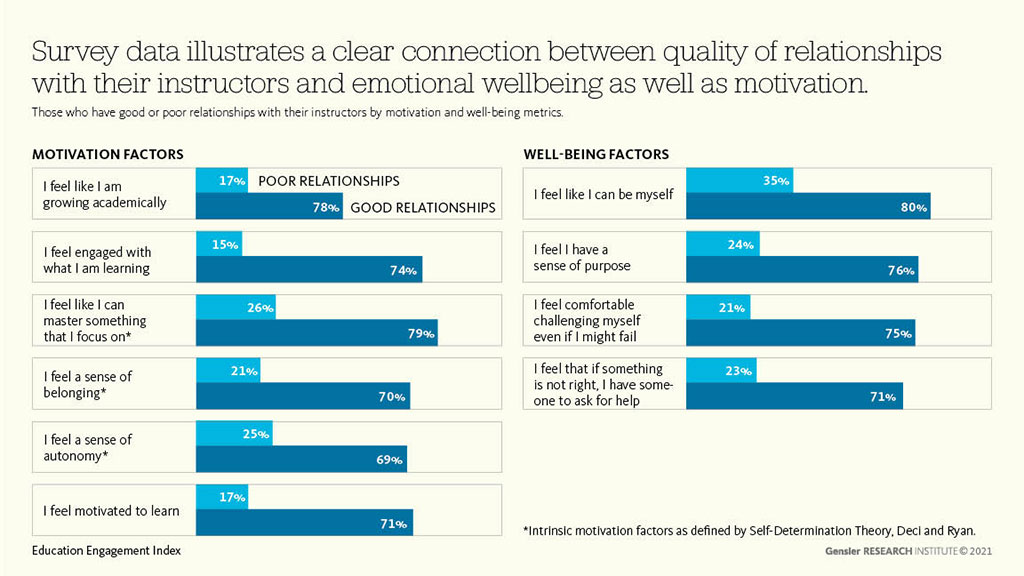 Companies actively recruiting college grads must recognize that GenZ, who is already beginning to enter the workforce, has lived through a much more tumultuous college experience than past generations. The level of stress, isolation, and mental health impact that students are experiencing is being referred to as trauma by many institutions. At the same time, it is possible that these same factors are helping build a resilient and agile generation.
Relationships matter in the workforce as well. In the U.S., Gensler's research found that the workplace is a melting pot where people form diverse relationships across races, ethnicities, and generations. Nearly half (45%) say the workplace is where they form "most of their new friendships," 81% report that they have formed friendships with people of other races/ethnicities at work, and 87% report friendships with people of other generations. And the most diverse organizations report higher scores for a number of business drivers, including empowerment, engagement, and belonging. It will be critical for organizations to create spaces and cultures of inclusion and belonging that foster healthy relationships and emotional well-being.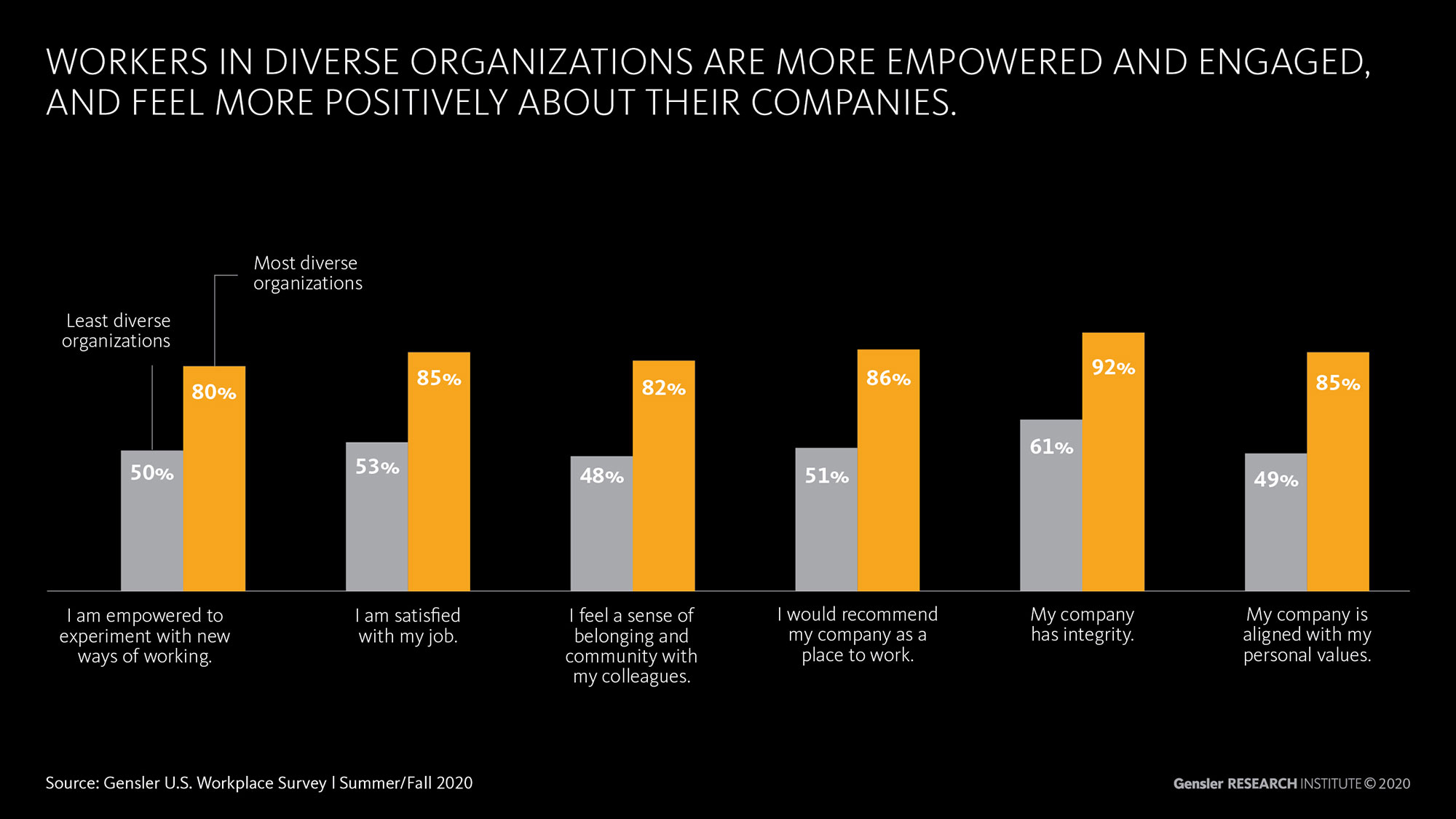 Learning and working have taken a hard hit during the COVID-19 pandemic, but we can harness hybrid and remote preferences to accelerate competitive advantages and position our workplaces and academic campuses as destinations that ignite innovation. By focusing on health, well-being, inclusion, and belonging, we can build resilience and agility for future generations.
Allison Bonser also contributed to this blog post.
For media inquiries, email .