Learning has taken a hard hit during the pandemic, but the experience may lead to a future that is nothing like the past.
As campuses reopen, what should the future of education look like? To help inform this, we surveyed 3,000 students and educators to understand their experiences learning and teaching during the COVID-19 pandemic. Their unique insights can identify critical considerations for designing learning environments in the future.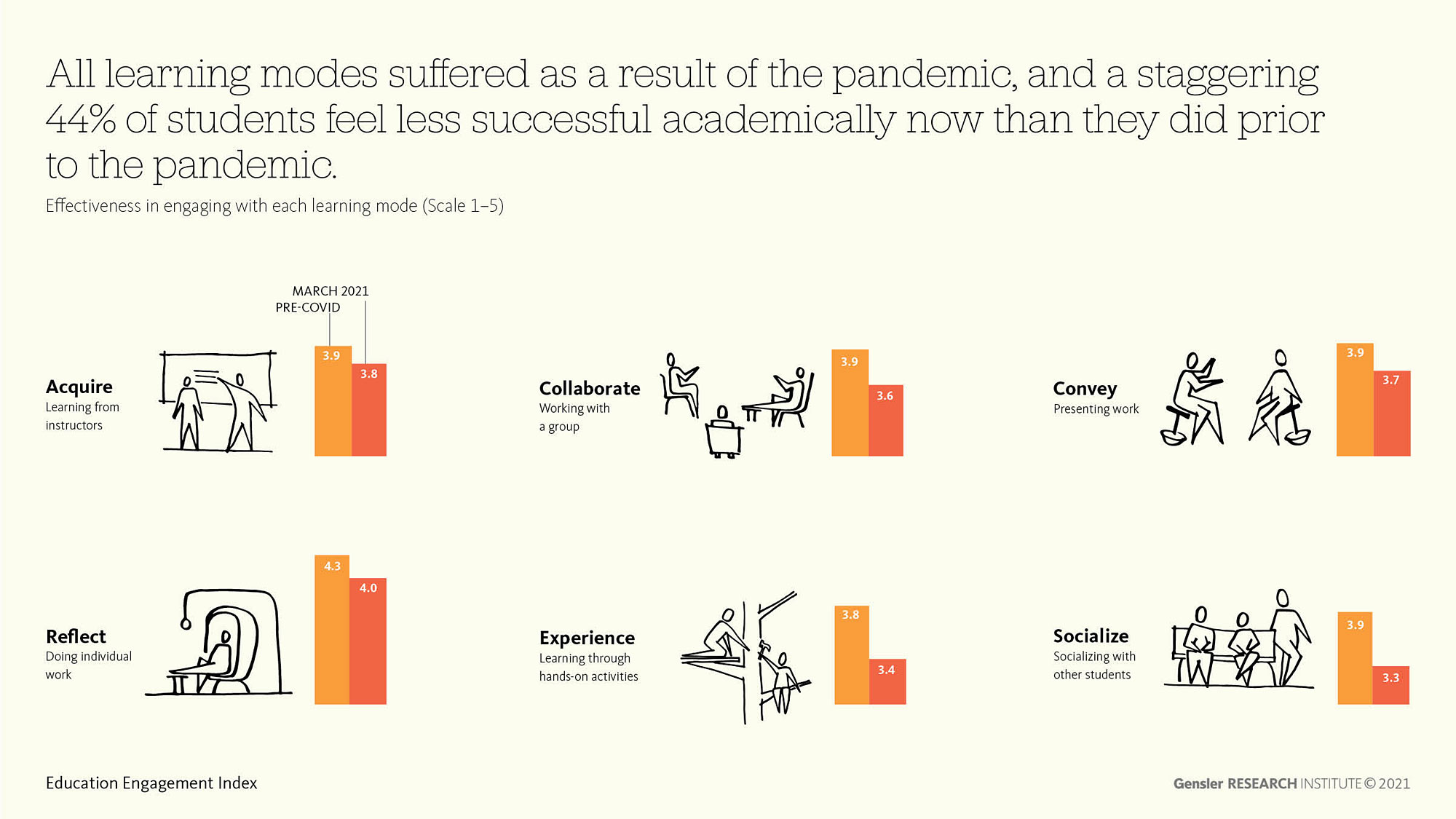 44% of students feel less successful academically now than they did prior to the pandemic.
Findings from Gensler's Education Engagement Index 2021 showed the pandemic had clear, negative impacts on student learning effectiveness. 44% of surveyed college students say they feel less successful academically now than they did before the pandemic. To gauge overall effectiveness, we measured the effectiveness of the learning experience across six fundamental activities. The significant impact observed across all learning modes — including individual focus work — confirms the importance of the campus to support a wide range of activities.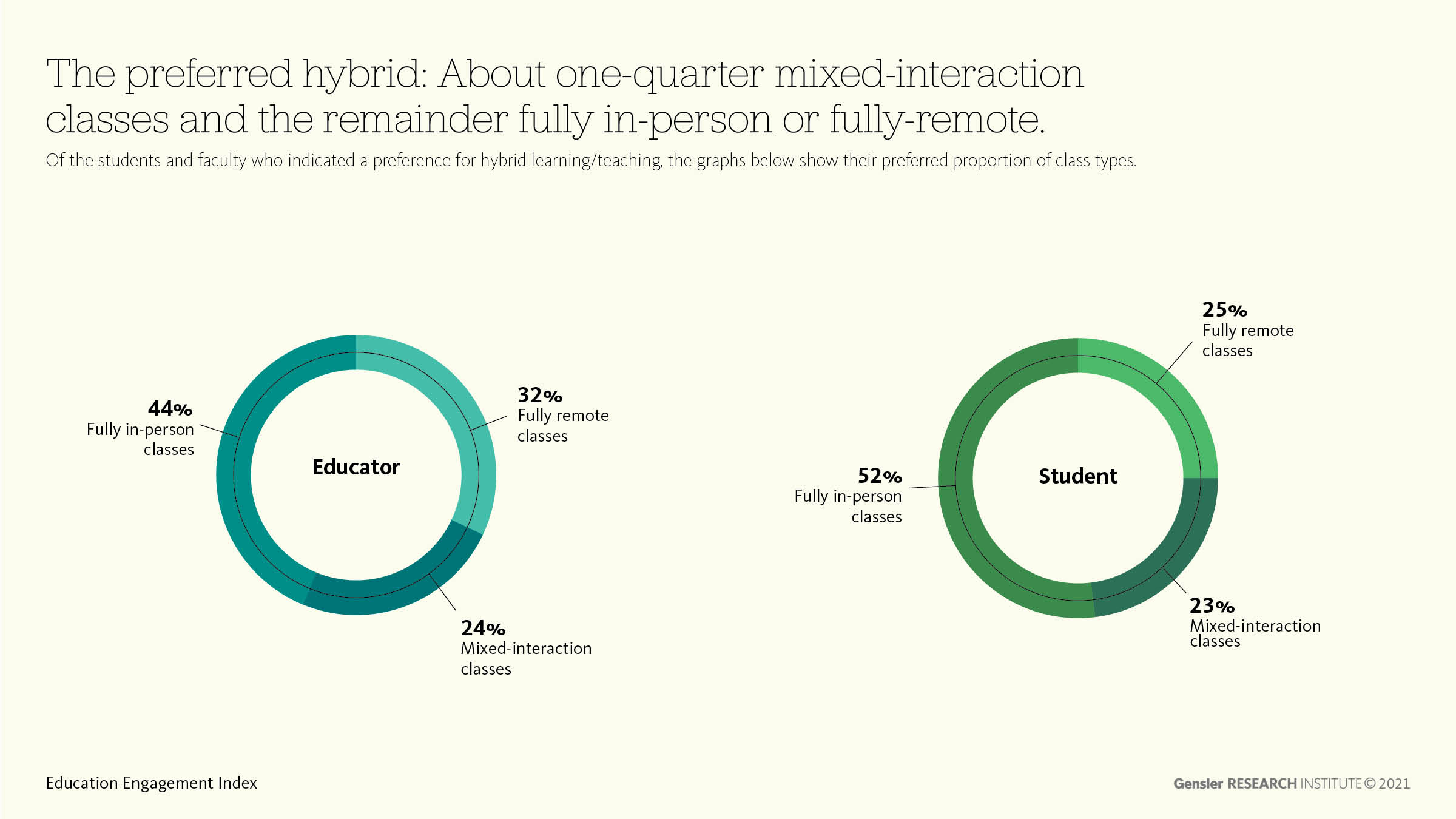 The preferred hybrid learning model mixes in-person, remote, and mixed-interaction classes.
A "hybrid" education experience could include a number of different approaches. For instance, it could mean that a portion of a student's classes are fully in-person and a portion of classes are fully remote. Or, it might mean that all of one's classes have a mix of virtual and in-person interactions. Based on our education survey data, of the respondents that prefer a hybrid approach, both students and instructors would like about one-quarter of their classes to be mixed-interaction, and the remainder of classes to be either fully in-person or fully remote.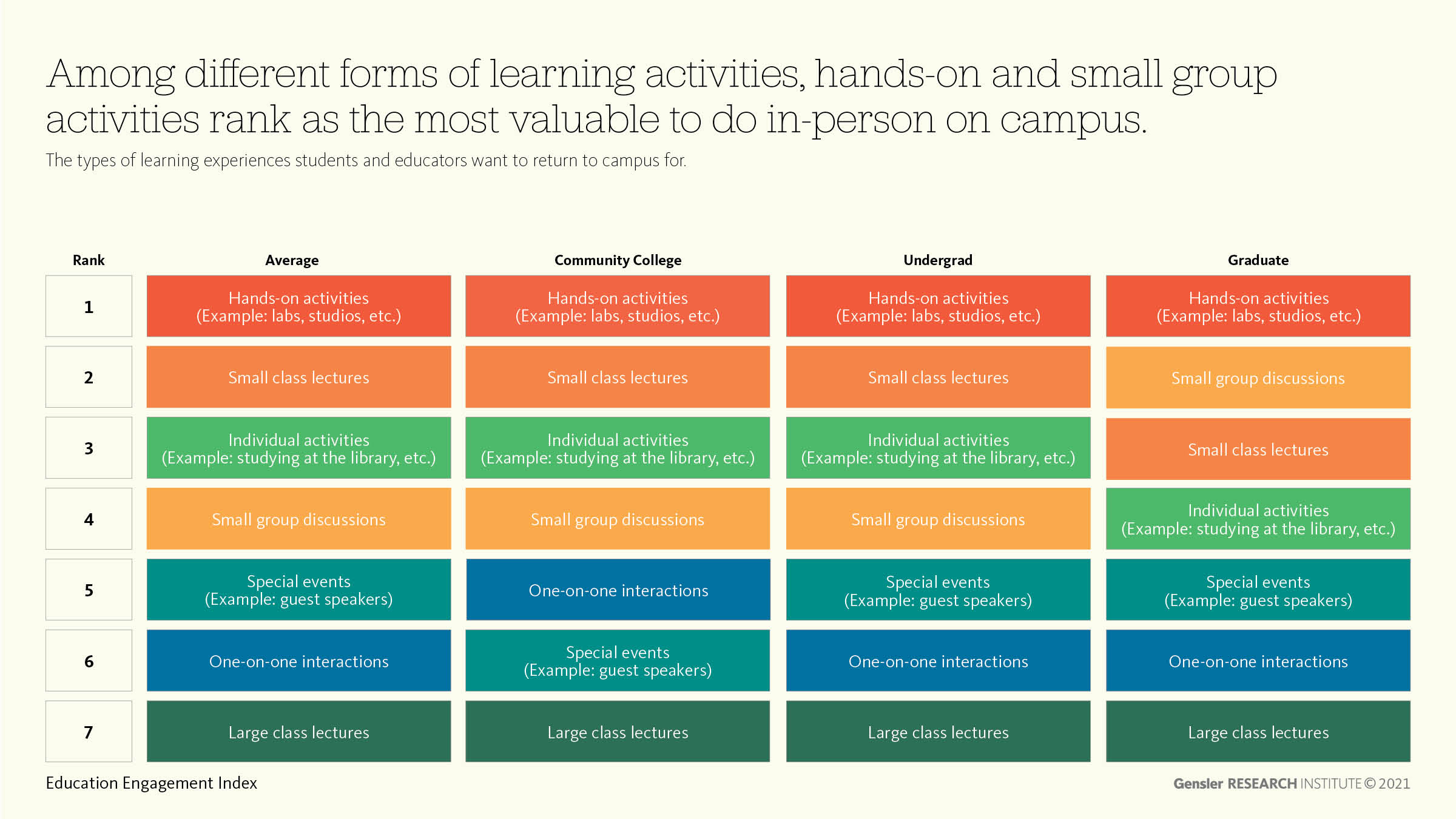 Hands-on activities and small class lectures may be integral to a post-pandemic future.
When we asked students more specifically about which learning activities they would return to campus for, students noted a clear preference for hands-on activities and small class lectures. By far, students were least interested in returning to campus for large class lectures, which raises an important question about how this learning format should evolve in the coming years.
Education Engagement Index 2021 Methodology
We deployed an online survey to an anonymous panel of 3,000 U.S.-based college students and educators. Responses were collected from March 1 to 16, 2021. Student respondents were required to be enrolled in a full-time program at a college or university in the U.S. Educator respondents were required to be teaching in either a full-time or part-time capacity at a college or university in the U.S.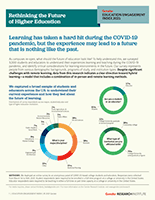 EDUCATION ENGAGEMENT INDEX 2021
GENSLER RESEARCH INSTITUTE
DOWNLOAD AS PDF
Download the full Education Engagement Index 2021 to explore insights from students and instructors on the return to the campus, informed by responses from 3,000 people.