Why Connected Neighborhoods Are Key to Urban Revitalization
June 19, 2023 | By Kelly Cathey
Over the last decade, people have been migrating to cities that provide the right mix of lifestyle choices and amenities. As one of the fastest growing cities in the U.S., Nashville has seen a 1.5% growth in population year-over-year since 2010. This influx of residents with a desire to live and work within the city limits has fed urban development on a city-wide scale that has resulted in a dramatic increase in development density and opportunity for growth and revitalization.
The powerful formula of activated mixed-use development, accessibility to social and cultural resources, and residential and retail activation has been a proven strategy for creating vibrant city centers. As we continue to develop in cities like Nashville, we must carefully consider the relationship between new development and the need to encourage and enhance neighborhood character and a connected urban experience.
Reclaiming the urban experience
Providing a vibrant mix of programmatic amenities within a city will no longer be enough to attract and retain residents. The next generation of urban dwellers are focused on finding and curating a lifestyle experience that includes identity, choice, nuance, and purpose.

Most great cities, regardless of their size, are a collection of communities that have shaped the neighborhoods they live in, boasting their own identity but always inherently linked to the overall experience and story of the city. As we continue to revitalize our urban centers, we must recognize that a vibrant urban experience is connected directly to the character and identity of the city itself.

While reclaiming the urban experience can encompass everything from reclamation of physical assets to revitalizing neighborhoods through greater increased accessibility to the public, at the heart of the urban experience is the idea that the city itself becomes the draw.

There are a number of ways that new development can encourage the reclamation of experience: by connecting existing neighborhoods to allow for growth and cross pollination of visitors and residents, by preserving diverse neighborhood character and connecting it back to the story of the city, and by providing cultural and entertainment hubs that speak to the culture and authenticity of the city's identity.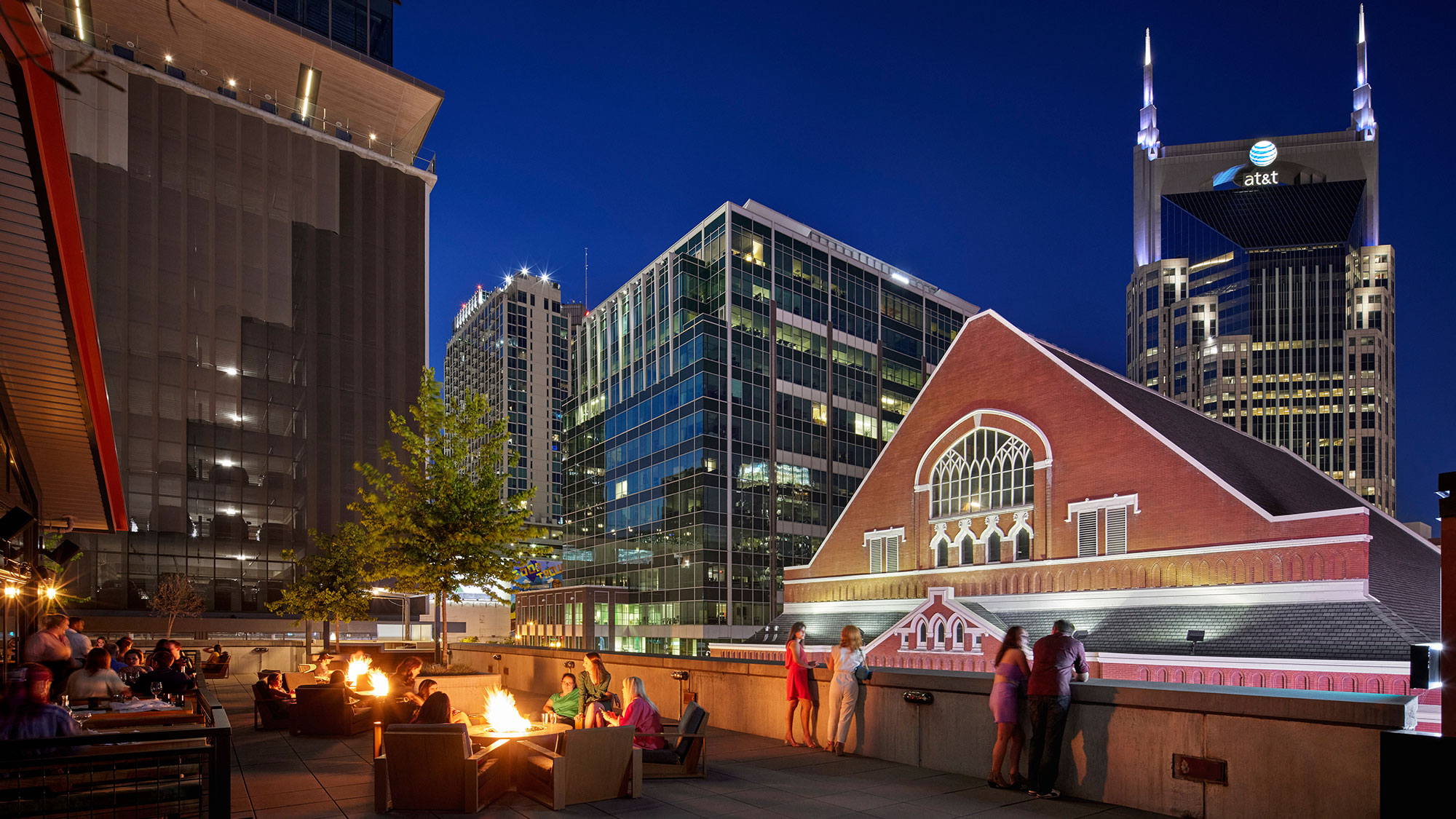 A successful approach to urban growth
New development can support a city's existing fabric by revitalizing vacant city blocks and connecting existing communities to create an integrated, walkable urban experience. Fifth + Broadway has been a catalyst for this type of large-scale development in Nashville. Through redevelopment of the abandoned downtown convention center, the four-acre mixed-use project revitalized this area of the city. In addition to physically connecting two existing downtown districts, the project integrates itself into the city's existing fabric, transitioning from the historic scale of Lower Broadway to the denser office population of the Central Business District (CBD). This project weaves seamlessly into the city's story and sets a precedent for planned growth and neighborhood character going forward.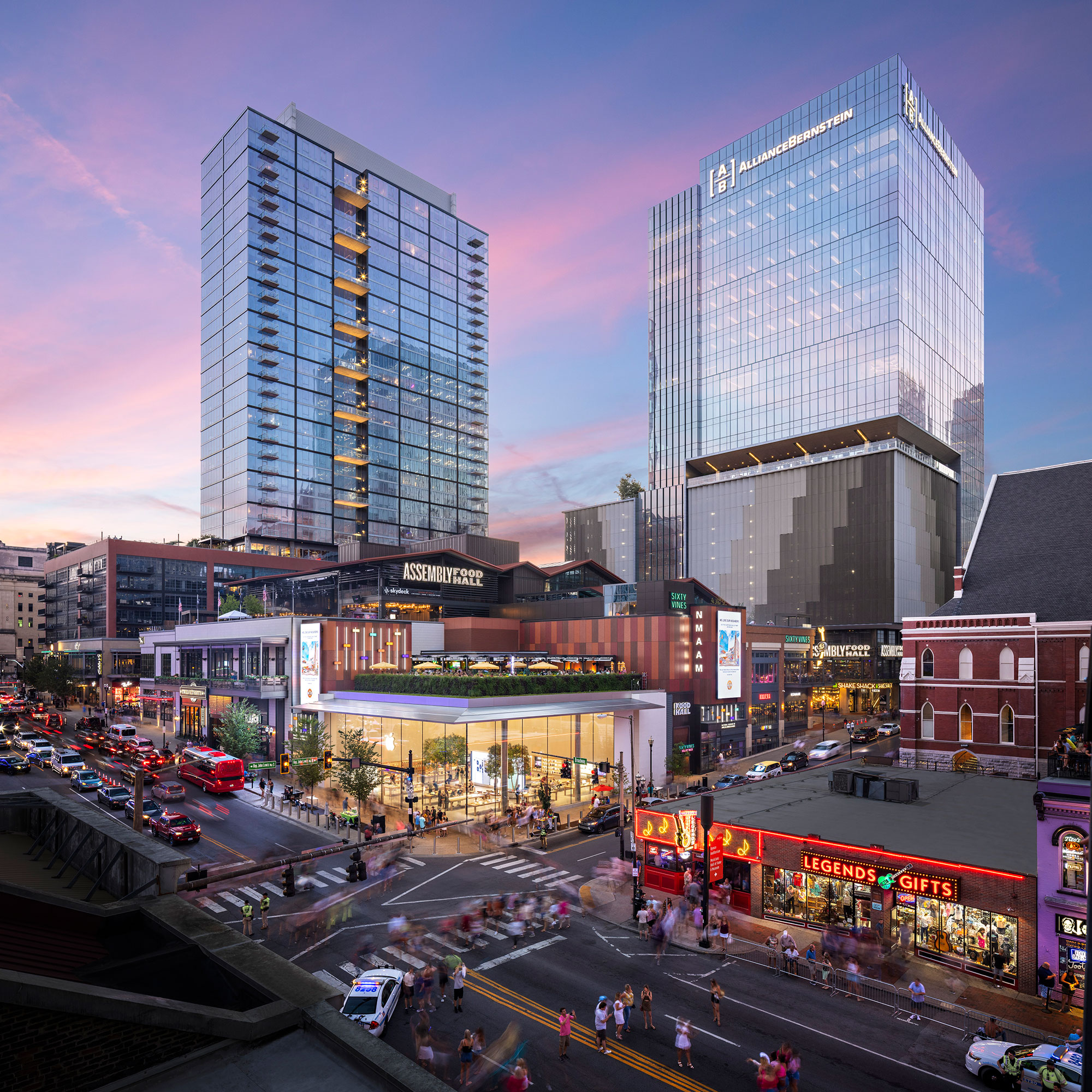 Preserving a community's character and identity
It is possible for new development to coexist with and even enhance the preservation of community identity. Preserving a neighborhood's physical assets, especially if historically or culturally significant, allows for relevant connections between that community and its history and identity. Adaptive reuse projects, such as the Williams Hotel in Louisville, Kentucky, allow for revitalization and activation of a neighborhood while enhancing the ability to communicate the origin story of city.
In addition to critical evaluation of existing structures and urban landmarks for adaptive reuse, it is important to ensure that as cities grow, the communities that make up the existing urban fabric are provided the opportunity to maintain their character. People (past, present, and future) define community — and communities influence a city's character. That includes everything from architecture to food, entertainment, and cultural options.
Supplying a multitude of housing options in developing communities allows people to remain in place and encourages growth and community development. As part of the Edgehill Community Plan, Gensler is working with the city of Nashville to develop a neighborhood character overlay that will preserve the historical significance of this legacy neighborhood, while still allowing for new development to enhance the existing community.
In addition to the live/work/play model that makes up the bulk of mixed-use developments, special consideration needs to be made to include cultural, educational, and entertainment hubs within urban districts to differentiate experience and encourage cross-pollination of visitors and residents throughout the city. The unique nature of these neighborhoods can further diversify the identity of sub-districts within a city.
Successfully designed urban districts and cities have forward-thinking planning teams who are future forecasting for development, even when things are going well. This results in sound urban revitalization strategies that preserve character and influence, impact, and engage development in a way that design and architecture can truly craft a narrative or brand within a city through growth and change.
What's next for cities and urban districts?
To create a more balanced and thriving city with active, connected neighborhoods, our urban centers must offer choices for people of all ages, races, and income levels. The idea of "neighborhoods of choice" promotes economic attainment regardless of status, with a range of options for residents to thrive through different life stages.
As our cities and urban districts undergo dramatic transformation, we must carefully evaluate what we want them to be and represent. We must continue close collaboration with developers, public agencies, non-governmental organizations, and institutions at all stages to ensure our neighborhoods maintain their character, while also achieving the overall strategic growth plans. This is vital for a growing city such as Nashville, as it honors the past and looks to the future.
For media inquiries, email .