October 30, 2023
Governor Moore and Mayor Scott Join MCB Real Estate To Unveil Design Renderings for a Reimagined Harborplace
BALTIMORE, MARYLAND — Managing Partners P. David Bramble and Peter Pinkard, joined by Governor Wes Moore, Baltimore Mayor Brandon Scott, Baltimore City Council President Nick Mosby, members of the design team, community, and business leaders from across the region, released the initial plans for the new Harborplace.
"Harborplace is the beating heart of Baltimore — the place that is uniquely Baltimore that brings us all together. In recent years, it has reflected the mood of the City but not the hope of the City," said Dave Bramble. "This project and this design activates the waterfront in a way that ensures it is for everyone in our City, our region and our State. We prioritized listening to the community to hear what they wanted and married it to what could actually be built. I'm so proud to share these plans with all of Baltimore because we deserve an internationally renowned waterfront that belongs to all of us."
The project is a mixed-use development to reflect the generational change away from indoor malls to a more active multi-use space for living, gathering, recreating, eating and shopping. The project is comprised of four new buildings:
A 200,000-square-foot commercial building on Pratt Street, with an open public ground floor with publicly available conference spaces
A 200,000-square-foot retail and commercial building that will house food and beverage options, including a 50,000-square-foot publicly accessible roof top park on Pratt Street
An 8,500-square-foot retail building in a 30,000-square-foot park and 2,000-seat amphitheater, bounded by Light and Pratt Streets
A conjoined residential tower on Light Street with a stepped down design (32 stories and 25 stories) to maximize views. The building will include approximately 900 dwelling units, retail, and commercial uses
"This is an important and major step forward to ensuring that we can fulfill a generational promise. Harborplace is an important lynchpin of bringing a sense of, not only commerce to Baltimore but also of community," said Governor Moore. "This is going to be Maryland's decade but in order to do that it must be Baltimore's time."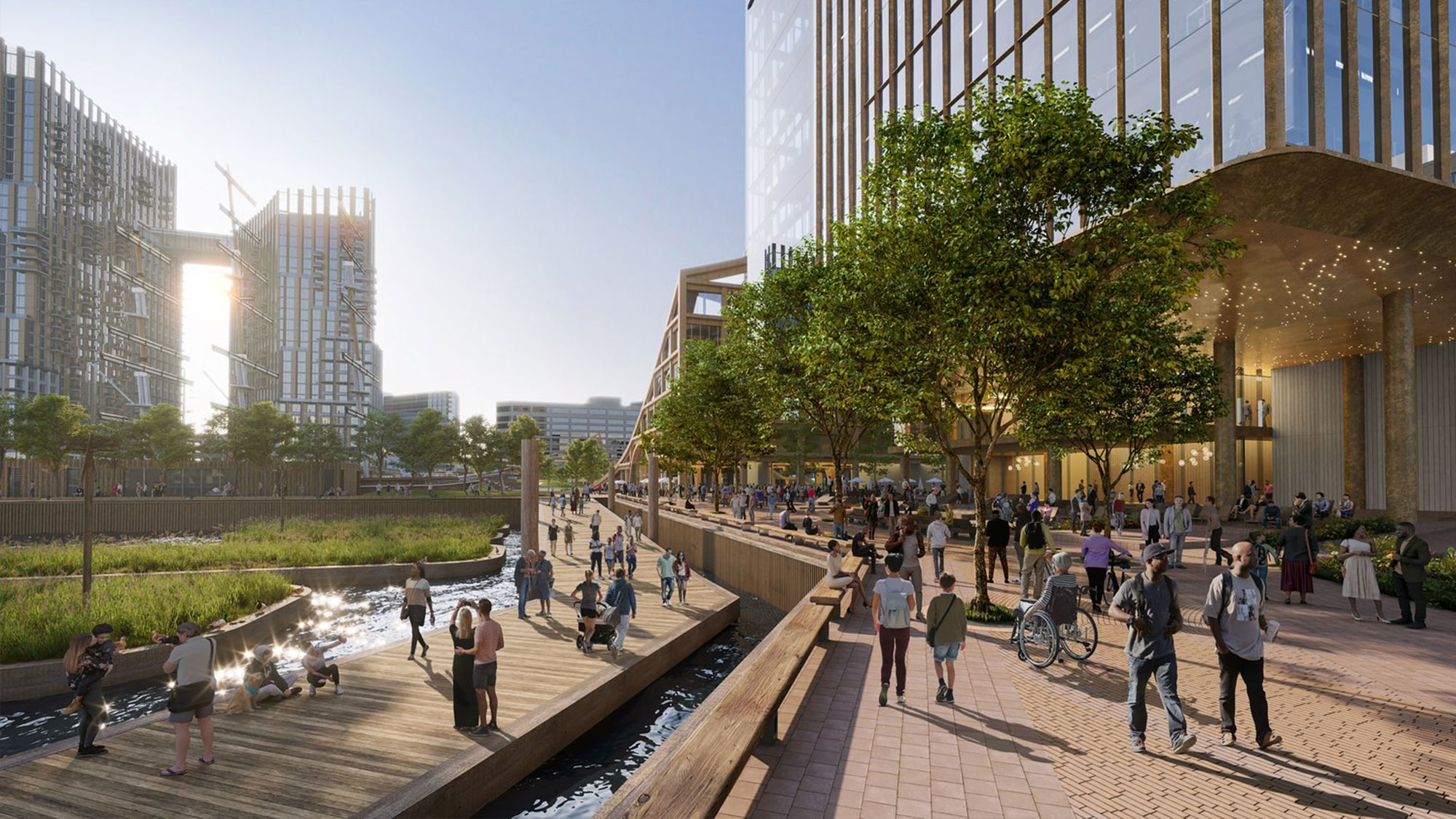 MCB had previously announced that the existing pavilions, which have sat partially vacant for years, will be demolished in favor of a varied combination of uses to attract a more diverse mix residents and tourists to Harborplace.
"The redevelopment of Haborplace will be a foundational investment in Baltimore's future — not just for downtown, but for every neighborhood across the city. I could not be more proud of the work we've done to partner with Dave Bramble and MCB Real Estate on helping make this process a reality," said Mayor Scott. "After helping to shake it loose from receivership to make this transformation possible, the City of Baltimore has worked with Dave and his team every step of the way as they've engaged tens of thousands of residents and made this process inclusive and authentically Baltimore. We will look back on this moment as a pivotal turning point for our city, with gratitude that we've taken on this challenge in partnership and with every Baltimorean from every part of the city in mind."
MCB launched a robust community process earlier this year that engaged tens of thousands of residents from Baltimore City and the entire region to solicit ideas for what a new Harborplace should look and feel like. Small dinners, door-to-door canvassing, large-format public forums and neighborhood association presentations all provided critical inputs that informed the ultimate designs.
The design team now includes 3XN, an internationally renowned design firm based in Copenhagen, Denmark, that won a global design competition that MCB conducted for the Pratt Street parcel. 3XN was named World's Most Innovative Architect of 2022 and won the International High Rise Award for 2022/2023.
"It's so exciting to be part of this project — one that is fundamentally about celebrating Baltimore and its people. MCB's vision for this project, and for the city of Baltimore is one that deeply resonates with me, and with us at 3XN," said Kim Herforth Nielsen, Founder and Creative Director at 3XN. For most of my life, Copenhagen's waterfront was a working harbor — a place of industry, not somewhere where people would hang out, relax, or enjoy their city. The transformation of the harbor into a place for people has transformed the whole city as well, not changing Copenhagen but helping to emphasize what was already special about it. We see this project in Baltimore's Inner Harbor as a way to do the same thing — to give people a place to be together and to celebrate their city."
The design plan reorients the intersection of Pratt and Light Streets, back to more historic grid layout, in order to increase public space as well as maximize gathering space. The design adds 4.8 acres of new park and public space, including 1.4 acres of new promenade, for a total of 18.7 total acres. The design prioritizes public water access and improving water views for all to take more advantage of.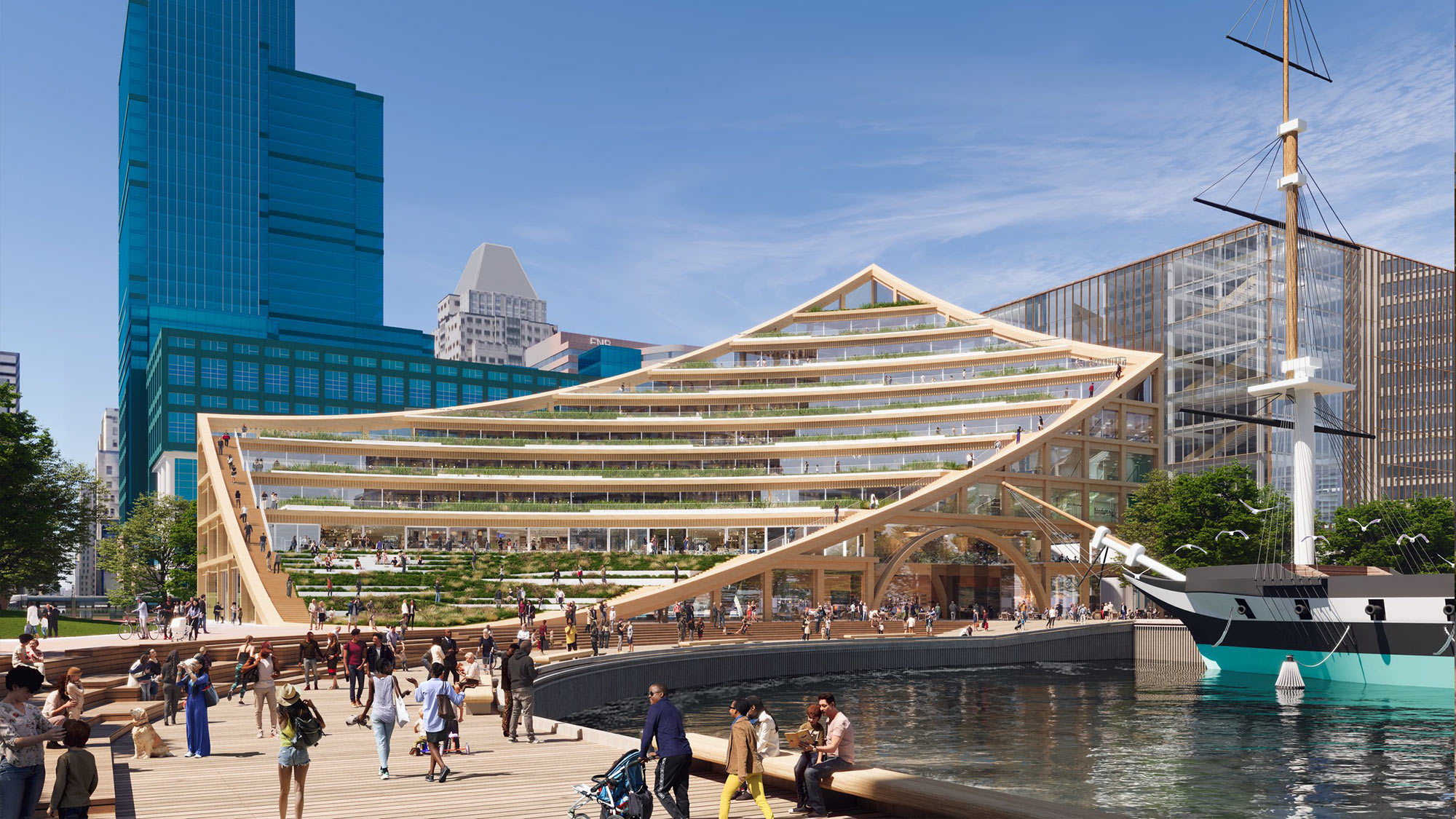 "It's an honor for Gensler to lead a collaborative team of local and international designers to present a plan that will transform Harborplace into a truly inclusive, world-class destination," said Vaki Mawema, Principal and Co-Managing Director at Gensler. "Our city's relationship to the waterfront remains a central aspect of Baltimore's cultural identity and livelihood. Our approach has been significantly informed by the community and will enable everyone to enjoy our iconic waterfront and expanded public spaces in a transformation that will create a diversity of accessible experiences on the ground, in and around buildings, and on the water."
In addition to 3XN and Gensler, the design team includes: BCT Design Group (Baltimore), Sulton Campbell Britt (Baltimore, MBE), Unknown Studio Landscape Architecture (Baltimore, WBE), STV, Inc. (Baltimore), Moffatt & Nichol (Baltimore), The Traffic Group (Baltimore County), RK&K (Baltimore), Biohabitats (Baltimore)
"This moment marks a defining chapter in Baltimore's history. As we reimagine the city's waterfront with breathtaking architecture, vibrant public park spaces, and flourishing locally owned small businesses, Harborplace is poised to once again become the heart of our city," said Colin Tarbert, President and CEO of the Baltimore Development Corporation (BDC). "The re-envisioned Harborplace stands as a cornerstone within the Baltimore Together initiative, a citywide blueprint and process for fostering equitable economic prosperity. In partnership with the MCB-led development team, BDC commits to ensure that this project incorporates strategies for minority- and women-owned businesses to thrive and embraces inclusivity for all Baltimoreans. BDC takes immense pride in its enduring stewardship of the Inner Harbor, which again will be a precedent for urban revitalization."
Messrs. Bramble and Mawema will continue a more in-depth review of the design renderings at Baltimore Together at 3:30 this afternoon, at M&T BANK EXCHANGE, 12 N. Eutaw Street, Baltimore, MD, 21201. Learn more about the project and access all design images: www.ourharborplace.com/theproject.
FIRST IMPRESSIONS FROM THE COMMUNITY
"This development will be a connector of Baltimore City and beyond. Because of this development team, everyone will recognize themselves at The Inner Harbor. No one will feel left out." —Wanda Best, Executive Director, Upton Planning Committee
The new Harborplace won't fix all of Baltimore's ailments but it's an amazing step in the right direction. The design is intentional and iconic. I can't wait to see it in person one day." —Chris Burgess, Riverside resident & President of Charm City Athletics/small business owner
"The new and improved Baltimore Inner Harbor." —Rose Backus Hamm, Madison Park Improvement Association, Waxter Center Auxiliary Board, Retired Principal Baltimore City Public School System
About Gensler
Gensler is an employee-owned, global architecture, design, and planning firm with 53 locations and 6,000+ professionals networked across the Americas, Europe, Greater China, Asia Pacific, and the Middle East. Founded in 1965, the firm works globally with more than 3,500 clients across 33 practice areas spanning the work, lifestyle, cities, and health sectors. We are guided by our mission to create a better world through the power of design, and the source of our strength is our people. By leveraging our diversity of ideas, our research and innovation, our shared values, and our One-Firm Firm culture, we are working seamlessly as a borderless firm in more than 100 countries and making the greatest impact on our communities as we continue to tackle the world's challenges.

Media Contact:
Courtney Pories
PR Manager, Gensler