What Gensler's Canadian Workplace Survey Reveals About the New Priorities for Office Design
February 23, 2023 | By Annie Bergeron and Kevin Katigbak
Editor's Note: This blog is part of our blog series exploring insights from Gensler's 2022 Workplace Survey findings.
As unemployment rates hover at their lowest levels in half a century, the deficiency of spare labor in Canada — at all skill levels — has fueled a highly competitive war for talent. This comes at a time when office workers are afforded more choice and autonomy in where and how they work than ever before. In a bid to gain a competitive edge, many organizations are turning to office design to meet the diverse needs of their employees while enabling them to do their best work.
The return to office movement has seen many organizations champion the office as a place to reconnect with colleagues and clients, engage socially, and reignite in-person activities that we had lost from spending a significant amount of time apart during the pandemic. But Gensler's recent Canada Workplace Survey 2022 survey of 2,000 office workers suggests that there are a different set of priorities emerging for office workers that are more aligned with focusing on their work than reconnecting with others in-person. As the Canadian workforce explores its future with hybrid working, our survey finds that the office will remain a critical part of the work ecosystem. But there are some challenges.
Gensler's data on Canadian workplace performance reveals what's working in the office, and what's not. It looks at the potential characteristics to create an office where employees choose to go instead of somewhere employees have to go. Unsurprisingly, a curated experience plays a significant role in drawing people back to the office.
Here are some of the key findings from the survey:
The office remains an important enabler of productivity.
Many employees across Canada are currently exploring alternative work locations instead of their company's workplace. On average, younger office workers spend one quarter of their time working outside the office and their home. This indicates that employees are no longer faced with a binary choice between their home and the office. The office is now competing within an ecosystem of other places for work such as coworking spaces, coffee shops, libraries, and even parks.
Despite this, the office is still regarded as an important enabler of team and individual productivity. In the survey, we asked employees how much time they are currently spending in the office and how much time they ideally need to work in their company's office to maximize their productivity. Surprisingly, we found that on average employees want to spend more time in the office than they currently are to maximize their productivity. Almost two-thirds cited that they would ideally need to spend three to four days in the office, compared to just 32% who are currently spending that time in the office.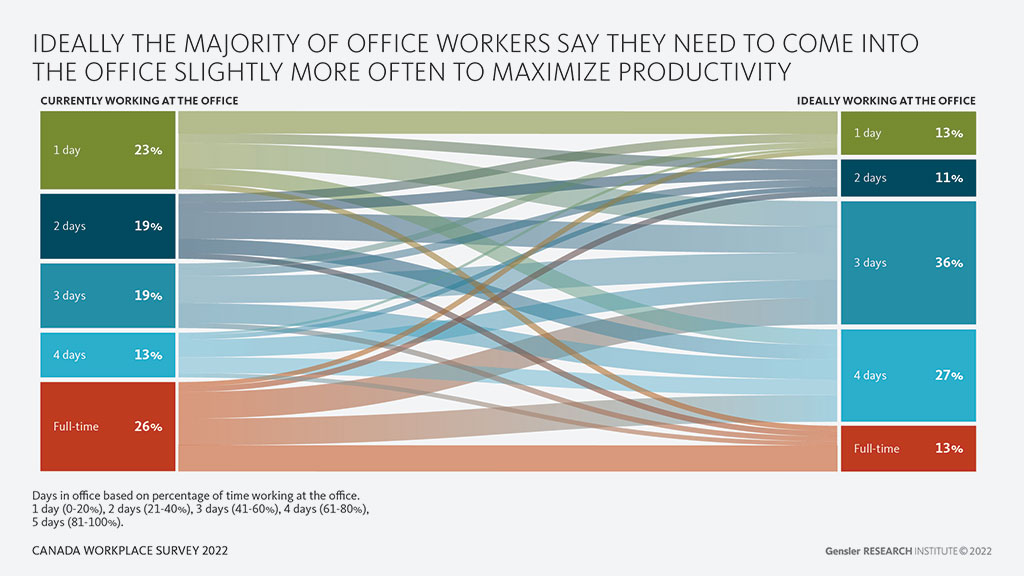 If the office is perceived to be a facilitator of productivity by office workers, why then are they not going to the office more frequently? What's holding them back?
What's missing from the office?
The exaggerated importance placed on the role of collaboration in the office during the pandemic neglects to acknowledge the critical role the office continues to play in supporting individual work and working with others virtually. Our data found that Canadian workers spend 41% of their time working alone and 42% working together both in person (27%) and virtually (15%). Alongside this data, we discovered that employees cite the most important reason to come into the office is to "focus on my work."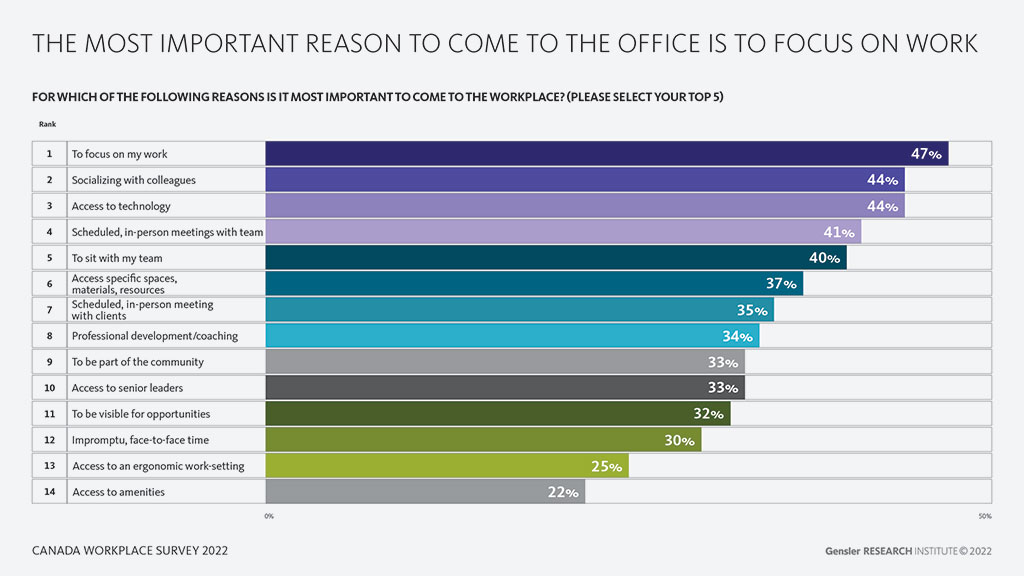 Data from our workplace performance analysis found that the office already effectively supports activities that require physical interaction, such as socializing and working together in-person. But it is less effective in supporting individual work and working together virtually. This is significant because it is a clear signal that the office is not working for the type of work employees are conducting. On average, employees report that 71% of time spent working alone requires a high level of concentration. In addition, more than half of meetings in the office are hybrid — requiring physical and virtual participants. The best workplaces will maintain the spaces where physical interaction can thrive, while also offering effective spaces for working alone and working with others virtually.
What spaces have the greatest impact?
While the survey data indicates that workspaces are not working as well as they could to support current ways of working, it also highlights specific workspaces and amenities that have the greatest functional and experiential impact for employees. Access to quiet, tech-free spaces and focus rooms offers the most value for both the effectiveness and experience of the workplace. However, spaces for creative group work, such as innovation hubs and project war rooms, also offer significant value.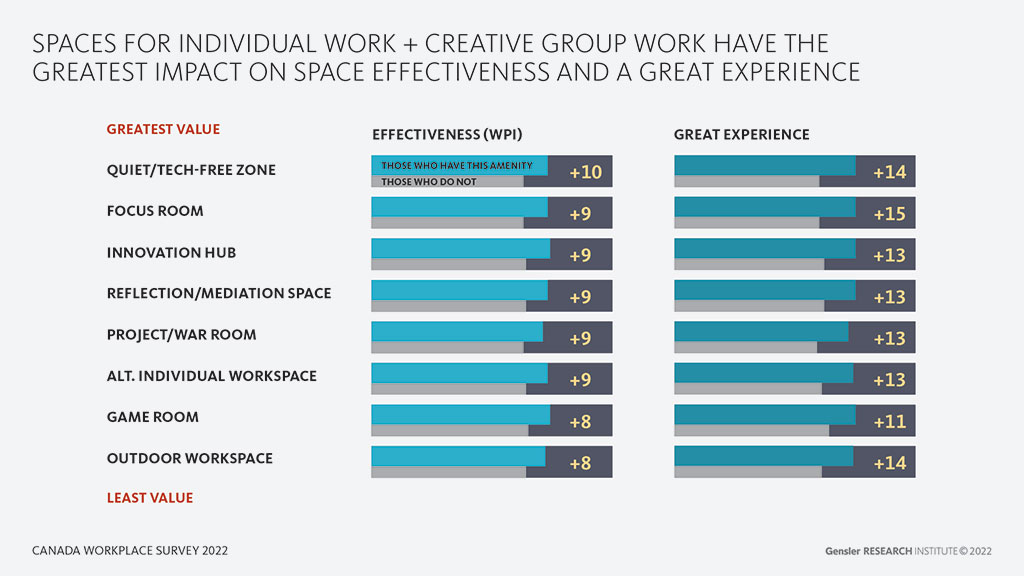 Companies that provide both effective space and a great work experience are more likely to be located in amenity-rich neighborhoods. These workers have access to a wider diversity of amenities — ranging from coffee shops and outdoor spaces to eateries and grocery stores, either on-site or near the office.
Diverse workplace experiences could be the ultimate attraction back to the office.
As workers return to the office, they not only want an effective space to work but one that also delivers a great experience. The value of curating great workplace experiences was increasing in importance long before the pandemic hit but can now be a key differentiator for employees when deciding where to work.
In a research survey format, it's difficult to ask employees what they wish they had if they don't know what's possible. In our survey, we described eight everyday experiences that respondents could relate to — ranging from a library to a conference center, to a residential space, to a boutique hotel. Respondents could create their ideal mix by toggling to 100%.
The data clearly showed that employees want a diverse range of experiences in their offices. It also showed how valuable the ideal experience can be as a tool to draw people back to the office. Of the employees not already working from the office full-time, 75% of workers across Canada report that they would be more willing to return to the office more regularly if their ideal experience was provided. Almost half of these respondents said they would return at least one additional day per week.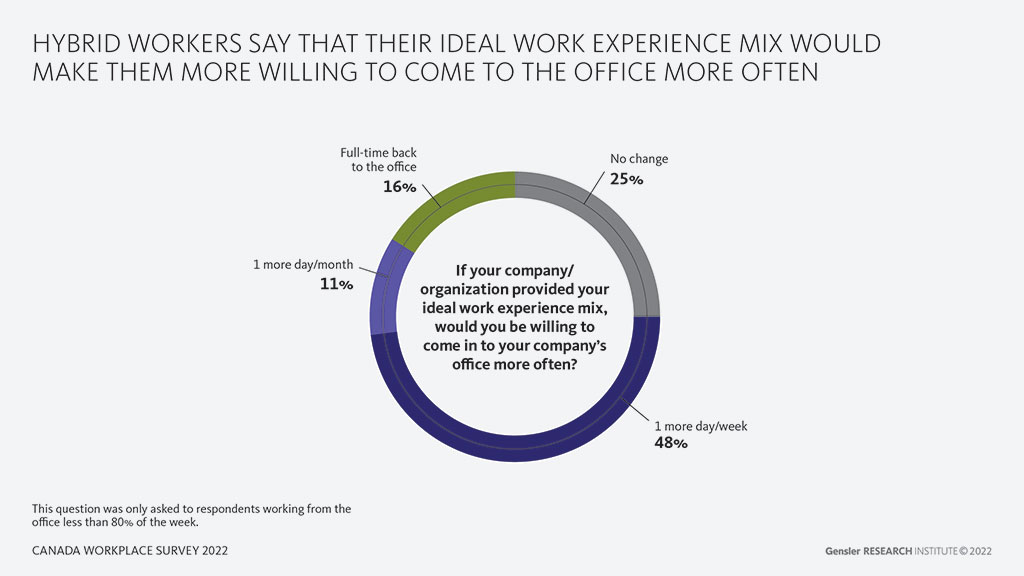 As the war for talent rages on, it is clear that the workplace can be a critical tool to attract and retain skilled employees. The highest performing workplaces will not only draw workers back to the office, but also drive performance and business outcomes. At a time when hybrid working has manifested as a permanent structure in our working lives, the future of the office lies in the power to attract employees and deliver value-based experiences that can't be accessed in other workspaces.
Download the full Canada Workplace Survey 2022 briefing to explore more insights. Stay tuned for additional blogs in this series.
For media inquiries, email .