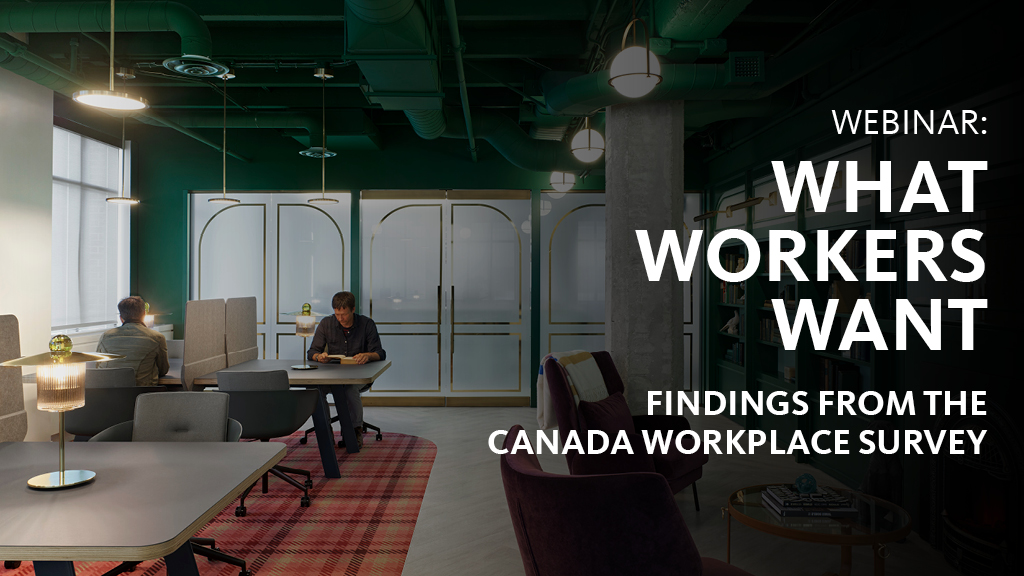 WEBINAR:
WHAT WORKERS WANT:
FINDINGS FROM THE CANADA WORKPLACE SURVEY
The latest Canada Workplace Survey from the Gensler Research Institute uncovered a surprising shift in the top reason workers want to return to the office: they are seeking diverse environments that better enable team and individual productivity.
Complementing the need for a range of spaces that support both individual and virtual work, a desire for a new mix of experiences is also driving what workers want from the workplace in Canada. As our clients consider the future of their workplaces, data from our Canadian Workplace Survey provides key insights into employees' desire for choice, flexibility, and variety.
In this webinar, Gensler's Global Director Workplace Research Janet Pogue McLaurin, Gensler Toronto Strategy Director Kevin Katigbak, and Gensler Vancouver Senior Workplace Design Strategist Garima Gupta offer guidance on the future of work in Canada, including:
What's working in the office as workers return
What's not working in the office to support critical work activities
What's missing that may drive space effectiveness and a great experience
Methodology: The Gensler Research Institute conducted an anonymous, panel-based survey of 1,972 Canada-based office workers between June 14, 2022 and September 11, 2022. Respondents excluded workers who had not yet returned to the office since the start of the pandemic.
Watch the webinar and download Gensler's Canada Workplace Survey 2022.
Download the full Canada Workplace Survey 2022 to explore how the workplace can offer experiences and spaces that respond to the needs and desires of Canadian-based office workers. Our data provides key insights into where key interventions can be made to improve the overall effectiveness and experience of the modern office.