As Canadian workers return to the office, they are seeking diverse environments where they can get work done.
Gensler's Canadian Workplace Survey found that employees need to be in the office more to maximize their productivity — but first, the office needs to curate the right blend of experiences and environments to facilitate getting work done effectively. Almost half of Canadian office workers surveyed report that the most important reason to go to the office is to focus on their work. The workplace survey aims to seek a better understanding of what is and is not working in the office currently, and what design interventions might facilitate more desirable workplaces.
This data is collected from an anonymous, panel-based online survey of nearly 2,000 Canadian office workers conducted between June 14, 2022 and September 11, 2022.
Learn more about our methods.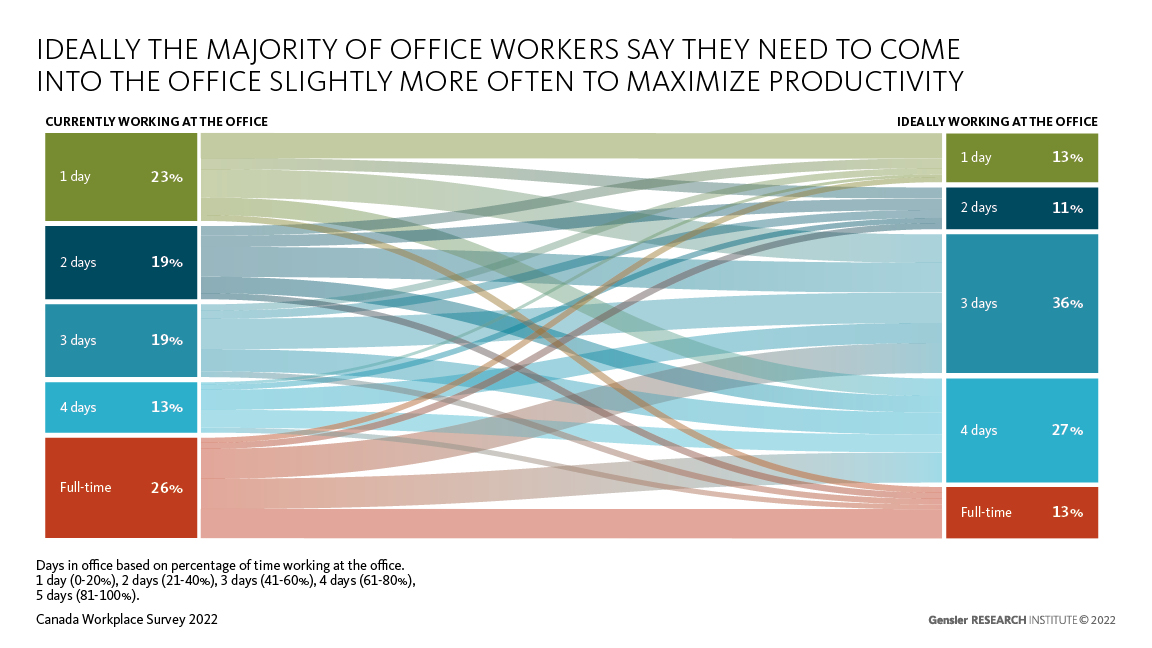 While employees are working fluidly between different locations, the office remains an important enabler of productivity.
Many Canadian employees are exploring alternative work locations to the office. On average, younger office workers spend one quarter of their time working outside of both the office and their home. This indicates that employees are no longer faced with a binary choice between their home and the office — and the office needs to work harder to compete with a myriad of locations such as coworking spaces, coffee shops, and libraries.
Despite this, the office is still regarded as an important enabler of team and individual productivity. Our workplace research found that workers believe they ideally need to be in the office more to maximize their productivity, with 63% of employees citing three to four days as the ideal amount of time to be in the office.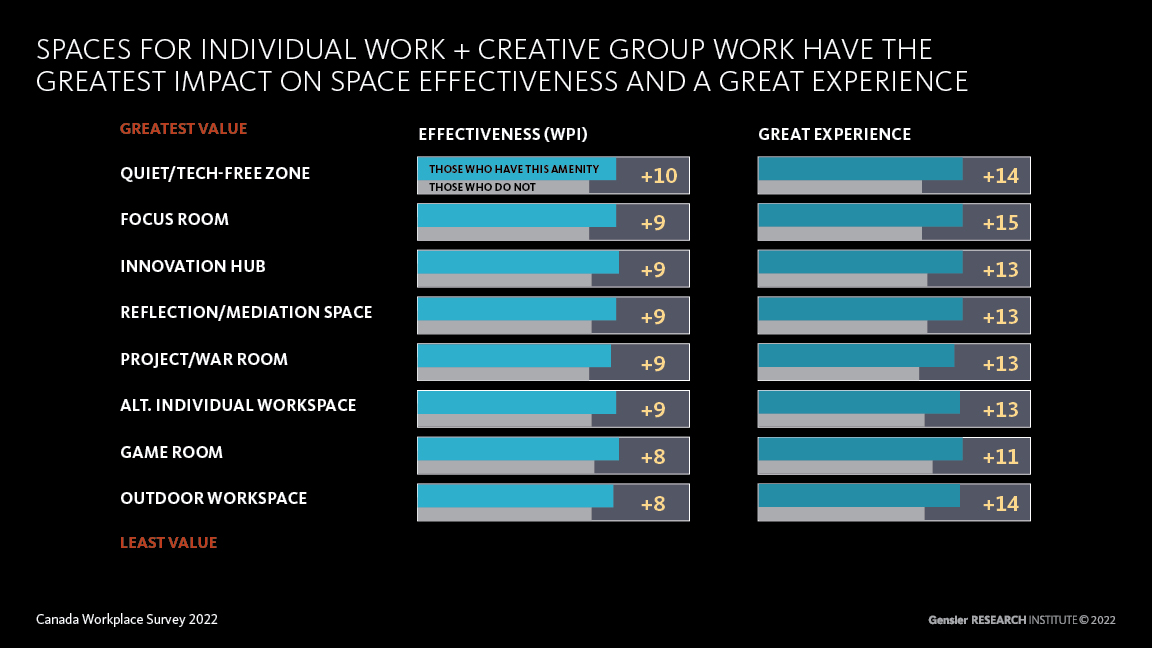 Spaces for individual and creative group work offer the biggest value for space effectiveness and workplace experience.
If workers come into the office to get work done, they need spaces and amenities that can facilitate this. Access to quiet, tech-free spaces offers significant value for both the effectiveness and experience of the workplace. Other individual spaces such as focus rooms, meditation spaces, and alternative individual workplaces provide high levels of space effectiveness and experiences. Spaces for creative group work such as innovation hubs and project rooms also offer significant gains for space effectiveness and experience in the workplace.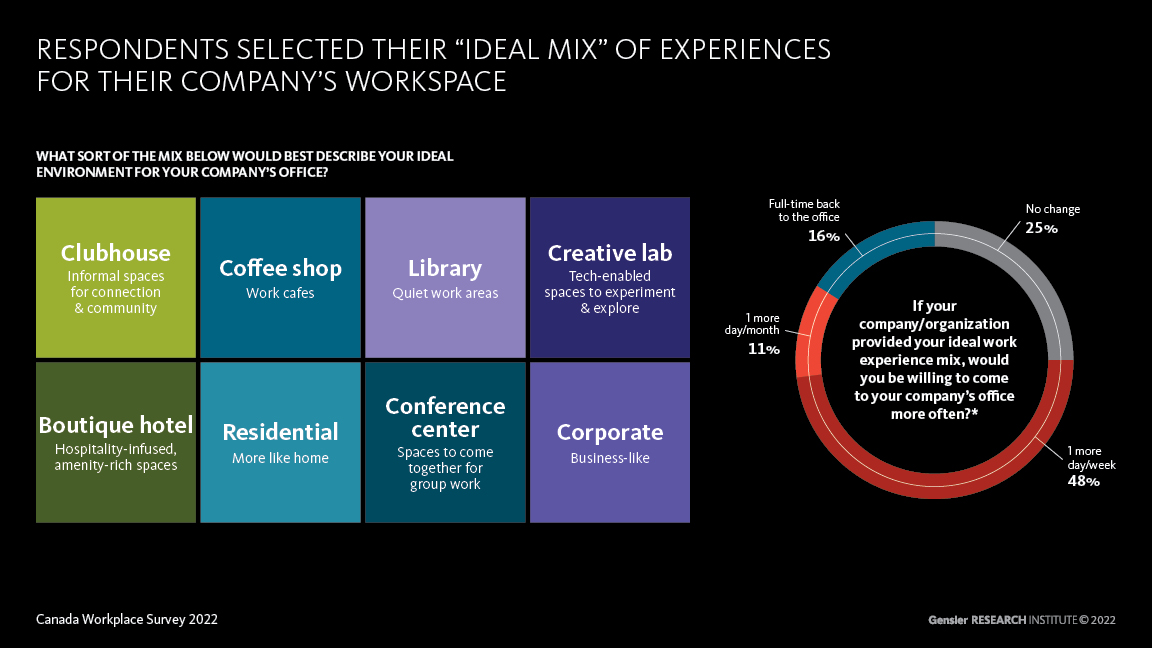 Effective spaces should be coupled with great experiences.
As workers return to the office, they not only want effective spaces to work but workplaces that offer great experiences. Canadian office workers desire a rich blend of experiences when they come back to the office, according to findings from Gensler's Canadian Workplace Survey. Of the employees not already working in the office full-time, 75% report that they would return to the office more regularly if their ideal experience was provided. Almost half of these respondents said they would return at least one additional day per week.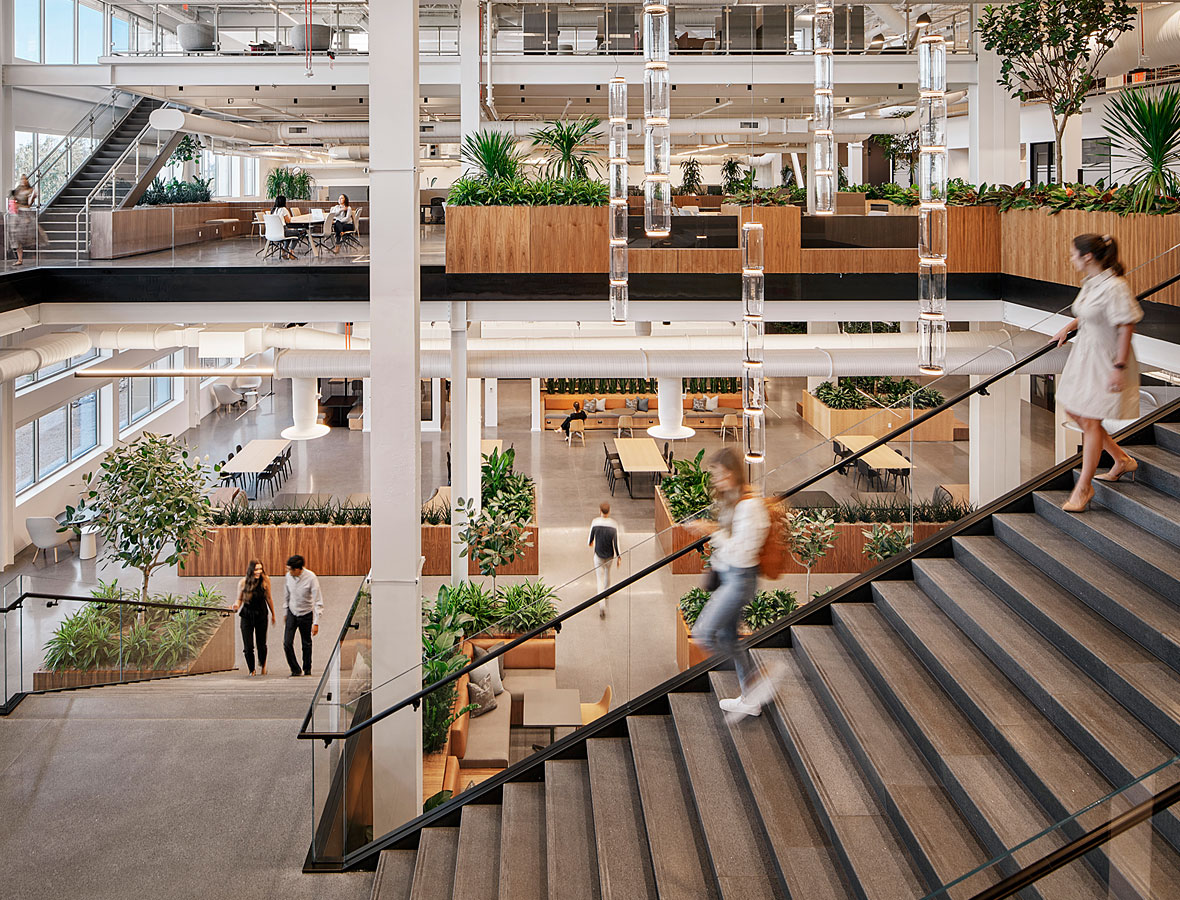 Workplace Performance Index
Interested in learning how your workplace is supporting workers and driving your business outcomes? Discover more with our WPIx.
Canada Workplace Survey 2022 Methodology
The Gensler Research Institute conducted an anonymous, panel-based survey of 1,972 Canada-based office workers between June 14, 2022 and September 11, 2022, using a third-party panel provider. At the time of the data collection, respondents were required to be working from the office at least some of the time, excluding fully remote workers and workers who had not returned to the office since the start of the pandemic. Respondents are distributed across 10 client industries and represent a broad cross section of demographics including job role, company size, age, commuting distances, and geographies across Canada.
Download the full Canada Workplace Survey 2022 to explore how the workplace can offer experiences and spaces that respond to the needs and desires of Canadian-based office workers. Our data provides key insights into where key interventions can be made to improve the overall effectiveness and experience of the modern office.