To Reinvigorate Downtown Cores, Developers Should Adopt a Mixed-Use Mindset
March 17, 2022 | By Dean Strombom
For many years, office and residential building developers in downtown cores were successful operating with a "build it and they will come" strategy. Shiny, iconic, single-purpose towers stood tall on the skyline, creating a flight to quality for many tenants on the move, despite higher rents. More recently, tenants, guests, and customers have become acutely aware of how the spaces they occupy affect their health and happiness and are demanding more than beautiful edifices with a prestigious address. Developers have heard this feedback and understand that to retain and attract post-pandemic tenants in urban cores, they will need to adopt a mixed-use mindset that suburban developers offer closer to home.
Over the past two years, one trend has become very clear: we must design for an optimized human experience by prioritizing wellness and a balanced lifestyle. When planning new mixed-use spaces, we must first identify how people are operating within the environment, and then apply that information to a design construct targeted at maximizing productivity in these settings.
We've learned that people want to feel energized by the places that they are occupying, and they want to feel that their surroundings are not only welcoming, but that they also foster and encourage a connective community experience. Additionally, we are seeing a resurgence of people valuing access to the outdoors, especially for buildings located within an urban core. As people explore the intersection between work and leisure, these trends validate the need to create more mixed-use destinations in downtown cores.
Fortunately, in most central business districts, the foundations needed to create a dense, mixed-use environment already exist. Parks, retail, affordable residential communities, and ample job opportunities all point toward attracting and retaining downtown visitors and residents. However, in many cities, the urban core has evolved into a series of distinct districts of building types — office, residential, retail, and hospitality are available, but not necessarily convenient to one another. These districts are now becoming more integrated, with multiple uses easily accessed within the neighborhood.
After recently completing phase one renovations of outdated office buildings at Houston Center, downtown Houston's largest office complex, Gensler Houston is continuing to work with Brookfield Properties to design the reimagined Highlight at Houston Center. The 170,000-square-foot mixed-use property includes a dining, retail, and entertainment hub connected to the Brookfield office buildings by sky bridges.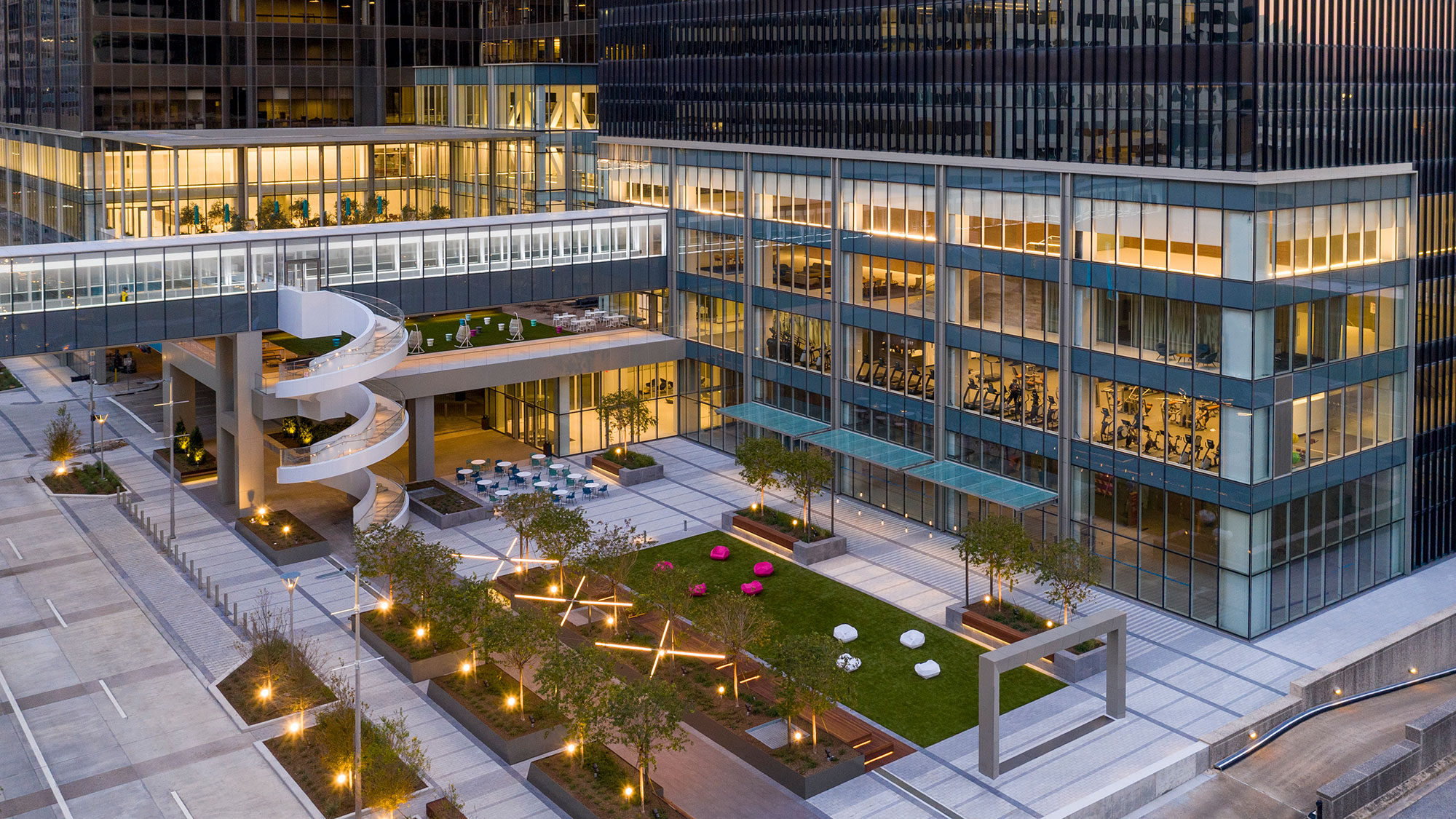 With Discovery Green, a major urban park at the center of Houston's convention center and sports district, around the corner, the design team leveraged the activity nearby by integrating multi-level outdoor spaces at the heart of the repositioned development. Street level restaurants will surround the large, programmed plaza, and The Highlight is expected to draw hotel and convention visitors, in addition to neighborhood office tenants, with its reactivated indoor and outdoor food and beverage venues.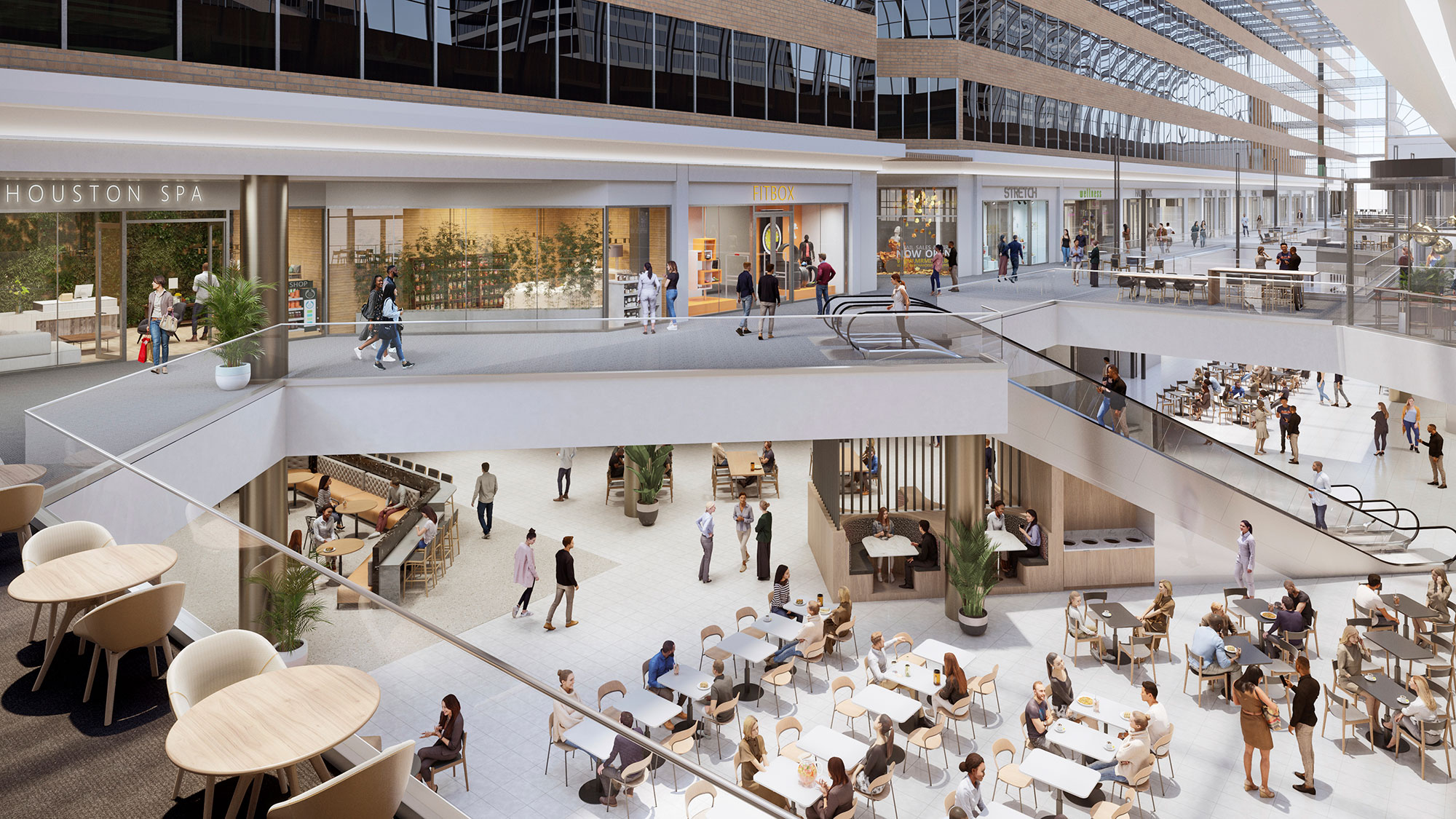 The design of mixed-use spaces is also being driven by people's interest in connecting to their communities. Enlightened developers have a keen understanding of how their projects can satisfy this need for connected spaces. By creating sought-after places to simultaneously live, work, and play in downtown cores, we are prioritizing the human experience, and ultimately creating vibrant mixed-use destinations.
For media inquiries, email .