Trends to Watch: 5 Opportunities Shaping the Future of Tech in the Built Environment
March 29, 2023 | By Hans Neubert, David Kramer
Editor's Note: This blog is part of our Design Forecast blog series, looking at what's next in 2024 and beyond.
The human experience has most often evolved with the invention and adoption of new technologies, leading to positive coexistence at its best. Living with future computational intelligence at scale will require new natural interactions that make technology itself invisible while making it accessible through common interfaces that will amplify productivity, learning, collaboration, and delight at their core.
A considered and thoughtful approach to designing for the built environment will be needed to guarantee future progress and a balanced human existence. Architects, designers, and technologists have an opportunity to collaborate and guide this next wave of innovation by placing people and their multisensory needs at the center of the architecture and design process.
Here are five opportunities that shape the future of technology in the built environment:
1. Immersive Placemaking. Consumer demand for in-person entertainment soared in 2022 and continues to expand. Coalescing a community around place and experience that is activated by technology is a growing part of immersive experience design, blurring the boundaries between physical and digital storytelling. As technologies become cheaper and more powerful, we expect evermore dynamic placemaking on an urban scale. This will bring new experimentation and engagement to urban culture, sports, entertainment, hospitality, retail, and mixed-use developments.
Example: Gensler led the design for the AT&T Discovery District as a dynamic extension of downtown Dallas — a place that fosters new cultural and community connections between visitors, employees, and the local business community.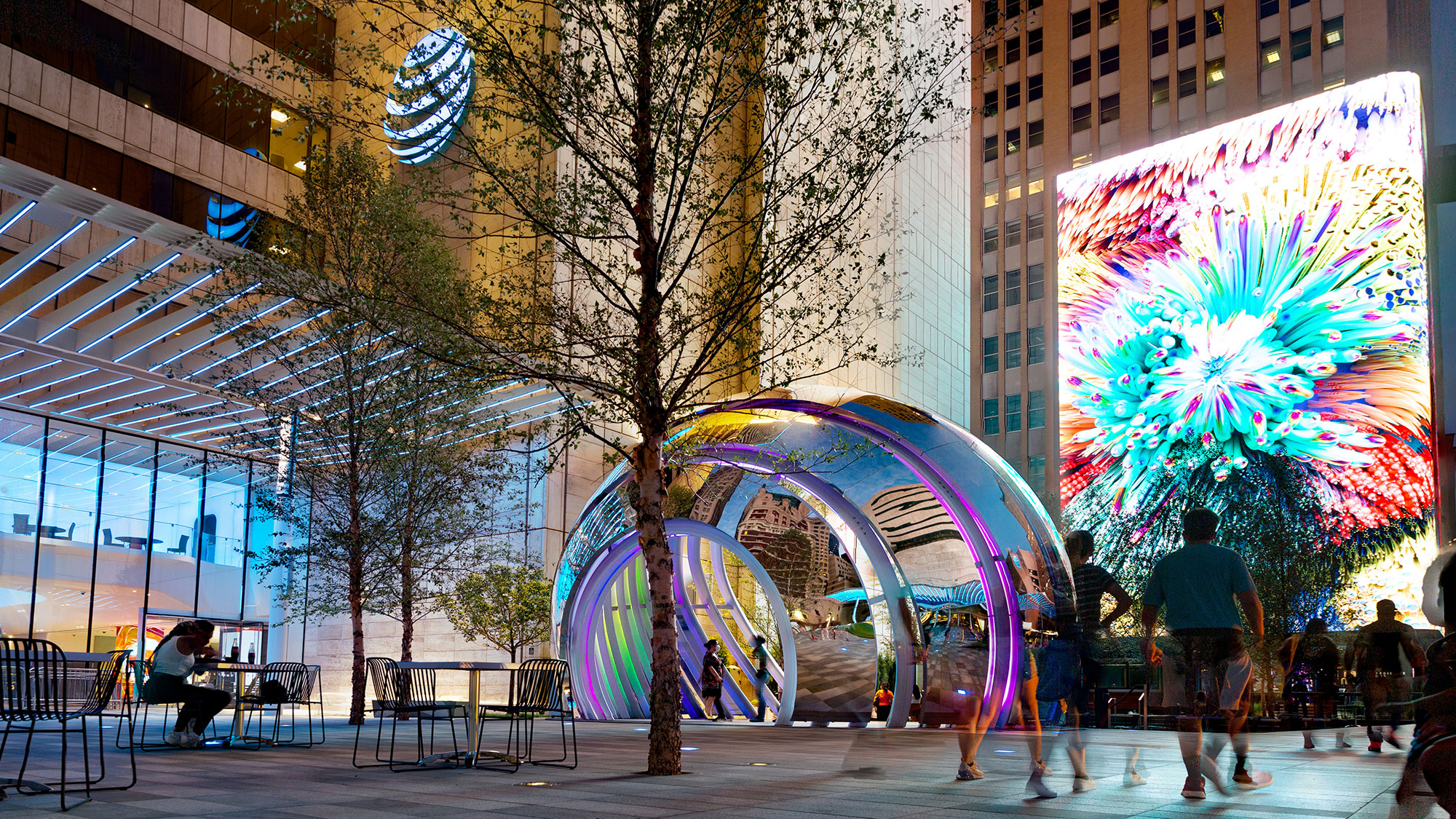 2. Blended Reality. As the boundaries between real life and virtual reality become increasingly blended with the use of XR and Digital Twinning, our spatial and symbolic boundaries need to be explored and reimagined for the built environment at all scales. Merging our physical and digital worlds requires designers to consider new multisensory user experience (UX) standards that will inform how we design for optimal livability, socialization, and connectedness.
Example: In a recent Gensler blog post about the "The Infinite Office," Greg Gallimore and Nick Hubbard shared their views on how the metaverse could connect us to new possibilities at work.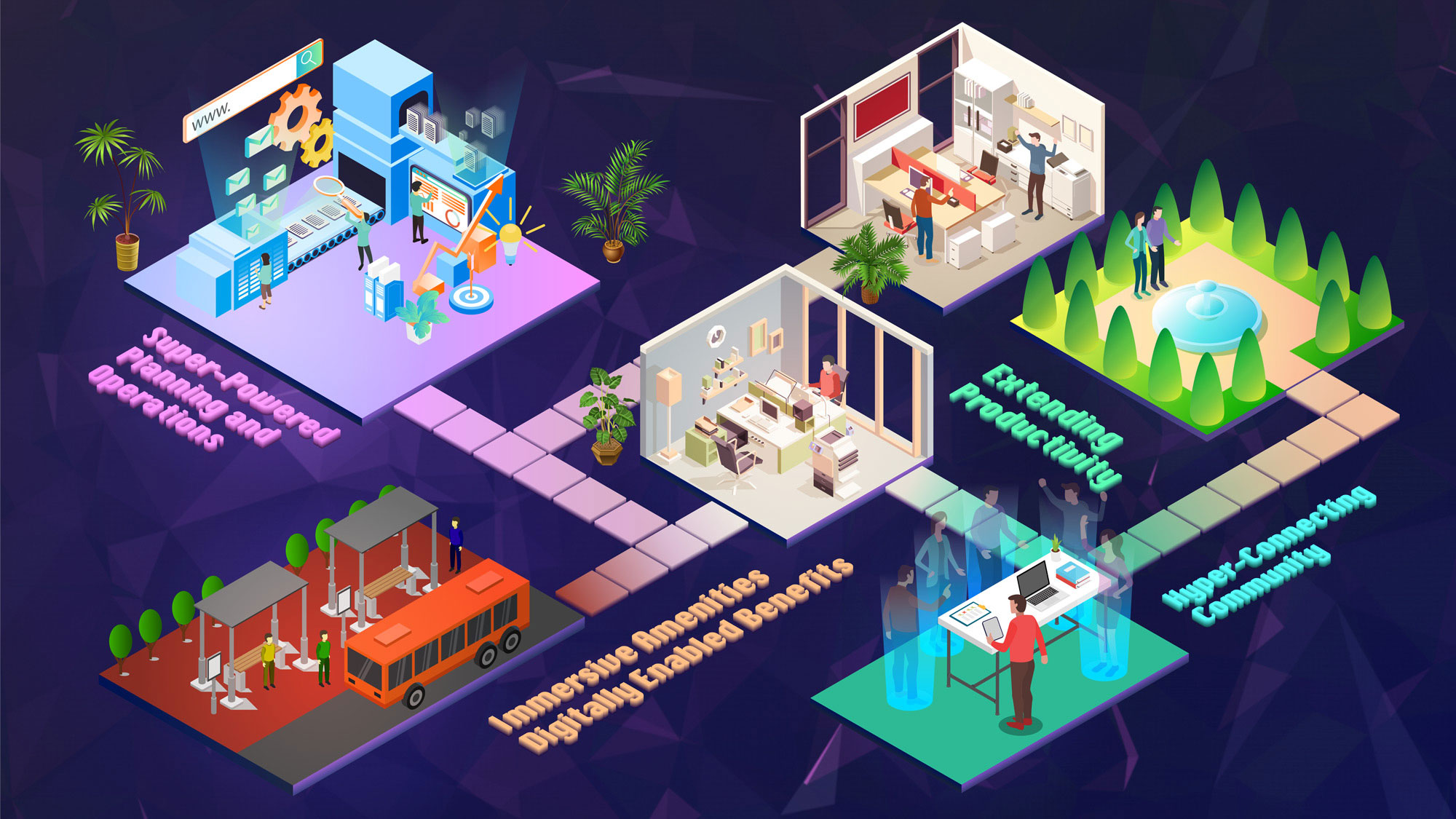 3. Continuous Innovation. Adaptive spaces and infrastructure are here to stay, and people and companies expect places to evolve faster in keep with the changing business and environmental conditions — not just on a five-year cycle, but every 6-12 months. To keep pace with continuous change and evolution, infrastructure needs to be adaptable, reconfigurable, and always-in-beta. The purveyor of an experience and their users are entering into a feedback loop that benefits both parties by improving and optimizing the experience for equal benefit. Companies are creating innovation hubs as streamlined locations to not only test new technologies but also consolidate and accelerate innovation practices between internal teams, partners, and customers.
Example: At TK Elevator North America Regional Business Support Center in Atlanta, a visitor center and showroom located within The Innovation and Qualification Center (The IQC) puts the company's R&D efforts and smart technologies on full display, giving consumers a behind-the-scenes look at how products are made. Patrons can engage with 20 different touchpoints, all providing interactive experiences for elevator safety, sustainability, and innovation.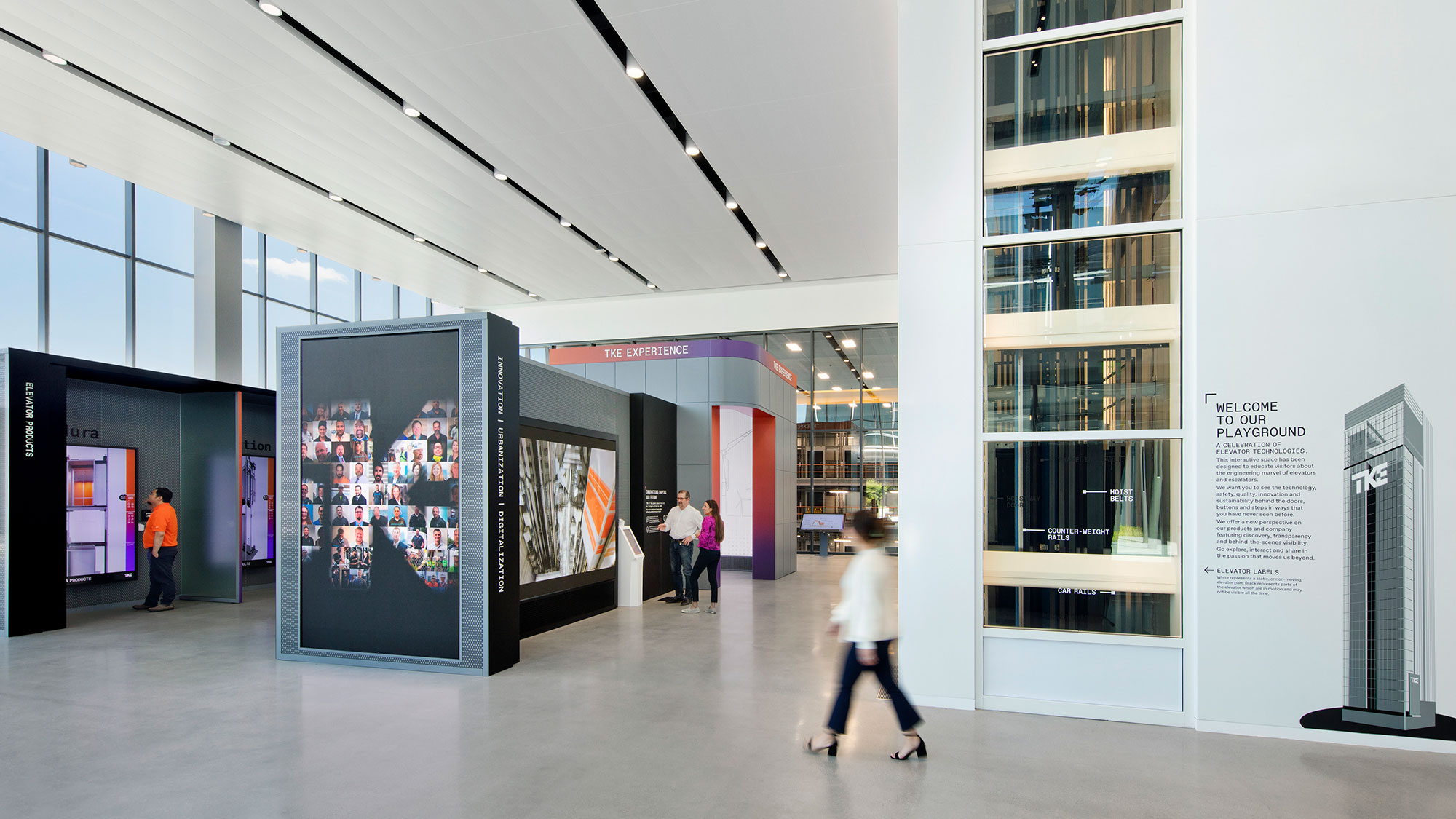 4. Intelligent Service. Likely, any service that can be replaced by Artificial Intelligence (AI) will be replaced by it in the future, unless the job or task requires human imagination and ingenuity. Every future service interaction will be an opportunity to learn, evolve, and predict what comes next with ever higher accuracy and speed. Vital services, like healthcare, mobility, and government, will be augmented by assisted AI to create more time for quality human-to-human interactions. The important effects include less stress and cognitive overload for high-value experts and greater satisfaction for consumers. Yet to achieve the right balance, people will have to endure the necessary experimentations needed to calibrate new and advanced services.
Example: Gensler worked with TELUS to design mobile technology that makes the services of a personal workplace assistant available to everyone.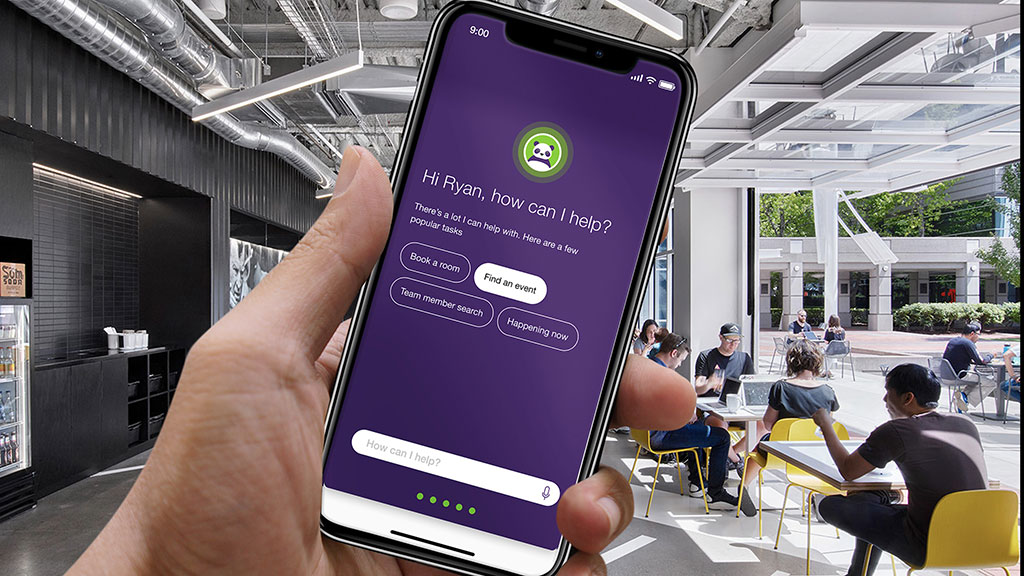 5. Real-time Sustainability. Climate change and personal health are connected in ways we're only just starting to understand and explore. By creating places that share real-time performance analytics, we have an opportunity to protect and enhance people's well-being while fostering trust and confidence. Dynamic environmental feedback educates users in real time while nudging us to make the best sustainable choices in how we live, work, and play.
Designing for seamless technology integration is both an opportunity and a challenge. Yet many ideas go unrealized due to lack of vision or unrealistic expectations. Successful projects are grounded in critical interdisciplinary planning that links the digital and physical customer experiences while taking important business, user, and operational KPIs into consideration. This demand for advanced technology is coming from every sector, and the next 10 years will mark the beginning of tech's mass adoption into the built environment.
Example: In Texas, Gensler partnered with global information and communication technology provider Ericsson on a 5G Smart Factory to design a highly sustainable, net-zero-carbon factory that is a model for reducing the world's manufacturing footprint.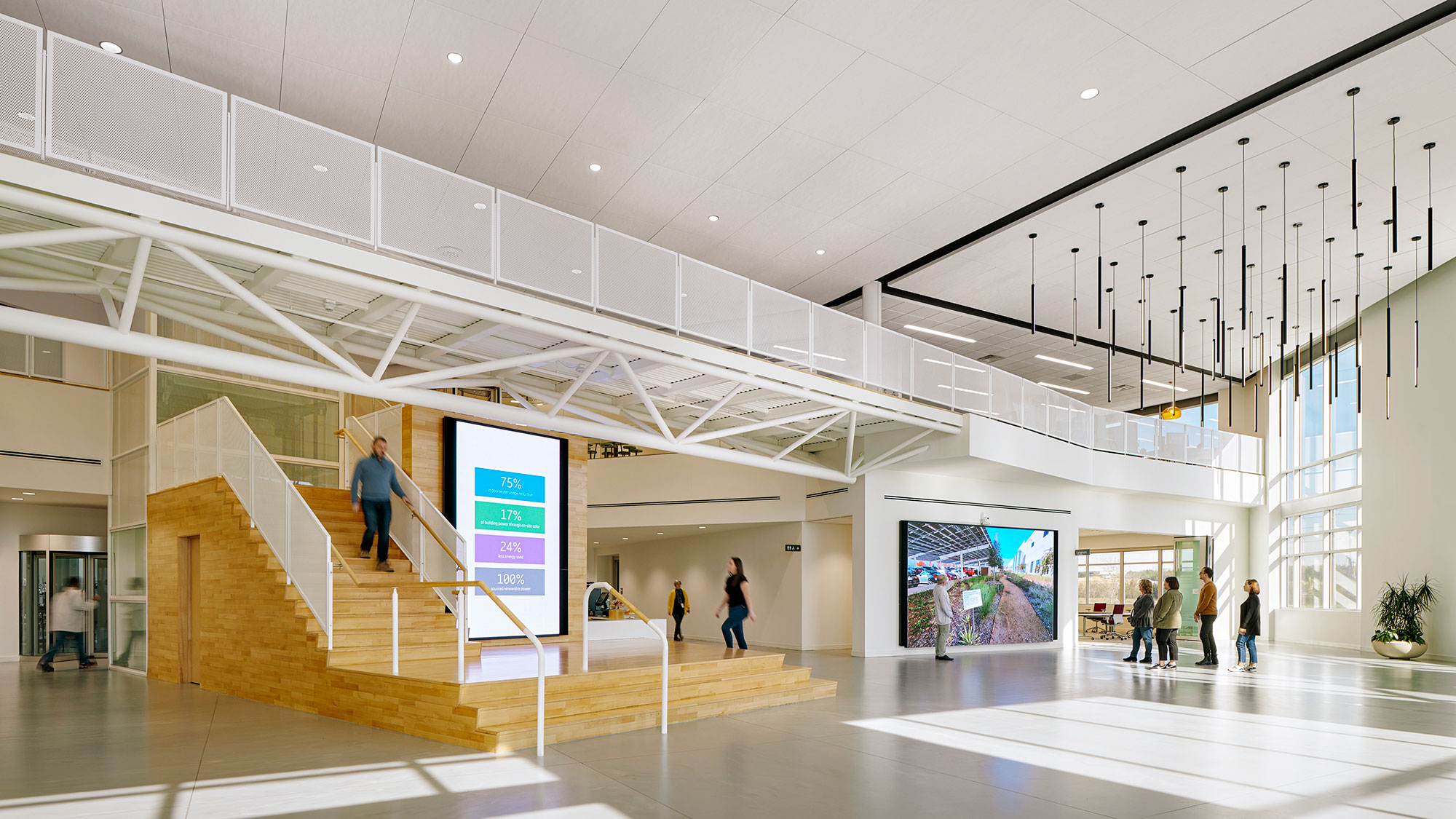 For media inquiries, email .