Rethinking Longevity in an Age-Inclusive World
September 23, 2021 | By Tama Duffy Day and Lester Yuen
Editor's Note: This article was originally published in October 2020.
The COVID-19 pandemic has taken a toll on people of all ages, but older adults are among the most impacted. According to the Centers for Disease Control and Prevention, eight out of 10 COVID-19 deaths reported in the U.S. have been in adults 65 years old and older. This has been linked to underlying medical conditions, with those aged 85 or older at the greatest risk. But the impact of the pandemic extends into everyday life. Social isolation has also had a great impact on people of all ages, with over 50% of Americans experiencing loneliness and 53% reporting that their mental health has been negatively impacted due to worry and stress.
Conventional models of senior living are typically homogenous settings focused on residents' immediate health care needs, rather than heterogenous environments that cater to diverse needs and lifestyles, physical and mental health, and social connections across generations — all critical aspects to promoting holistic well-being. However, the traditional models of nursing homes, assisted living, and retirement communities are shifting and blending. In today's market, we are engaging with savvy operators to design buildings and spaces that accommodate the full spectrum of residents while catering to their specific needs at all stages of life.
We feel strongly that design plays an important role in keeping older adults safe, connected, and engaged in their community. Here are five strategies for reimagining longevity in an age-inclusive world. We're using these five strategies as a lens for our design in all places we live, work, heal, and play.
1. Reconnect with nature.
Many recommendations for facility improvement focus on the importance of clean air, by improving both the quantity and quality of filtered air while also reinforcing the importance of operable windows. Through evidence-based design research, we know exposure to natural light and air, as well as views of nature, have positive health outcomes ranging from reducing stress to lowering blood pressure. We should seek to extend gardens into building designs, add balconies into unit designs, and recognize the full sensory benefits of nature — aural, smell, touch, and visual.
In our hospitality, workplace, education, and senior living work, we have been extolling the benefits of blurring the boundaries of inside and outside for years — first to create great human experiences, and also to create adaptable and better learning, leisure, living, and work environments that now are critical from a health and wellness perspective.
For the Gensler-designed Fountainview at Gonda Westside, a luxury retirement community for active, independent living in Playa Vista, California, residences offer ample daylight, natural ventilation, and a strong connection with the outdoors in a coastal setting primed for walking. An array of on-site amenities designed for social connection and walking paths support residents' desire to remain active and engaged with the life around them.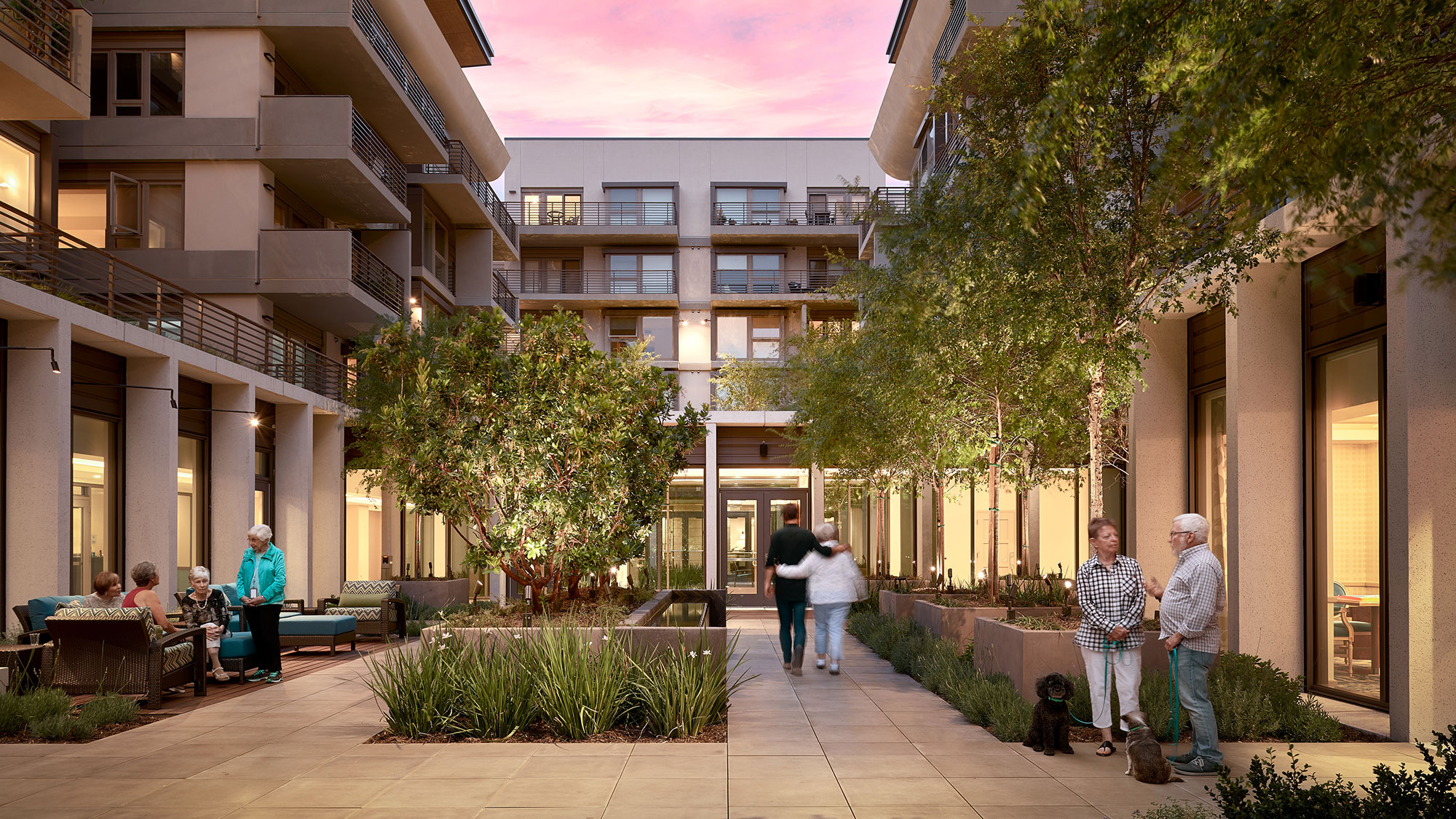 2. Redefine public and private spaces.
In past design thinking strategies, private living spaces began at the door to the unit, with all other areas generally being the public domain. The pandemic made public spaces off limits, which generally included access to shared public and private amenities, limiting residents to their units. We have an opportunity to more clearly define and expand private and semi-private spaces; distributing amenities closer to units, revisiting the strategies around deliveries entering the building, and reimagining corridors as spaces, for example.
We can also design thresholds for senior living facilities that can extend private spaces in a way that prioritizes residents' health and safety, such as drop zones for food delivery, an in-unit "dirty" area where personal protective equipment (PPE) is kept, or an area where staff or other residents can visit from behind glass. Embracing this thinking, our client, Willow Valley Communities/CCS Building Group, built climate-controlled Connection Cottages where residents and visitors could talk safely behind glass windows to help avoid contagion risk.
3. Embrace technology.
Whether we're training caregivers to embody the perspectives and conditions of older adults through virtual reality or wearing an "aging" suit to truly understand how aging impacts mobility, technology is here to educate and assist us in living independently.
With a shortage of nursing staff and caregivers, robots will increasingly assist, interact, support, clean, and even become important companions. To curb loneliness and social disconnection spurred by the pandemic, robots in Japan are assisting older adults in retirement homes. These robots assist with healthcare functions, like distributing medications, but also video-enabled calls — reassuring family members who are unable to visit.
Technology also has the potential to assist us in living longer by helping us become more aware of our own health and helping us become active participants in our physical environment.
Telehealth, for example, is becoming an increasingly important means to reach older adults. Cleveland Clinic and other academic medical centers are now using telemedicine to reach people in their homes and continuing care retirement communities. One survey found that the overall use of telemedicine services among seniors increased 300% during the COVID-19 pandemic.
4. Encourage a diversity of spaces to promote wellness.
Today's aging population is anything but traditionally senior. Older adults are increasingly tech-savvy, innovative, independent, and radically heterogenous. Many older adults seek to shed the burden of home ownership and home maintenance and live in a community with like-minded individuals; yet, others have a strong desire to stay put, to enjoy their long lives in the comfort of their home surrounded by their neighbors.
We need to design all spaces to support the health and well-being of a diverse aging population. For example, Chicago's Town Hall apartments fill an important need in the city's Lakeview neighborhood by providing affordable housing for senior LGBTQ residents, while helping to knit together an entire city block with the surrounding community. Developed jointly by Gensler, Heartland Housing, and the Center on Halsted, the project showcases the concept of "aging in place," that is, being able to age happily within the community of your choice.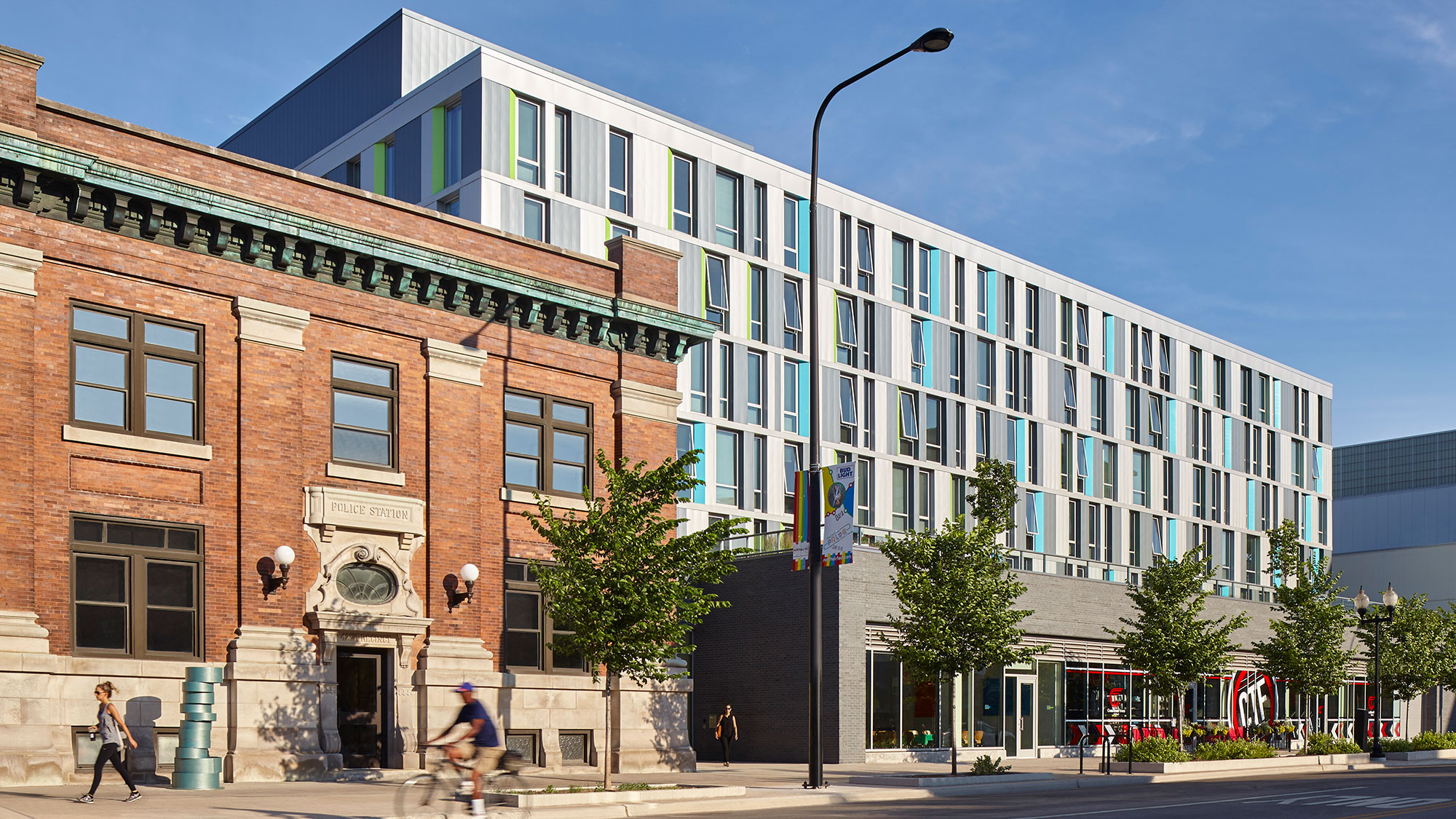 5. Eliminate ageism.
We are living in an unprecedented time, where globally, the population aged 65 and over is growing faster than all other age groups. According to data from World Population Prospects: the 2019 Revision, by 2050, one in six people in the world will be over age 65 (16%), up from one in 11 in 2019 (9%).
Our Boomtown research develops a framework for aligning physical architecture and social architecture with economics and policy to develop a new community model for all ages. This framework seeks to foster and implement transformative solutions for existing urban communities to support and sustain people of all ages.
Age-inclusive design takes into account vision, hearing, balance, memory, touch, and more. We've begun to design products in support of working older adults such as lounge furniture with subtle height and arm differences that allow for ease in getting in and out, light fixtures that reduce glare on worksurfaces, and flooring materials that reduce slips and falls. The opportunities to enrich the lives of older adults are endless.
The benefits of intergenerational living
Our research shows that there's a growing demand for the multi-purpose community amenities traditionally marketed towards younger generations. Designing Intergenerational Communities, a white paper from the Gensler Research Institute in partnership with the Milken Institute's Center for the Future of Aging, outlines the benefits and opportunities of disrupting traditional attitudes toward housing aging populations.
Gensler design teams created speculative designs to show how multigenerational communities might be achieved in two communities — Macarthur Park, Los Angeles, and Ivy City, Washington, D.C. — to show potential stakeholders how to repurpose the built environment to encourage engagement between age groups.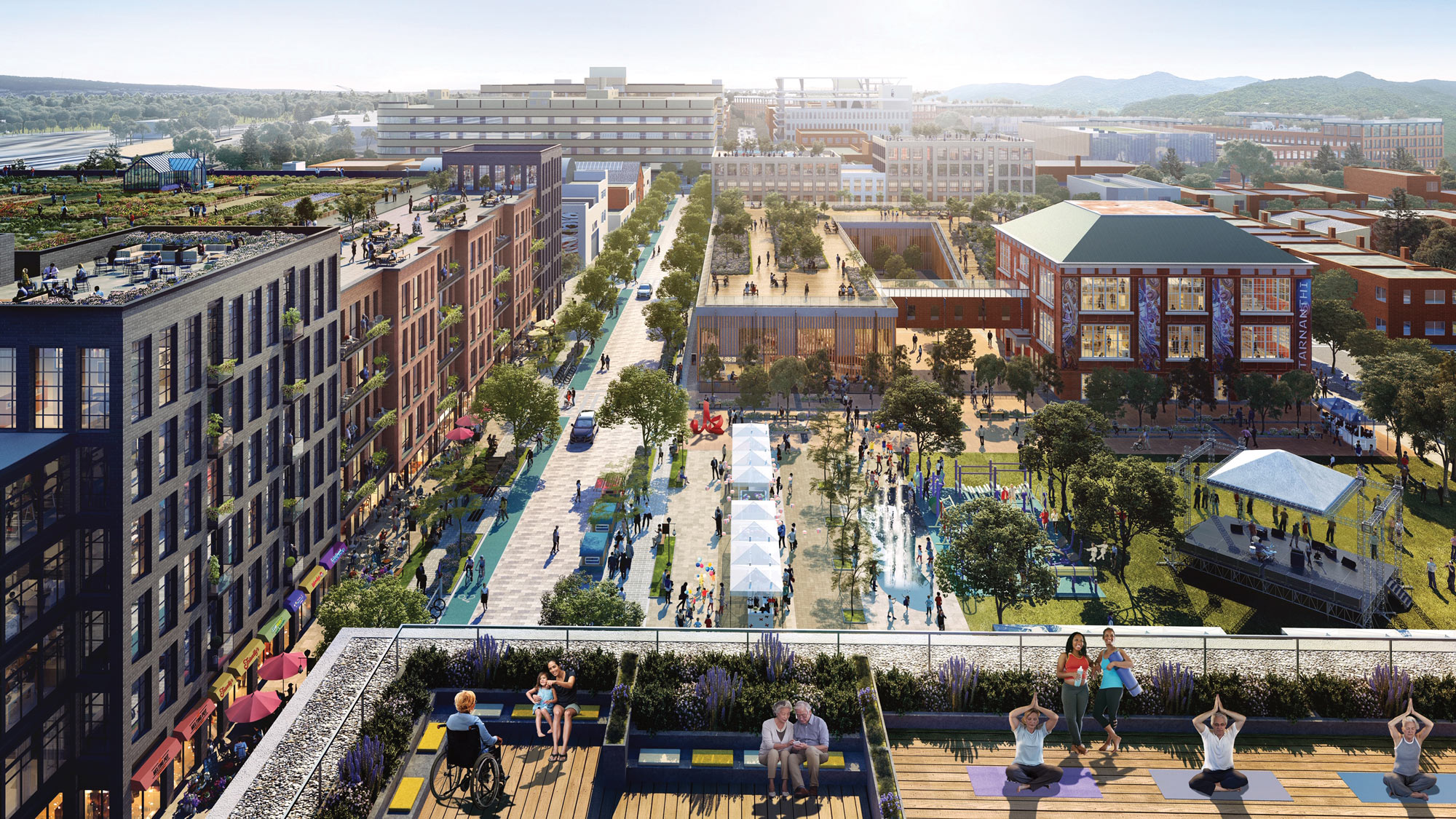 With amenities such as playgrounds and outdoor classrooms for all ages integrated throughout the neighborhood and enhanced local transportation systems to provide access to a health & wellness hub with clinical services and medical offices, these conceptual designs illustrate new models of aging in place and encourage intergenerational living and connections.
As Nora Super, senior director of the Milken Institute's Center for the Future of Aging, so eloquently stated in her recent interview with Politico, "There are many well-documented studies that look at a 100-year life, and really starting to have people think about life and your lifespan differently, thinking that you'll live until you're 100."
When we design for the oldest and youngest generations, ultimately, we all benefit. With this in mind, every industry should seek to design for, entice, and delight the new aging consumer.
For media inquiries, email .