A Living Lab: Our Experience Designing Gensler Miami's New Hybrid Office
December 07, 2021 | By Corina Ocanto
Our Gensler Miami team was well into the process of designing a new office when the COVID-19 pandemic began. Thrust into a remote working environment over the course of a weekend, we had to figure out how to move forward with own office design while also guiding our clients through their own transformations. The moment was a real test.
Although the jump we made from an environment of physical interactions to virtual ones was abrupt, we understood that the pendulum would not swing back in an instant. It would take time for our team to adjust being together again, for various reasons ranging from safety and health to the balance that remote work brought to some people's lives. Considering this new reality and all it demands, we decided not to move forward with the design we had cooked up before the pandemic.
Instead, we entirely reimagined our plans for the new Gensler Miami. We made the decision to eschew traditional workplace planning methods and go back to the drawing board to create an office space crafted around two key drivers: purpose and engagement.
The new design began with a question: How do we do our best work?
Psychologically, we first had to remove ourselves from the extremes of our present circumstances in the pandemic. Whether we faced the best of times or the worst of times, we needed a design that would enable us to do our best work. As individuals and as teams, we had to shift our focus from thinking about where work should happen to how it should happen.
Gensler Miami's new purpose would be to move at the speed of its users, built on a new conception of how the workday could flow differently for our people. The environment would have to flex and pivot based on the task at hand, supporting workers toggling back and forth between physical and virtual work modes.
As we dove in, the mix of space allocation started to look quite different from the original plans. A typical workplace would have about 50 to 70% of its footprint for assigned work seats (e.g., workstations or private offices), with collaborative and support space comprising the rest. We saw this ratio flip, where 50 to 70% of our plan would now be assigned to flex spaces that could serve a variety of purposes, including gathering, collaboration, and focus. This adjusted allocation empowers our teams to select an environment that arms them with the tools, technology, and ambiance to perform their best work.
The future is both analogue and digital, so we prioritized equity across work modes.
The idea of equity between analogue and digital experiences was crucial throughout our design process. We set out to make the user experience equally engaging for people working at home and in the office by making our meeting rooms and open collaboration spaces technology-rich to support both video conferencing and in-person collaboration. We take pride in how the new spaces convey value for both virtual and in-person experiences, taking into account issues like privacy and sound.
A major part of how we are making the most of the hybrid environment is by carving out new norms. Now, we leave time in between scheduled meetings for technology setup. Aside from reducing the hustle and bustle of a typical day, this ensures that people calling in are represented on-screen during meetings. In-person office etiquette is one thing; virtual work etiquette is another. Building reliable and inclusive hybrid work etiquette is its own new challenge, and we are excited to continue working with our consulting team to develop new practices to make our experience even more seamless.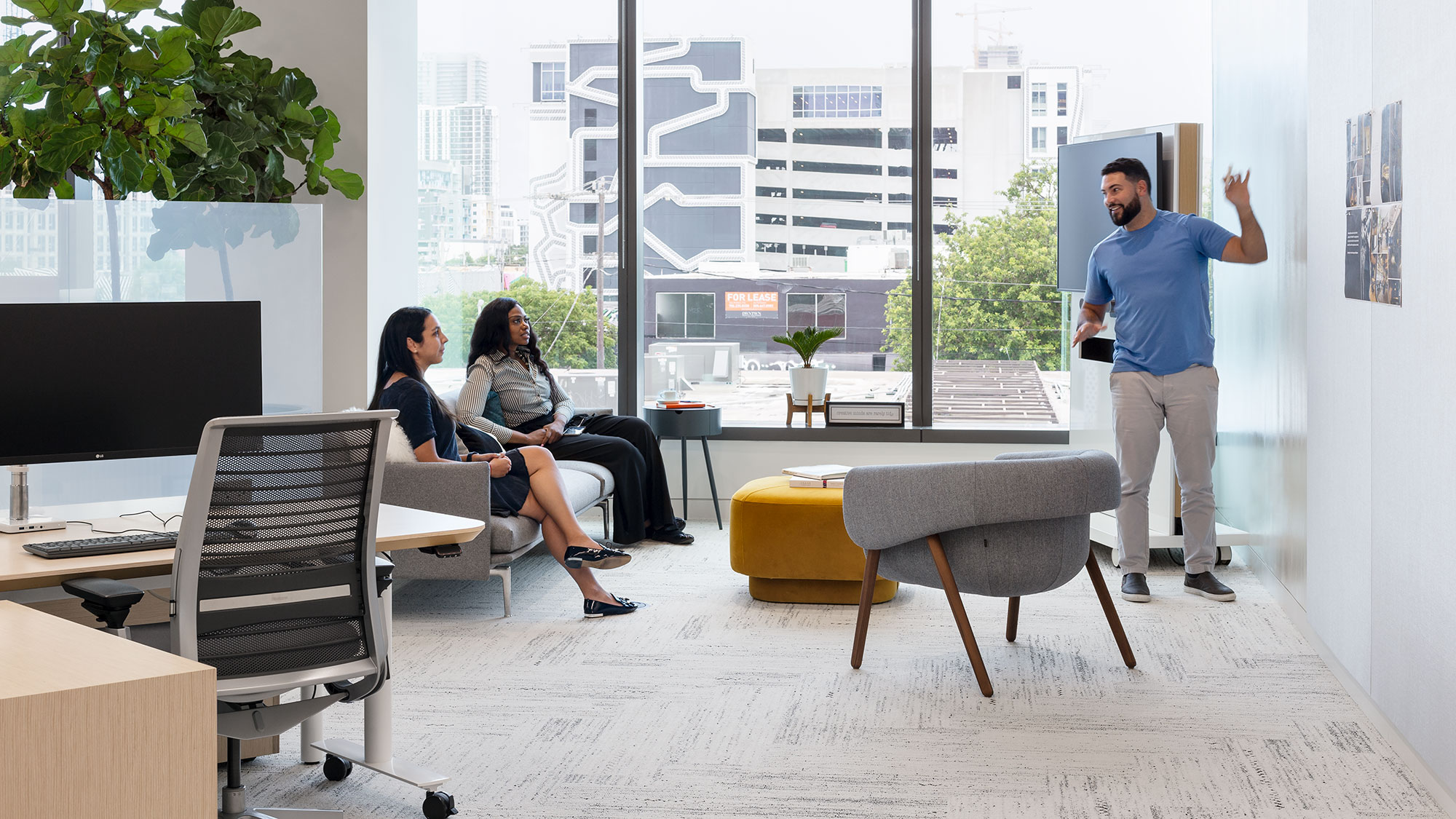 Knowing data will define the future, we built a living lab.
As our 2021 U.S. Workplace Summer Survey emphasizes, younger generations have been struggling the most with engagement, as they are those most in need of in-person mentorship. Exclusively remote work has been taking a toll and causing high levels of stress and burnout. A majority of our team members reported that forging connections with team members was the primary reason for coming back into the office.
It is crucial that teams feel welcome, inspired, energized, and included in the workplace to increase and maintain engagement. To solve for this, we crafted an on-demand workplace, providing more attention to detail for not only visitors, but also for staff. One way in which this manifests is in our implementation of a concierge-style approach to reception, a strategy that creates a welcoming first impression and serves as an invaluable resource for issues like seat assignment, technology usage, and hospitality functions, such as meals and events.
Our team also felt strongly about harnessing real-time data to validate our design decisions. So, we used Gensler's proprietary Intelligent Places technology to embed sensors and spatial intelligence into the office architecture. This decision allows us to capture in real time how the office is being used. A dashboard located in reception offers a quick snapshot as to what spaces are occupied, and our workplace strategy team can access comprehensive data sets to help us adjust our office environment based on what teams need.
Moving forward, if the data shows we need more meeting spaces, or if an area of the office is underutilized, we will be able to pivot quickly and make the appropriate changes. The strategy all comes back to how we can best support our people. The more informed we are about how their needs evolve over time, the better.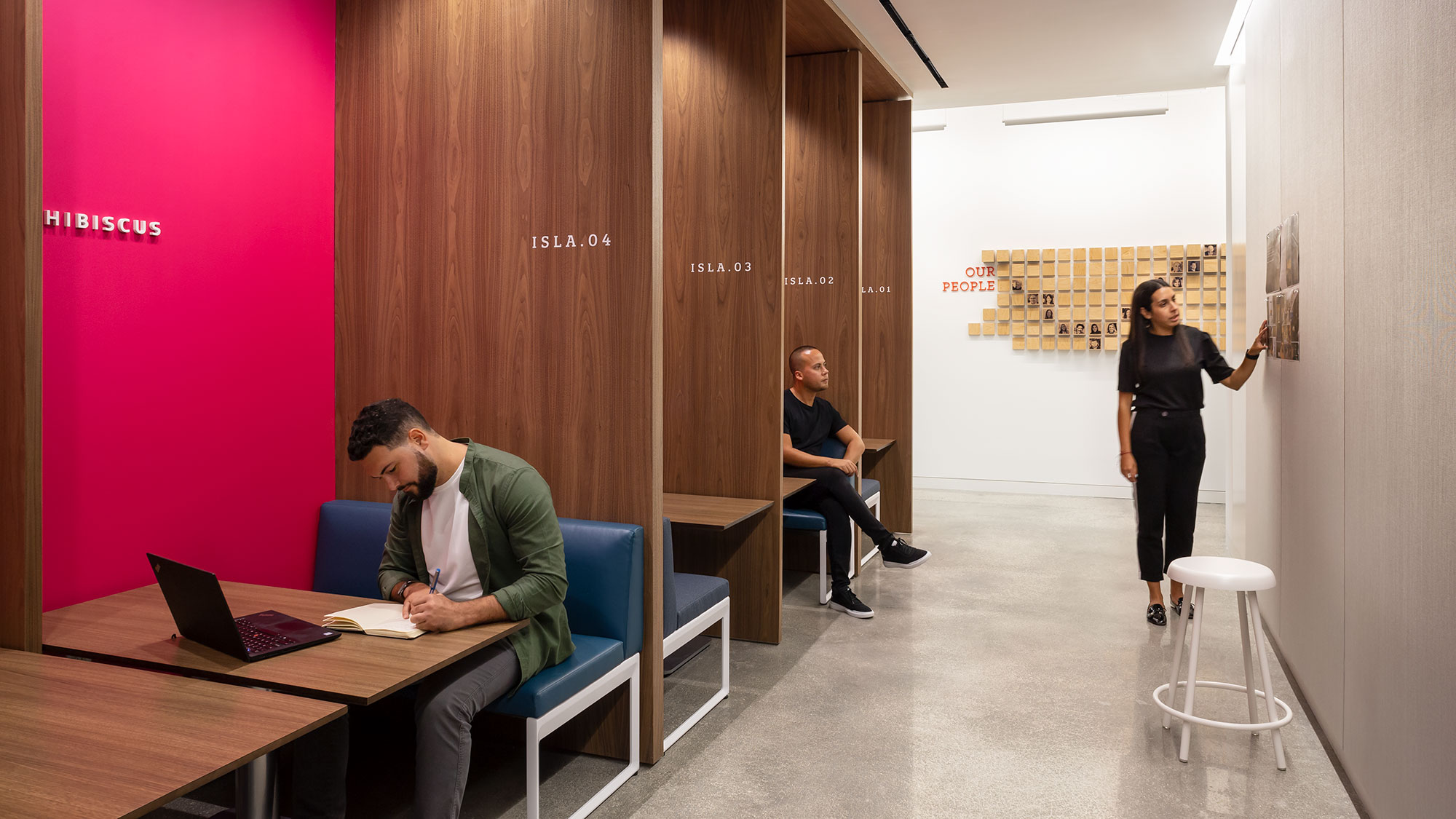 To boost engagement and enrich workplace culture, we brought the Gensler mission to life.
The impacts of climate change are especially urgent in the Miami area. In partnership with local universities, our team is heavily invested in research around sustainability and resilience with respect to extreme weather events and sea level rise. Brand design is a key tool with which to tell this story and drive engagement. For the new office, we created both subtle and attention-grabbing touchpoints throughout the space, using environmental graphics to serve as a catalyst for conversation around climate action within our industry.
The touchpoints are a daily call to action for how we, as designers, have a major role to play in reducing the carbon footprint of the built environment and shoring up our communities against climate change. The brand helps to shape how we learn about, socialize, and emphasize what we value as a team and what it means for our clients.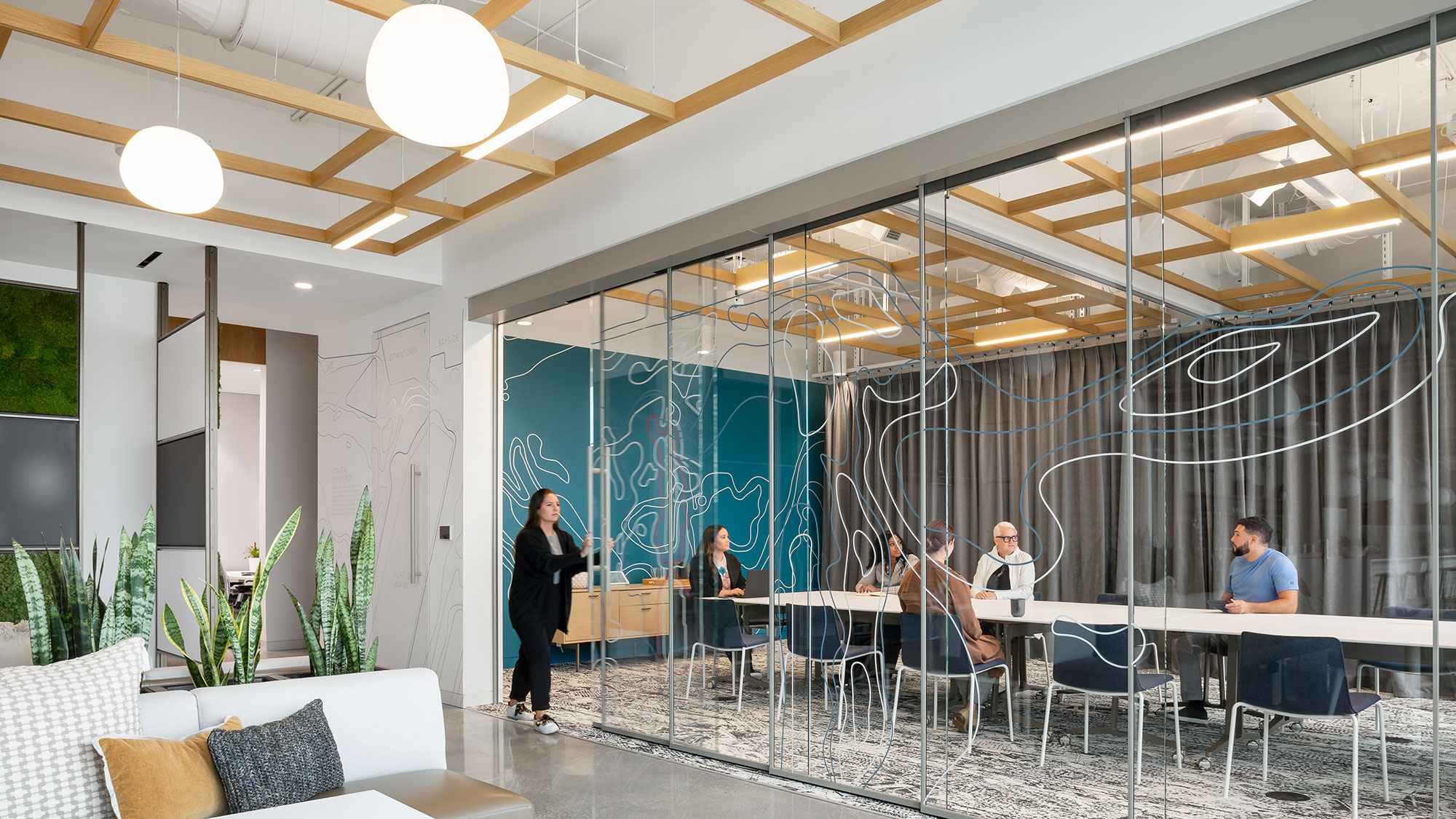 As technology continues its perpetual evolution, so too will the relationship between people and spaces. What we know for certain is this: The space we have designed to meet this moment is working, and we have imbued it with the purpose, engagement, and flexibility it will need to continue working long into the future. We still have much to learn, and we can't wait to uncover more answers as we continue to design at the cutting edge of the modern workplace.
For media inquiries, email .