Achieving LEED Zero Energy With HARC
April 25, 2023 | By Rives Taylor, Maria Perez
When the Houston Advanced Research Center (HARC) set out to build their new headquarters, achieving LEED Zero Energy Certification was not the institute's primary goal. As a team of research professionals dedicated to leading the discussion on sustainability, their targets were focused on building a space where they could share the research they conduct and that serves as a prototype for affordable high-performing buildings and environmental stewardship.
Partnering with Gensler was a seamless decision, given that both HARC and Gensler's DNA are engrained in research. Throughout the planning process, both Gensler and HARC's team asked questions that would ultimately end in the best practice of green building design. Questions like, how do you want the building to work, what can we afford to build and afford to operate, and what do you want to accomplish and deliver long term drove the team to settle on several key performance indicators for the project.
The key performance indicators (KPIs) for HARC's headquarters reveal that designing a top-performing building doesn't begin with a certification achieving checklist mindset. The team determined several factors, including site stewardship, operational affordability, minimal waste, and the ability to real-time course correct were must-have outcomes. HARC also wanted to document and share their decision-making process to show stakeholders and the research community the work they were doing.
These performance indicators and dedication to transparency led to a strategy of top-performing sustainability tactics that qualified the HARC headquarters to not only achieve LEED Platinum but become the first LEED Zero Energy Certified commercial building in Texas.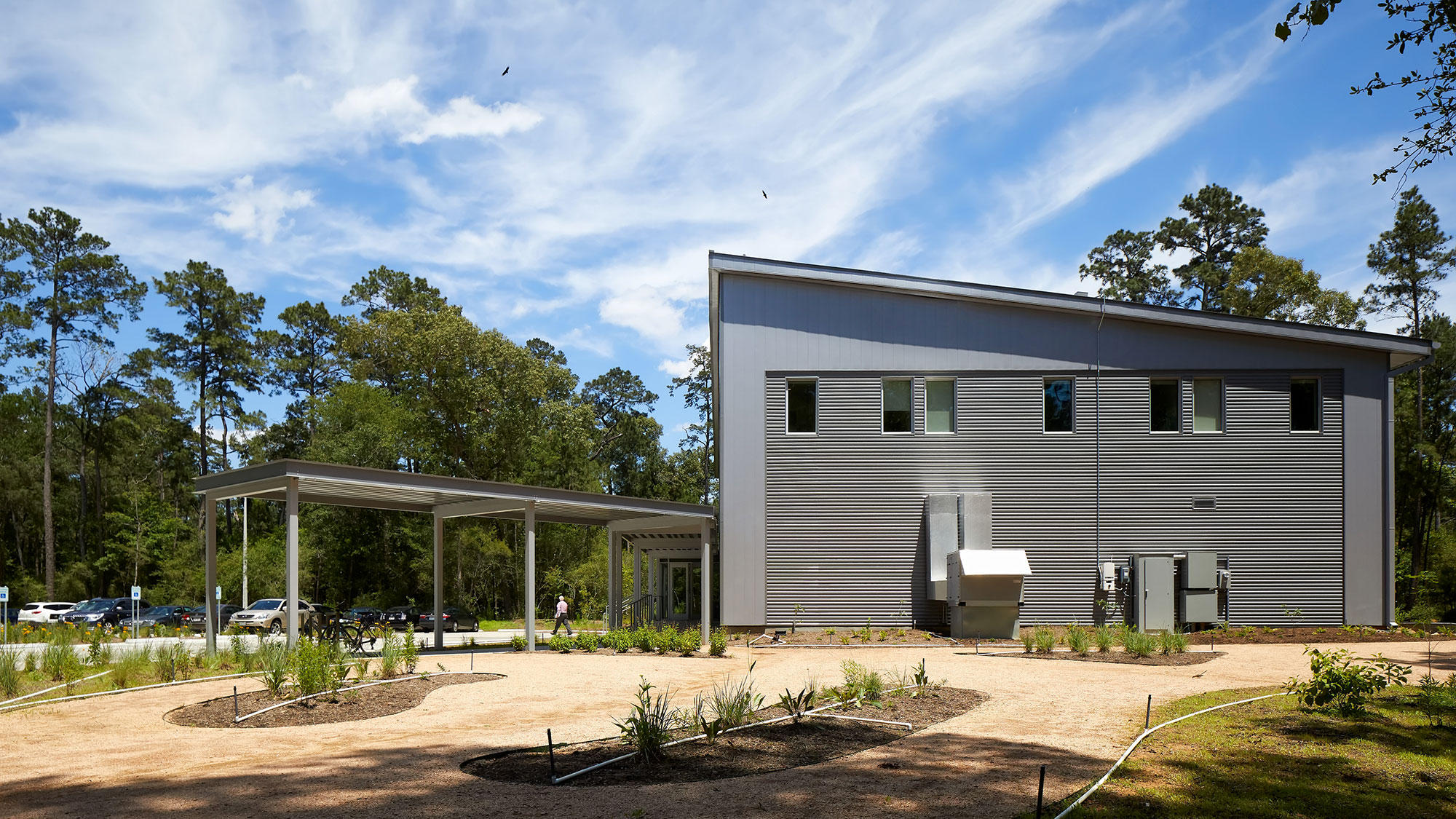 High-Performance Envelope
A key resilience feature of the HARC headquarters is the high-performance envelope. The envelope is a rainscreen technology, meaning it is a self-cooling skin (walls and roof) that uses an off-the-shelf metal panel with a ventilated air space behind it for a cooling effect. The building skin is tightly sealed with a vapor barrier and insulation behind; in effect, the building is designed to the Passivhaus protocol to eliminate infiltration. This metal skin, which also protects the inner wall assembly from direct sunlight, combined with the thermal venting and tight vapor barrier and insulation reduce the amount of summer heat and winter cold reaching interiors. As the sun heats the exterior metal panels, the heat is transferred to the air, rather than the enclosure, and vents upwards.
The minimization of heat transfer into the building reduces HVAC needs throughout the building, contributing to lower energy needs and the net-zero certification.
Geothermal Heat Exchange
HARC's building features a closed loop geothermal heat exchange system with 36 wells and one test well with sensors, and each well penetrates 300 feet into the earth. The system provides a constant temperature of about 70 degrees Fahrenheit. Geothermal heat pumps use the earth's temperature to heat, and sometimes cool, a building by pulling heat from the ground with a refrigerant. The geothermal is linked to a series of heat pumps that replace the traditional HVAC package units and cooling towers reducing the footprint and operating costs of the mechanical systems providing good control of space comfort.
The geothermal heat exchange will provide a return on investment in less than 10 years, making it a high-performing renewable energy source.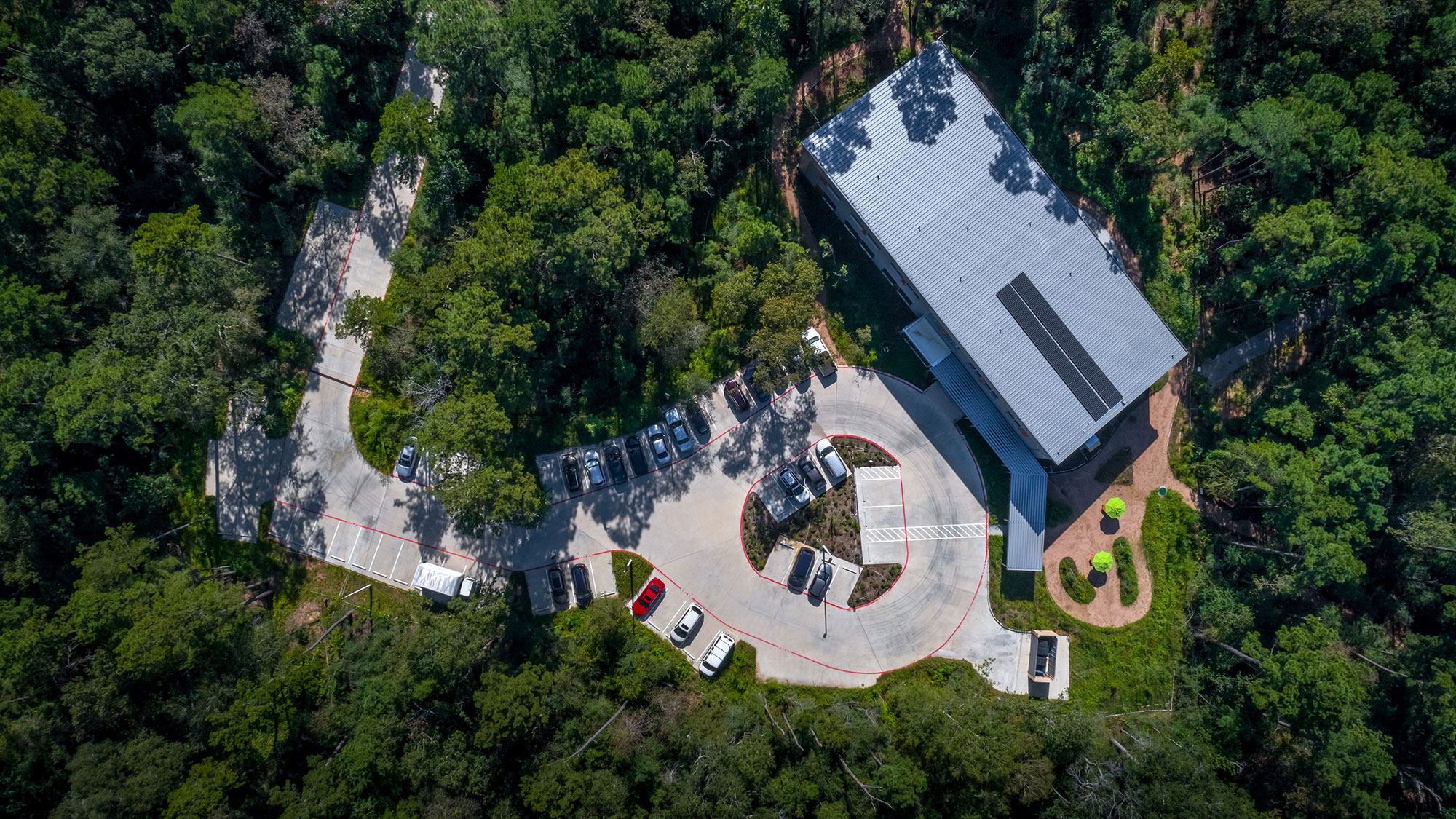 Site Stewardship and Building Positioning
During the site stewardship phase, HARC and Gensler explored options to orient the building to utilize sunlight during working hours and to optimize photovoltaic performance. The all-electric building and its roof profile were also oriented so that there would be a peak load saving for electricity in the heat of summer while the building is not the battery attached. The low energy use intensity that has resulted from the use of PVs and continual focus on power optimization through control commissioning has allowed HARC to attain net positive status, producing more energy than it uses.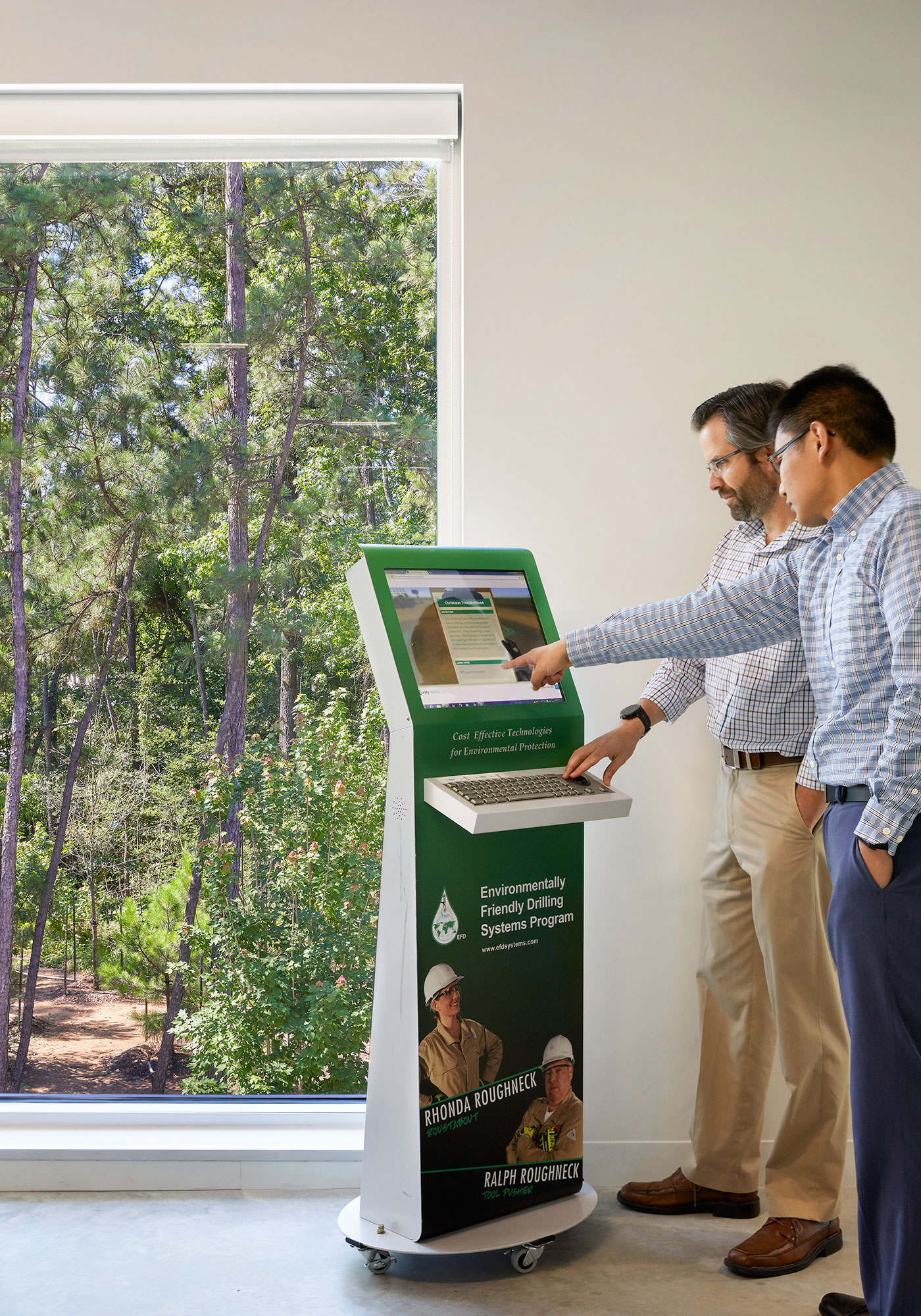 Smart Building Systems
The building is equipped with a variety of monitoring systems and smart building features to create energy efficiencies by allowing the HARC team to monitor and adjust energy consumption. The monitoring systems are connected to an online dashboard where energy and water usage is tracked in real time. The dashboard shows stats such as current solar power, water usage and monthly cost, and the percentage less of energy consumption than the average office building.
The dashboard is available online and is accessible by the public. The transparency HARC has prioritized allows other organizations and businesses to see how their building's resilience works in real time.
Stormwater Conservation and Native Landscape
Restorative landscaping was incorporated to minimize impacts to forest composition and structure, and other ecological features. The site was developed with a Low Impact Development strategy and includes features like bioswales to capture and slow the flow of rooftop and pavement rainfall runoff, permeable paving, and habitat conservation. The bioswales also allow for biodiversity in the vegetation and help preserve the site.
HARC headquarters' LEED Zero Energy Certification is an example of how sustainable design can be achieved through a variety of strategies and tactics. Approaching green building design with a transparent and long-term mindset will result in a product that not only achieves industry certifications, but also achieves a company's sustainability goals.
By aligning with Gensler's net-zero Gensler Cities Climate Challenge (GC3) initiative from the pre-design stages, we can help clients establish a roadmap to track their emissions beyond construction, allowing them to continue their resilience journey.
For media inquiries, email .