Product Design for a
Better Bathroom Experience
April 03, 2023 | By Scott Star
A project in Gensler's New York product design studio typically begins with a visioning phase intended to validate or refine our client's brief — all to help ensure that our subsequent creative output is on target with the needs of the market. Charettes, surveys, and one-on-one interviews with internal and external experts are all used to bring direction to our work, but it's the roundtable discussions, where we assemble interior designers, architects, and technical directors from across the firm to mull over anything from user personas to feature sets to code compliance, that usually prove to be the most instantly insightful.
And so it was on one pre-pandemic day in 2019 when a group of our commercial interior designers was convened to talk about a product that has absolutely nothing to do with the subject du jour. But with 10 minutes left on the clock (things were running ahead of schedule), I threw out a question I ask at least one of my colleagues on most any given workday: What else is missing from the market?
Product Development in Action
What happened next was the stuff of product development magic: the point where an unaddressed need presents itself in an unmistakable and compelling way.
"Stainless steel bathroom accessories should get a serious makeover," snapped one participant. And with that, the group piled on the topic with the type of rabid antipathy that confirmed a problem and beaconed my interest.
A post-meeting visit to the men's room elucidated every issue our designers raised. Dispensers and disposal units lining the walls and cubicle panels are mounted mere inches from the user, so the objectionable features started jumping out at me right and left: Inflamed wall flanges. Exposed hinges. Embarrassing weld marks. Blemishing lock barrels. It was lucky I was in a bathroom because it was enough to make me sick.
It turns out that rabid antipathy can be a great jumping-off point for product design, so we engaged a like-minded manufacturing partner, assembled a crack project team, and created a comprehensive collection of commercial bathroom accessories unlike any other.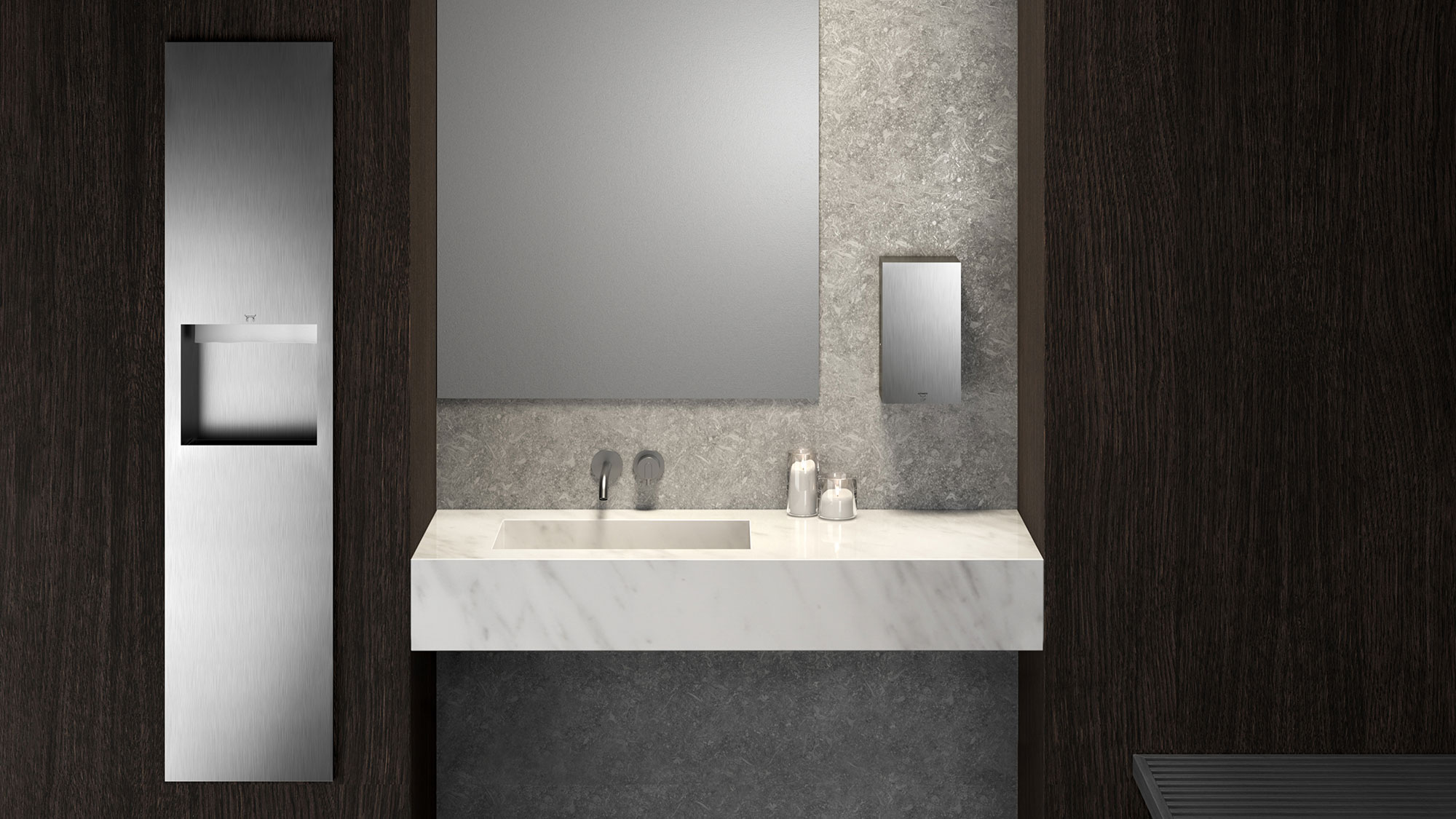 "These products are an expression of materiality and form at its purest," according to Jonas Gabbai, project design director at Gensler. "They were conceived to blend into a space rather than to distract the eye, so maximum attention was given to creating the most minimal shapes possible with the most refined details imaginable … all to reduce visual clutter and to deliver an elevated end user experience."
Crafted by hand of corrosion-resistant AISI 316L stainless steel, the panels of each unit are laser cut and TIG welded rather than folded. This results in an ultra-clean, architectural look that harmonizes effortlessly with neighboring rectilinear elements, including doors, toilet partitions, vanities, mirrors, and tile. From the absence of flanges, visible hinges, and exterior weld marks to a 5/32" wall reveal that imparts a discernible lightness and makes installation on uneven surfaces more forgiving, every item in the range brings a timeless modernity to the bathroom environment.
Even security was reimagined to eliminate the unsightly lock barrels you usually find on bathroom accessory facings. A diminutive, 3/8" long slot positioned on the side permits entry with a specially designed tool that gives maintenance staff easy access for restocking and servicing while keeping users out.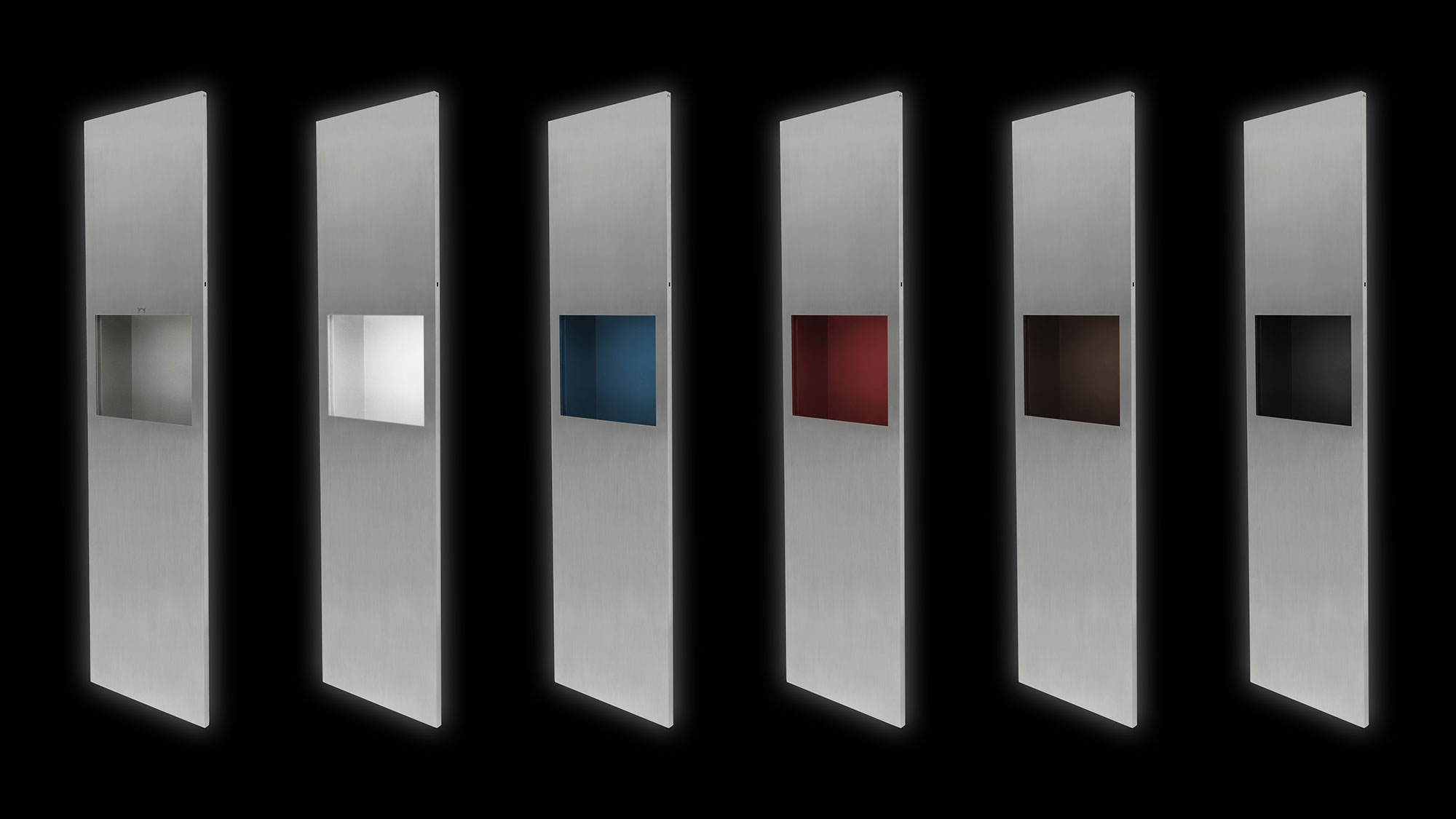 The entire collection is available in satin stainless steel, powder coated stainless steel (in black, gray, bronze, champagne, and white), and stainless steel with antimicrobial coatings. And for the ultimate in visual unity, products with viewable interior surfaces can be customized with a powder coated accent to coordinate with the color scheme of the space.
Inclusive Product Design in Focus
"But designing this collection wasn't only about improving the appearance of commercial bathrooms," adds Tom Lanzelotti, project technical director at Gensler. "The goal was to do it in a way that was ADA compliant and that would result in the greatest utility for the greatest number of people, regardless of their physical abilities or limitations."
To this end, the product lineup includes folding shower seats, tilt mirrors, and sharps containers, as well as all the anticipated dispensers and disposal units for paper towels, toilet paper, toilet seat covers, liquid soap, hand sanitizer, sanitary napkins, and tampons. Products intended for placement in the circulation path are dimensioned to protrude no more than 4" to skirt the steps of blind and low vision occupants, and all products are designed to permit forward reach access for seated as well as standing users.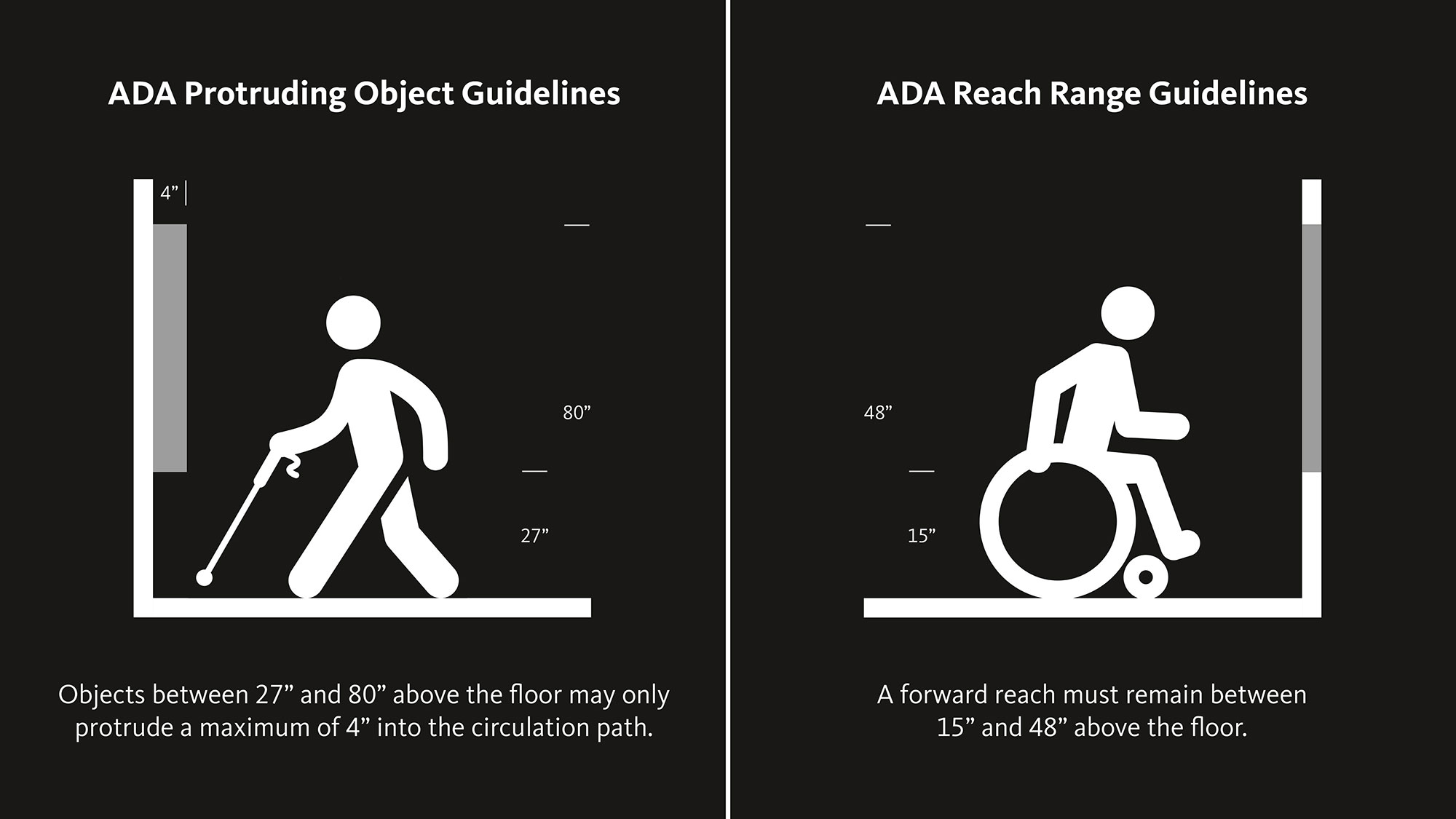 A coordinating series of grab bars — a safety device mandated for use in every accessible restroom in the United States — was designed to complete the collection. Available in both round and square profiles, they offer the uncommon combination of institutional quality and visual elegance. Escutcheons are the bane of many an interior designer and would be eliminated faster than you could spell the word, but they're useful in concealing the mounting hardware that helps ensure commercial-grade load capacity. Here, we minimized their dimensionality (both in width and thickness) and added a reveal that lets them hover gracefully, yet securely, on the wall or toilet partition.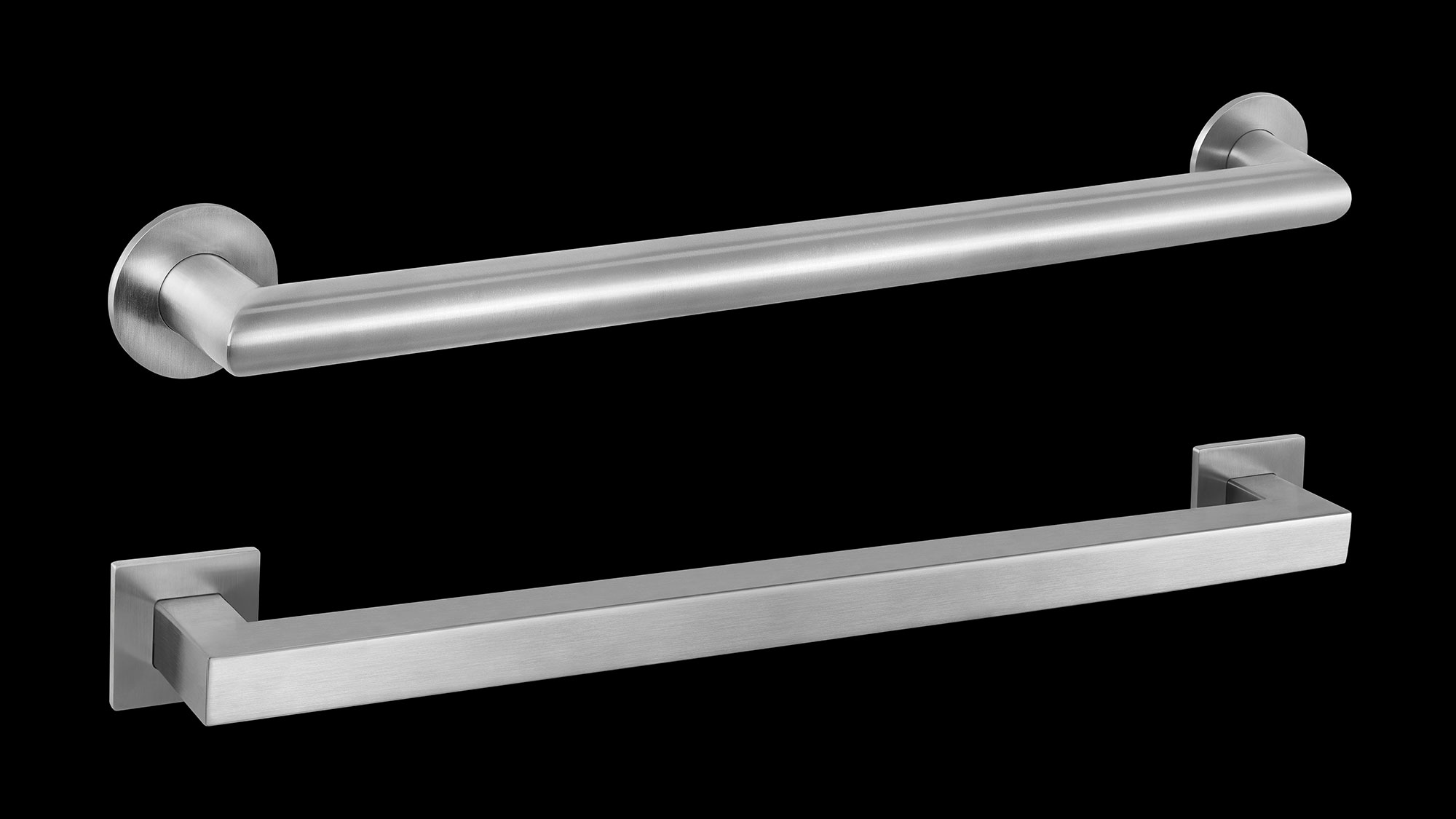 Related in form and finish, our new range of bathroom accessories allows designers to access everything they need from one source and for the selected products to look more unified and better integrated within spaces. And this means that all users, regardless of their physical abilities or limitations, will feel like they're part of the program, enjoying the same respect for their needs and autonomy as everyone else. Designed for all, the collection not only delivers a better bathroom experience but a more inclusive one, too.
Click here for more information on Inclusive Bathroom Accessories
NOTE: All products in the collection were designed to comply with the ADA and similar accessibility requirements, however final interpretation of accessibility compliance is the responsibility of the specifier and should be determined relative to specific project conditions and local codes.
To learn more about inclusive product design, please contact Scott Star at .
For media inquiries, email .