Product Design Takes
a Bathroom Break
June 06, 2022 | By Scott Star
My relationship with public restrooms can be described as tactical, and I rely on a series of time-honored tricks to make the bathroom experience more hygienic and private. I've learned to TP a germy toilet seat for maximum coverage with minimum wastage, using no more than 12 squares. I hang my jacket on the latch of the stall, rather than the hook, to help close any revealing gap between the door and the adjacent panel. And then there's "the move" — a four-step exit strategy I've been using for decades that's choreographed with split-second precision: 1) wrap the door pull with the same paper towel that you use to dry your freshly-washed hands; 2) pull open the door about six inches while inserting one foot between the door and the frame; 3) propel the door fully open with a sharp, sideways thrust of your leg, simultaneously crushing the paper towel into a ball; and 4) lob the ball into the trash as you cross the threshold … shielded, safer, and with a spring in your step.
I don't know if I'm being clever, quirky, or late-stage Howard Hughes, but the grand irony is that I now lead multiple project teams that design the type of products that solve the kind of problems I've been having with public restrooms for too many years. And the big relief? By virtue of my work, I've learned that I'm not alone.
At the end of 2021, Gensler's Product Development practice conducted a research survey to delve into U.S. workers' perceptions of office hygiene, and, specifically, their comfort level within different areas of the office. Bathrooms, not surprisingly, are approached with the highest degree of trepidation, with 56.9% of our 1,031 survey respondents moderately-to-extremely concerned with their cleanliness.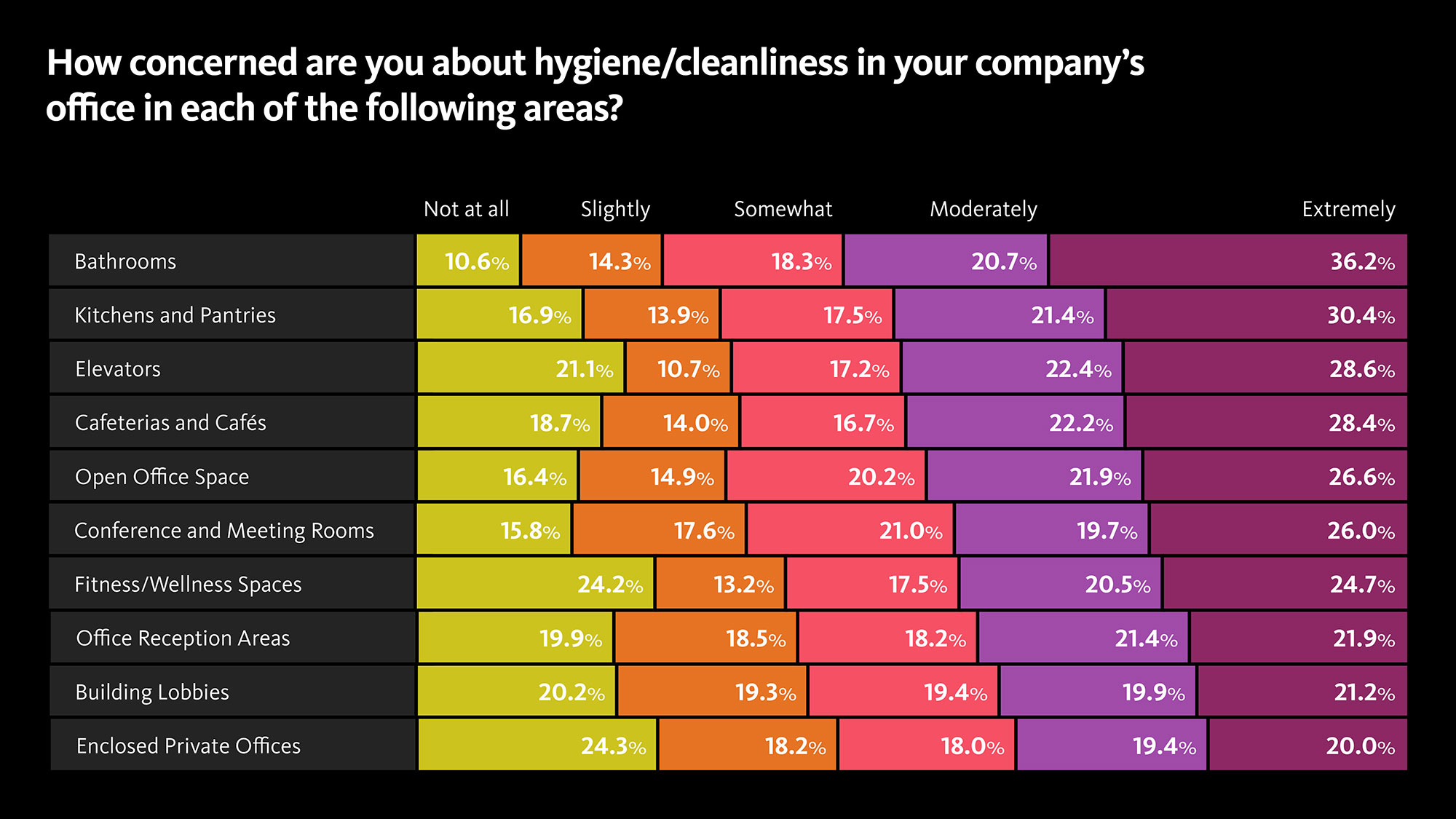 And when it comes to individual furnishings and equipment, nothing engenders greater unease than washroom fixtures and the type of knobs and pulls that you find on washroom doors, with 59.2% and 57.4% of survey respondents, respectively, moderately-to-extremely concerned with their cleanliness.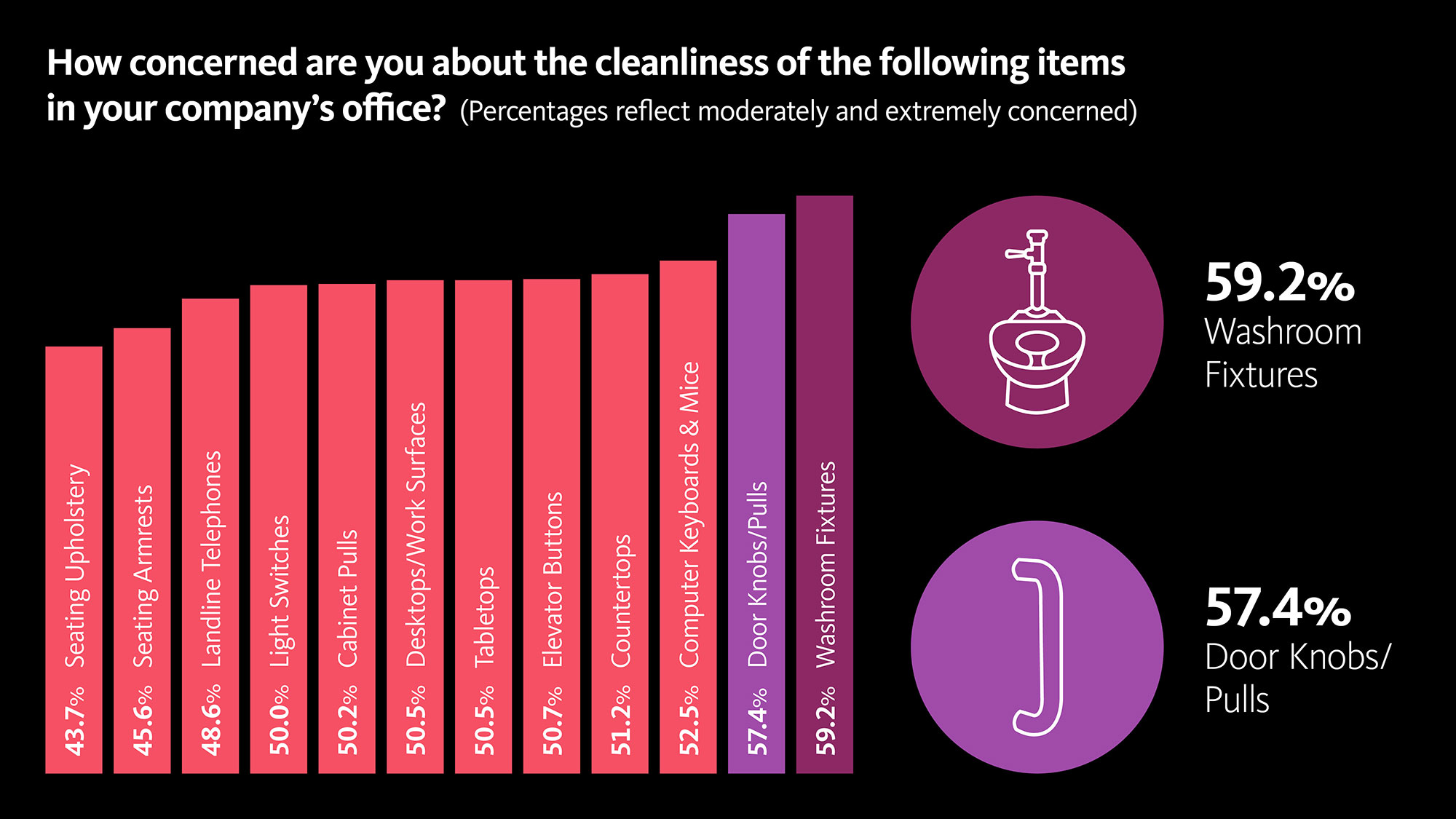 Hygiene enhancement is a cardinal objective when designing most products intended for public restrooms, but it's not the only way to bolster end user confidence and comfort. In approaching a new project with a manufacturer, Gensler's Product Development practice taps deep into the aspirations and expectations of the firm's commercial interiors clients, their employees, and their guests to deliver a better bathroom experience from start to finish, and this means solving for issues of privacy, life safety, and inclusivity, as well as health and wellness.
A Stall to Call Your Own: Trade-Up Toilet Partitions
Using the toilet at work or in any congregate setting is one of the more private things you're ever going to do in public, and occupying a toilet stall that feels unsealed and unsecured can quickly become the outer limit of a bad bathroom moment. The apertures that typically exist between the doors and the adjacent panels not only result in embarrassing, two-way sightlines, but they can compromise the connection between the latch and keeper — especially as the partitions settle and the gaps grow. And why is it that the door always seems to pivot open at the very second you hit the seat?
"Privacy and hygiene were the two things we were after," according to Ed Wood, principal and design director at Gensler, and the lead designer on the team that partnered with a top maker to create a new kind of toilet partition system. "The moment you turn a stall into a private room, with floor-to-ceiling walls, you necessitate a lot of code-related expenses that are beyond the budget of most clients. Sprinklers, speaker strobes, HVAC, and lighting have to be installed in each room. So, we devised a system with partial height panels and doors that's completely code compliant with none of these requirements … while still giving users the feeling that they're in a room-like compartment."
TRADE-UP TOILET PARTITIONS
SLIDESHOW — 3 IMAGES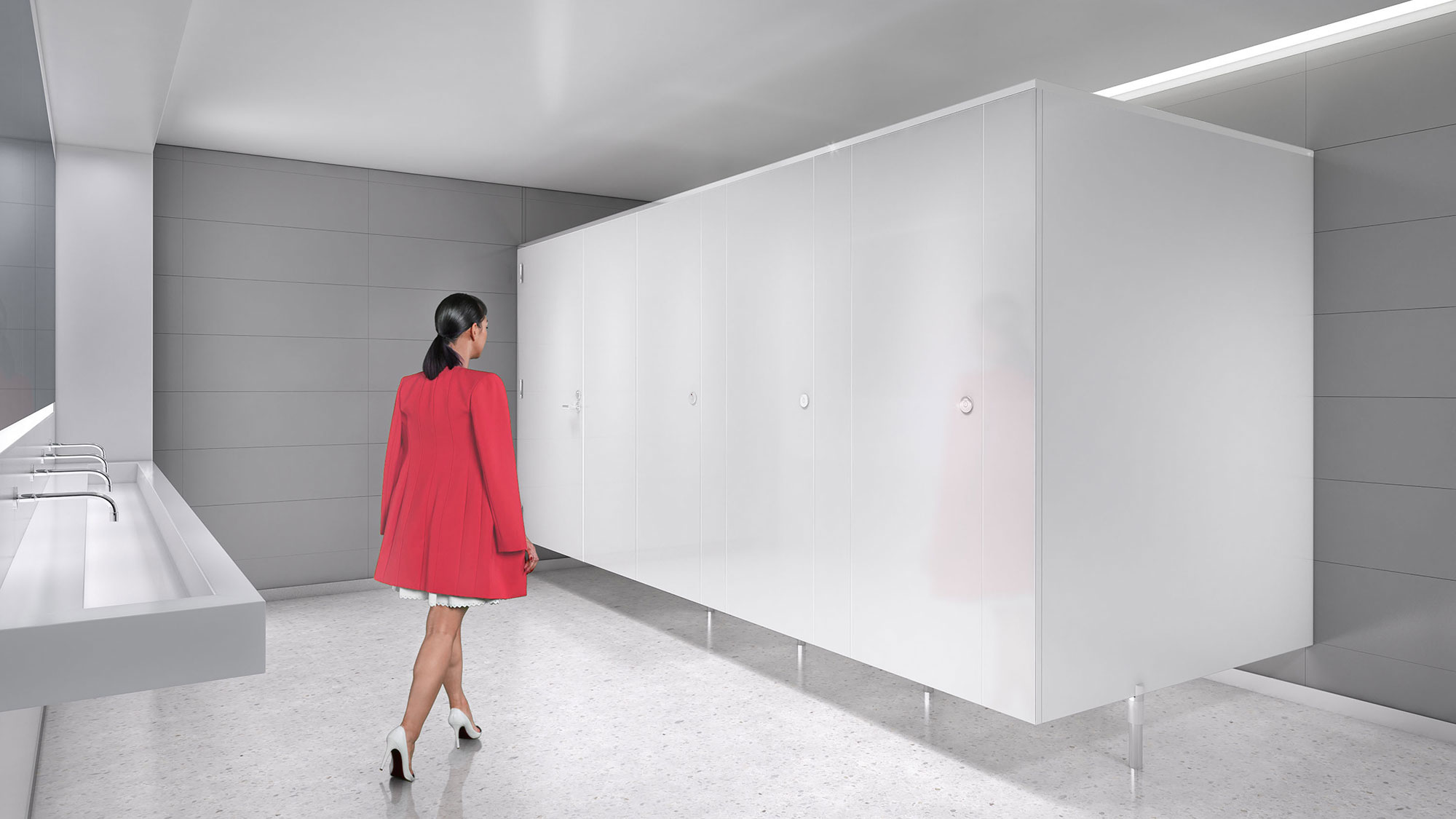 To achieve this effect, the team minimized clearances below the panels and doors, and engineered the doors with interlocking aluminum channels to ensure a tight, top-to-bottom seal. The cubicles not only feel secure, but they also boost emotional comfort, since no one can see in or out.
Hygiene, the second design driver, got equal attention. All components were styled with minimal detailing to reduce dirt buildup and facilitate cleaning. The metal support legs were fashioned as cylinders and dimensioned to the smallest possible footprint to make mopping more thorough and efficient. And a stainless steel, hands-free latch was invented to allow users to both lock and exit the stall with a quick flick of the wrist, forearm, elbow, or knee, keeping palms and digits out of harm's way.
Something To Hold On To: Hygienic Bathroom Accessories
Once you're in your well-sealed stall, things can still go very wrong on the hygiene front, especially given the multitude of contact points. Flush mechanisms are often hands-free, but many of the accessories that we encounter — including grab bars, toilet paper holders, shelves, and hooks — are decidedly hands-on.
To create a more sanitary environment for users, our curated collection of ADA compliant bathroom accessories can now be specified with an optional antimicrobial finish that helps minimize the proliferation of multi-resistant bacterial pathogens. Applied to the stainless steel structures in a clear, white, or black coating, it's a durable solution that provides an added layer of protection to augment a facility's regular cleaning schedule.
HYGIENIC BATHROOM ACCESSORIES
SLIDESHOW — 4 IMAGES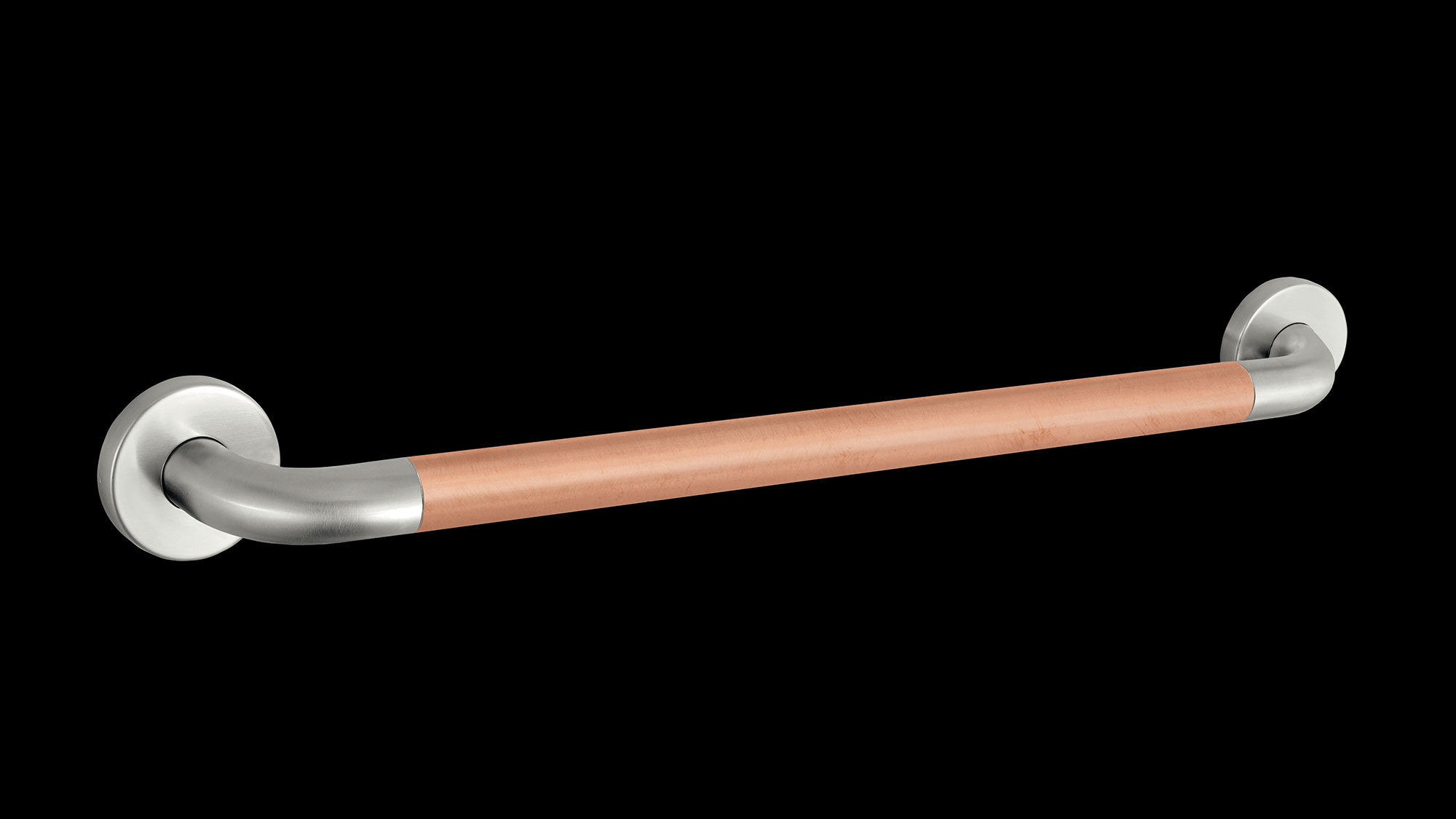 Uncoated copper is offered as another antimicrobial finish — one that relies on the natural, germ-killing properties of the metal. EPA registered in 2008 for its effectiveness against a range of bacterial pathogens (e.g., MRSA, S. aureus, E. coli), copper surfaces were also EPA registered in 2021 for residual use against certain viruses, including SARS-CoV-2, the virus that causes COVID-19. With all this and great looks, too, copper bathroom accessories can be part of a comprehensive plan for a more hygienic bathroom experience.
A Brighter Solution: UV-Free Antimicrobial Lighting
Topical solutions are especially important for high-touch surfaces, but what if you want to keep the entire bathroom cleaner while making sure that ongoing maintenance costs remain in check? Working with a leading manufacturer of architectural lighting, highly versatile linear pendant and recessed slot fixtures were recently equipped with a new, optional LED lighting diode that does just this. Ideal for commercial bathrooms as well as other serial use environments (including shared workspaces, meeting rooms, and corporate kitchens and pantries), these fixtures emit a specific wavelength of visible, UV-free light that combats the type of germs commonly found on toilet seats, vanities, door handles, and other bathroom furnishings.
In contrast to UV spectrum light, this 405-nanometer light surpasses the International Electrotechnical Commission's (IEC) standards for continuous, unrestricted use around people, pets, and plants. And unlike UV light, it helps keep spaces sanitary without the need for constant oversight or regular bulb replacement, plus it won't trigger the deterioration of materials and pigments.
UV-FREE ANTIMICROBIAL LIGHTING
SLIDESHOW — 3 IMAGES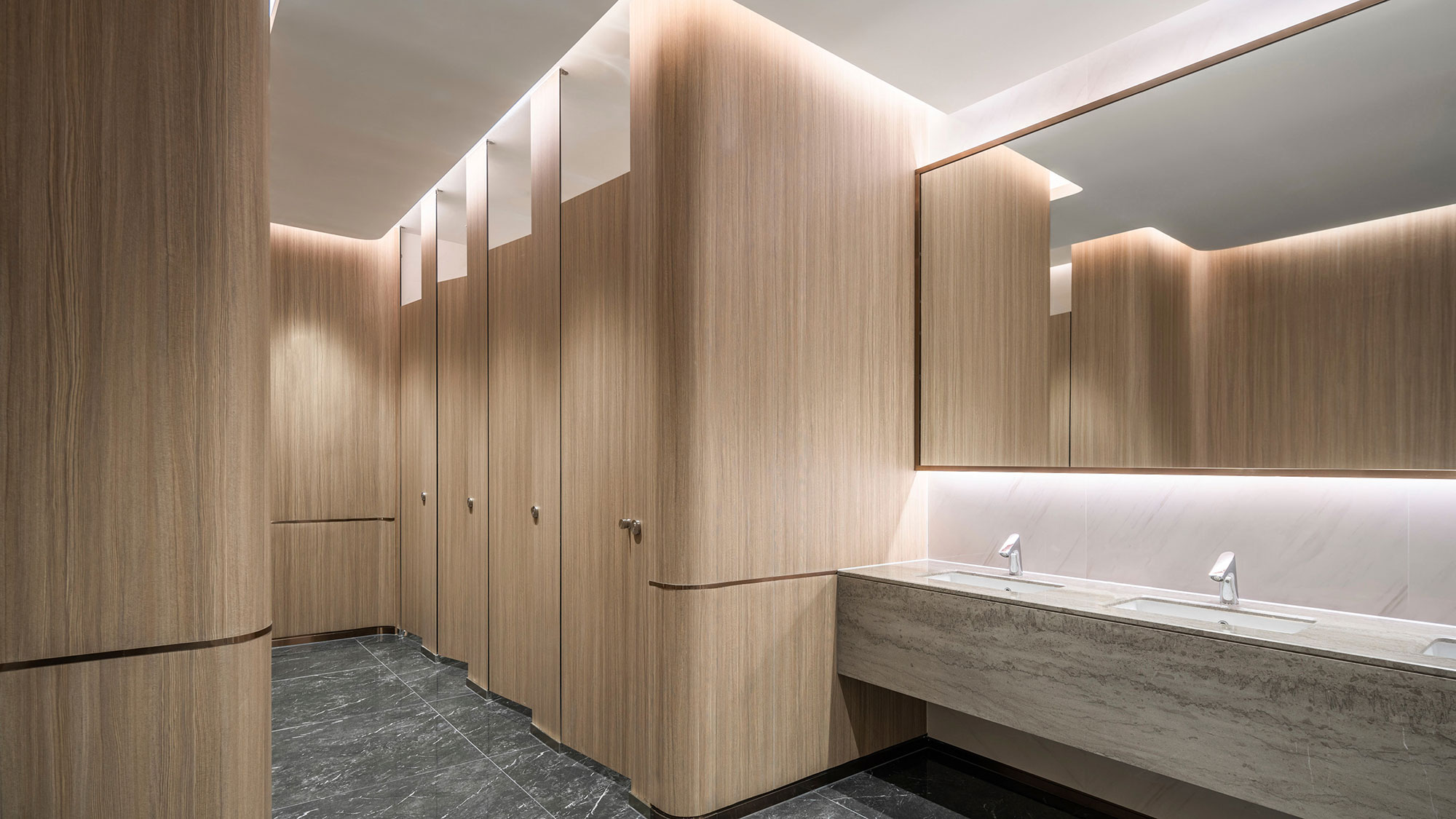 The single mode option provides crisp, comfortable white ambient and task light in 3000K and 4000K with continuous antimicrobial cleaning. With no hint of a violet hue, it can be used during standard working hours with staff and visitors present, or when a space is vacant. The dual mode option pairs white antimicrobial light with enhanced antimicrobial light for around-the-clock cleaning. The two are combined in the same fixture and regulated by a manual switch, sensor, preset, or timer to provide the best, always-on defense. Because of its violet hue, the use of enhanced antimicrobial light is recommended during off hours or periods of vacancy.
Delivering extra protection against bacteria, viruses, fungi, yeast, mold, and mildew lingering on any surface that the light can touch, these fixtures supplement conventional disinfection methods to provide a more hygienic bathroom experience for employees and guests. Appropriate for virtually every sector of the built environment, they can help keep post-pandemic commercial spaces aligned with heightened cleaning protocols and occupant expectations.
Pixel-Perfect Surfaces: Low Relief Porcelain Tile
"It doesn't matter whether you're designing or specifying tile for a commercial bathroom … you want to make sure the product is durable, cleanable, and safe to walk on," notes EJ Chung, principal and design director at Gensler, and the guiding force behind a new collection of concrete-look porcelain tile engineered for performance and value. "Sculpted, high relief tiles are very desirable for walls — they can be beautiful — but they get so dirty, and they're usually difficult to keep up. They tend to work better in residential applications, where the maintenance requirements are less demanding and less constant.
"With our design, we went with a low relief pattern no more than 1.5mm in depth, with contoured interior edges. This way, you still get an interesting textural look, but there's much less room for dust and grime to collect, and the tiles can be wiped down quickly. And since the pattern is part of the tile structure, there's no secondary surface decoration to apply — or to erode over time — and the product comes in at a great price."
LOW RELIEF PORCELAIN TILE
SLIDESHOW — 5 IMAGES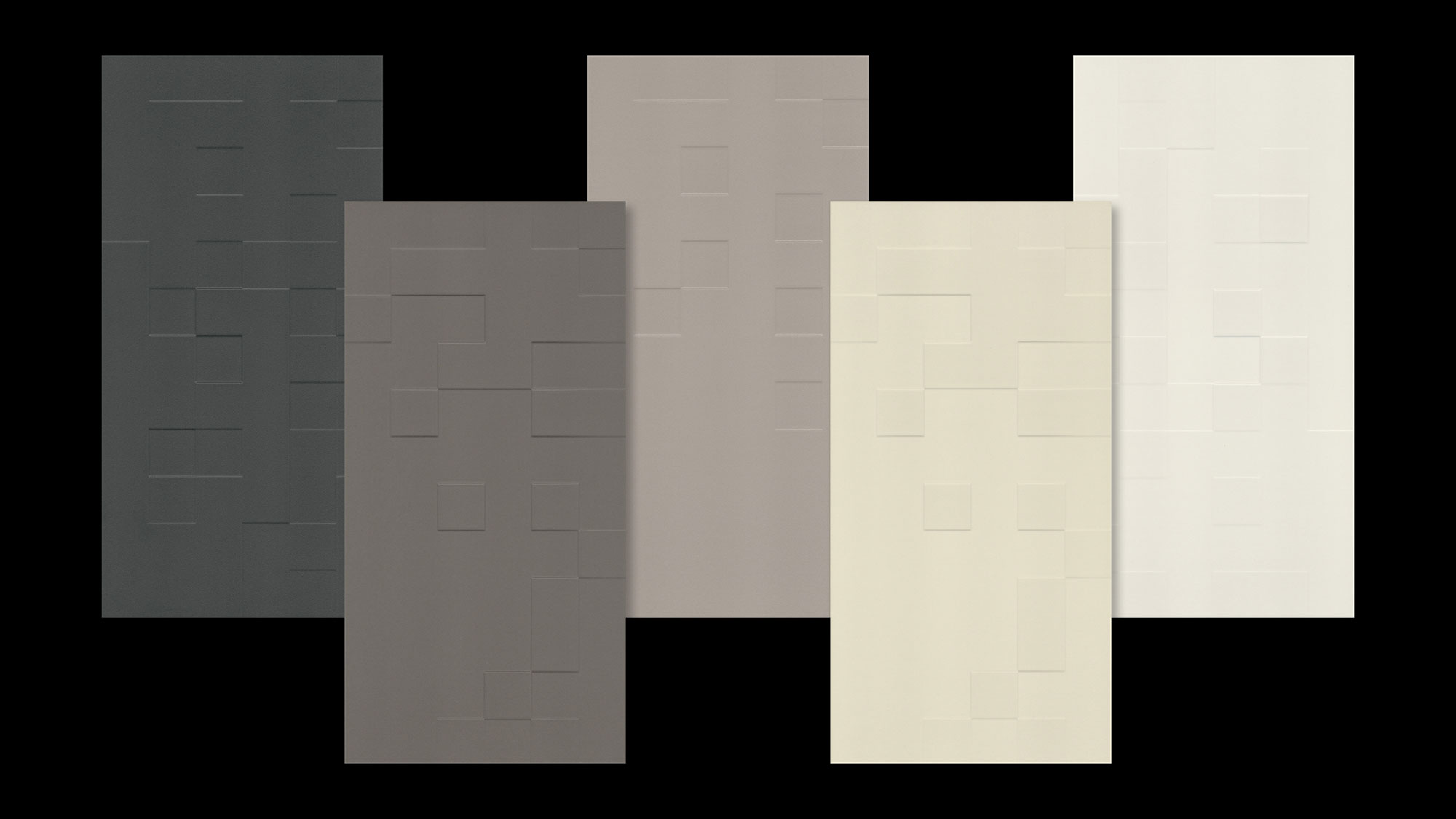 The 12" x 24" tiles are rectified (i.e., finished with precise, vertical edges), allowing dirt-drawing grout lines to be minimized, and come in three optional degrees of pattern coverage — a digitally inspired, volumized pixel motif — that can be used independently or together to achieve subtle gradient effects across a surface. Nonpatterned companion tiles, sans pixels, are available, and all are glazed to achieve improved slip resistance and color body (i.e., a consistent color all the way through) to better withstand the rigors of high traffic use. They're also waterproof, stainproof, dentproof, and scratch-resistant to further ensure years of service and visual enjoyment.
The Art of Hand Washing: Integrated Sink Systems
The pandemic has turned hand hygiene into an art, and Gensler has embraced the movement. Working with a leader in the washroom equipment industry, our Product Development team helped create an ultra-efficient, ultra-sanitary sink system that allows users to wash, rinse, and dry all in one spot. Completely motion activated, it provides an intuitive and highly effective solution, largely because the sink and deck-mounted hand dryer were designed to work in unison.
An LED light projecting from the front of the dryer indicates the optimal position for the hands, while the shape of the sink channels the dryer's high-speed output towards the bottom of the bowl. Combined, the guide light and bowl design help keep water from blowing onto the user and the floor, where it can lead to slipping accidents and unhealthy conditions. And the trail of drips that you typically see running from the sink to your conventional, wall-mounted hand dryer are nowhere to be found.
INTEGRATED SINK SYSTEMS
SLIDESHOW — 3 IMAGES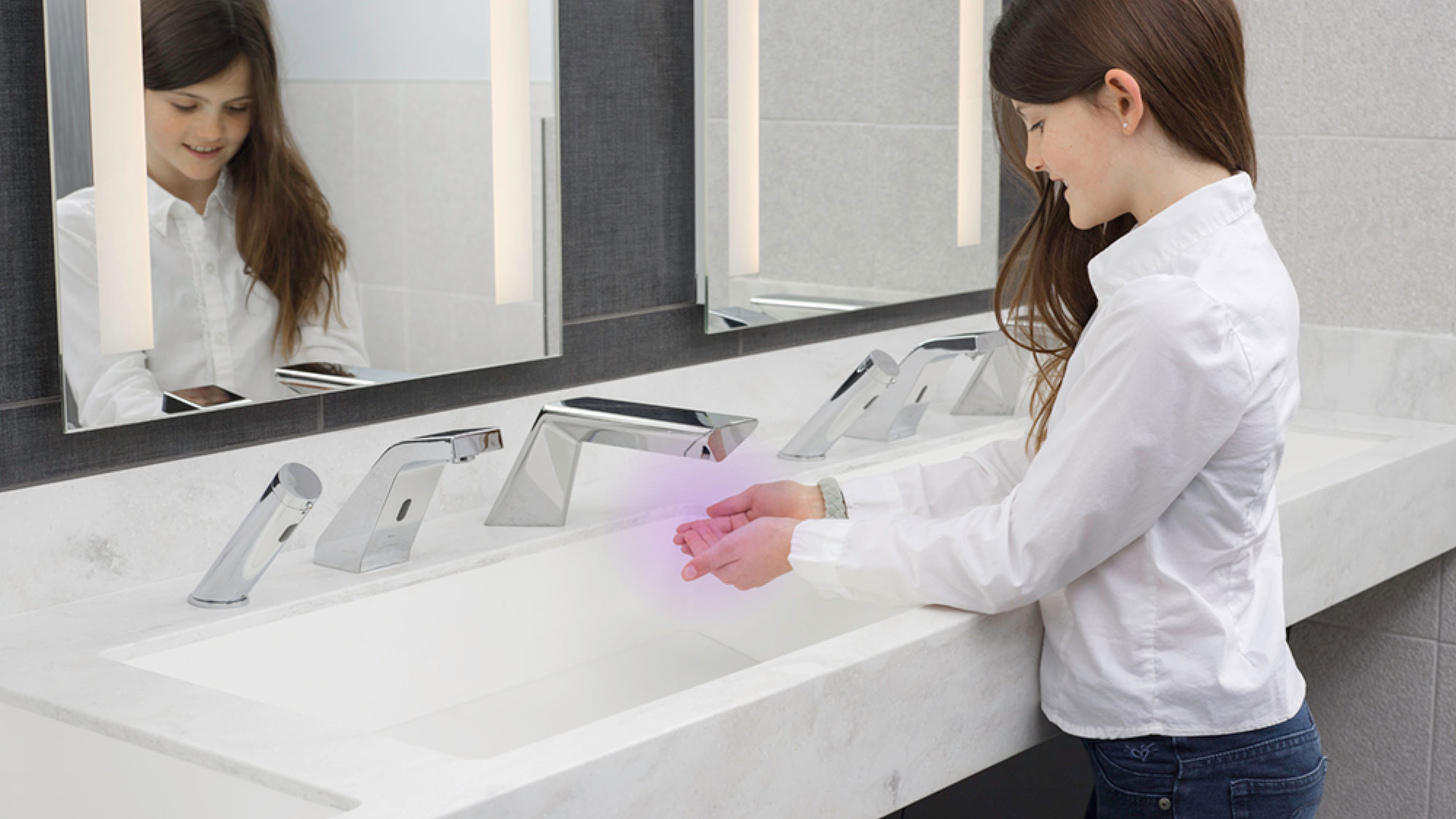 The health and hygiene benefits go well beyond touchless interface and water containment. For added protection, the hand dryer was engineered with a HEPA filtration system that removes bacterial and viral contaminants from the air every time it starts working. And with the dryer mechanics enclosed under the sink, and sound and speed settings that can be easily adjusted, the earsplitting roar that you get with most dryers is reduced to more of a purr.
Completely customizable relative to exterior dimensions, finishes, faucets, and soap dispensers, the integrated sink system was designed to work in public bathrooms of any size and style, but always with one objective: elevating end user experience.
In and Out Without the Angst: Hands-Free Door Pulls
In a perfect built environment, every door would open automatically, without physical contact and the threat of fomite transmission, but budgets and building conditions usually make this impossible — particularly on retrofit projects. With hygienic surfaces and touchless interface the new ambition for so many of our interiors clients, Gensler designed a collection of door pulls that lets people get in and out with their wrists, forearms, and elbows instead of their germ-spreading hands. And unlike anything on the market, our forward-thinking hardware makes a particularly ideal choice for bathroom doors, where the research suggests that building occupants are hankering for a more sanitary fix.
A splendid synthesis of functionality and sculptural elegance, this new line of door pulls demonstrates that high utility products don't have to undermine the visual integrity of a space. Handcrafted of corrosion resistant AISI 316L stainless steel and mountable to metal, wood, and glass doors, the collection includes 13 organic and orthogonal designs in a selection of satin and powder coated finishes, all to suit an extensive range of tastes and interiors.
HANDS-FREE DOOR PULLS
SLIDESHOW — 4 IMAGES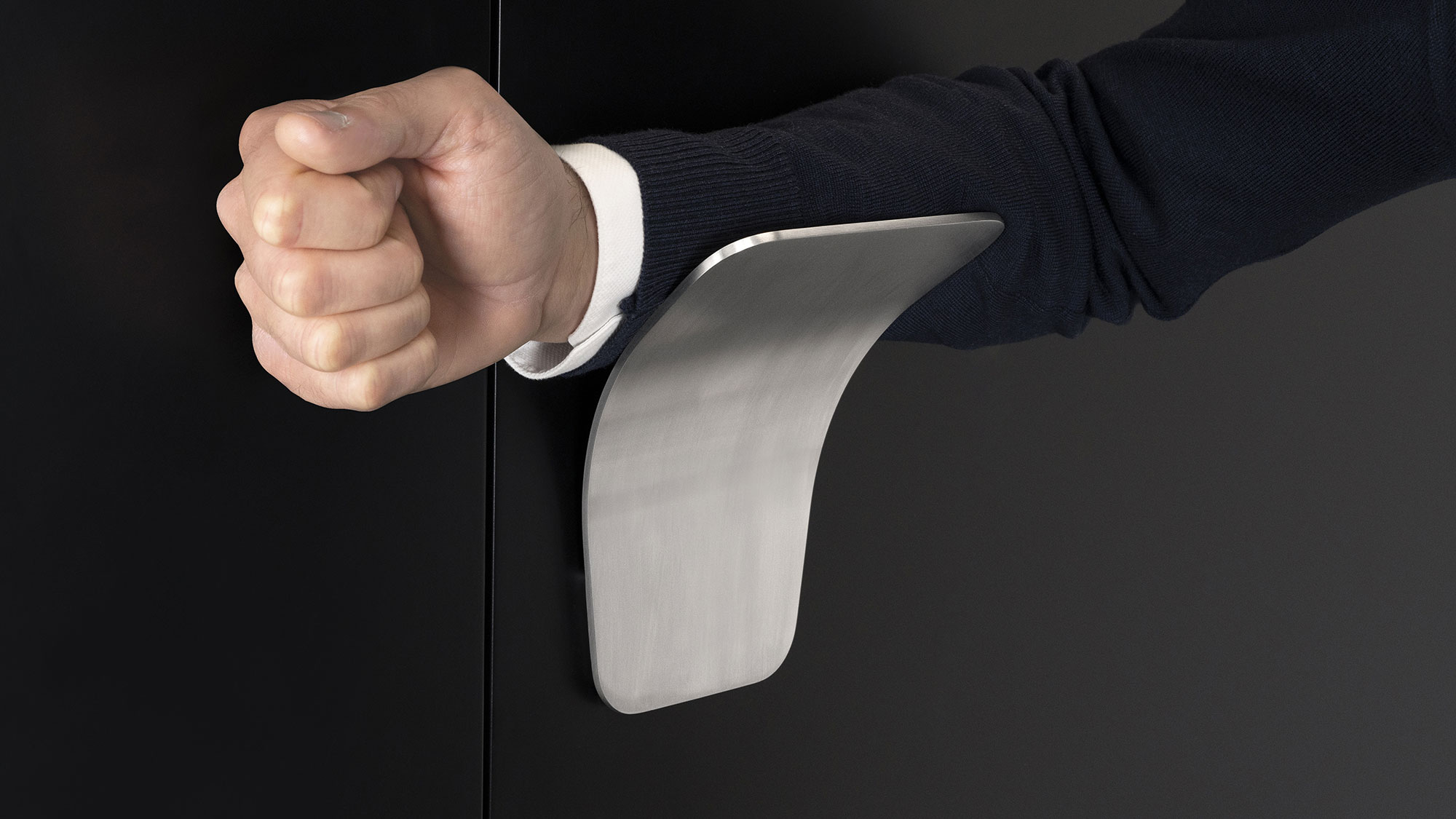 Every door pull in the collection is ADA compliant — protruding no more than 4" from the door facing to skirt the circulation path of people with visual impairment — but most go a step further relative to inclusivity. With engagement points at both top and bottom, they offer greater accessibility to the broadest group of individuals: wheelchair users, others with limited mobility, lefties and righties, and, of course, germaphobes everywhere. I, for one, have never felt more included … or liberated. No more prophylactic towels atop disease-carrying door pulls. No more inserting of the foot between the door and frame. No more synchronized leg thrusting and paper crumpling. It's time for a new move.
Click here for more information on Trade-Up Toilet Partitions
Click here for more information on Antimicrobial Bathroom Accessories
Click here for more information on Uncoated Copper Bathroom Accessories
Click here for more information on UV-Free Antimicrobial Lighting
Click here for more information on Low Relief Porcelain Tile
Click here for more information on Integrated Sink Systems
Click here for more information on Hands-Free Door Pulls
NOTE: The products described in this blog are intended to supplement, not replace, conventional cleaning and disinfection methods.
To learn more about our complete study and bathroom product design, please contact Scott Star at .
For media inquiries, email .