The Benefits of Converting Class C Office Into First Class Residential
June 14, 2021 | By Steven Paynter, Duanne Render
Going into the pandemic, the city of Calgary was already facing an existential crisis, with office vacancy rates rising to 24% due to plunging oil prices, according to an Avison Young market report. A year later, and the corporate office vacancy rate is hovering at around 32% — double that of Detroit's when the city declared bankruptcy in 2014. Calgary now has 12 million square-feet of vacant office space on the market. So, what should be done with all that empty office space, and how can cities like Calgary tackle rising vacancy rates?
The shift to more modern, amenity-rich, and sustainable Class A office buildings was happening even before the pandemic. Aging office buildings are now sitting empty as tenants choose more modern buildings, and not just in Calgary. Initially, the choices for landlords in a market with a glut of office space were to renovate and retool buildings with refreshed amenity spaces. But now, in a post-pandemic and hybrid work economy, tenants' priorities have changed, and many are demanding a unique office experience that cannot be replicated at home. And this cannot be accommodated in the aging Class C office stock.
Many Canadian cities went through a building boom in the late '60s and '70s and those buildings are now at end of life, requiring significant investment to bring them up to modern standards. From coast-to-coast, clients are facing a similar challenge: in order to future-proof their older buildings, they'll need to make their buildings more energy efficient, more resilient, and ultimately more vibrant to attract and retain tenants and talent. That means older Class B and C buildings might not be worth the investment to bring up to current needs.
In today's evolving office market, how can developers and building owners assess whether to upgrade an older, poorly performing building as office space or convert it to other uses, in order to get a better return on their investments?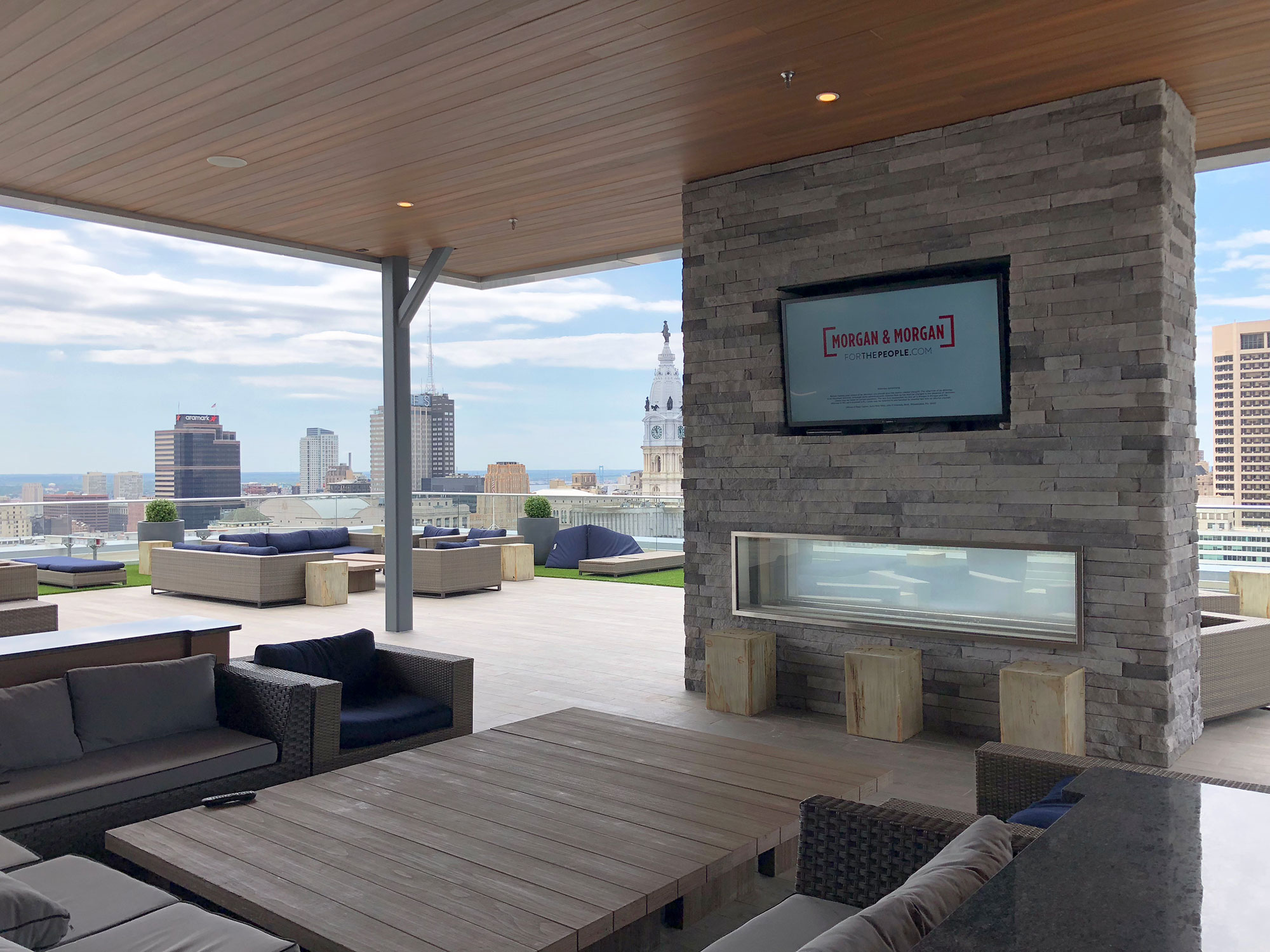 A scorecard for converting office-to-residential
Gensler's research to help asset holders evaluate conversion potential of underperforming buildings got the attention of Calgary's real estate working group and we partnered to develop a tool and cost model, which led to the city approving an initial investment of $200 million for a downtown revitalization plan, with $45 million for incentives towards the conversion of existing office space to residential, redevelopment, or adaptive reuse.
The Calgary Economic Development commissioned Gensler for a study, and we used our universal scorecard to understand which underperforming buildings could efficiently be converted from office to residential. The scorecard, which can be used anywhere in the world with minor adjustments, assesses all the factors that make for a good residential building — how deep the floor plate is, the ceiling heights, how many elevators, neighborhood context, access to transit, and parking.
In studying 28 buildings in Calgary, totaling 3.2 million square feet, we discovered that about 30% (10-12) were viable candidates for conversion. If all 12 were converted, that would create space for approximately 4,000 people to start calling downtown home, with an additional 2,000 units on the market.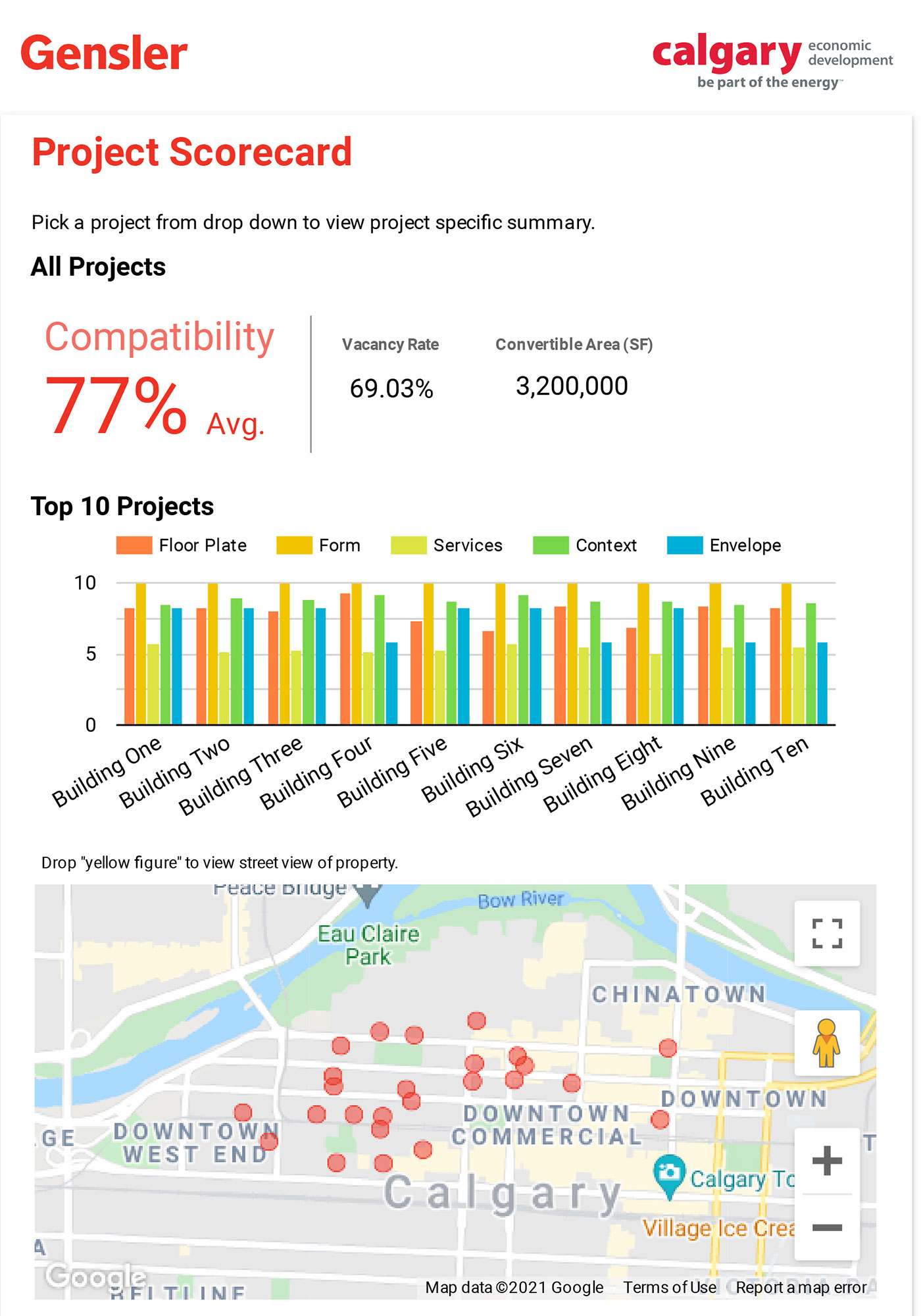 In Calgary, these buildings are clustered in the west of the city. We believe this is a positive factor because if a number of buildings convert from office to residential simultaneously, it creates a positive downstream effect on the neighborhood. Services spring up to support residents, and it suddenly makes sense for city councils to invest in parks, libraries, and improved transit. If the buildings were geographically spread out, there wouldn't be the same level of impact over a relatively short period of time.
Bad office makes for good residential
So what buildings are the best candidates for office-to-residential conversion? Perhaps counterintuitively, we found that the "worse" the office building (typically Class C buildings), the better candidate they are for conversion to residential. Class C buildings typically have 11 foot floor-to-floor heights — 8 foot or 7 foot 6 inches clear once you factor in all the ducts and cabling that runs through. In office buildings, that's now considered almost oppressively low, making for a gloomy, cramped feeling. By stripping out the ducts and ceiling tiles, we can create ceilings for residential that are 10 foot high, which is more generous than many new-build residential towers, allowing for lots of light and spacious-feeling apartments.
Vacancy to vibrancy
Beyond the challenge of adapting older buildings lies the risk inherent in such a move. In order to incentivize asset holders and build consensus within and between the public and private sectors, we conducted research into other cities that had made similar moves, and we examined what the city councils in these cities had done to stimulate change.
We reviewed tax incentives, credits, and other economic levers that cities had at their disposal. We also wanted to find other places that had successfully undertaken a transformation of this scale. The two stand-out success stories were Detroit and Kansas City.
In Detroit, the Shinola Hotel has been a significant catalyst for change. Transforming four buildings into a unified hospitality anchor in the city's historic Woodward shopping district, the newly renovated hotel is credited with helping to revive the neighborhood; shops, cafes and restaurants have now sprung up around the hotel.
Similarly, Kansas City has at least two dozen underperforming downtown buildings that have already been saved from ignominy through adaptive reuse, redevelopment, and repositioning. Another dozen are reliably in progress to become housing or hotels, with six to 10 more on the horizon.
Both Detroit and Kansas City have successfully reinvigorated their downtowns and decreased vacancy rates by focusing redevelopments in a few concentrated areas. By offering a more diverse mix of residential, commercial, and entertainment, cities can revitalize downtowns and allow central business districts to thrive.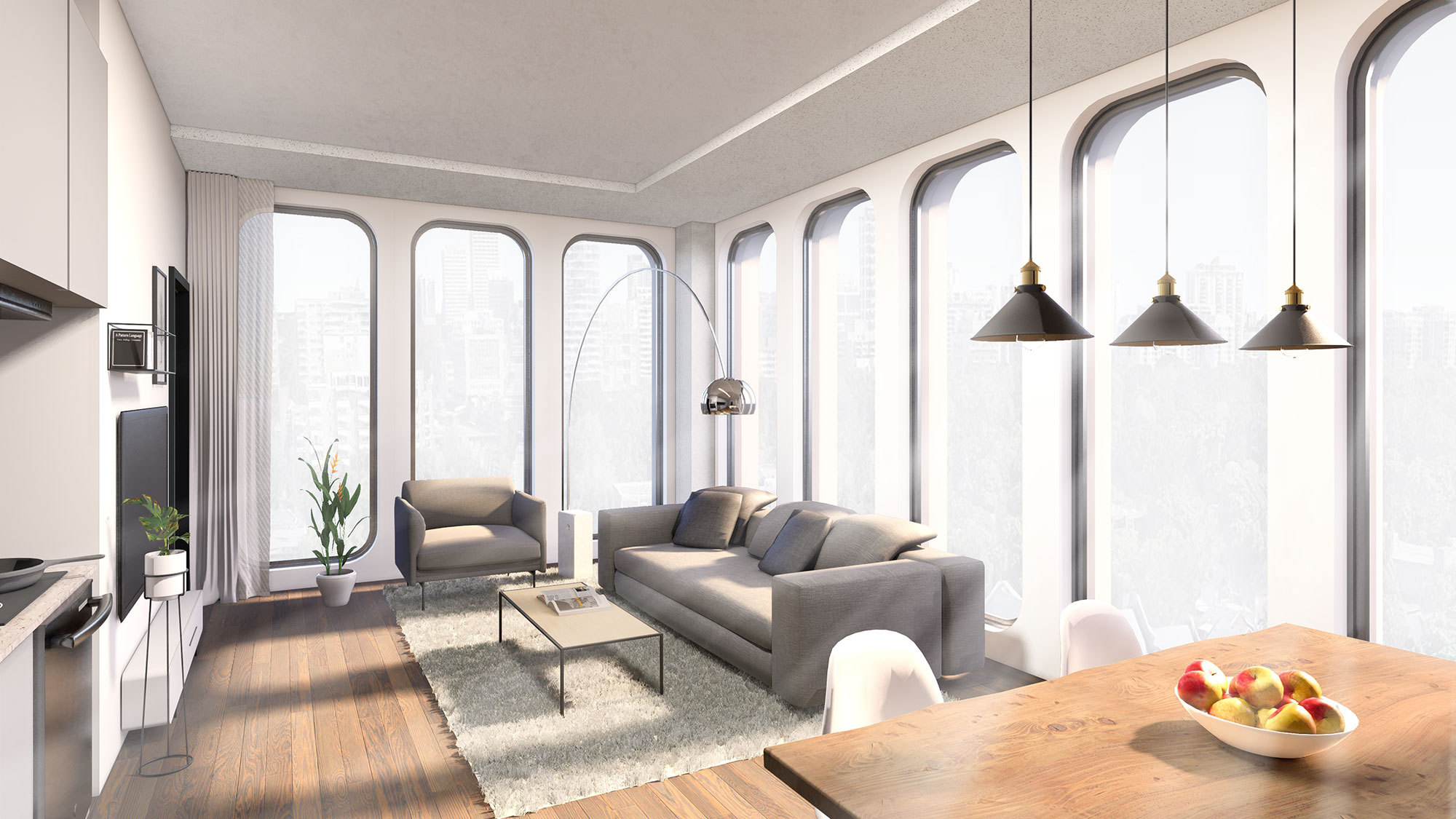 The reuse revolution
Adaptive reuse also makes sense when viewed through a sustainability lens. Construction contributes 11% to global carbon emissions, according to Architecture 2030, and adaptive reuse can cut that by up to 80%. Given this outsized impact, reusing our buildings impacts the triple bottom line — people, planet, and profit.
As stated in Gensler's Climate Action Through Design 2021 report, by renovating existing buildings and repurposing spaces and materials, developers can decrease the amount of carbon associated with new materials, and they can reduce the amount of debris and waste going into landfills. According to the U.S. Environmental Protection Agency, deconstruction rather than demolition of a building can save 90% of a building's materials.
Adaptive reuse is also much more cost-effective than building new. Demolition and new building costs can be side-stepped and, as is now the case in Calgary, developers can frequently access municipal incentives.
Today, Calgary faces tough challenges — too many empty office towers, an eroding tax base, and not enough people living and working downtown. For many Calgarians, the adaptive reuse revolution can't happen soon enough.
For media inquiries, email .