Design Forecast Houston: Our Role in Our City's Future Experience
By Gerald Gehm
Editor's note: This post is part of Gensler's Design Forecast Local, a series of hyper local conversations with our clients about the topics that matter most in our cities.
As our city continues to grow and change with each generation, we are faced with challenges — in climate change, housing, mobility, and aging infrastructure, to name a few. We stand at a time in Houston's history where we are able to turn these challenges into opportunities that will shape our city's future. On Oct. 30, 2019, Gensler Houston hosted its "Evolution Houston: Addressing Our City's Future" forum, where we convened a diverse panel of local community leaders to discuss how we can positively impact the future of our ever-evolving city. The panel, facilitated by Gensler Houston Co-Managing Director Stephanie Burritt and moderated by Andre Brumfield, Gensler Urban Strategies & Design leader, brought together leading minds from health care, real estate, government, the arts, and business, to address these topics and discuss the future of livability in Houston. In addition, a presentation on the growth and future trends affecting our city was shared by Peter Merwin, principal and design director, Gensler Houston.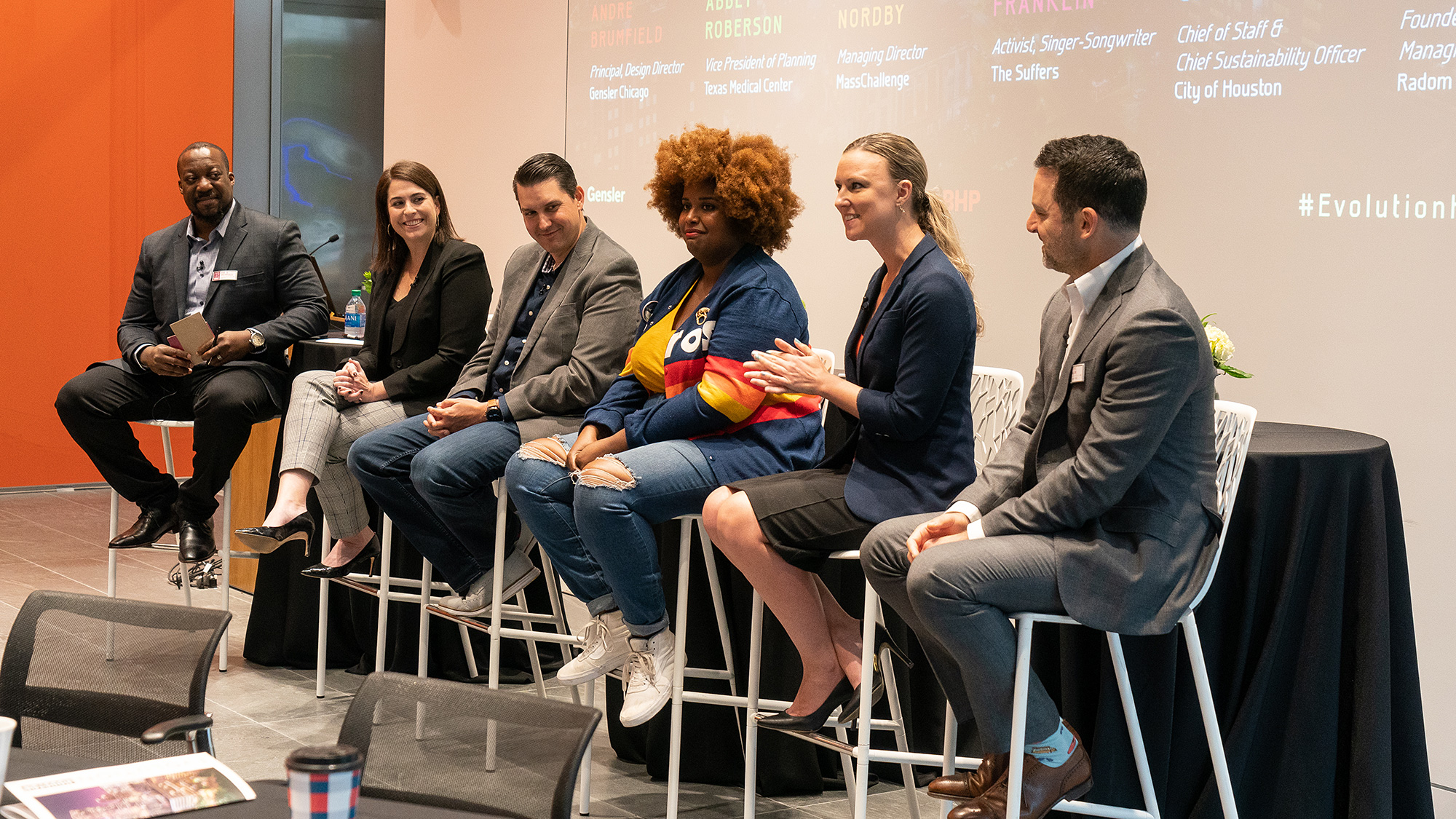 KEY TAKEAWAYS
In Houston, density is our destiny.
Unlike more established cities like London or Paris, our city is still relatively in its adolescence, which gives us all a unique opportunity to define it as we continue to grow and densify. We must, however, be careful in our growth to not extradite our existing, local culture for developments and neighborhoods that become unapproachable or unaffordable. In a city as big and diverse as Houston, every neighborhood has its own distinct identity. Panelist Steve Radom, founder & managing principal at Radom Capital LLC, said that rather than solely creating objects or buildings, we must create meaningful spaces that embrace the existing neighborhood's culture.
If you look at places like New York, London, Paris — those are all luxury cities. They are fully formed, and a consequence of that is that they become unaffordable. It's something that we have to be careful about in Houston.
— Peter Merwin, principal & design director, Gensler
Diversity defines our city.
The Houston metro area is the fourth most populous city in the nation. Houston has no ethnic majority and nearly one-in-four residents are foreign born. In fact, Houston today mirrors what demographers forecast the U.S. population will look like in four decades. Just like our people, our city's infrastructure operates best when it is diverse. Whether talking about future mobility solutions or our evolving neighborhoods, the panelists agreed that we must consider a variety of solutions and services that support the unique makeup of our city and how people live, work, and play. Inclusive design and decision making will ensure our future developments and city-wide initiatives will reflect back upon the diverse makeup of our community, and ultimately result in more successful, long-lasting solutions.
It can be intimidating to talk about solutions for a city this big and diverse — every neighborhood has its own identity.
— Jon Nordby, managing director, MassChallenge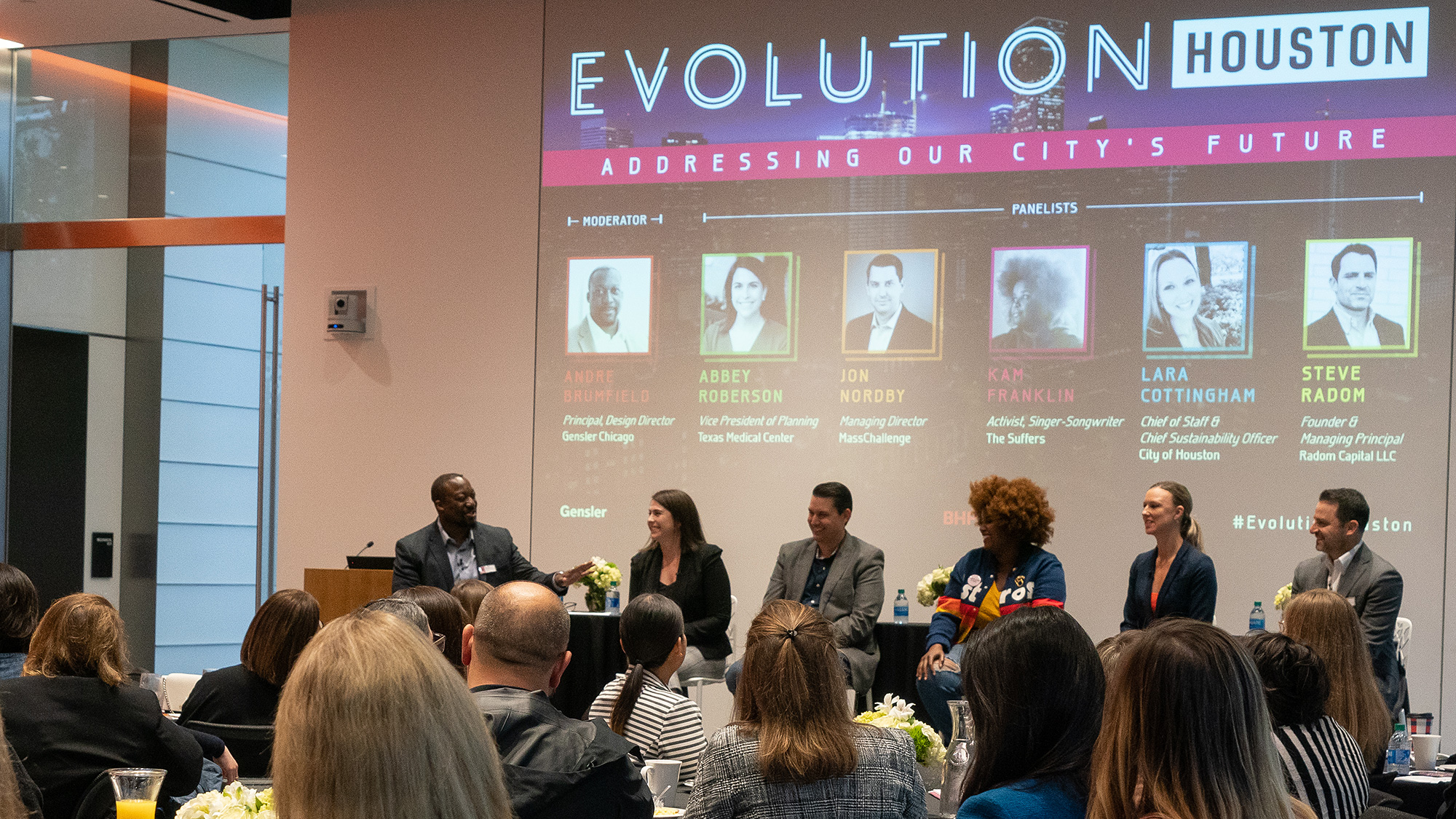 We must explore and support multiple modes of mobility.
Panelists agreed that transportation is a key consideration for Houston's future. Panelist Abbey Roberson, vice president of planning, Texas Medical Center (TMC), said that having a variety of transportation modes — from light rail to buses — is critical for supporting the influx of people visiting TMC on a daily basis. Encouraging multiple modes of public transportation is essential in our heavily populated, car-dependent city. Steve Radom talked about how the city can shift its car culture by activating a network of bike trails and viewing community planning through the lens of walkability. This trail activation has the potential to strengthen neighborhood connections, encourage active lifestyles, create opportunities for new local businesses and ultimately bring our community of diverse residents together. Kam Franklin, community activist and singer-songwriter, concluded that while new modes of transportation are critical to making Houston more accessible for all residents, designers and decision makers should focus on making mobility improvements that solve long-term problems instead of momentary inconveniences.
Cities need to focus on future legacy, not current convenience.
— Kam Franklin, community activist and singer-songwriter, The Suffers
Success means partnership.
All panelists emphasized that we will only reach our desired goals for Houston's future if we are working together across sectors, industries, and trades. Panelist Lara Cottingham, chief of staff & chief sustainability officer, City of Houston, noted that having a partnership and plan for climate action is imperative. Climate action is a necessity in a city that faces increasingly frequent and severe storms and flooding from extreme weather events such as Hurricane Harvey, which displaced more than 30,000 people, with losses totaling an estimated $190 billion. Cottingham said that public-private partnerships are essential to drive change. The city recently announced a Climate Action Plan, which is one such partnership that will provide evidenced-based measures to reduce carbon emissions and preventative measures to address the negative outcomes of climate change to lead other global cities in efforts to combat climate change.
Climate change is not something the city of Houston can change alone.
— Lara Cottingham, chief of staff & chief sustainability officer, City of Houston
The forum encouraged participants to consider all elements affecting Houston's current persona and our potential path forward — from mobility to connectivity, affordability, the arts, innovation, and beyond. Attendees were encouraged to take initiative by voting in the upcoming municipal elections or reaching out to any of the panelists or speakers to get involved. An honorarium was donated by the Houston office in each panelists' honor to Headcount, a non-partisan organization that works with musicians to promote participation in democracy. We hope this dialogue yielded better understanding of Houston's past, its current growth opportunities, and its potential future as it continues to evolve as one of the country's largest and most diverse cities.