Urbanism and the Pursuit of Happiness
By Claudia Carol
For the first time in history, more people live in cities than not. And, according to the United Nations, more than 2.5 billion additional people will move to cities by 2050. Cities are magnets for those who seek better jobs, a wider range of opportunity, and more diverse communities. They are a draw for those who yearn for more excitement and entertainment. Cities are the world's economic engines — a source of creativity, innovation, and, according to economist Ed Glaeser, "our species' greatest invention."
But one question persists: do people move to cities to be happy? Or do they move there out of necessity? Are the opportunities for working and exchanging culture with one's neighbors enough to keep urban residents happy and engaged? Or, are there other elements of city life that contribute to the overall well-being of urban dwellers?
In his 2013 book Happy City, Canadian writer and urbanist Charles Montgomery wrote that "cities have always been a happiness project." They evolve and adapt based on the needs of the people who live there. As urban designers, we are focused on the human experience and guided by our communities, so we must look to them directly for input. We thrive on benchmarks and research that inform our designs. Luckily for us, happiness economics is now a thriving field — and in the case of global cities, there have been numerous attempts to quantify and understand the experience of city residents.
The small Himalayan nation of Bhutan, for example, is often cited for its Gross National Happiness survey, which gauges citizens' feelings on a number of factors affecting their lives. The resulting report functions as both a measure of the country's collective happiness and a guide to governance for Bhutan's various ministries. A set of screening tools aims to ensure new policies and developments will contribute positively to the country's GNH.
Outside of Bhutan, the United Nations' robust World Happiness Report, the Happy Planet Index, and the Gallup-Sharecare Well-Being Index apply a similar concept of evaluation. In the United States, overall well-being is often measured at the city level and based on the availability of economic opportunity, transportation, infrastructure, housing, safety, health services, the environment, social capital, and education.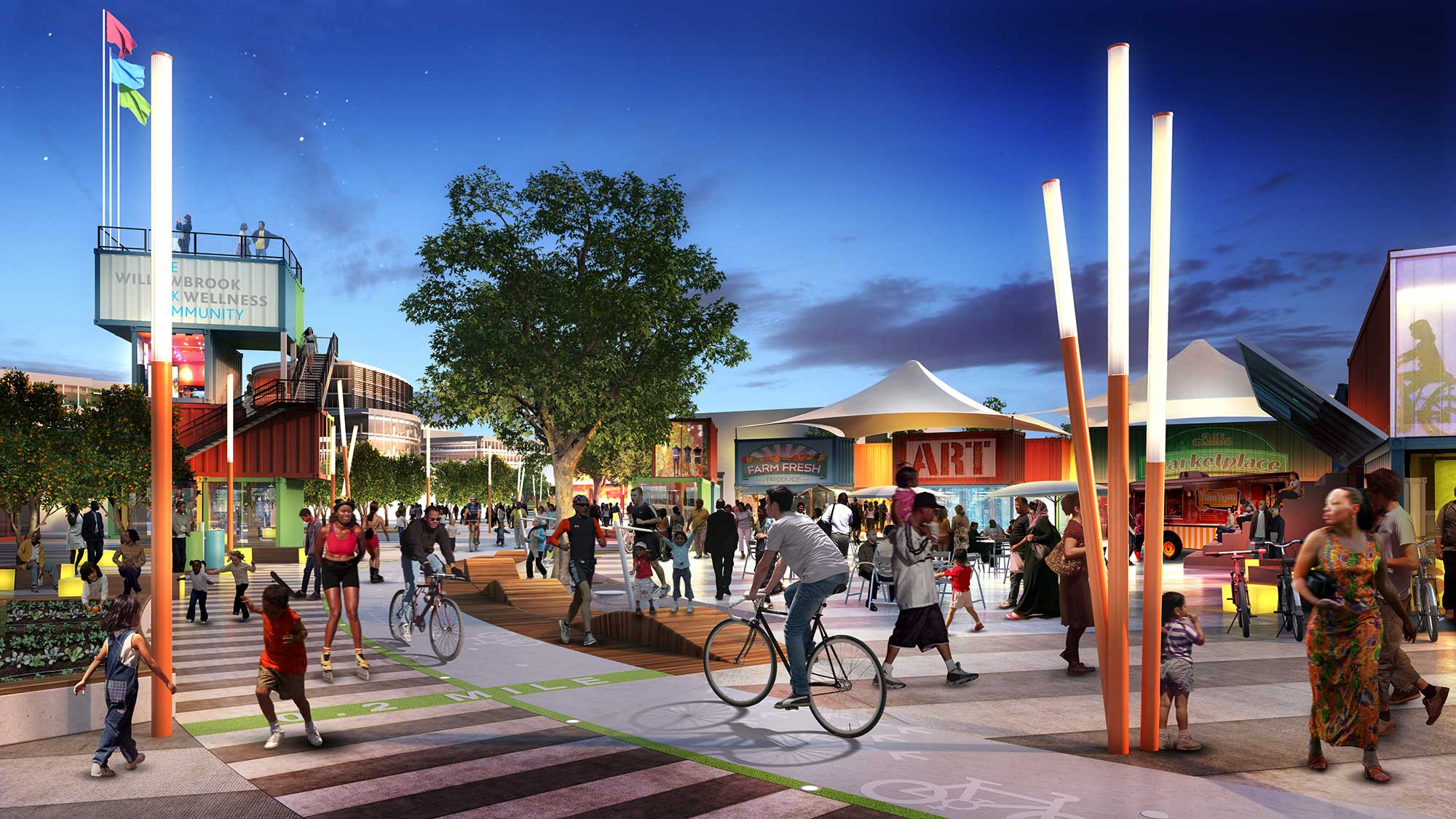 While all of these factors are important, the World Happiness Report notes that elevating social foundations and personal relationships has a more positive effect on happiness than living longer or making more money. In this way, the most universal driver of urban happiness isn't simply jobs or income. Rather, a happy city depends on the happiness of the people themselves, their sense of belonging, and their interactions with each other. As urbanists, planners, and architects, we know that there are basic building blocks that can encourage citizens to think of the city not just as a place, but as a commons shared between all residents.
Public plazas, parks, and other meeting places, for example, can encourage new social connections and interactions, while giving residents a sense of common ownership over the space. Opportunities for civic engagement and community participation can further cement the feeling of a common purpose. In turn, more social investment leads to safer and more secure environments as everyone has a stake in the city's success.
Access to multiple modes of mobility — from trains and buses, to bikeshares and e-scooters — can help remove one's sense of isolation amidst the crowds. Pedestrian-friendly streets can also boost the city's overall wellbeing by encouraging active lifestyles and even more face-to-face interactions. On a larger scale, a city's respect for nature, outdoor space, and green infrastructure can give city dwellers a feeling that the city is more than a grid of streets and buildings. Likewise, access to fresh food, urban agriculture, and community gardens achieves a similar goal while giving residents another opportunity to build social capital.
But nothing could be more important to the health of a city than diversity: in its population, in its housing opportunities, and its employment opportunities. Overall, diversity is the cornerstone of a socially sustainable city.
"Happiness itself is a commons to which everyone should have equal access," says Enrique Penalosa. As the mayor of Bogotá, Penalosa used his city as a testbed for the notion of a happy city. The success of Bogotá, Bhutan, and the findings of the World Happiness Report and similar indices can provide a template for social urbanism. Guided by these tenets, our cities can be reorganized around shared resources like accessible mobility, social spaces, and a strong public realm — the key building blocks for promoting a strong sense of community and, ultimately, a happier city.