Houston's ByDesign Group Explores Local Ideas for the Future of Cities
By Jong Kim
As Buckminster Fuller once said, "The best way to predict the future is to design it." A team I lead at Gensler Houston, which we've dubbed ByDesign, has taken that philosophy to heart by going beyond our daily project work to create inspiring visions for the future of our cities.
ByDesign began as a grassroots movement in urban exploration. Driven by curiosity, our collective of next generation designers participated in their first design competition four years ago, focusing on affordable housing in Marfa, Texas. From there, the team's conceptual design work has spanned from Marfa to Houston to Tokyo and ranged from product design to urban planning.
"The importance lies within the freedom to design for the issues that we live with every day," says Architect and ByDesign member, Jordan Gomez. "Architects strive to solve problems, and we've created a platform to showcase solutions on many different scales. ByDesign allows our designers to focus on the issues at hand that can open the floor for discussion and innovation."
Recently, the team hosted a showcase for clients, vendors, and media to debut our latest explorations and solutions for revitalizing or repurposing select sites in Houston — including the 1520 Urban Farm concept and [fil-trāt] towers — two bold ideas that could help the city combat the rising costs of housing and food production, or weather its next 100-year-flood.
1520 Urban Farm
Today, 15 to 20 percent of the world's food is produced via urban agriculture. Recognizing that urban cities struggle with rising real estate values, development and gentrification which create scarcity of fresh food options, the design team of Mark Talma and Shawn Conte were driven to design a more resilient approach to increase urban food production.
To start, the team envisioned a land trust as the ideal opportunity to integrate urban farming and communities. In this instance, the city owns the land and the people who reside there could own the structure on top of the land. The appraised land value would not increase, making the cost of living or working there more affordable. Through diligent planning, land trusts could create space for both affordable housing and small farms to produce both jobs and fresh food.
The team's proposed structure would be comprised of a public park and farmers market at the base, followed by a public community garden and kitchen, hydroponic farm, affordable housing and vertical farming. The public-facing farmers market and community gardens will serve as an educational opportunity for new urban farmers, as well as a community building opportunity to bring people together. The hydroponic farms would be dedicated to more large-scale, commercial methods of producing fresh food for local distribution.
Integrated within the culture of urban agriculture will be low-income residential units. Housing and agriculture will be combined into a cohesive whole, so that food production does not continue to be pushed to the periphery. The inner core of the city will continue to densify, ensuring that as this natural progression takes place, the issues of gentrification and food deserts are addressed head on.
Team: Shawn Conte, Mark Talma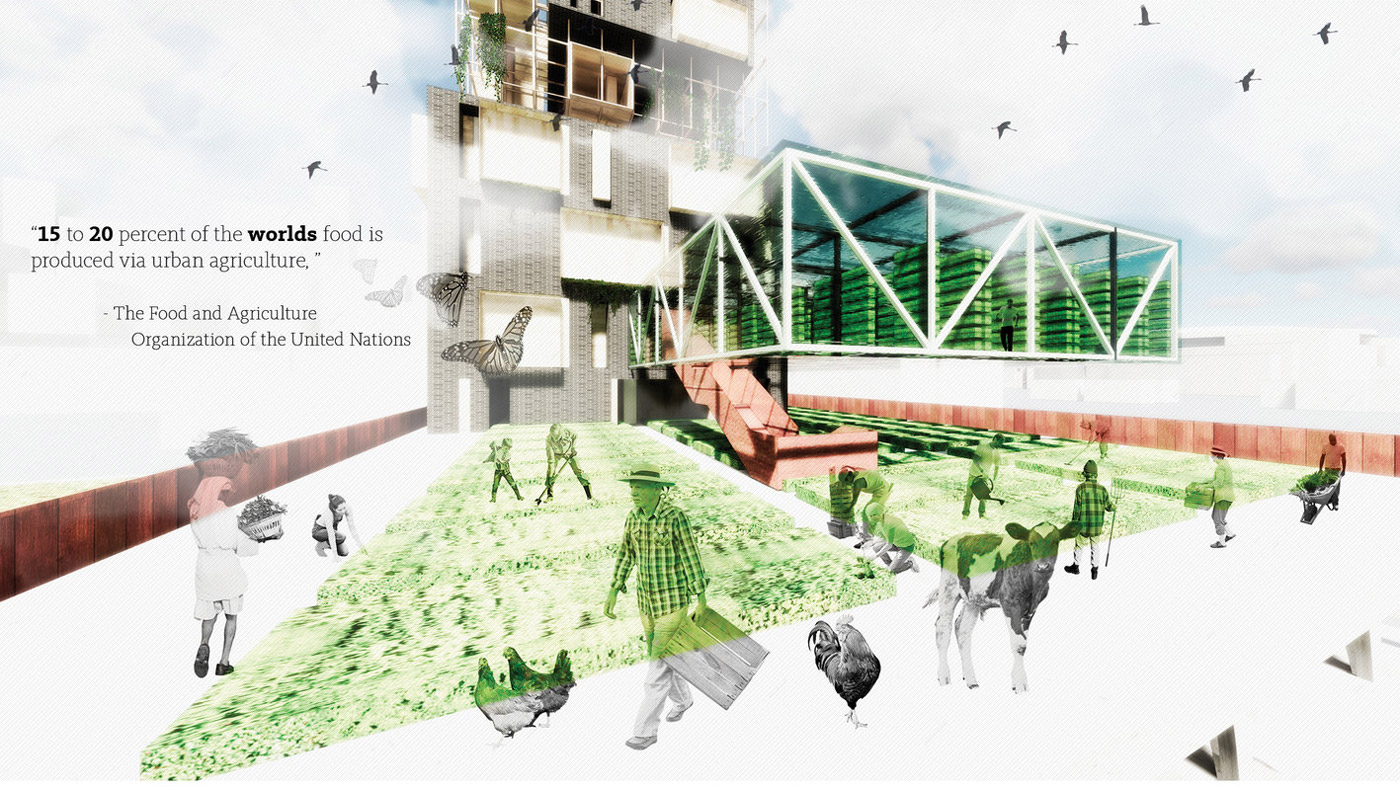 [fil-trāt] Tower
Coastal flooding is a devastating natural event occurring with more frequency across the globe. Of the world's 17 largest cities, 14 are located along coastal waters and have already faced rising sea levels and increased flooding events. The team of seven designers feel it is imperative that building infrastructures adapt and thrive within these harsh conditions, thus creating [fil-trāt] towers.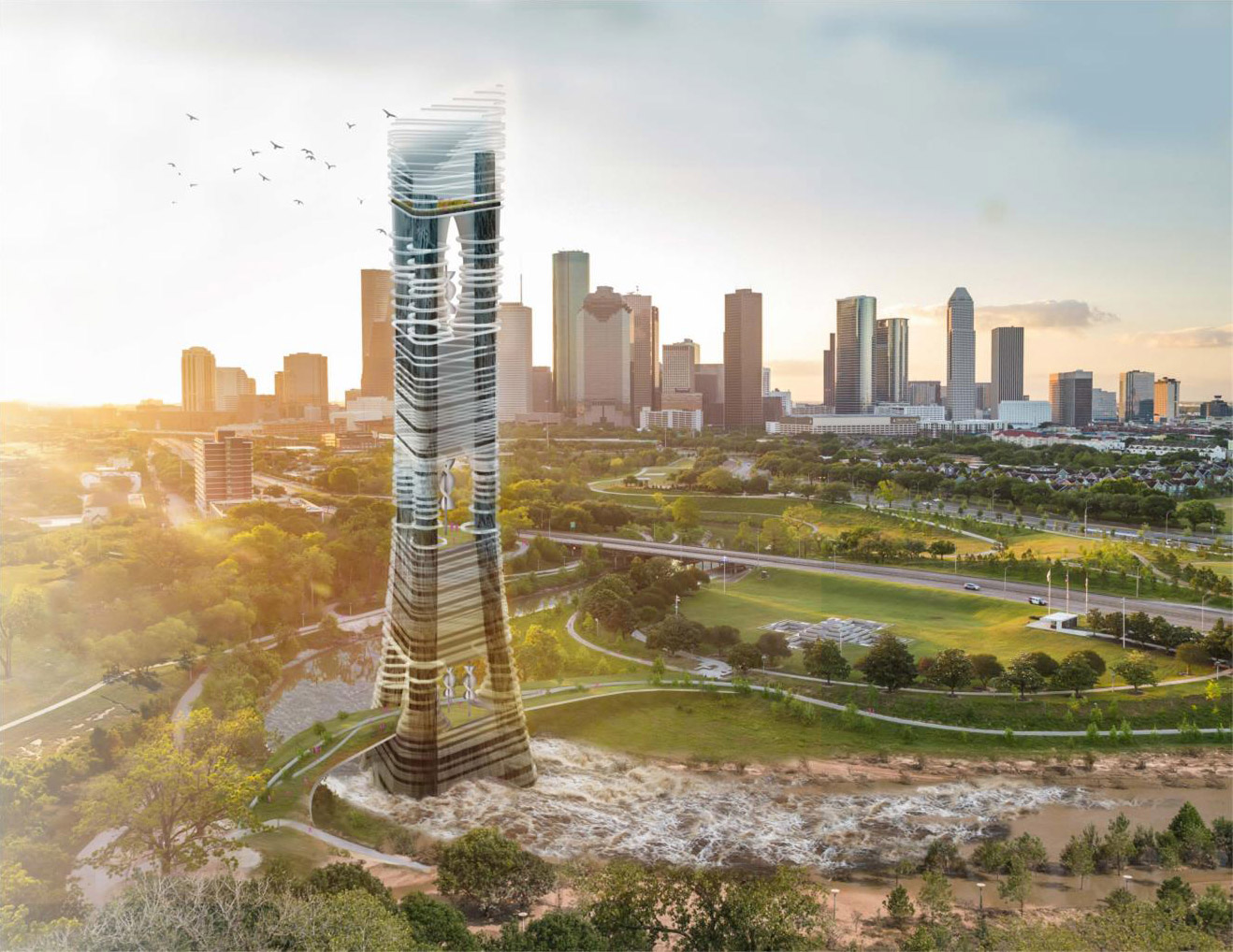 [fil-trāt] seeks to resolve the fate of flooded cities by incorporating sustainable building technologies and social programs to anticipate and harness the swelling power of natural disasters. Specifically focusing on Hurricane Harvey's unprecedented devastation in the greater Houston community, the concept seeks to answer two questions Houstonians dealt with in the omnipresent aftermath of the flood: What do we do with the water, and what do we do with displaced residents?
[fil-trāt] Towers will dot the bayous most vulnerable to flooding and, by extension, the areas where the greatest number of residents would require shelter. Varying in height and capacity depending upon the site-specific conditions, [fil-trāt] Towers will syphon contaminated flood waters from the bayou at its base into reinforced basalt cores; a volcanic rock stronger than steel and more corrosion resistant than concrete. Harnessing wind and hydroelectric power, the cores will transport the water up via a series of external glass tubes to central filtration tanks located near the base, middle, and top of the towers.
Following stops at each filtration tank, the progressively clean water will ultimately reach the top of the towers where it will be used for the building systems and sky gardens, or deposited within a central core for storage until flood waters recede and the water can be safely released back into the bayou system. The tower is intended to be fully self-sustaining and remain operable during times of natural disasters by producing renewable energy from the very water that once destroyed the city.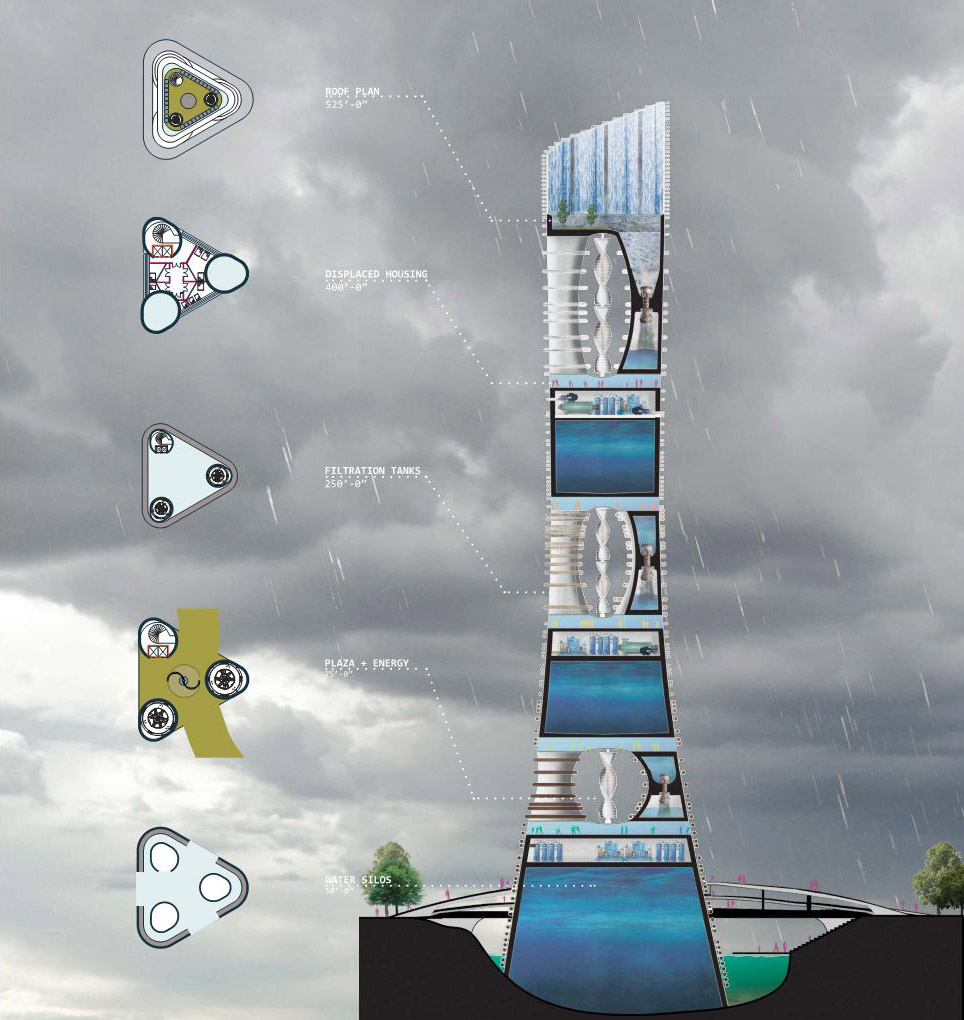 [fil-trāt] Towers will also serve as refuge for individuals needing shelter from the next severe weather event. Living, eating, and sleeping accommodations for displaced residents will be located on floors between each of the filtration plants. Each floor could temporarily house up to twenty-four families and contains common dining and recreational areas. Concentrating residents in a central location will not only aid in the speed and efficiency of the delivery of relief items, but will be a psychological comfort to families and individuals experiencing a shared tragic event.
Team: Chelsea Bryant, Jordan Gomez, Luisa Melendez, Benjamin Nanson, Barbara Novoa, Maria Qi, Melinda Ubera
While our work ranges from sci-fi fantasy to temporary, urban interventions, the ByDesign team and I hope that one day these conceptual exercises will come to fruition. We continue to connect and share our ideas with local organizations, developers, and private investors with the hope that we will one day have the opportunity to fully realize our work. Ultimately, we are a group of designers, inventors, and entrepreneurs who are always looking towards the future.
To follow all of the ByDesign team's latest projects, visit GenslerByDesign.com