The Future of Office and Lab Space Has No Boundaries
September 26, 2022 | By Kenneth I. Fisher, Fran Noval
The Boston metropolitan area has over 1,000 biotech companies, 44 institutions of higher education, and around 30 million square feet dedicated to life-sciences space. It's only natural that as scientific breakthroughs are discovered here, the design of these spaces would also evolve. And that's not to mention the potential to triple this amount of square footage in the next few years. As even more life sciences companies aim for increased transparency for the sake of engagement, employee talent retention, and breakthrough innovation, the boundary between workplace and laboratory continues to blur.
New Connections + New Inspirations
Increased transparency between lab and office function roles is shifting significantly from how the sciences have traditionally operated. In today's Information Age, knowledge sharing within the workplace is immediate and near constant. It is no longer conducive to scientists working independently behind closed, opaque doors. Who knows what society could have accomplished if these inter-office connections were encouraged and fostered sooner? Today, there is a new mindset that we can make more progress — and sooner — by collaborating throughout the entire scientific process. Sciences workplaces that facilitate this atmosphere of sharing accelerate innovation by allowing ideas to fail faster and cycle quicker.
Innovation thrives in a synergistic environment, and design can facilitate it. One way to create this synergy is with vertical campuses in urban centers. There is an element of serendipity to working in busy city districts that can sometimes provide inspiration when you least expect it. It can also allow for more cross-team integration simply by virtue of the building's layout and thoughtful program strategy. For example, adding a central stair on every floor in a vertical campus increases connectivity and visibility across multiple departments and levels, as opposed to keeping floors and operations siloed by design and proximity.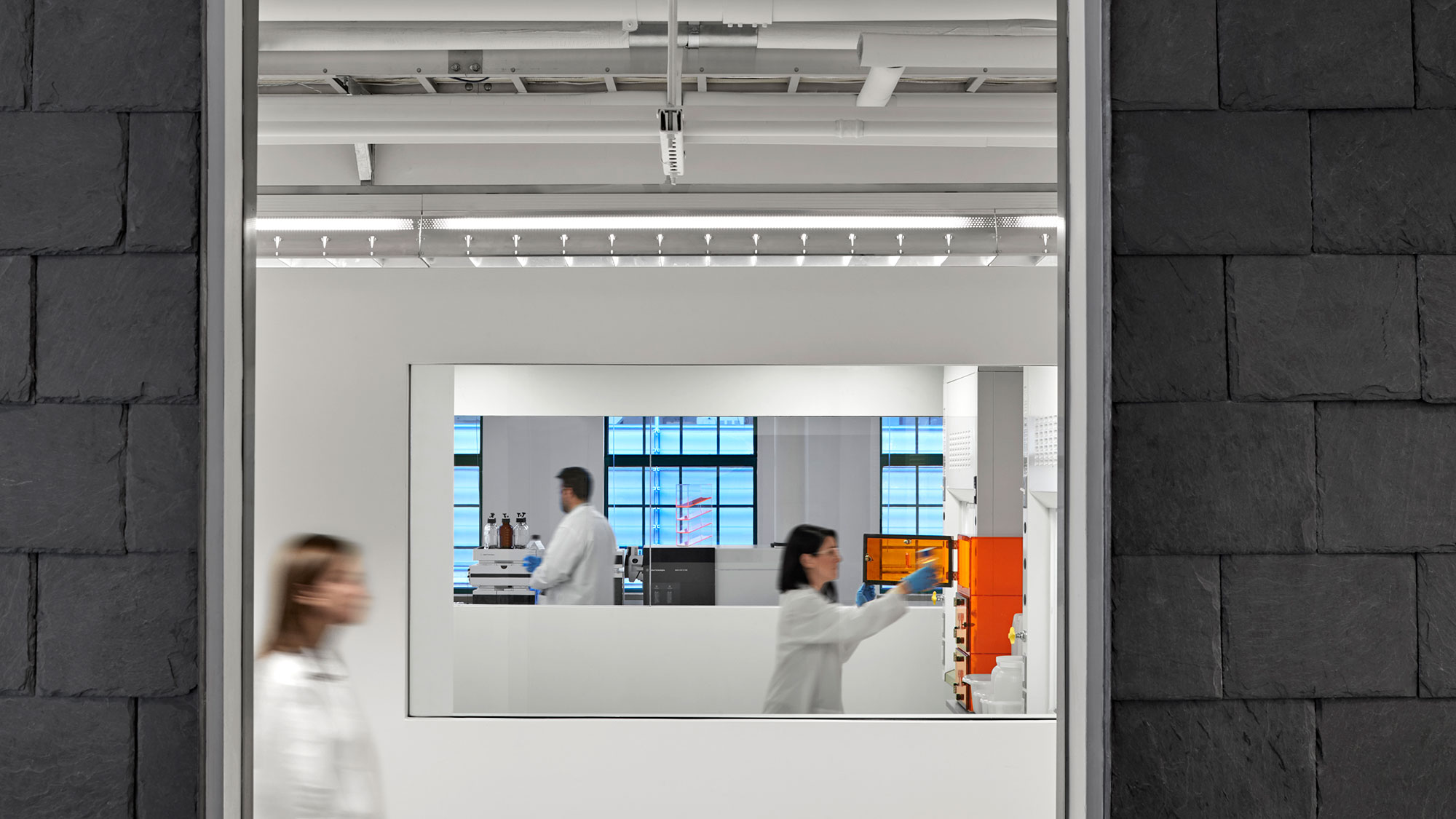 Supports Team Spirit
The office is the physical embodiment, and often the first impression, of an organization. It reflects the company's mission while cultivating a unique culture and brand. There is, and always has been, a strong sense of pride in the work that is being done in life sciences, but our clients want to ensure that everyone in their organizations takes pride in that greater sense of purpose.
A company's mission should be apparent and easily absorbed by everyone who enters the space, from reception to the labs, to the meeting rooms. In life sciences, this means that every employee has an opportunity to see where the magic happens, regardless of their title or role within the organization, to remind them of the common goal they are working toward. Shifting labs from the outer perimeters to the core is one way to do this, and using interior glass walls for confined lab spaces is another. Less boundaries between functions builds camaraderie and strengthens trust, which translates to heightened innovation.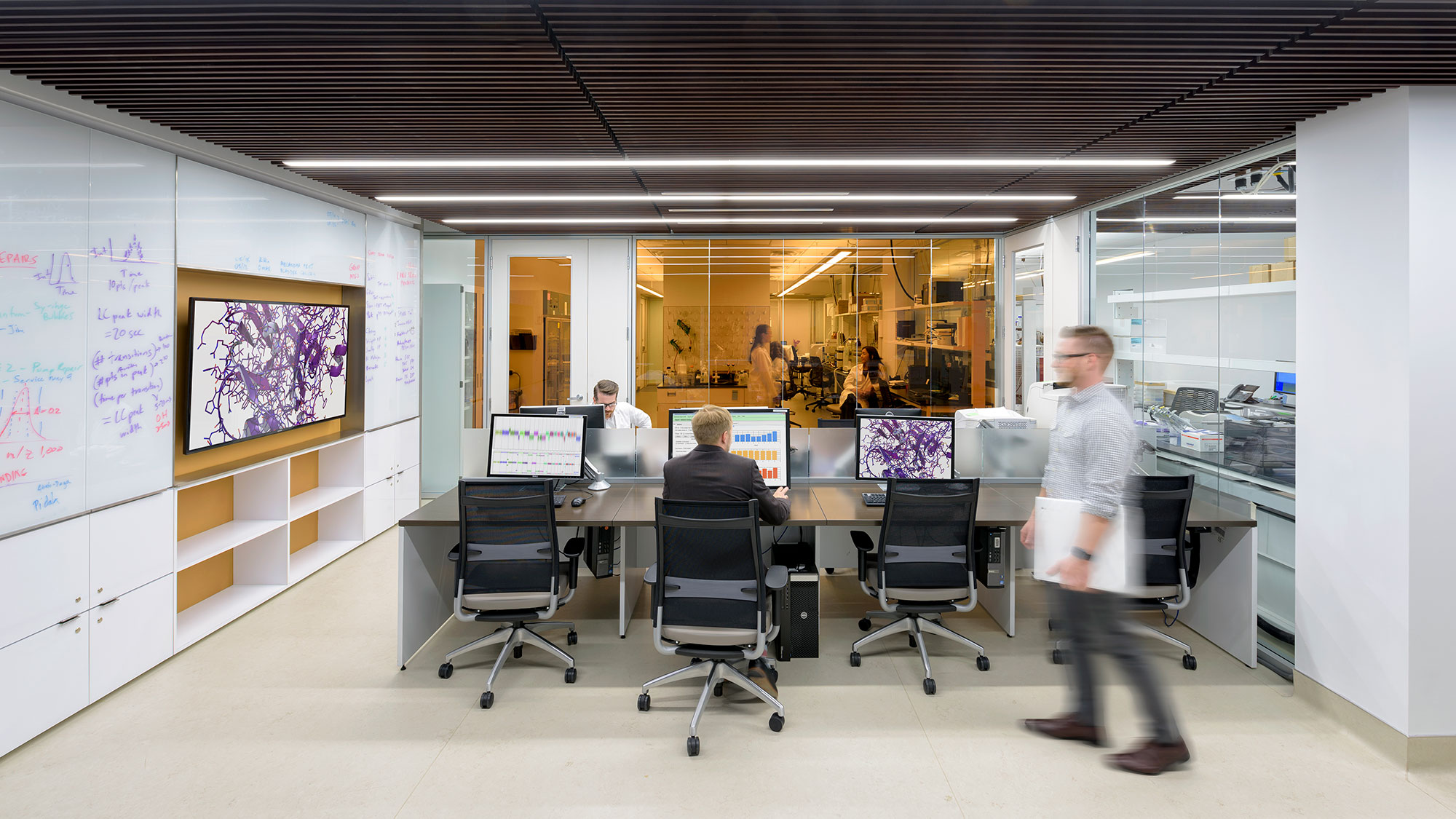 Everywhere, All at Once
With new technologies, scientists are no longer confined to the lab all day. also In addition to labs, scientists are utilizing all spaces throughout their office buildings for other kinds of work. Life sciences campuses need to be people-centric for the same reasons that other workplaces must — the more amenities and diversity they offer, the more incentive there is for top talent to join and stay. They must give employees spaces to connect and collaborate during the day for purposes other than solitary heads down work, including lounges and break out rooms for interactive learning and continued mentoring. In-house cafes for coffee and meal breaks add an element of functional hospitality for employees to host meetings with business partners, but also to host events that can help recruit and motivate talent. In some cases, larger meeting rooms within life sciences buildings can double as patient education centers as well.
To design environments that will allow our clients to develop life-saving technologies, we see great opportunity in breaking away from the norm and consider integrating office headquarters design strategies and laboratories. These hybrid spaces can facilitate collaboration, inspiration, and innovation, and create a healthier future for all.
For media inquiries, email .