Adobe's Founders Tower Provides a Glimpse Into the Future of Work
April 12, 2023 | By Natalie Engels and Sean Gallivan
Adobe's co-founders John Warnock and Chuck Geschke founded the company in 1982 and brought Adobe to San Jose in 1994 when they became the first major technology company to invest in downtown real estate in San Jose, California as the home of their company headquarters. Recently, the company celebrated another major milestone with the opening of the Founders Tower — the fourth tower at Adobe HQ — extending its commitment to the development of tech and the ever-changing skyline of Downtown San Jose.
Adobe's Founders Tower definitively establishes the future of the workplace. It's a shared, connected, adaptive destination designed for the future of creative and innovative communities; a place where the future of tech, creativity, and business is cultivated.
Here's a look at some of the features that make this a model for the future workplace:
100% all-electric
Adobe's Founders Tower is Silicon Valley's first all-electric building of its scale and will be powered by 100% renewable energy, minimizing the building's carbon footprint and furthering the company's commitment to sustainability. The all-electric building enables Adobe to pull energy from the grid at times when the mix is cleaner and ensure that battery storage or other on-site energy solutions will be easy to incorporate in the future. Gensler collaborated with Adobe and Atelier Ten on key energy efficiency strategies, such as a high-performance envelope designed to reduce glare and maximize daylight and comfort while reducing the overall energy use of the building by 40% compared to similar buildings.
A HIGH-PERFORMANCE, ALL-ELECTRIC BUILDING
SLIDESHOW — 3 IMAGES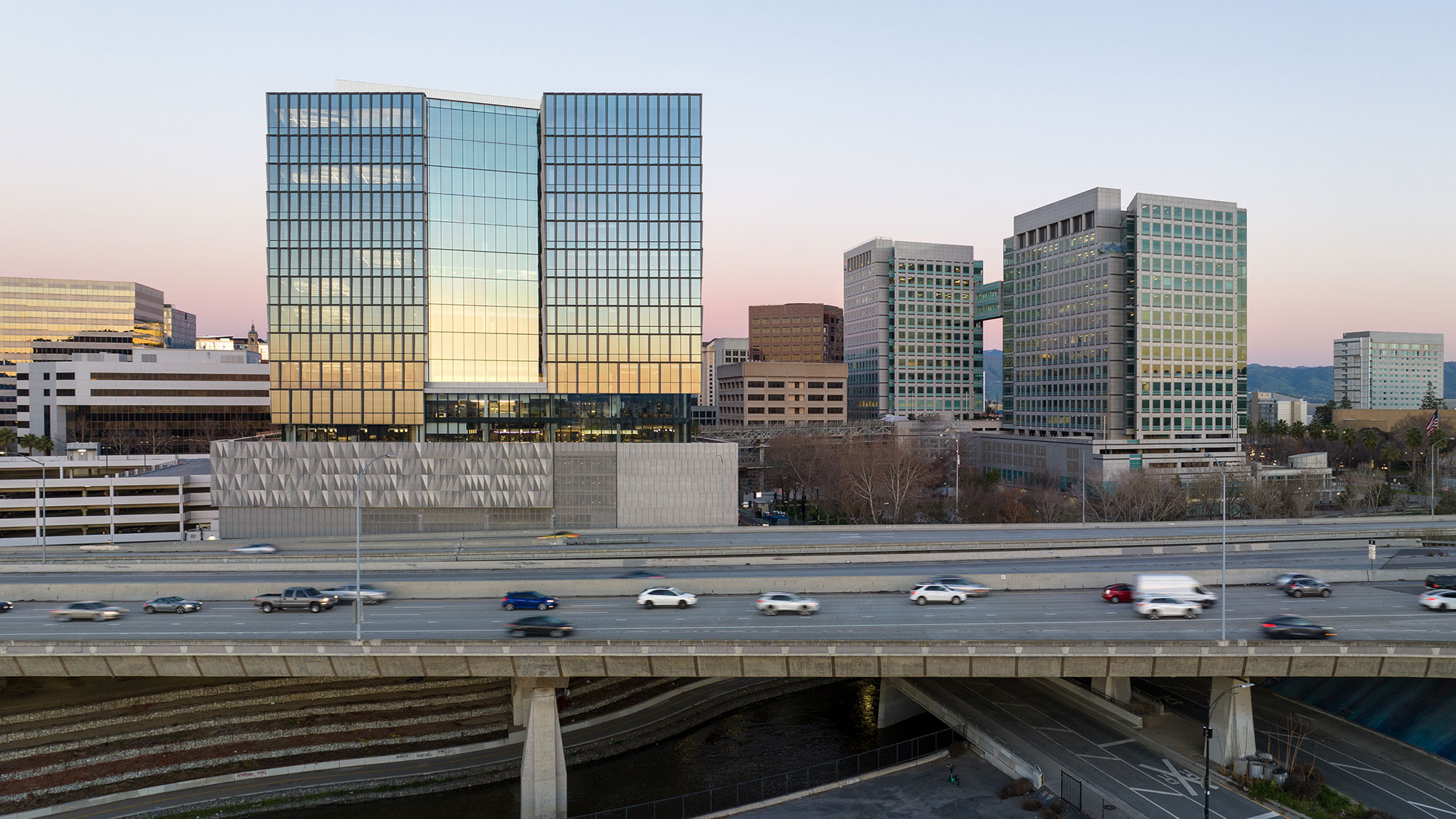 Bringing the brand to life through color
Adobe's brand DNA is knitted through the 18-story building's fabric through the use of color. We collaborated with Laura Guido-Clark Design to define Adobe's qualities and values to be expressed through Love Good Color®, her color tool and methodology that fuses science with the senses. Bright, colorful "strands" are visible from the exterior to signal Adobe's purpose and desired emotive responses. The orange strand designates social areas, such as hubs and all-hands meeting rooms, to create a sense of belonging, connection, and community; green is used for collaboration rooms and is intended to evoke a collaborative, inclusive approach to teamwork; and blue instills a sense of refresh, with intentional spaces for focus and respite.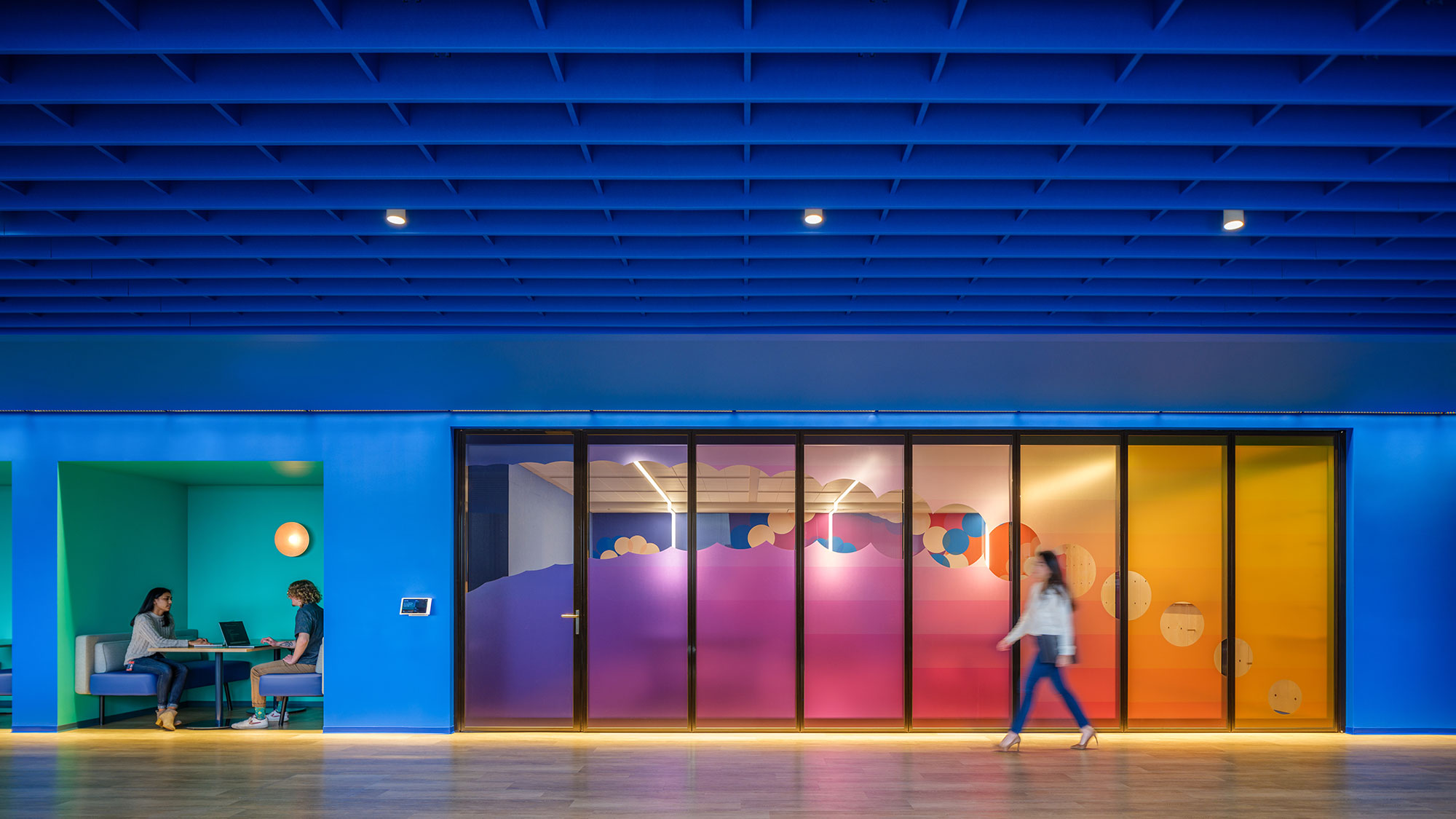 Adaptability, future resilience, and choice to support new ways of working
The building is adaptable, with a raised floor system and flexible, multi-use spaces to respond to shifting technologies and future ways of working. The Tower supports a highly collaborative workforce with a variety of work points throughout the building that empower teams and individuals to adapt their environments to do their best work.
Gensler's Workplace Survey research found that providing employees with choice in how and where to work plays a significant role in space effectiveness and the work experience. In fact, 88% of office workers in the highest performing workplaces have choice, according to our latest research.
Early on in the pandemic, the design team and Adobe realized that teams would be working differently. We created neighborhood configurations on each floor to meet various teams' needs, such as a double-height projection space for smaller all-hands meetings, co-work/collaboration tables, and movable white board space with AV capabilities for smaller work sessions and work points. Additionally, we created "adventure rooms," such as a podcast room, VR room, meditation room, craft room, and music room.
COLLABORATION SPACES
SLIDESHOW — 5 IMAGES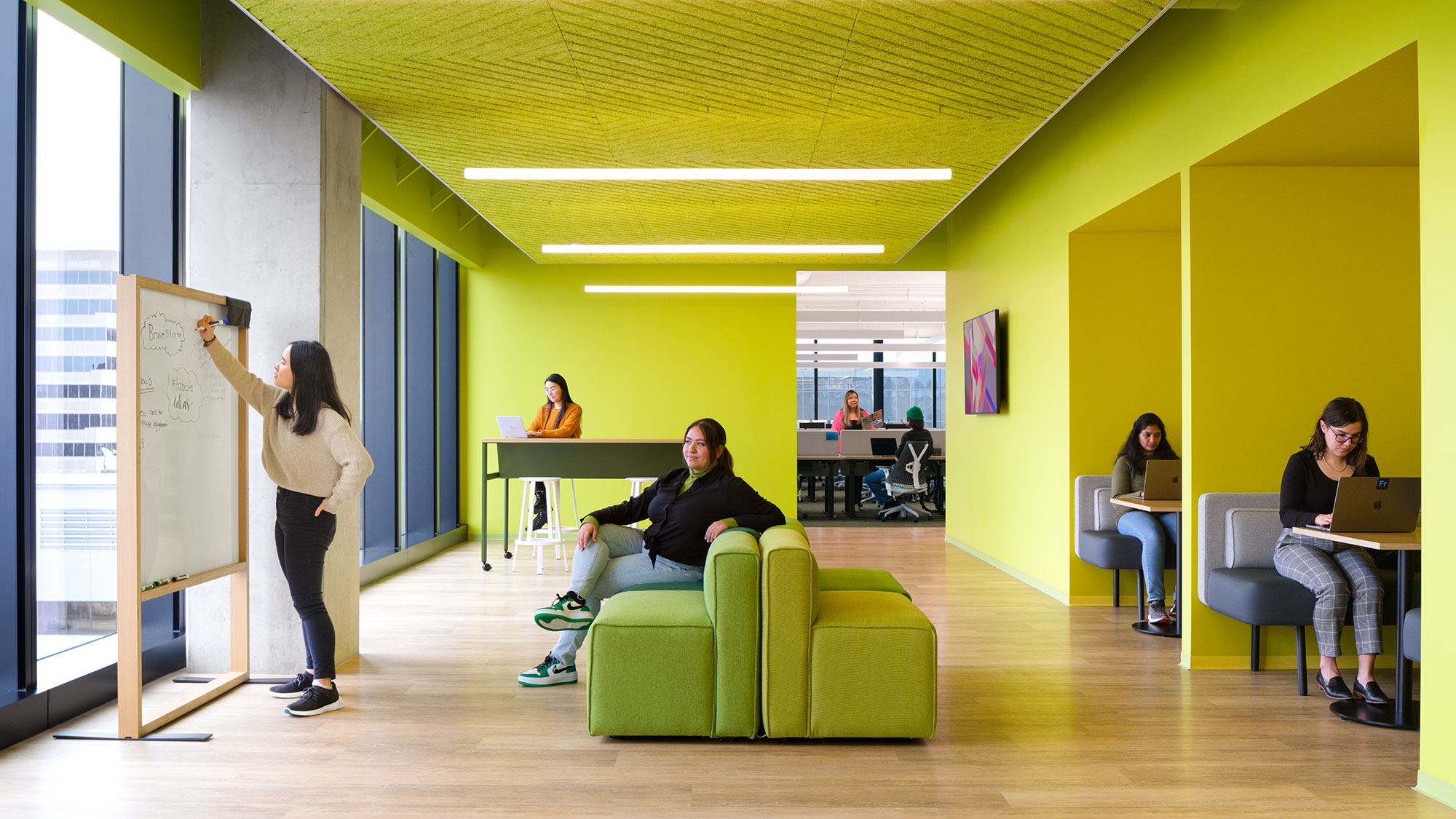 Transparency brings the inside out
The main connecting element of the building, dubbed the 'strand,' ties the building together as a series of double height spaces, which are the main social spaces within the building. The color-changing interior thread represents Adobe's love of color and community while connecting Adobe's thriving culture with the rest of the campus and the city of San Jose. The highly transparent areas of the glass façade bring out the color and activity of these spaces, allowing the community to see into the workspaces inside, and the façade system was designed and tuned to negotiate comfort for employees, cost, and operational energy.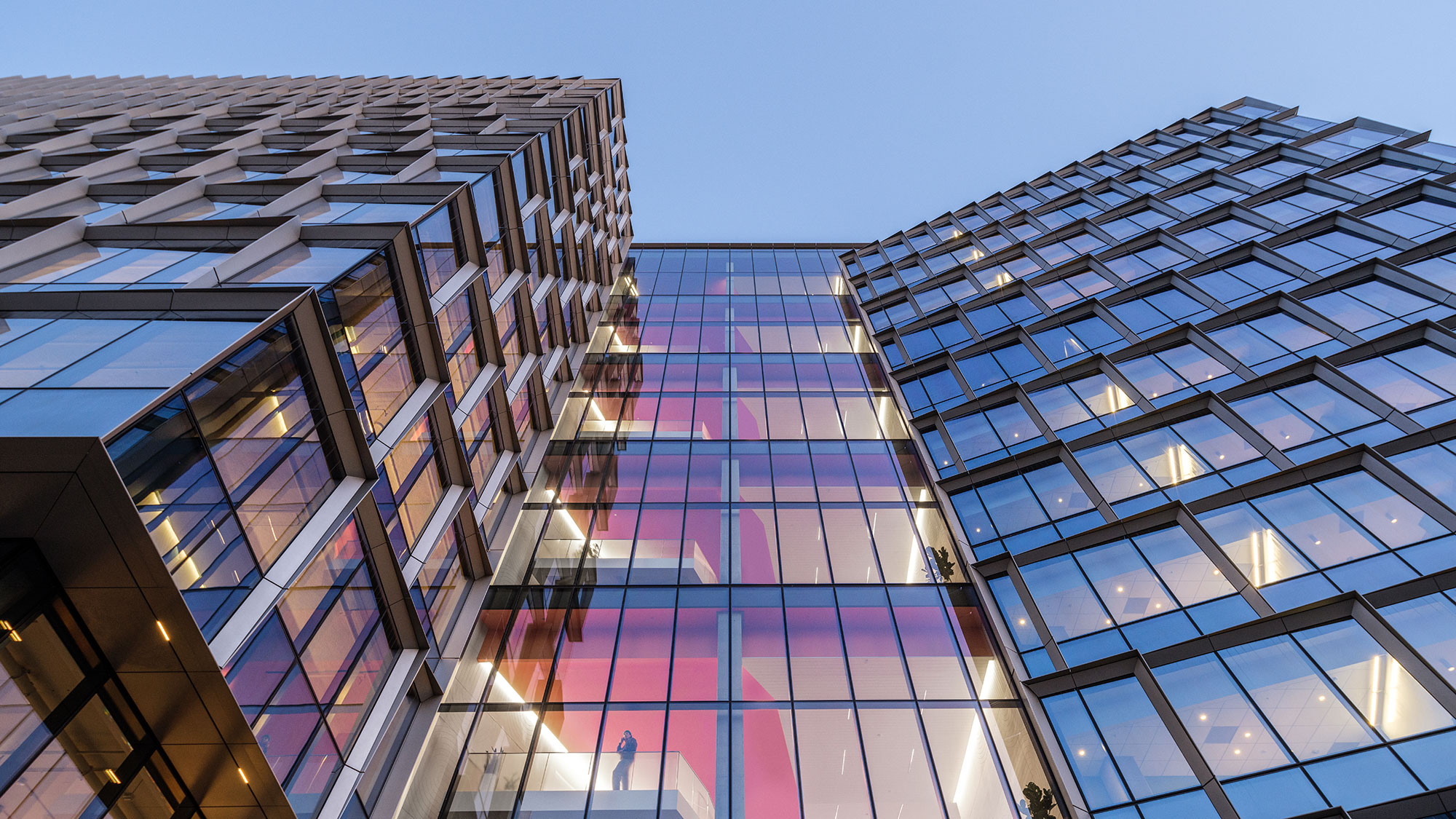 Connections are a catalyst for creativity
Inside, strategic placement of spaces and circulation provides greater opportunity for casual collisions and spontaneous interactions, such as the double-height social hubs that connect pairs of work floors. With larger gathering spaces linked by a series of interconnecting staircases, the building creates a catalyst space for Adobe's creative community.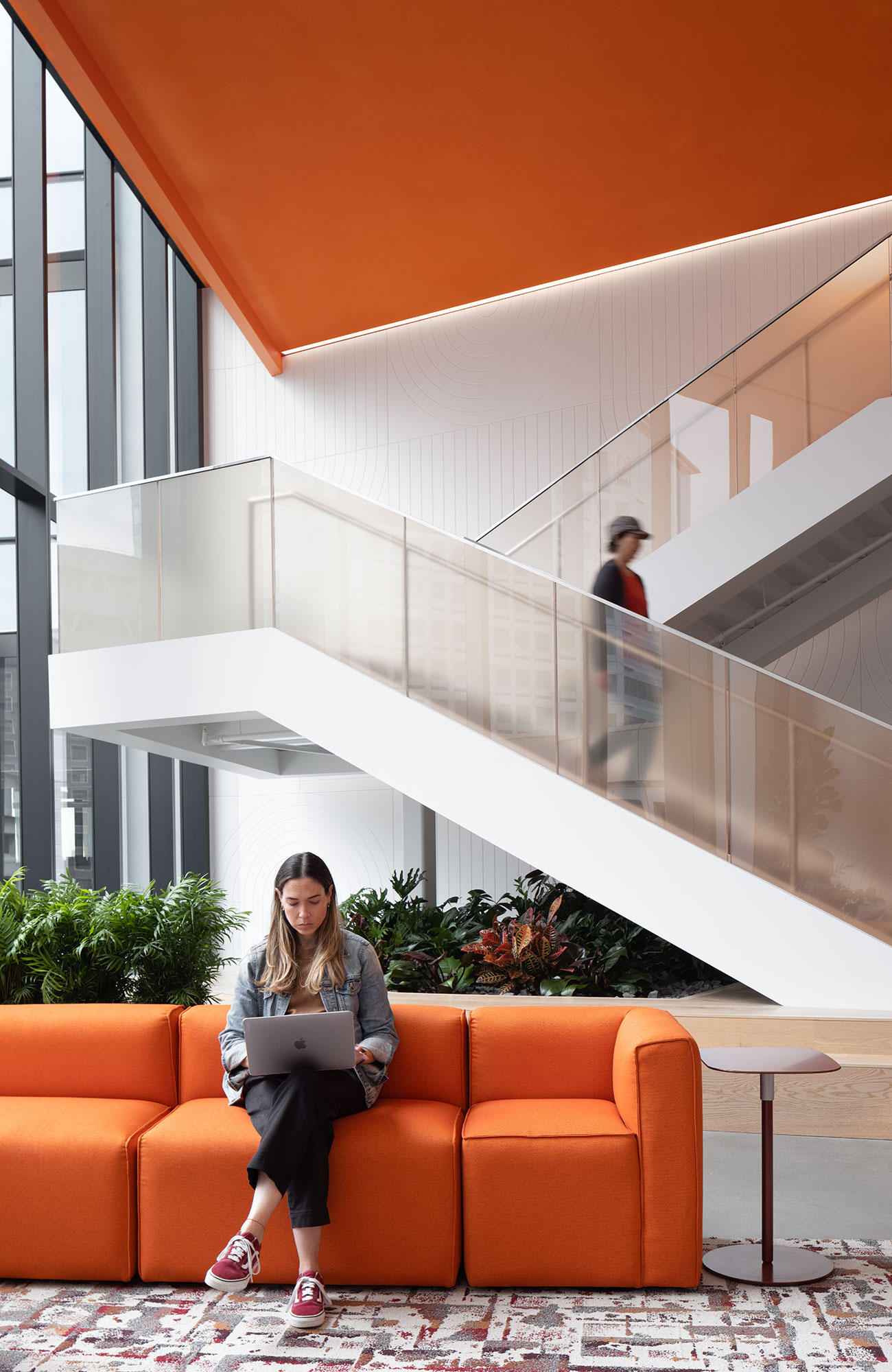 Curated amenities that bring convenience and choice
Various communal spaces and food & beverage amenities throughout the building have a warm, curated feel, including a food hall, coffee bar, lounge spaces with coworking, and private dining area. Providing unique spaces and authentic cuisine is not new for Adobe, and creating spaces that their employees need rather than just want — such as a convenience pantry with hot food and small groceries — is key to making the office a compelling destination.
Adobe views food as an enabler of community and connections, and this extends to the ground floor experience, where staff and visitors can experience the culinary artistry from Adobe's commissary kitchen, as well as coffee shop, Creative Grounds, which will be open to the public in the coming year.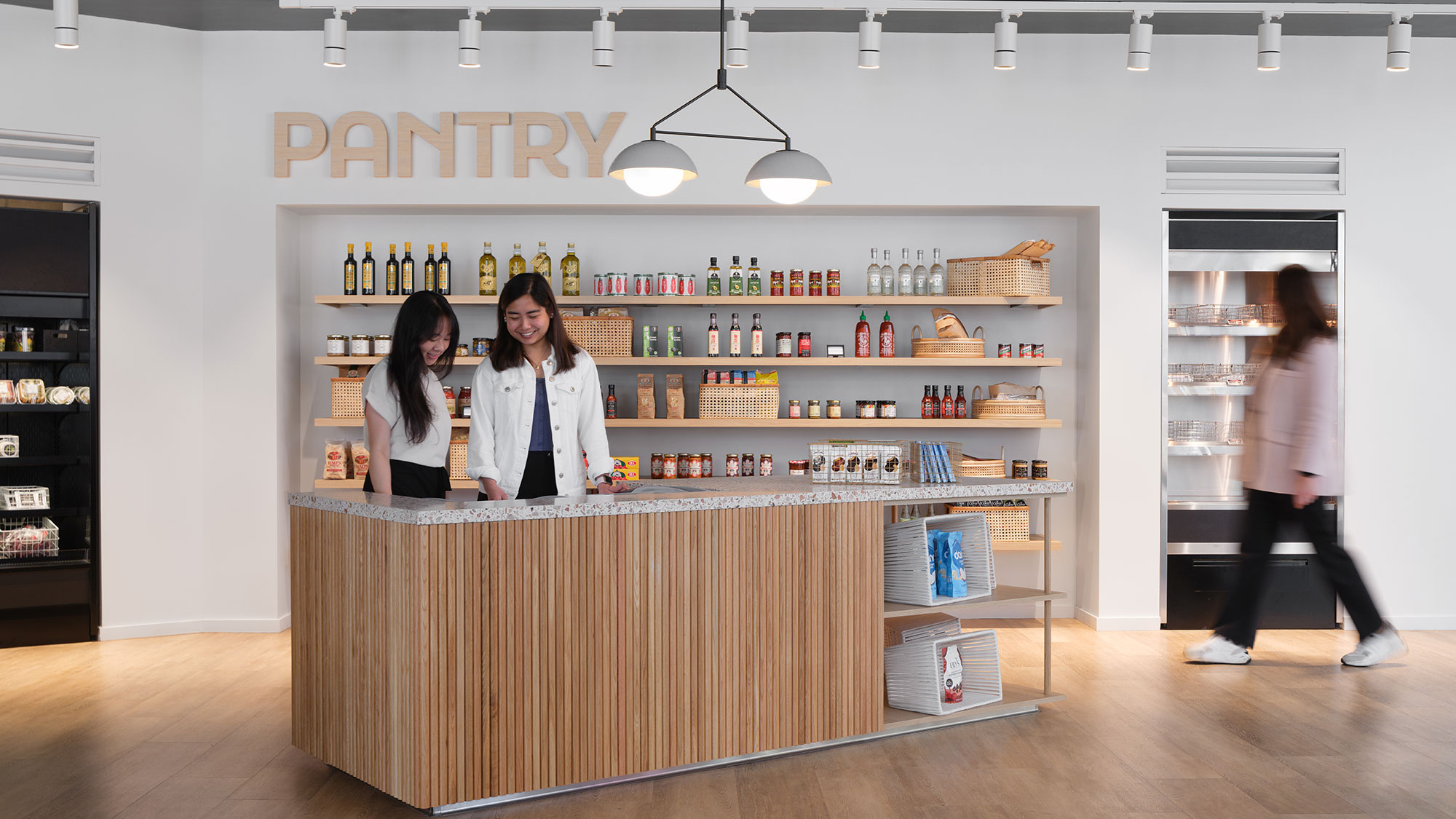 Going beyond ADA
Founders Tower is designed to go beyond minimum requirements for American Disabilities Act (ADA) standards for accessible design. Through the design's purposeful attention to biophilic patterns, equity in planning, and color theory, the space fosters diversity, equity, and inclusion.
We began by planning for ease of movement, creating three equal work bars (a series of neighborhoods comprised of work points, desks, collaboration spaces, and meeting rooms that are linked together) and ensuring that movement from one work bar to the center of the floor, where the restrooms, elevators and hub are located, would be the same. We also widened walkways and lowered bar height counters to be more accessible. A pedestrian bridge, currently under construction, will connect the new tower to Adobe's existing campus and make it easily accessible to employees.
By rounding the corners of some hallways, as well as millwork, we created a more human-centered, approachable design, since rounded corners are psychologically associated with a sense of safety, approachability, and friendliness. We designed various 'nodes' to support the inclusion of neurodiverse individuals through the division of team, learning, and restoration spaces. Additionally, we decided to forgo high contrast colors, to avoid vertigo, unless at a required floor transition.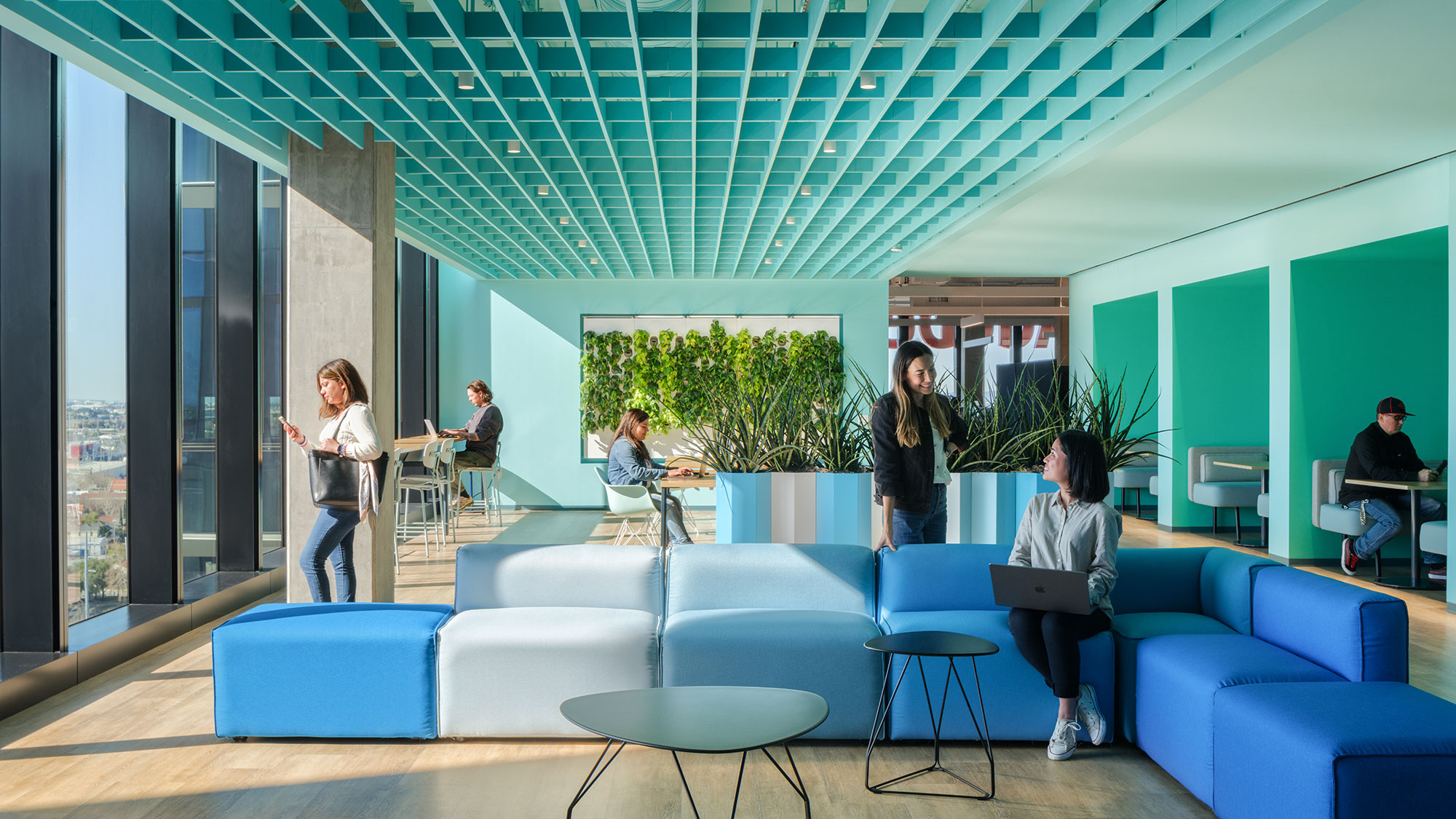 A focus on wellness, biophilia, and inclusivity
Access to natural light, daylighting, and biophilia were major factors in our planning and design approach. Gensler collaborated with Atelier Ten on the natural light and daylighting strategies. Through biophilic design patterns and incorporating plants, sounds, and dynamic and diffused light, various spaces within the building aim to connect people to nature. In addition to ample daylight and views, the building has diverse spaces for employees to relax and recharge, including an outdoor terrace, wellness room, meditation room, and a library for deep focus and quiet space.
Opening up to the community
Befitting a company that powers creativity and digital experiences, Founders Tower is infused with artistic and immersive experiences. A community of artists from Behance and Adobe Stock are showcased on digital art columns by our Digital Experience team in collaboration with Float4, powered by Adobe Experience Manager. Unique art installations designed by incredible local artists adorn the building as an homage to the rich diversity of the City of San Jose.
Tying it all together is the Adobe Experience Museum, a public showcase of Adobe's values, mission, products, and community focus that engages visitors with immersive experiences.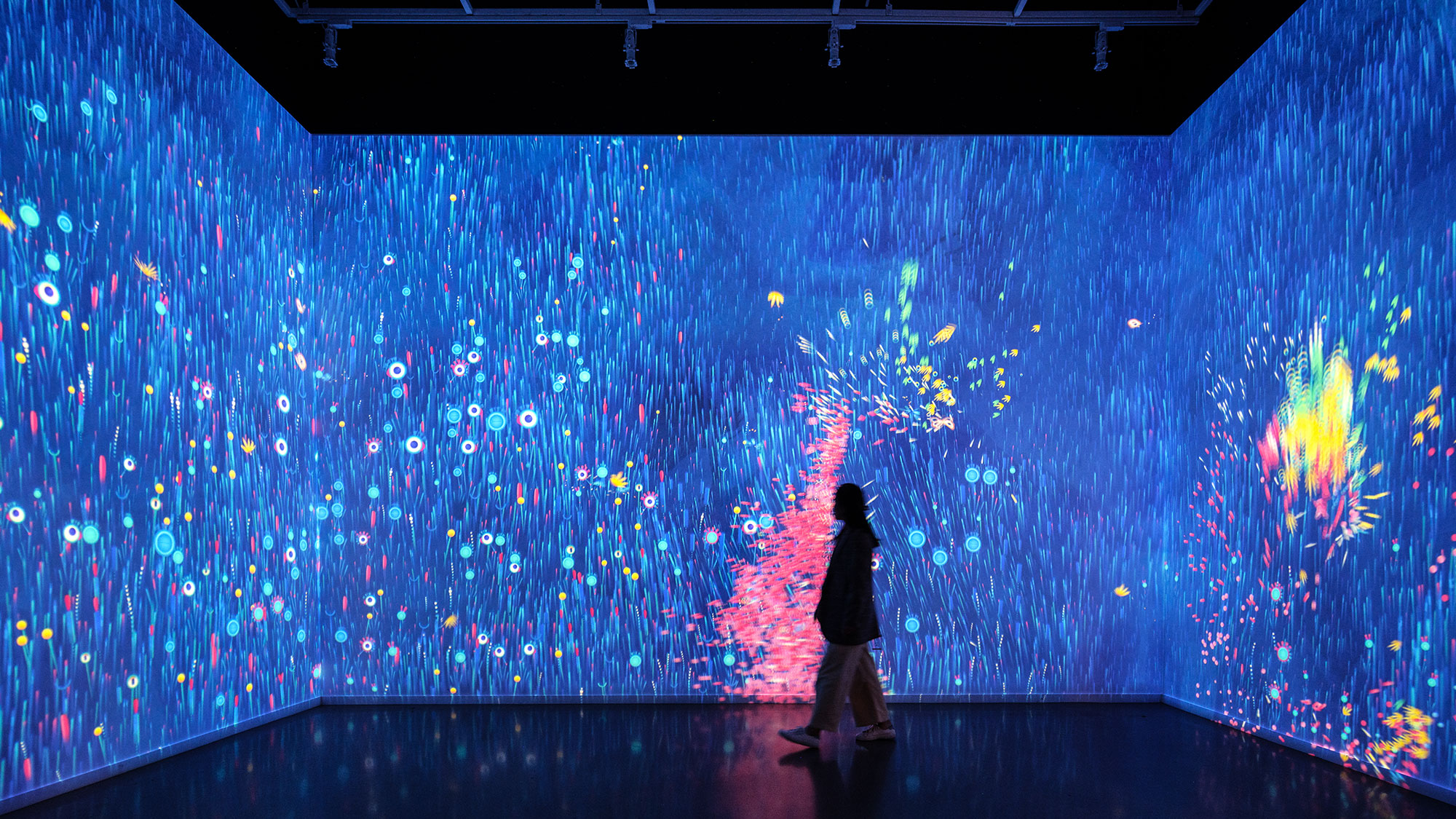 As companies look to reinvent the office, Adobe's Founders Tower is a model for the future workplace — one that drives creativity, embraces sustainability and inclusivity, and empowers teams and individuals to adapt and choose their environments to do their best work.
For media inquiries, email .