How Inclusive Design Supports Resilience and Climate Preparedness
April 01, 2022 | By Gail Napell
As the world grapples with the threats of climate change, inclusively designed spaces and places are a key strategy in providing resilience — the ability to recover quickly from shocks and stresses — within the built environment. Climate change creates both shocks and stresses to individuals, businesses, communities, countries, and the entire planet. Inclusive design — design for all people that incorporates design solutions that meet needs related to gender identity, race, ability, age, neurodiversity, socioeconomic status, and culture — increases resilience at all these scales.
Now, in a time where designers are using this moment to reimagine the future of spaces and places, we have an opportunity to design places that are inclusive for all people that can also promote resilience and make preparedness more accessible in the face of natural disasters and other climate change events.
Here are five inclusive design strategies that can bolster resilience and support climate preparedness:
1. Design for Access
Design so all people can access, exit, and use a space independently. This is also known as "Body Fit," or accommodating a wide a range of body sizes and abilities.
The upshot: Designing for access, or Body Fit, ensures that everyone can quickly and independently get to a space (if it's the safest place to be in a disaster) or leave the space (if it's not the safest place to be in a disaster), and can move around in it to find the most comfortable location to weather the shock or stress, be it storm, fire, or extreme temperature.
Strategy: Design entrances, exits, and vertical transitions where possible for independent travel by all users without power. This also allows emergency services and easy transport of supplies.
Example: For NCR Global Headquarters in Atlanta, an executive briefing center uses a ramp for all people to transition vertically between spaces.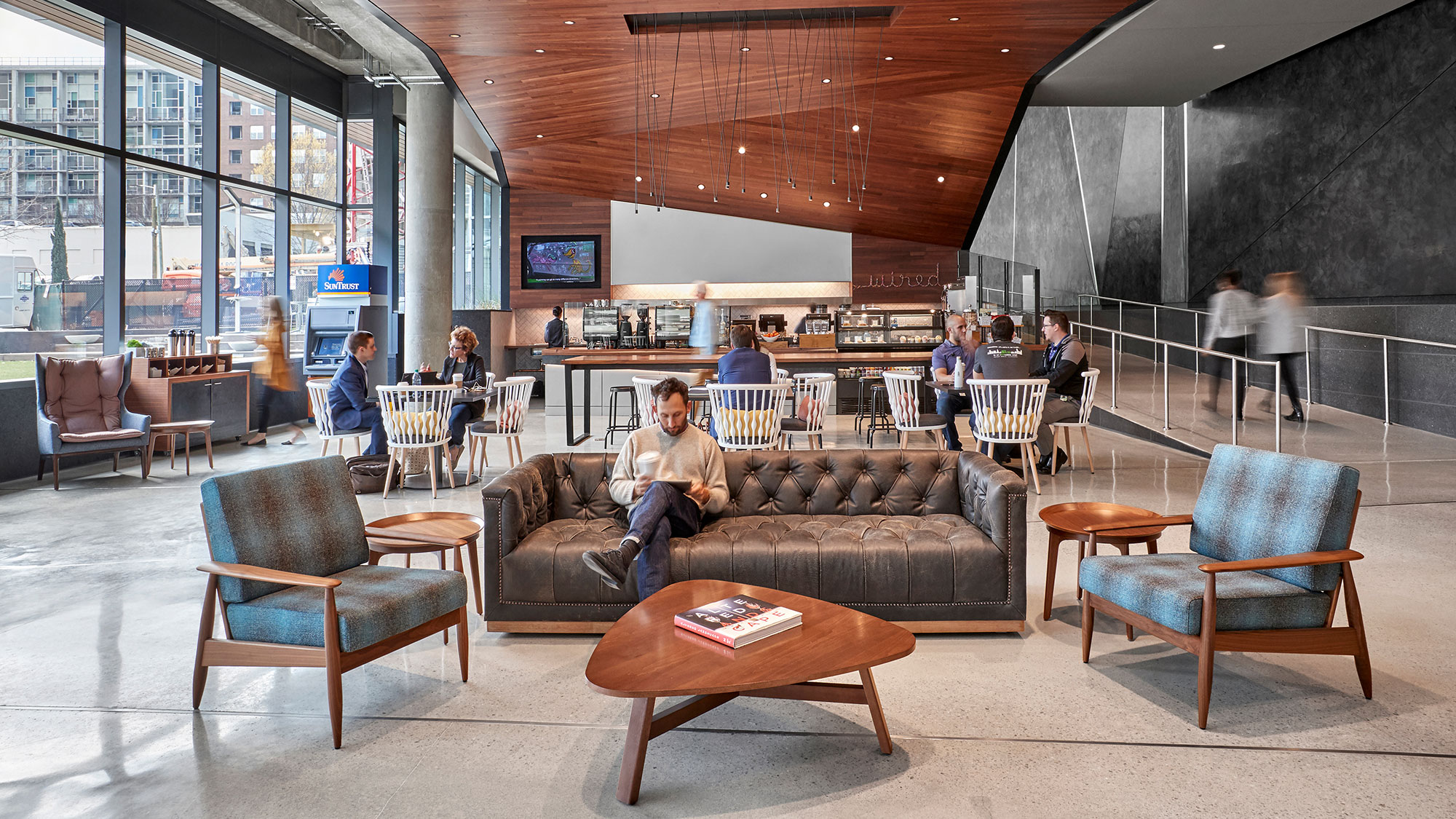 2. Design for Passive Survivability
Design to ensure that light, air temperature and quality, and noise are controlled primarily by form, not by powered systems, to provide comfort and wellness in shock and stress events.
The upshot: Spaces are designed for comfort to the greatest extent possible even during blackouts and brownouts.
Strategy: Use passive design strategies — orient buildings to use daylight, reduce solar heat gain, harness beneficial breezes, moderate extreme external temperatures with thermal mass, and create programmable sheltered outdoor spaces.
Example: For Houston Advanced Research Center (HARC), glass-enclosed offices and operable windows maximize access to daylight and fresh air, while on-site renewables, including geothermal energy and photovoltaic rooftop panels, help the project achieve better than net zero energy performance.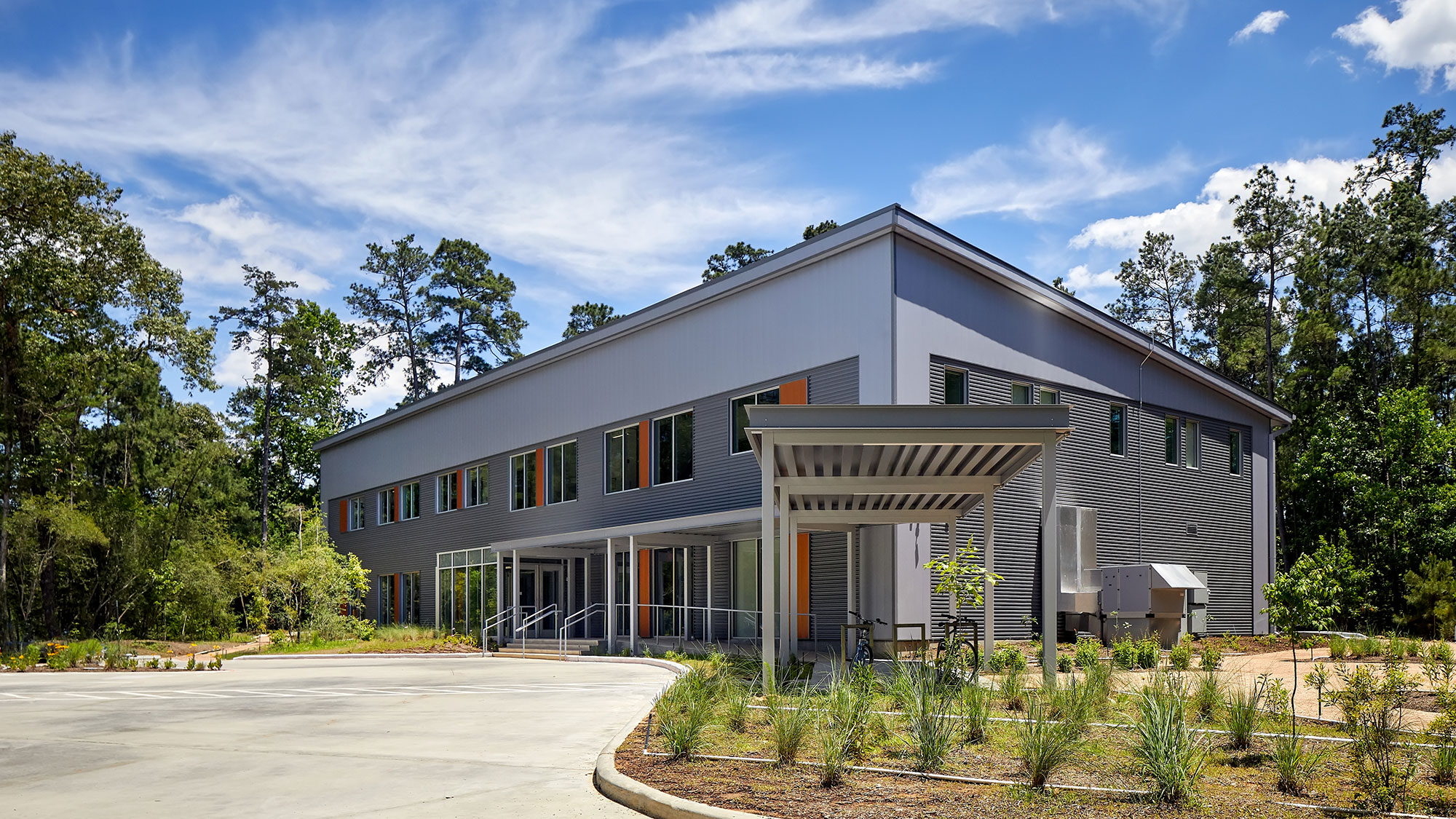 3. Design for Awareness
Design to ensure that the built environment provides information about the space around us, helping us to interpret, organize, and evaluate how we use it.
The upshot: Awareness of where you are is the first key step to knowing if you are safe staying put or need to relocate.
Strategy: Clear landmarks and intuitive wayfinding to, in, and around buildings and spaces.
Example: Gensler designed new workplace spaces for two buildings at a confidential high tech client's campus with an architectural language that acknowledges people's innate needs to connect to natural light, shapes, and forms. The idea of topography is conceptualized in intuitive wayfinding and graphics.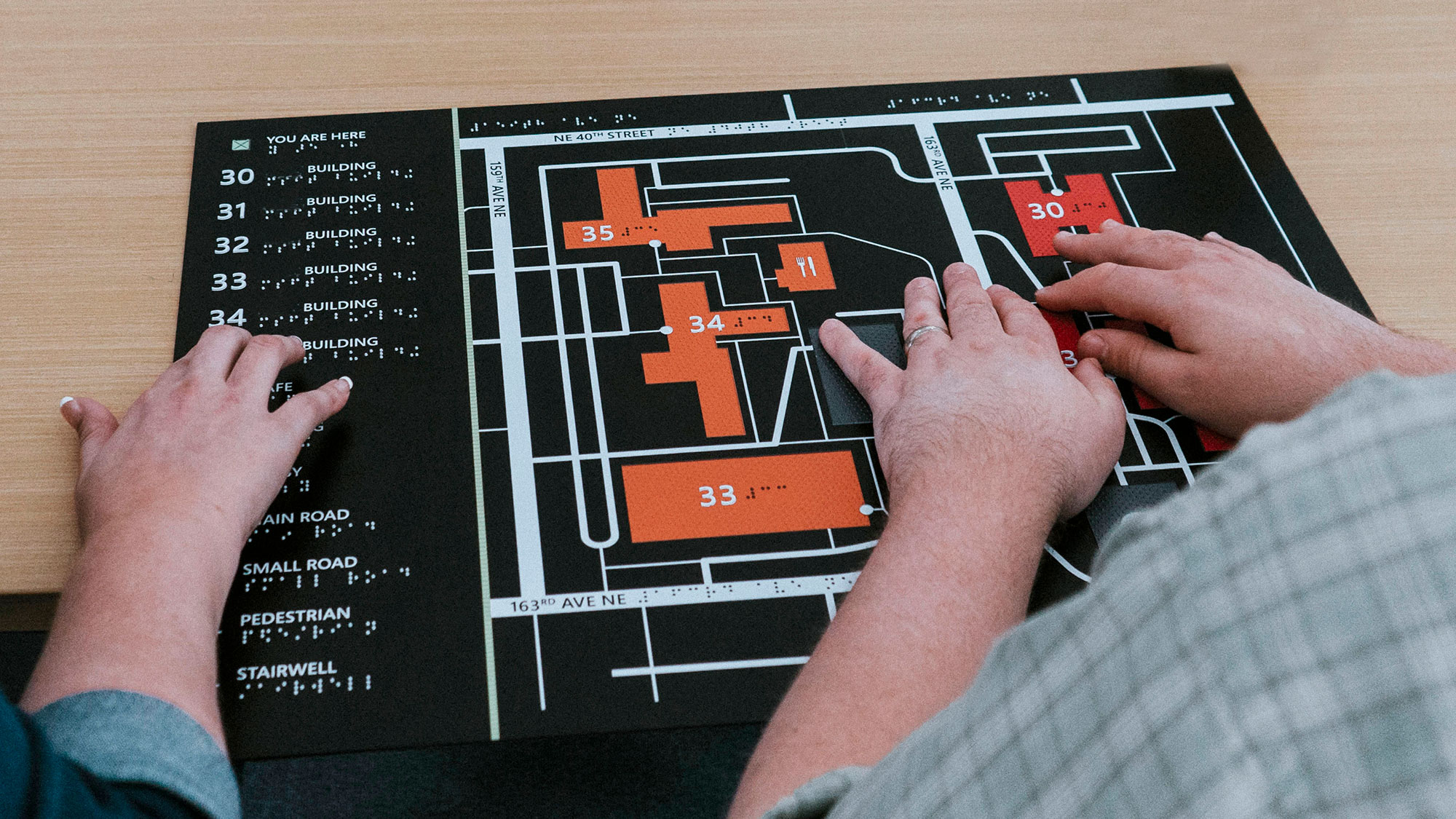 4. Design for Understanding
Design for understanding ensures that we know how to use the built environment around us — and we can use it during a shock or stress event.
The upshot: The ability to instinctively know how to interact with the built environment to provide enhanced safety and comfort in a shock or stress.
Strategy: Simple controls that are obvious and easy to use, such as the ability to open or close windows and doors, to activate back-up power systems, and to connect with people outside your building or area.
Example: Gensler designed a Single-Motion Unlocking Door Pull, where sliding the door open from the inside simultaneously releases the bolt and thumbturn. This life safety, ADA-compliant hardware facilitates simpler, quicker exiting.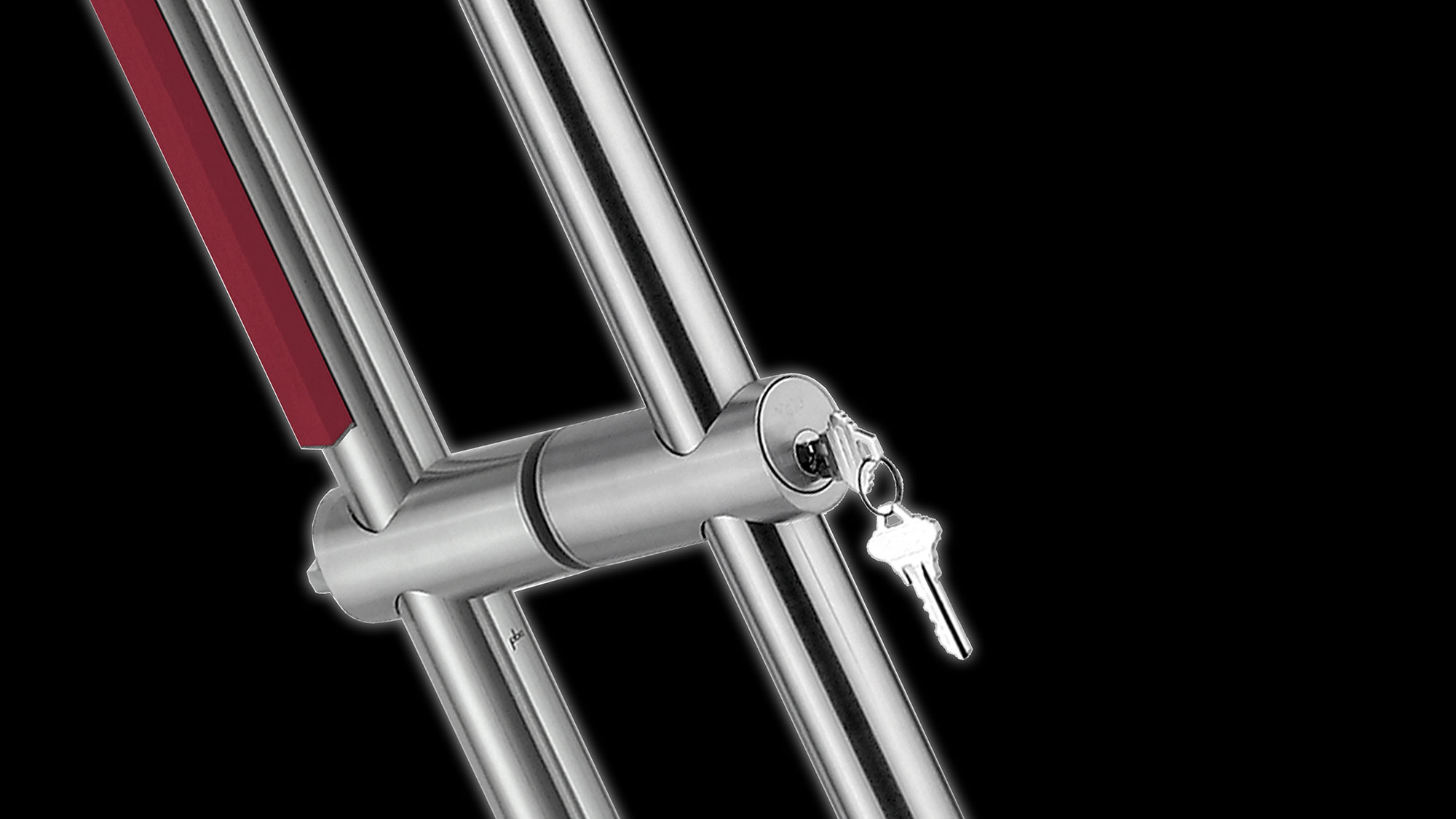 5. Design for Social Integration
Design for social integration ensures that all people can be together because spaces are designed for all.
The upshot: When everyone can use a social or gathering space, all the brainpower and muscle power can work together to cope with the situation and strategize actions in a shock or stress.
Strategy: Design spaces with fully accessible storage, counters, and furniture.
Example: LinkedIn's Omaha campus creates an inviting, inclusive space for employees to connect with global teams with an emphasis on movement, neurodiversity, fresh air, access to light, and a host of supportive new space types, such as respite rooms, a "watering hole" concept, and a community-focused events space that connects employees with local non-profits.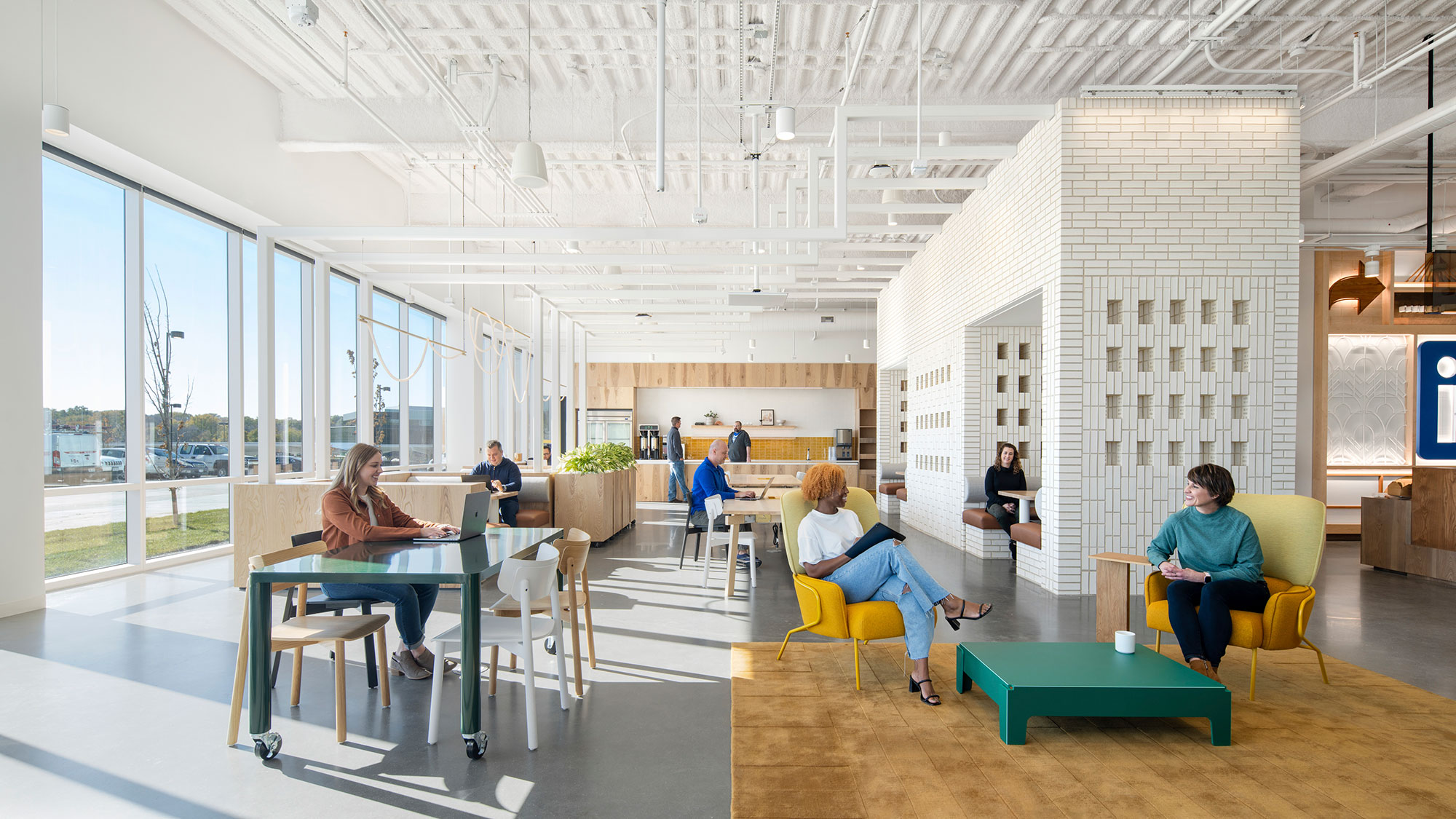 Inclusively designed spaces and places provide resilience during shock and stress events by supporting the independence and capabilities of all occupants. Resilience at the individual level is essential to resilience at the community and global level, and we can support that in the spaces we build.
For media inquiries, email .