What Urban Residents Say About COVID Variants, Wellness, and Cities
December 10, 2021 | By Sofia Song, Stephanie Benkert
People around the world have been dealing with the effects of the pandemic — and the uncertainty that comes with new variants of the virus — for nearly two years. The Gensler Research Institute conducted our recent Gensler City Pulse Survey of 7,500 residents in 15 global cities from Sept. 7 to Oct. 15, 2021. During this time, before Omicron, the most recent variant of concern, urban residents were navigating the Delta variant and weighing the effects it (and the pandemic as a whole) has on their personal lives, wellness, and urban environments. Our data illustrates how city residents continue to be affected by the pandemic and their visions for the future of their cities.
Residents are anxious about the impacts of variants of concern.
Globally, COVID-19 is still a concern for the majority of people, with 65% worried about contracting the virus. At the time of our survey, residents of Mexico City were the most worried — with 88% of respondents expressing concern — while Paris is the only city where less than half of residents were worried about catching the virus.
City residents also expressed concern about the impact of variants on their personal lives and their city's economy. More than two-thirds (68%) expressed anxiety about the impact of future variants on their personal lives, and 69% were concerned about variants' impact on their city's economy. Here again, we find that Mexico City and Paris are at the opposite ends of the spectrum — over 80% of Mexico City residents expressed concern about a COVID-19 variant's effect on their personal life and city's economy, while only 48% of Parisians share the same concerns. However, Shanghai — which has been vigilant in quelling local COVID-19 outbreaks and has been relatively open for the majority of the pandemic — has the least anxious population when it comes to the future of variants, with only 41% worried about its impact their city's economy and 44% worried about their personal lives.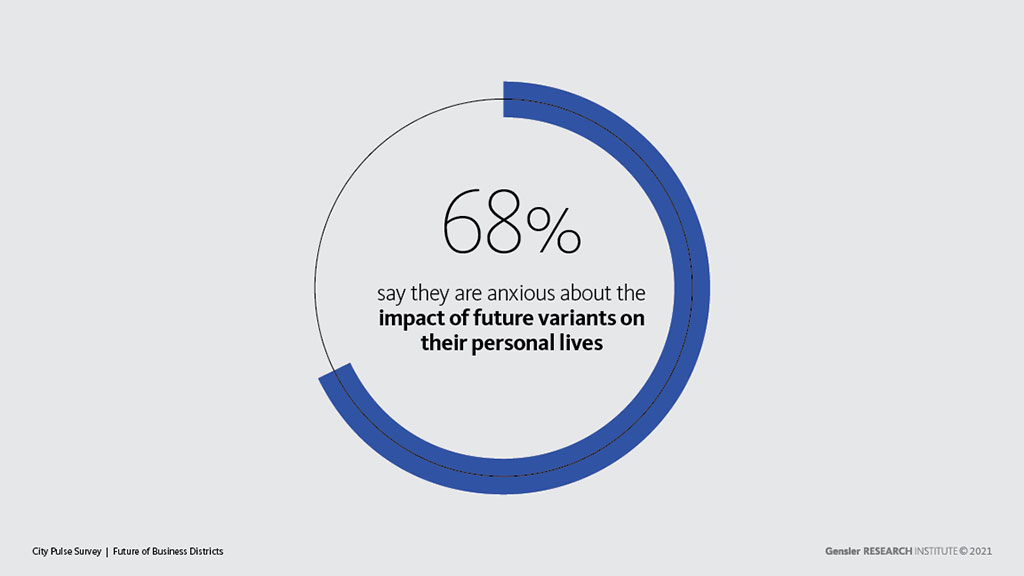 As we look at who is worried about the variants' impact on their jobs, it's interesting to note that those with the least job flexibility are also the ones least concerned about their employment. While 55% of those who can work remotely said they are worried about the impact of future variants on their job, only 37% of those who cannot work remotely reported the same fear. However, residents with less financial security or with dependents to support — families with children, those with roommates, and multigenerational households — were much more likely to express anxiety about their job with future COVID-19 variants than couples and those who live alone.
Generationally, those at the end of their careers said they weren't worried about the virus impacting their jobs — likely because they are nearing or have reached retirement — while the rest of the workforce — nearly 60% of Millennials, Gen Z, and Gen X — reported concern. Lastly, when we looked at U.S. cities, Latino and Asian respondents were most likely to worry about the impact of future variants on their job.
Health and wellness continue to be top of mind.
In each of our cities, the pandemic continues to take a toll on people's health. Nearly half (39%) of respondents said that their mental and emotional health has deteriorated, compared with just 28% who said it has improved. U.S. cities reported a larger decline in mental health than non-U.S. cities — with 42% of U.S. city residents reporting a decline compared to just 35% in non-U.S. cities. Even Mexico City residents — who reported the most worry associated with catching COVID-19 and its impact on their lives — show less decline in mental health (36%) than the average U.S. city.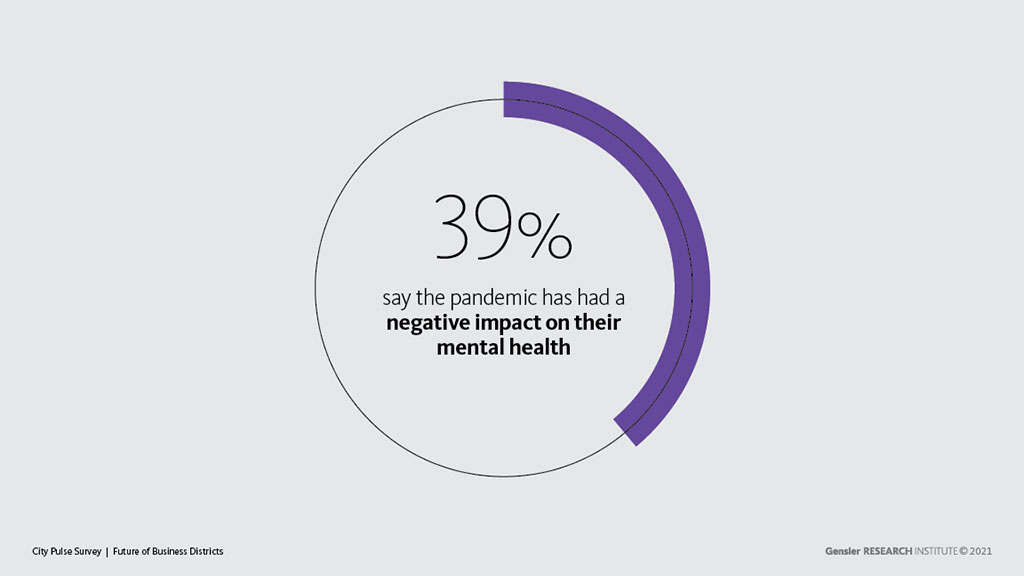 While mental health has declined for many residents, there are signs of optimism. Across the globe, more residents reported an improvement in their exercise habits, eating habits, and overall health. Globally, 42% said their exercise habits have increased — compared with just 28% who reported a decrease — with Atlanta, Mexico City, and Shanghai residents showing the greatest increase (53%, 55%, and 65% respectively).
Across our 15 cities, 34% said that their eating habits have improved due to the pandemic (compared to 28% who say they've worsened) and 35% said their overall health has improved (versus 28% who say it has worsened). Here again, Atlanta, Mexico City, and Shanghai reported the largest improvements among the surveyed cities, with 68% of Shanghai's residents reporting an improvement in eating habits and 60% showing improvement in overall health. Atlanta and Mexico City are close behind — with 53% and 52% of residents, respectively, saying their eating habits have improved, and 48% and 47%, respectively, reporting an overall health increase.
The upside: urban residents are resilient and planning for the future.
Considering how the pandemic continues to sow uncertainty that clearly takes a toll on people's mental health, we would expect to see it top of mind for residents overall. However, when asked about policy improvements to their downtowns going forward, none of our cities chose reducing COVID-19 safety concerns as their top priority.
Similarly, as we look across generations, Baby Boomers were the only group to rank this in their top three list of concerns. Regardless of the worry surrounding COVID-19 and its variants, city residents seem to have become accustomed to living with the uncertainty and are, instead, prioritizing other pressing matters — such as safety, homelessness, and climate change.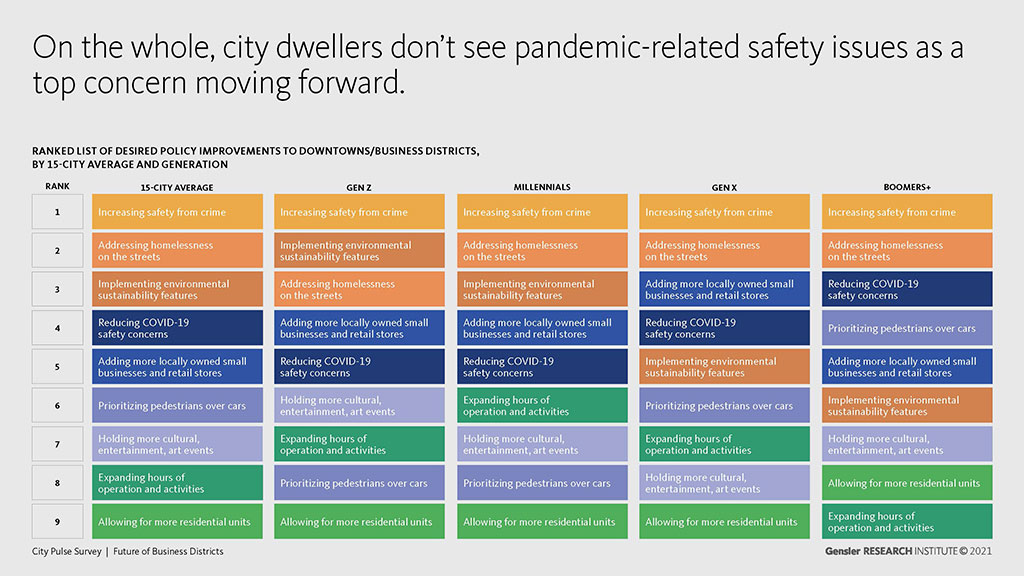 As the pandemic continues and new COVID-19 variants inevitably emerge, we are finding our city residents feeling uncertain (and sometimes fearful), but they're also resilient and planning for the future. The virus continues to be a threat, but one that they are learning to live with. Cities can — and must — continue to adapt with their residents to meet the evolving "new normal."
For media inquiries, email .