How Smart Mixed-Use Environments Can Redefine Urban Spaces
April 11, 2023 | By Christian Lehmkuhl
Single-purpose, single-use buildings or districts are no longer sufficient to cater to the varied needs of today's audiences who have new expectations from urban environments. People crave in-person experiences, but they require destinations that deliver meaningful encounters to make the hassle of dressing up, commuting, and navigating complex cityscapes worthwhile.
Mixed-use developments, when coupled with smart technologies, can deliver the meaningful experiences that consumers crave, while providing developers the data points and insights needed to constantly optimize their spaces.
Mixed-use developments can foster a sense of place, community, and belonging.
Mixed-use developments are uniquely positioned to capitalize on the new parameters set by today's consumers. By integrating cultural and commercial offerings such as sports, entertainment venues, and lifestyle brands, mixed-use developments foster a sense of belonging and shared identity.
Additionally, residential spaces are increasingly emerging as a key anchor for connected mixed-use communities that provide everything one needs within walking distance, all while nurturing a sense of place and community.
Further, in an era of soaring real estate values, developers must optimize asset utilization to remain competitive. To gain a competitive edge, lifestyle districts need to capture as much of the 24-hour consumer cycle as possible.
Equitable design is key in this pursuit. Beyond the positive social impact, tapping into various stratospheres of consumer groups is the shortest path to around-the-clock activation. In addition, the inclusion of a diverse range of people and associated offerings creates the theatrical and vibrant atmosphere that encourages patrons to linger.
Smart places adapt to user needs in real-time and optimize the consumer experience.
Amenity-rich environments have shifted from being a luxury to an absolute necessity for developers aiming to captivate their target audience. To stand out from the competition, those experiences must be perceived as meaningful and resonate on a deeper level with consumers. Curated and customized user engagement bridges that gap. Client interactions might span from the first touchpoint (often the search for a parking spot), to personalized offers and messages that extend and add value to the consumer experience.
Real-time data through sensors, IoT (Internet-of-Things), and other smart property technologies and apps can adapt to user needs in real-time and optimize the consumer experience while providing developers with data-driven insights.
Flexible spaces have long been touted as a quintessential feature of successful mixed-use environments. Their ability to be programmed and to host different functions or events is key in keeping the audience engaged and motivating the customer base to return. However, flexible spaces are often designed under a one-fits-all paradigm. Never quite fitting their temporarily adopted purpose, and limited in their capacity to transform, they can fall short on delivering the immersive experience the audience is craving. Not unlike how a peek behind a theater curtain will break the illusion and taint the experience, makeshift stages, temporary signage, and ill-fitting backdrops in a mixed-use environment can only carry you so far.
Taking the next step means to focus on 'adaptive places' that seamlessly merge digital and physical experiences, engaging all our senses and redefining the way we interact with the built environment. To truly harness the transformative power of digital technology, these immersive spaces must adhere to two fundamental principles: seamless integration and synchronized content.
Seamless integration requires that digital platforms be carefully woven into the fabric of the physical space, transcending the confines of screens and projections. The further we blur the boundaries between the realms, the more their attributes begin to merge to create a grander, more nuanced environment.
Synchronized content, on the other hand, speaks to a fully connected and orchestrated experience across all channels and media types. Singular platforms that require the user to focus on the broadcasted message are ill-equipped to capture the attention of the audience for long or truly transform the larger environment. It is the curated overlay of subtle, customized media streams that amplifies the overall experience.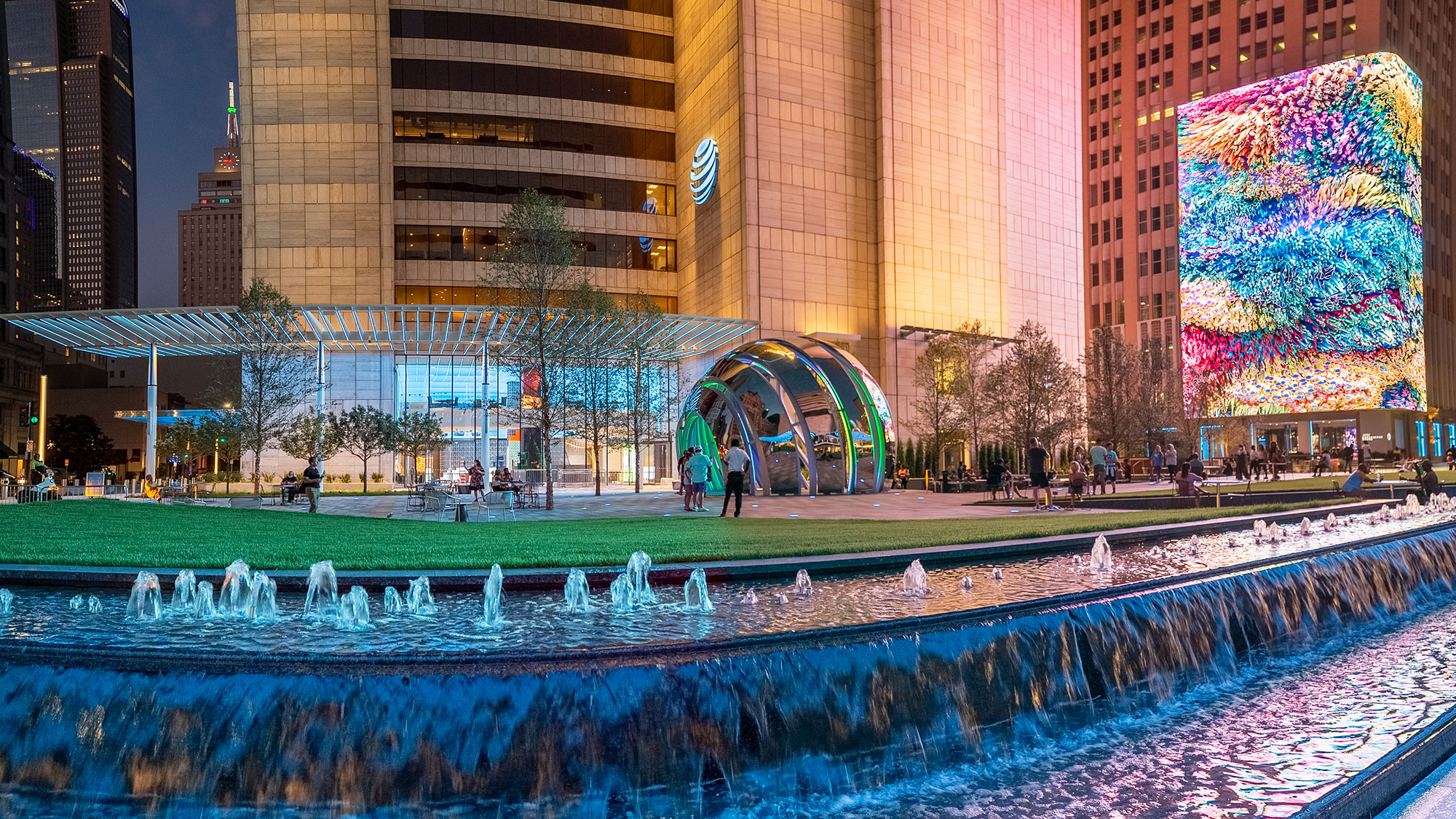 One example of a successful implementation of these principles can be found in the heart of the Dallas Central Business District with the AT&T Discovery District. Architectural elements harmoniously blend with media installations to create dynamic, versatile spaces that continually adapt and redefine themselves.
Anchoring the district is a stunning seven-story media wall that curves around one of the tower facades, serving as a vibrant urban beacon. With its ever-changing display of custom artistic and entertainment content, the media wall sets the tone and mood for each moment of the day. The Globe, a 30-foot interactive sculpture capable of rotating 270 degrees, further enhances the district's adaptability, transforming itself and its surroundings as it engages with different areas of its environment at different times of the day.
The Immersive Media Lobby at Whitacre Tower extends that transformation into the interior of the buildings, while breaking down the assumed boundaries of the corporate space and inviting to the public to explore.
Each evening, the district comes alive in a spectacular 'takeover moment,' uniting all media platforms — from ground lights to light canopies to audio — in a choreographed immersive show, simultaneously capturing an audience that includes diners, shoppers, pedestrians, workers, by-passers, flaneurs, and tourists.
Those experiences, which are personal and shared at the same time and connect us to a grander idea or community, are essential in creating meaningful and successful places.
For media inquiries, email .