What Is the Future of Workplace Amenities?
November 06, 2020 | By Sonya Dufner and Erin Saven
The pandemic has been an opportunity for companies to rethink policies around employee flexibility and when, or if, certain job functions will return to the office. Commercial office buildings will become even more amenity-centric as the purpose for the office evolves. Coffee shops, fitness centers, and restaurants are here to stay, but they will need to adapt to accommodate new social behaviors. We have already begun to see retail make shifts through technology to guide transactional experiences, such as ordering your coffee or lunch advance on an app. CEOs are realizing that a lot of these 'just in time' cues will be expected in the office, too, and are re-thinking their real estate portfolio. There is momentum to integrate service and hospitality in a new model that will bring amenities to employees, instead of employees going to the amenity.
Here are four strategies that companies, real estate leaders, and developers can implement to provide a new value proposition for the workplace experience.
1. Redefine the Purpose of the Office.
While headquarters remain largely empty, CEO's are taking advantage of this time to reconsider the purpose of their workplace. A KPMG 2020 CEO Outlook study finds 7 out of 10 chief executives are embracing remote work and they believe that it has the potential to widen their talent pool and cut costs by minimizing their real estate footprint. Although there is consensus that working from home is effective, 55% of respondents in a recent Gensler survey said that collaborating with others has also been a challenge, and there is a fear that prolonged isolation from colleagues might alter team dynamics and corporate culture. According to a Gallup study, employee engagement is most optimal when employees spend 3-4 days out of the office.
We are working with many global Fortune 100 companies that believe the reason why people will come together in the future is to collaborate, and that focus work can be done at home. Their future office will transform into an environment where the distinction between amenities and workplace is blurred. The concept is based on the assumption that their mobile workforce will demand highly-serviced spaces, which are focused on collective decision making when teams come into the office. Under this premise, spaces will need to reconfigure and scale depending on the capacity to stage events for various teams over the course of a day or week, and the company will need to take on more responsibility in terms of hosting, scheduling and operations.
The open office is shifting from a variety of space types to a collaborative, hospitality driven environment. Buildings that satisfy the need for human connection will have a competitive advantage.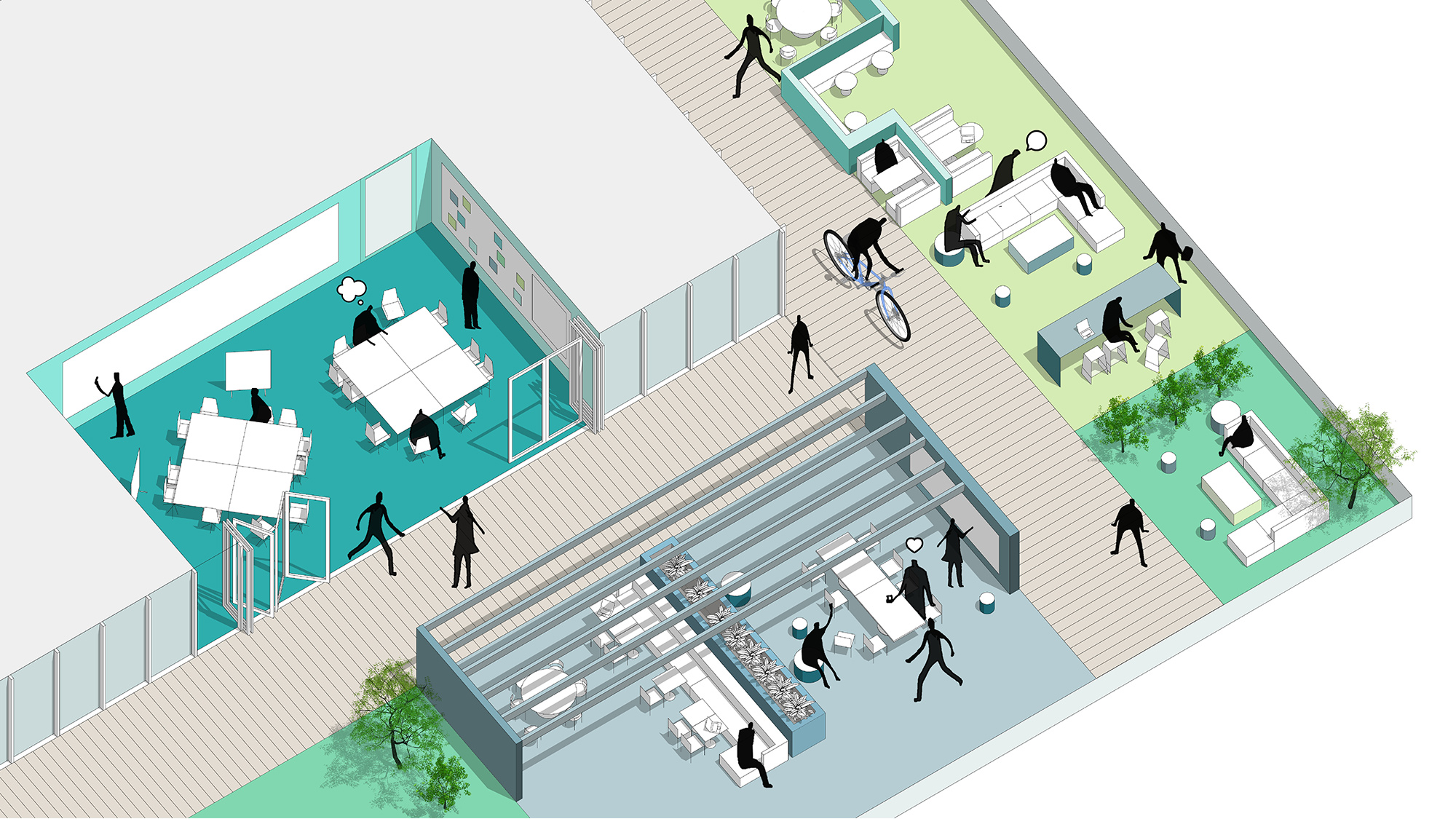 2. Activate the Ground Floor.
The ground floor has never been as in demand as it is today, and will be in the future because of access to fresh air and the outdoors, highly visible presence, and ability to spread out activities that support social distancing. Landlord or tenant owned meeting venues run by an outside operator can allow for greater flexibility. Private lobbies, or a "building within a building" are also frequently coming up in post-pandemic planning conversations. There are different ways to rethink planning from an inside-out and outside-in approach, and extend culture and activities to a plaza or the street and within the adjacent retail space.
We are working with a financial services firm that is seeking highly visible, multi-function space on the ground floor of the same building in which it is currently a tenant, to host both internal and external events with lots of food services and audio visual capabilities. The space will be operated exclusively by the client, and will serve as a brand extension of their workplace on the floors above. The design is highly flexible, as a single large townhall space for either external investor events, or divisible into separate rooms for internal functions.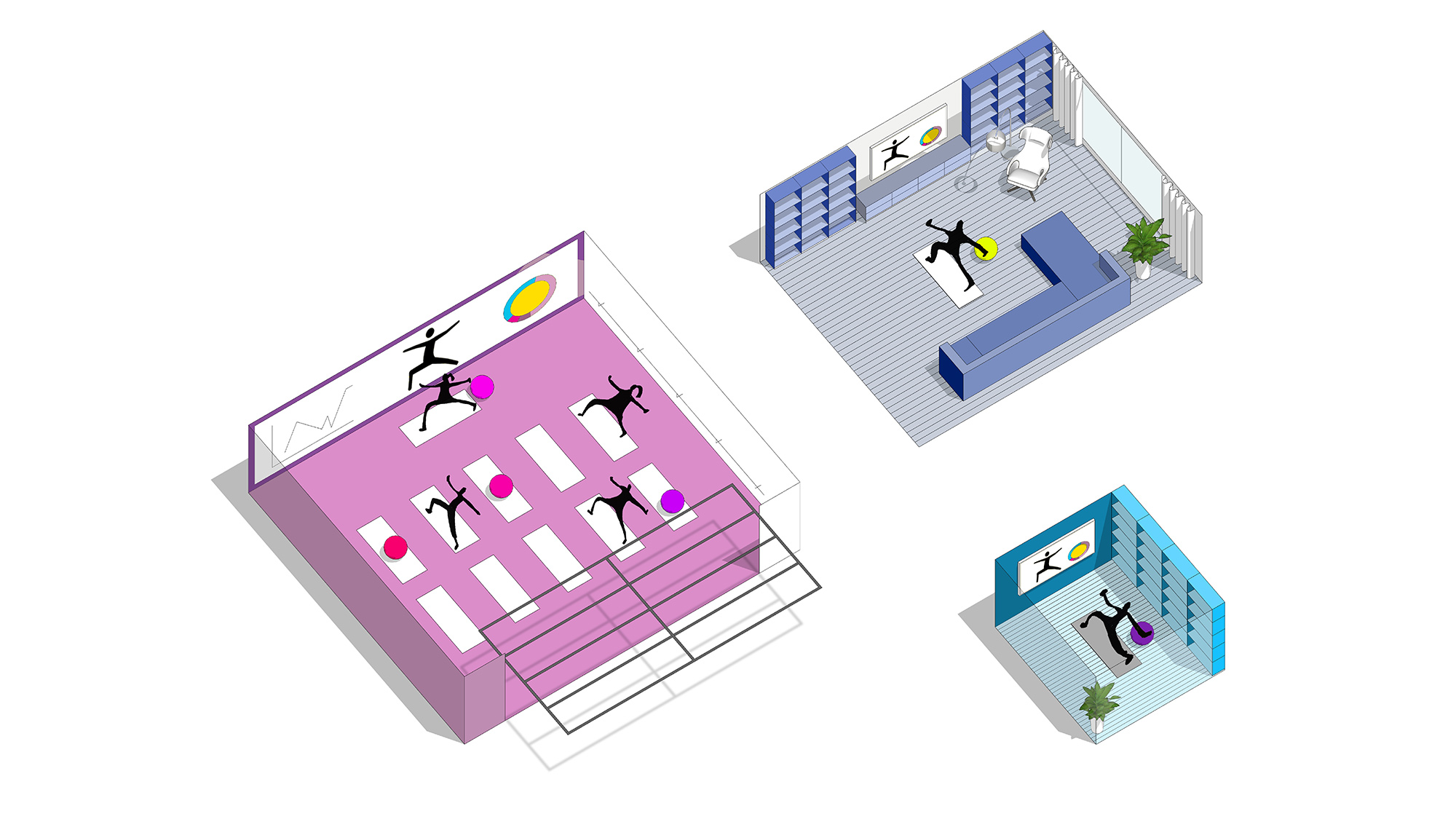 3. Instill a Hospitality Mindset.
Employees are sophisticated consumers who want the flexibility to choose where they work based on experiential conditions, and their senses have never been more heightened than during this current climate. Community and culture managers can offer a sense of control in today's uncertain world. Clear communication backed by data is important along with transparency about cleanliness protocols and real-time news. Overall, the experience should be personal and authentic and leave employees feeling as if they are guests in a high-end hotel. At Verizon's campus in Basking Ridge in New Jersey, teams are choosing to come together at their Executive Leadership and Development Center, The Ridge, versus meeting on campus. Although both environments are equally maintained, The Ridge's culture of service is an attractor that provides a level of care to corporate facilities that is comparable to how premier hotels operate and will soon be extended to the rest of the campus.
The office must not only prioritize safety, health, and comfort as a foundation, but also support overall wellbeing by reducing stress and anticipating needs. There are opportunities for programming to nudge healthy behaviors through access and opportunities, pop up areas to provide flu-shots and mental health counseling, as well as reservable small group fitness classes in the office that can be projected via Zoom to employees that are working remotely.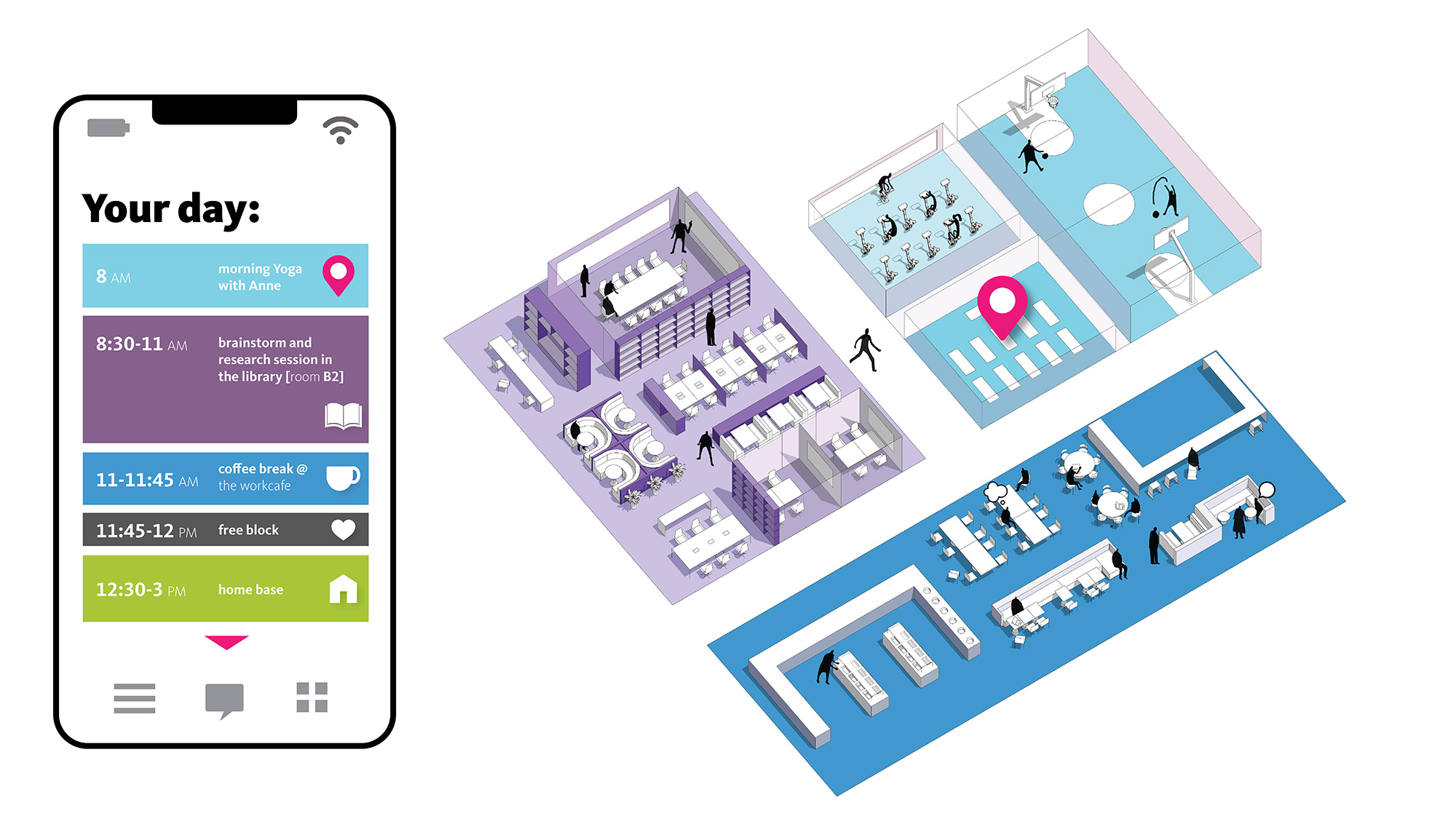 4. Predictive Analytics.
In order for this new hosting and service model to run seamlessly it must have a strong infrastructure backbone. There is a front of house curation that is dependent on a back of house choreography about how pre-packaged goods are delivered, scheduled, and circulated. A gap currently exists for real estate leaders to provide reliable, personalized, just-in-time drop off, so that employees can focus on what matters most to them. Such an offering would minimize circulation hotspots, and relieve elevator loads during peak times, by providing delivery lockers near workstations for rapid, convenient drop off/ pick up. Creating a smart reservation systems for back of house or ghost kitchens would also help to limit the flow of people in and out of the building and meeting spaces during peak hours.
A recent study for a global beverage company has uncovered that in this new reality, choice causes unnecessary levels of anxiety because of spontaneous interactions and unplanned crowding. Eliminating touchpoints and simplifying the user journey alleviates chaos by reducing points of intersection and contact. Much of this information was gleaned from a propriety Gensler tool, Graph, which quantifies relationships between space and experience. Similar data insights can be applied by real estate leaders to better predict user needs - providing services, products, and food offerings quickly and dynamically before they even arrive at the workplace. A seamless integration of this virtual model could be implemented with lunch, which could be pre-packaged in advance through an app and delivered touch-free to one's desk.
The Future of Amenities is About Culture
With such a shift in workforce scale and distribution, there is a tremendous opportunity for real estate leaders to rethink roles within organizations, operational structures, distributed offerings and environments to host teams when they come together. What we expected in our office amenities before is shifting to reflect the expectations of our teams for a safer return together. Wellness is no longer a workplace buzzword and will extend far beyond hand sanitizing stations. Some of the biggest changes we see and integrate will be behavioral and cultural instead of drastically different design solutions that are only necessary short term.
Providing a human-centric experience for employees will be the rule, rather than the exception, for progressive organizations to attract top talent. Rather than going back to our work lives the way they were, 2020 has presented an opportunity for leaders to rethink their employee value proposition.
For media inquiries, email .