Assembly at North First: Putting Resilient Design to Work in the Wake of the Pandemic
October 14, 2020 | By Manan Shah
More than six months after the start of the pandemic in the U.S., speculation about the commercial real estate market and workplace design is still an active conversation. Given the uncertainty of the CRE landscape, developers and tenants remain hesitant about making investments or financial commitments.
However, thanks to data from our 2020 U.S. Workplace Survey and the subsequent Work From Home Survey conducted after the pandemic shut down offices across the country, we have an idea of what tenants want. Issues of human health and wellness, equity, and sustainability — issues that were fundamental to our practice before the pandemic — will continue to be a priority in the future.
We've also been working on a project that could be a model for what a post-COVID workplace might look like. Completed in 2019, Assembly at North First was originally intended to be leased as a single-tenant campus. But after the pandemic closed office buildings around the world, the developer of the campus, SKS Partners and Prospect Hill Group, decided to demonstrate an alternative approach. That's when they asked us to show what our ideas for the future workplace would look like in practice.
Creating a feeling of safety at work
Our goal was to use Assembly's blank canvas to create a workplace design that made employers confident their campus could help employees and guests feel safe at work — while also looking towards a space that will continue to foster collaboration and community for years to come. In order to create a space that is inspirational, rather than clinical, we had to align our design thinking with those fundamentals issues that we truly believe will continue to be relevant in the long-term.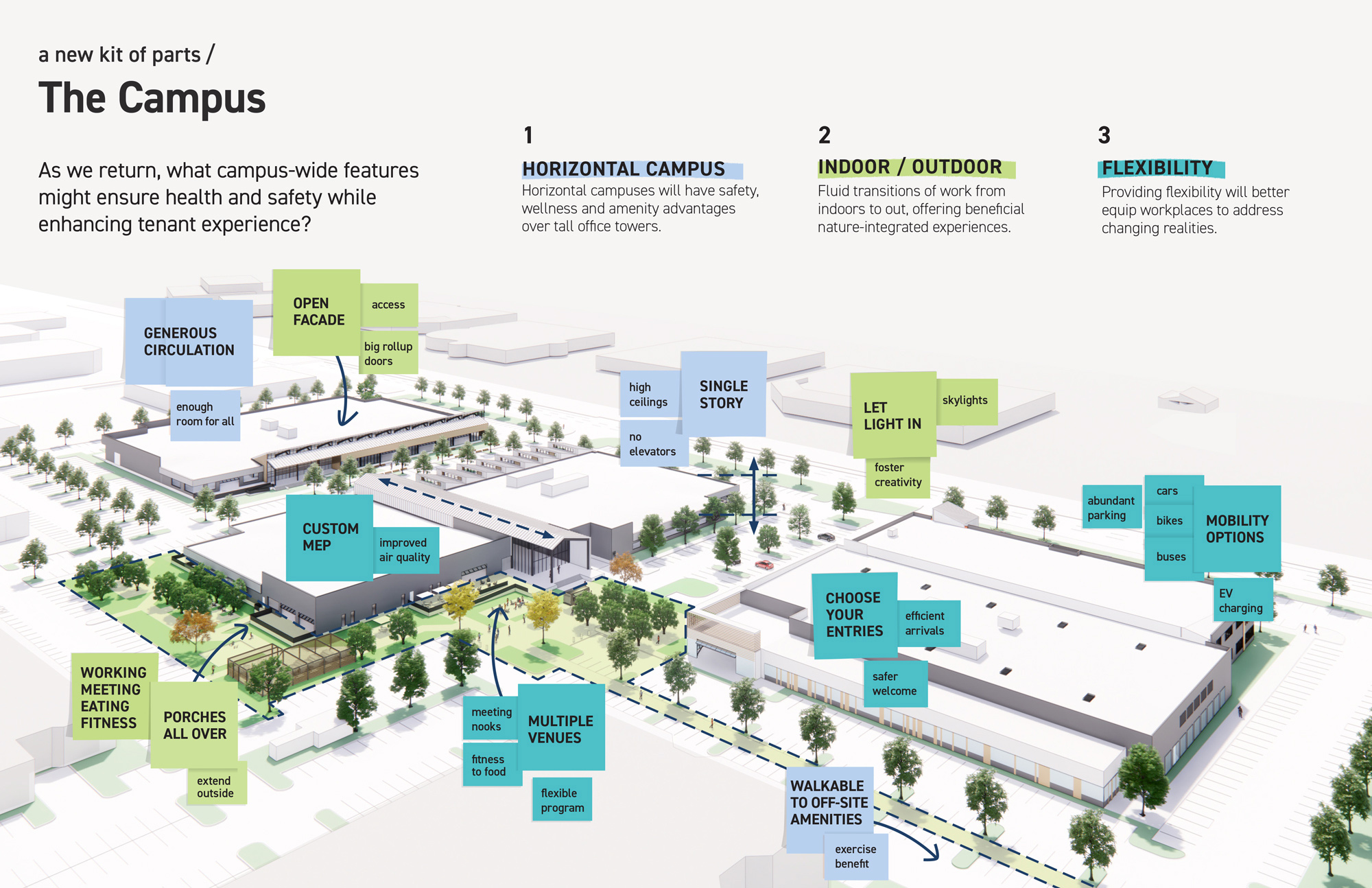 Consisting of three buildings designed around the connection of indoor and outdoor space, Assembly proved to be an ideal testing ground. Already common in Silicon Valley, the campus model has new benefits compared to the urban tower: the low, horizontal buildings allow for multiple entry and exit points, which reduces congestion and allows for separate entrances for guests and employees. The buildings are also physically open and porous: the façade and roof can be opened to create an expansive indoor-outdoor workplace that allows for natural light and fresh air.
Indoors, the tall, open spaces are filled with natural daylight and the mechanical, electrical, and plumbing (MEP) systems — including air filtration — can be customized by each tenant. The large floor plates also allow designers to organize multiple work groups around common support spaces or amenities in a way that minimizes interaction or even creates autonomous suites.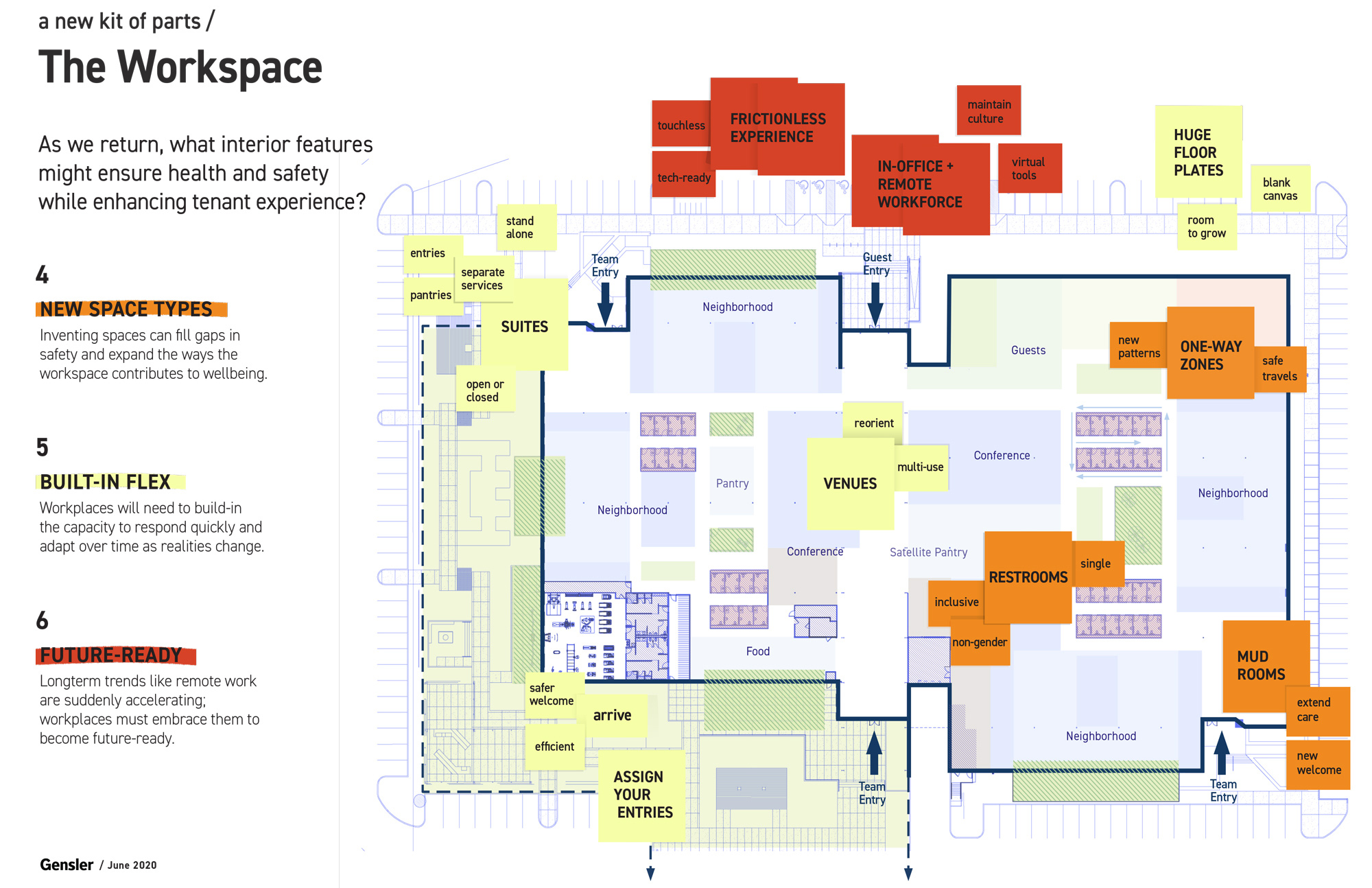 Leveraging technology and existing space to put wellbeing first
If you take an optimistic view of the pandemic, it will undoubtedly be a catalyst for placing health and wellness at the center of workplace design. Meanwhile, the rapid adoption of touchless technology and virtual collaboration tools has already started to create a hybrid office. Working with our San Jose-based Design Director Natalie Engels on the workplaces at Assembly, we translated these trends into several new space types:
Mudrooms and multipurpose entries — Places to clean off prior to entering the workplace. Prior to the pandemic, locker rooms for bike commuters served a similar purpose and other spaces that serve these functions already exist in workplaces outside the U.S.
Collaborative corridors— Generous circulation paths with programmed areas that can create separation and offer safe interaction.
Hybrid office-cubicles — A new space type that allows for semi-private workspace as well as room for small meetings in an open, touchless environment. Meeting spaces will also need to be effective for both in-person and remote collaboration.
Gender neutral restrooms — Already being adopted by many workplaces prior to the health crisis, new restroom models now have the increased benefit of simplifying cleaning for maintenance staff.
Divided suites — Separate entrances and exits could limit exposure risk in the near term, or allow employers to easily adapt their space needs as their workforce shifts in size or location.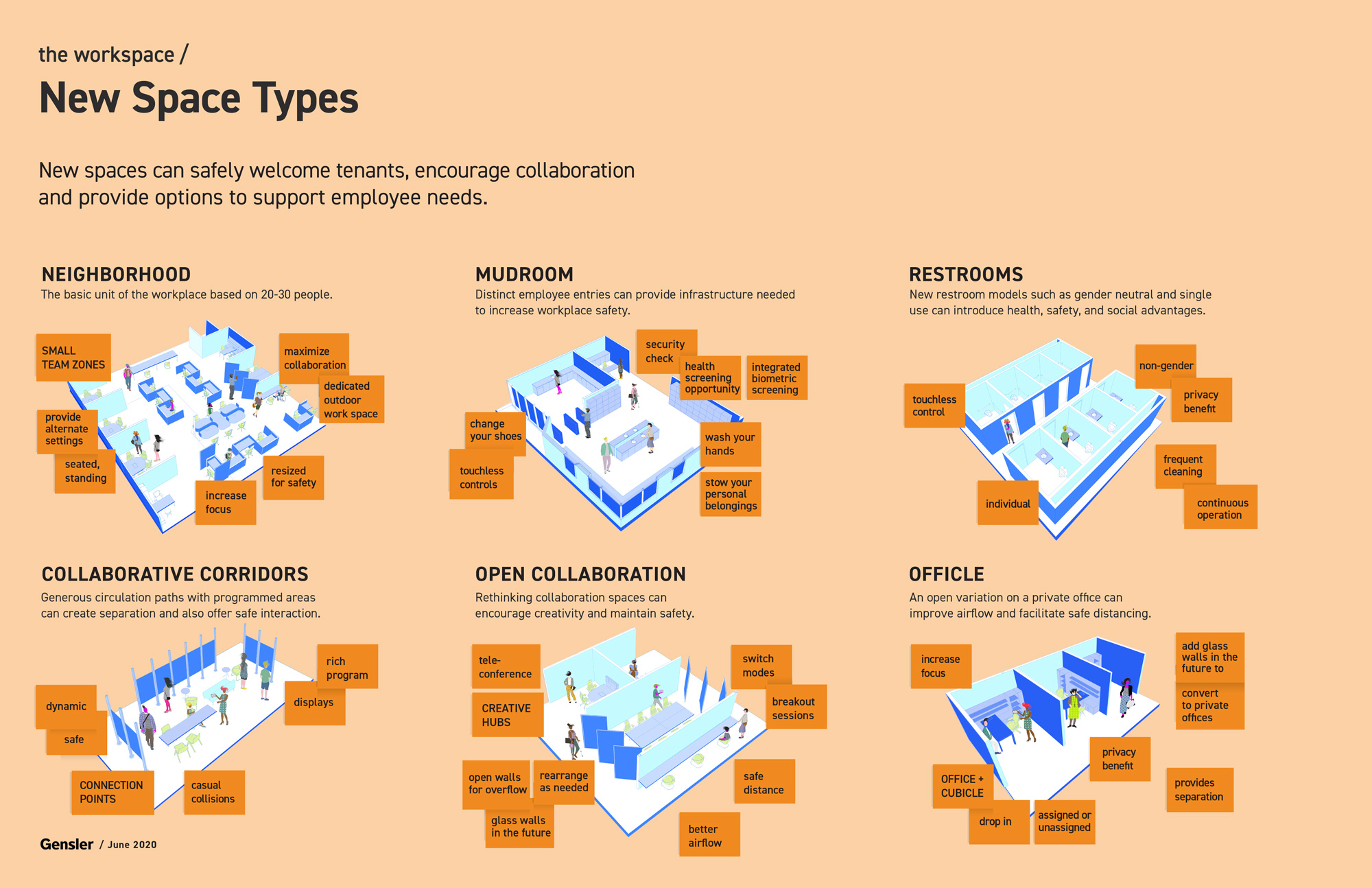 Designing for immediate and future needs
This design for Assembly is unique in that it focuses on integrating the impact of time into the design of the space. The types of space throughout the design are meant to evolve through three stages: the current pandemic conditions with limited numbers of people in-office; a stabilized public health environment where more people return; and the post-pandemic condition where either a vaccine or treatment allows us to move beyond the crisis stage.
Suite designs, for example, contain a mix of space types that start with lower occupant density and later accommodate more privacy and enclosure while accommodating more people in the space. Large, open huddle spaces designed for social distancing can become blocks of office-cubicles in later stages. The key health and wellness aspects — such as mudrooms, touchless technology, customizable MEP systems, access to daylight, and indoor-outdoor space — continue to provide value throughout all three stages.
Built-in Flex
SLIDESHOW — 4 IMAGES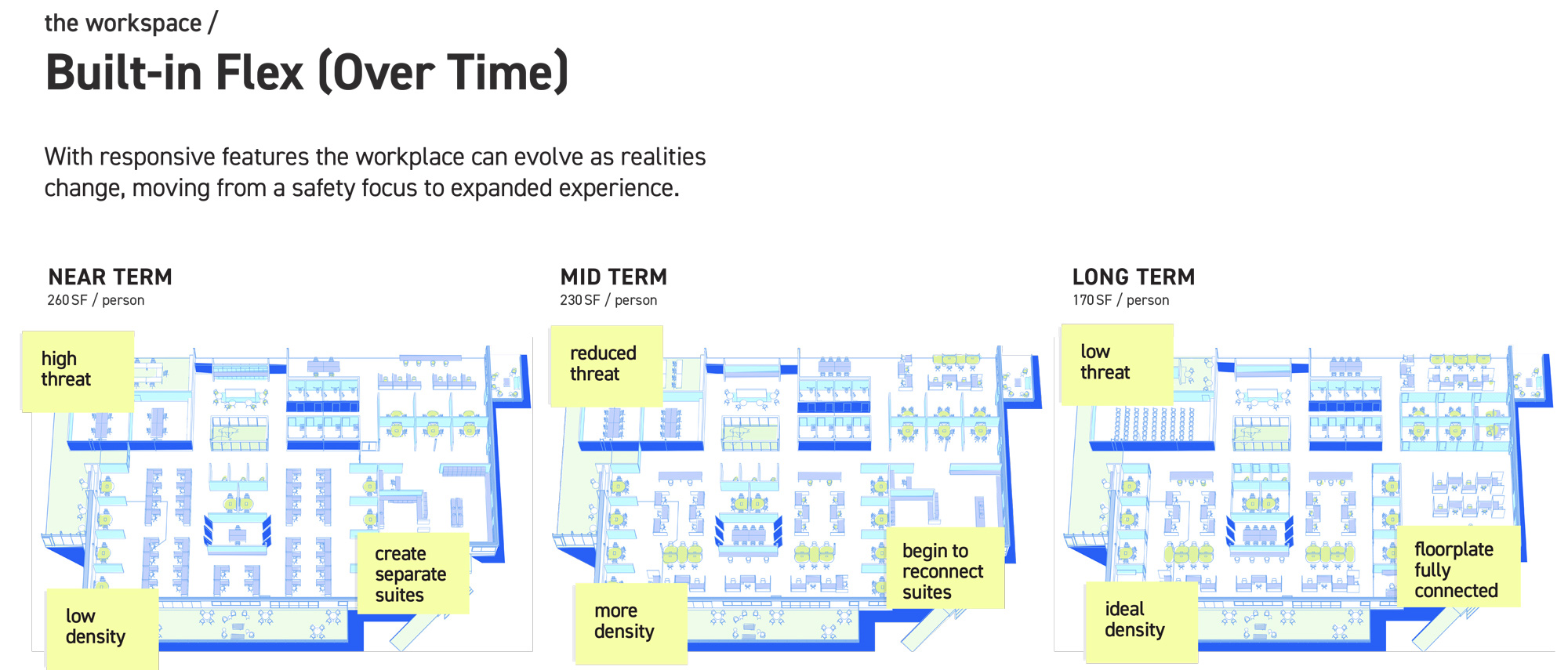 The current health crisis has accelerated many trends, but by focusing on ideas with long-term relevance from the outset, Assembly at North First has proven to be well-adapted to the new workplace reality. Even in a wildly uncertain landscape, the early investment in health and wellbeing resulted in a workplace design with long-term resiliency. These types of design solutions will become business critical as more companies look to avoid health-related disruptions in the future.