Developing the World's Tallest Net Zero Timber Building with Sidewalk Labs
By Steven Paynter
When Sidewalk Labs announced a master innovation and development plan (MIPD) for a smart city in Toronto, the world took notice. Today, Gensler shares in the excitement unveiling plans for what would be the world's tallest mass timber building, Proto-Model X, known simply as PMX (see here for a link to Sidewalk Labs' official post debuting the project). Working with Sidewalk Labs and a network of engineers, environmental specialists, and other partners, we have collectively spent the past year exploring timber's potential impact on building design, manufacturing, and sustainability. Toronto's eastern waterfront presents an incredible opportunity to shape the city's future and provide a global model for inclusive growth that advances design innovation and sustainability benchmarks for the industry.
The 472,000 square foot building will include 35-stories of retail, offices, residential, and integrated building services below ground in order to maximize efficiency across all various needs within. Standing at approximately 130 meters/426 feet tall and 30 meters/158 feet wide, the structure uses a cross-brace frame and a tuned mass damper — engineering tactics more typical of super-tall building design. PMX is aiming to achieve Toronto Green Standard (TGS) 3 which sets highly specific targets around energy usage that set a pathway towards zero carbon emissions, in addition to higher standards for flood mitigation and use of resources. The aim is to create a resilient building which lessens the strain on an existing city infrastructure.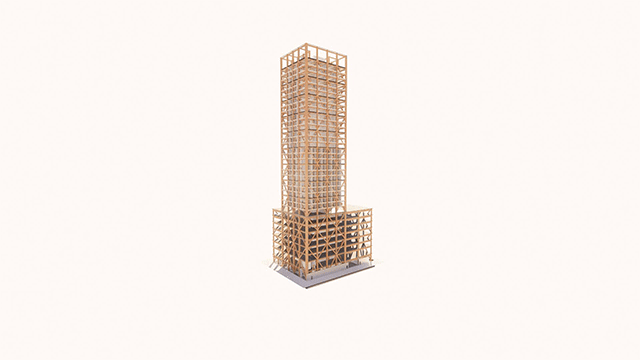 In order to achieve this ambitious goal, we collectively developed a physical kit of parts that includes working with a local timber factory to produce standardized construction materials, and digital and robotic technology in order to support pre-fabrication locally. Prototypes have stress tested viability of assembly, technical performance, and availability of materials in order to accelerate this transformative technology and realize our design concept as an integral part of the future of the construction industry. With this, we anticipate reduced waste during construction and a future standard for the built environment— which currently consumes one third of total energy usage globally.
Mass timber is becoming an important part of Gensler's portfolio thanks to its fire resistance, structural integrity, and environmental attributes. Because recent timber buildings weigh up to 20% less than their concrete counterparts, the foundation size is also reduced, ultimately contributing to a reduction in embodied energy. Recent studies of timber buildings have shown over a 20% reduction in embodied carbon, and we are in the process of conducting a similar analysis on the PMX building that we expect to show similar if not better results.
These efficiencies in both operational and embodied carbon would put Gensler six years ahead of the Gensler Cities Climate Challenge (GC3), intended to set a new standard reducing all carbon emissions in the built environment by 2030. With Sidewalk Labs and PMX we hope to drive transformational change on a global scale.
For media inquiries, email .