For building owners and operators, the gold standard for office buildings has shifted. Companies now want to occupy buildings that are part of vibrant communities. Mixed-use developments add energy and variety that enrich lives and connect people, and they are magnets for attracting new talent. Office building owners and operators are also aware that to keep the best people, they have to offer the right mix of amenities in workspaces to improve people's effectiveness at work and help build company culture.
It's been nearly two decades since "talent" was identified as the spark for 24-hour city growth. The agglomerative power of talent is the key to productivity, profits, and urban vitality.
—Emerging Trends in Real Estate 2019, PwC and the Urban Land Institute
HIGH-PERFORMING PEOPLE WANT HIGH-PERFORMANCE BUILDINGS
The cost of unwell workers represents 10% to 15% of annual global economic output, according to the Global Wellness Institute. But a high-performing, healthy workplace can boost engagement and productivity. Access to fresh air and daylight, including outdoor work environments, can alleviate stress and other ailments. Intelligent building controls can lower energy and water costs and make buildings safer and healthier. The next generation of smart buildings will leverage sensor technology and IoT-enabled devices so that individuals can adjust temperature, air, lighting, and acoustics to their own liking.
ADAPT TO WORKPLACE MOBILITY
Employers in every industry are facing the reality that increasing numbers of people are choosing to work in many places besides the office. To keep their people engaged and lure new talent, organizations are creating dynamic work environments. They're investing in spaces that encourage individual, collaborative, and virtual settings, as well as amenity strategies that prioritize a work-anywhere approach.
URBANIZING THE SUBURBS
The American suburb is getting a makeover as suburban developments adopt more sustainable models of urban planning. Edge towns and ring cities located on the outskirts of urban centers are calling for increased density where people can work, live, and play in compact mixed-use developments. As recently as 2017, office construction in the suburbs far outpaced the cities, according to CBRE. The key for office-driven mixed-use is to mimic the qualities of urban settings that knowledge workers and millennials want: walkability and access to public transit, retail, restaurants, and a mix of housing options.
A NEW ALTERNATIVE: MASS TIMBER
Given the high carbon footprint of concrete and steel construction, a new alternative for large-scale buildings has emerged: wood construction. The combination of fire resistance, structural integrity, and environmental attributes makes new wood buildings an attractive option. Recent mass timber buildings, for example, weigh approximately 20% of comparable concrete buildings, which reduces their foundation size and embodied energy, according to the Mass Timber Code Coalition. While the technology is more prevalent in Canada due to more lenient building codes, there's a big shift coming in the U.S.
Insights and Industry Trends by Expertise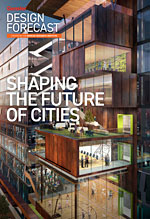 GENSLER RESEARCH INSTITUTE
SHAPING THE FUTURE OF CITIES
Fill out the form below to download Design Forecast (PDF).