Mass Timber: The Sustainable Solution for the Design Industry (Part 2)
April 17, 2023
Editor's note: this podcast episode originally appeared on the Gensler Design Exchange podcast. In this episode of the Gensler Design Exchange podcast, we continue a conversation around mass timber. If you didn't listen to Part 1, go back and listen to that first.
In 2022, the world's tallest hybrid mass timber structure was completed. Ascent is a 25-story luxury apartment building, with 19 stories and 273,000 square feet of mass timber providing 260 residential units to the Milwaukee, Wisconsin market. Ascent's completion is a crucial catalyst in the growing mass timber movement. In fact, this trend of decarbonizing our built environments is one of the 10 Meta Trends outlined in the Gensler Design Forecast 2023.
Gensler guest-hosts Erik Barth and Taylor Coleman are joined by Erica Spiritos, VP & Director of Preconstruction at Timberlab, a fabrication company whose mission is to accelerate the mainstream adoption of mass timber in the U.S. and commercial construction market. And from the engineering standpoint, Erik and Taylor talked with Ian Boyle, principal at Fast+Epp, an international structural engineering design firm dedicated to reducing carbon in the built environment.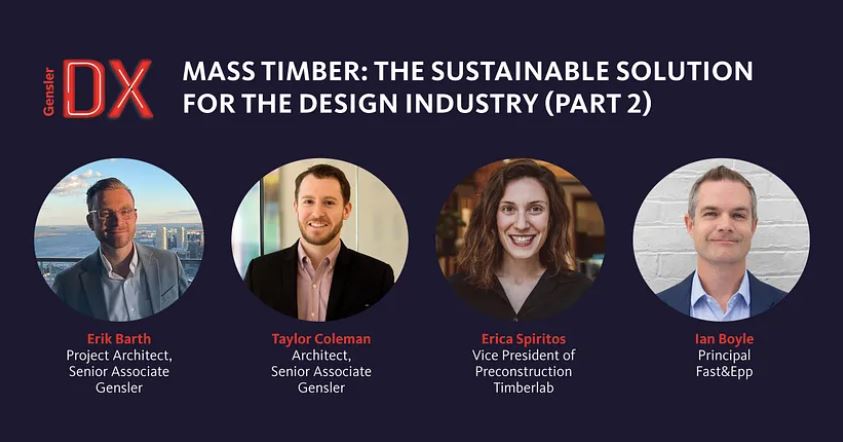 Advances in the technology of large-scale wood construction material (mass timber), coupled with the global need to significantly reduce greenhouse gas emissions, has made mass timber the next frontier in construction.
Our conversation begins with a discussion about Gensler's design for the First United Bank regional headquarters in Sherman, Texas, which relies heavily on mass timber, and how the industry has evolved over the past five years with new opportunities to design and implement mass timber projects gaining traction across the U.S.
"We're underutilizing a natural, sustainable, renewable resource. As long as we harvest it in a sustainable way it has an incredible potential to be a real piece of the solution for climate change."
—Erik Barth, architect, Gensler
Spiritos talked about how the design process for a mass timber project differs from a more conventional, carbon-intensive structural system, and how the cost comparison must be holistic as there are often ripple effects using mass timber that will yield cost and schedule savings.
"Most applications of mass timber, the timber is exposed, and so this means the mass timber is both architecture and structure, and there's more consideration given to the design of the structure because it has a visual impact."
—Erica Spiritos, VP & Director of Preconstruction, Timberlab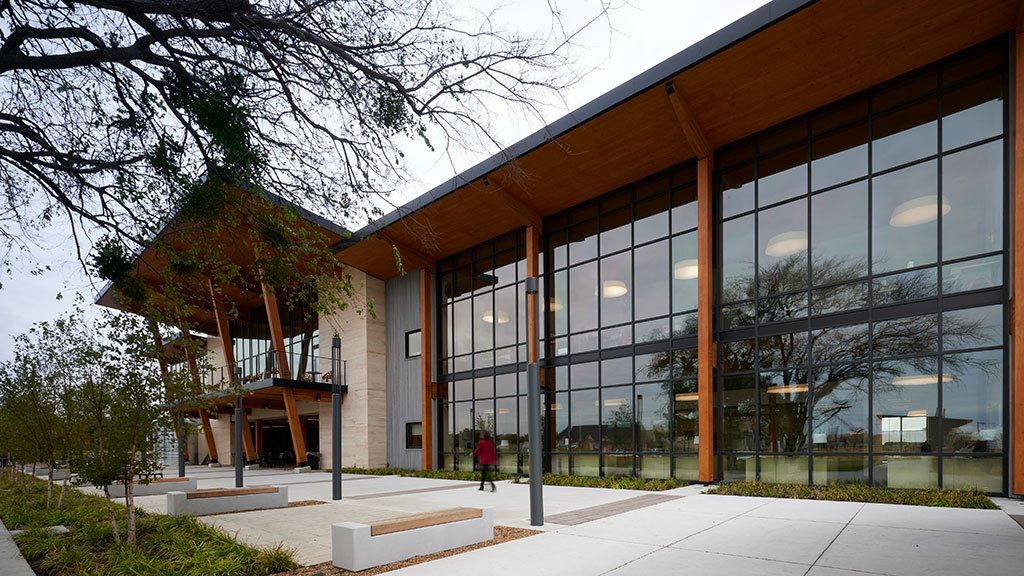 In a time where the construction industry is increasingly tasked with building dense housing for a growing population while reducing its reliance on highly carbon-emitting materials like steel and concrete, mass timber is a solution that is rapidly growing in interest from manufacturers, contractors, developers, and building owners.
"We're doing a number of projects that are really pushing the envelope with timber design. Either getting away from rectilinear buildings, getting some curvature in, or doing larger gymnastics, going taller, long-span structures. But the thing I'm most excited about is that the mass timber wave is catching on."
—Ian Boyle, principal, Fast+Epp
Tune in to hear the full conversation.
Subscribe to Gensler Design Exchange on Apple Podcasts, Apple Podcasts, Spotify, Stitcher, and Libsyn — or anywhere you listen to podcasts.
For media inquiries, email .