Bridging the Gap Between Theory and Practice: Lessons From U.K. Architectural Apprentices
February 08, 2023
For the U.K.'s National Apprenticeship Week 2023, we spoke with Gensler London's very own graduated apprentices Tegan Ramsey and Max Collins about their journeys to get to where they are now.
The Architect Degree Apprenticeship scheme, offered by Oxford Brookes University, prepares apprentices through Parts 2 & 3 of the RIBA/ARB Architectural accreditation. At the end of the first three years, Tegan and Max were awarded with a MArch in Applied Architectural Design. Over the final year, they prepared for their Part 3 examinations and full architectural accreditation.
Working at Gensler throughout their studies gave them the capability to bridge the gap between academic theory and real practice. At Gensler, Tegan has now worked as an architect on a range of project typologies, such as Hospitality, Cultural Centres, Mixed Use, Office, and Retail. Being a member of the inclusive design network has driven Tegan's passion for a career within accessibility and inclusive design. Max also has an array of projects under his belt within the Lifestyle, Mixed Use, Aviation, and Residential sectors.
As part of the first cohort of Architectural Apprentices in the U.K., this experience has left them both with a wealth of knowledge, learnings, and advice to share with future apprentices, of which we hope to see many more.
"My work mentor at Gensler is very proactive and has regular contact with my academic tutors at the university, so we really feel like a collective group," Tegan said during her apprenticeship. "What's great is that the university tutors have introduced me to ideas and concepts within architecture that I wouldn't have explored if I hadn't taken this course, including artificial intelligence and automation within design, virtual reality, and visual effects."
The mind map below follows their journeys from start to finish, and is intended to be an honest, helpful, and inspiring resource for anyone thinking of embarking on a similar journey. Click here to download a copy.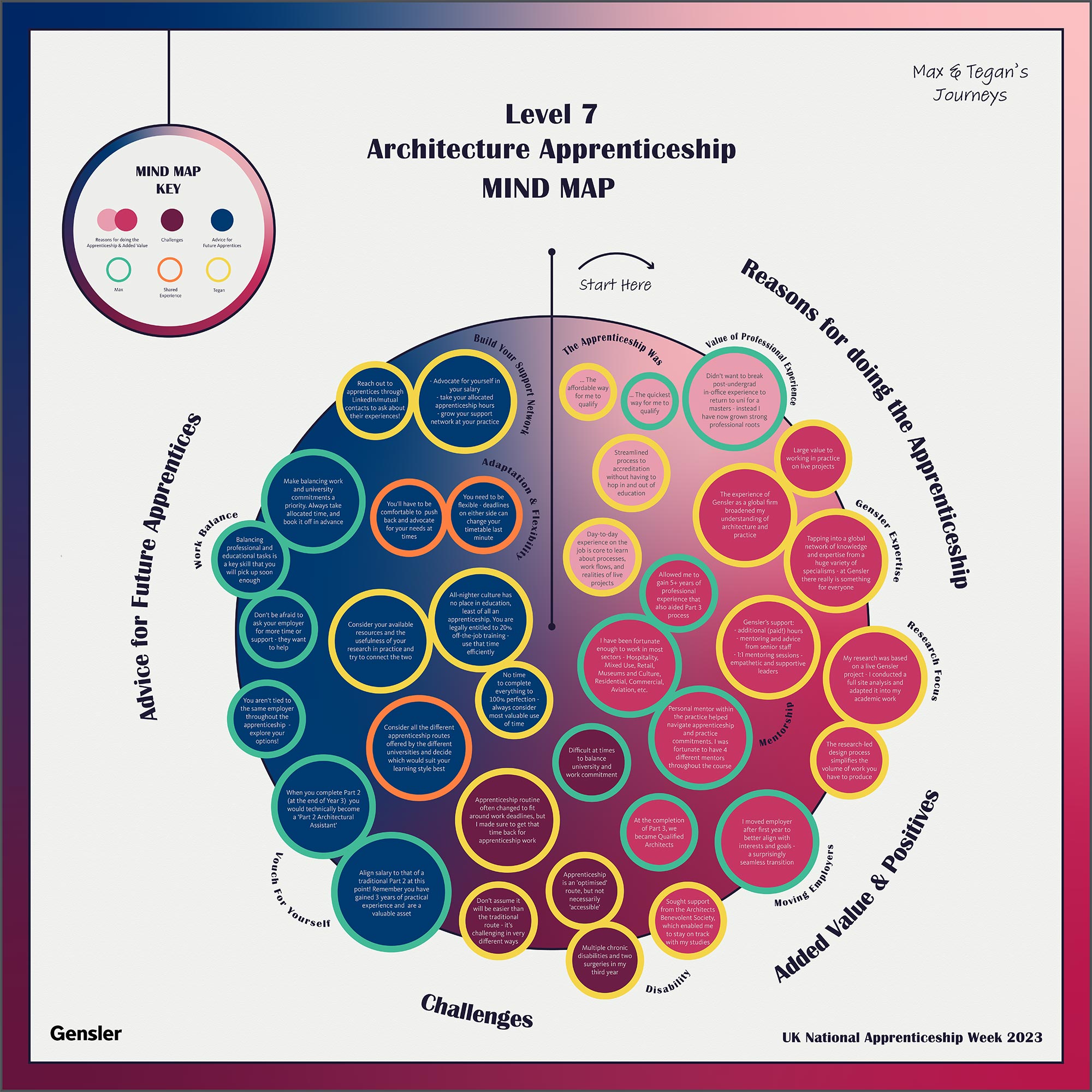 For media inquiries, email .