The Resurgence of Small- to Mid-Size Airports
December 15, 2020 | By Kim Brown
As the global pandemic rolls on, people are reexamining their relationships with their cities. This trend isn't new, but it has been accelerated by the global pandemic and the resulting mass migration to a work-from-home lifestyle. According to City Pulse Survey, over two-thirds of respondents want to leave their global city for smaller, less populated areas with a high quality of life and low cost of living. Second-tier cities, such as Raleigh, Nashville, Columbus, Pittsburgh, and Austin, are seeing population growth, which will inevitably lead to passenger growth. As a result, airports in these cities are likely to see an influx of travelers. The question is, how will airports respond to new passenger load and use patterns?
The way that we think about travel is also changing. Passengers are prioritizing safety and control over speed and convenience, choosing their own vehicle or a less convenient route if it gives them more control over the journey. Here's where smaller airports have an advantage: most passengers drive themselves or are dropped off instead of taking mass transit, lighter flight schedules mean quicker security and fewer passengers, and the terminal itself is smaller and easier to navigate. Travelers who want to avoid crowded hubs will be drawn to the ease and predictability of smaller airports, perhaps choosing to fly out of Cleveland instead of Chicago or Baltimore instead of Philadelphia.
This disruption presents an opportunity to rethink how we want to travel in the future. Could we be on the verge of a boom or resurgence for small- and mid-size airports? Here are some strategies we've developed that cities and airports can use to revitalize their facilities in the post pandemic world:
Strategy 1. Express yourself.
Unlike megahubs like New York's John F. Kennedy International Airport (JFK) or Los Angeles International Airport (LAX), which are essentially under ceaseless construction, smaller airports build only at a breaking point. As a result, those facilities are often fundamentally outdated and lack the modern amenities today's traveler demands. The opportunity to build a new facility or reimagine a passenger terminal may only happen once in a generation, so ensuring that design is anchored in the context of the city is critical to its long term relevancy. Smaller cities should take advantage of the influx of new residents and reimagine their airports as modern gateways, connecting people and building resiliency.
A fine example of this regionally-anchored design approach is Jackson Hole Airport (JAC), in Jackson, Wyoming, a key regional airport providing air service to Grand Teton and Yellowstone National Parks. The richness of the landscape is expressed through material, with a mass timber structure, rusted steel, and regional stone bringing warmth and context to what is typically a cold and sterile airport environment.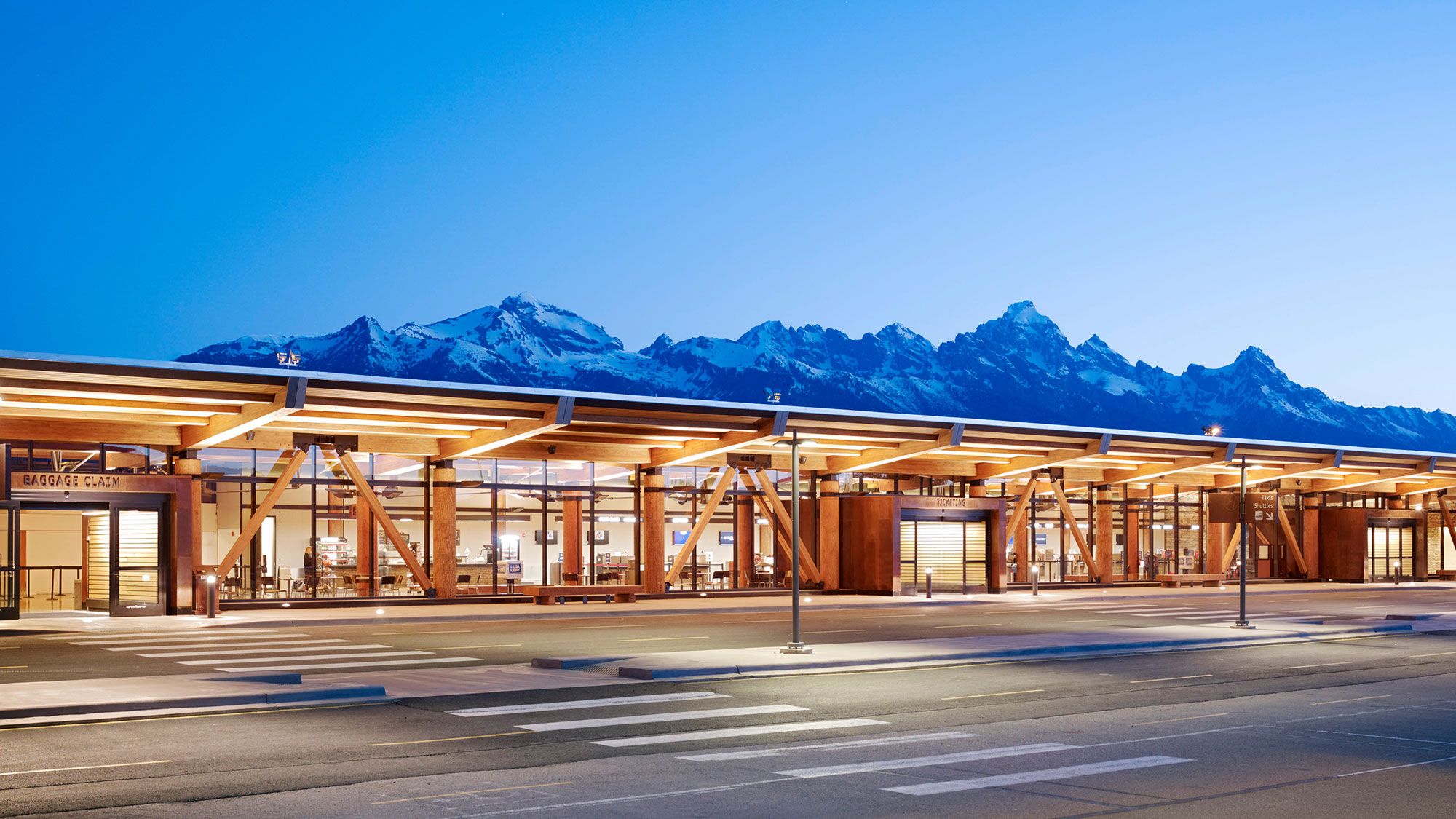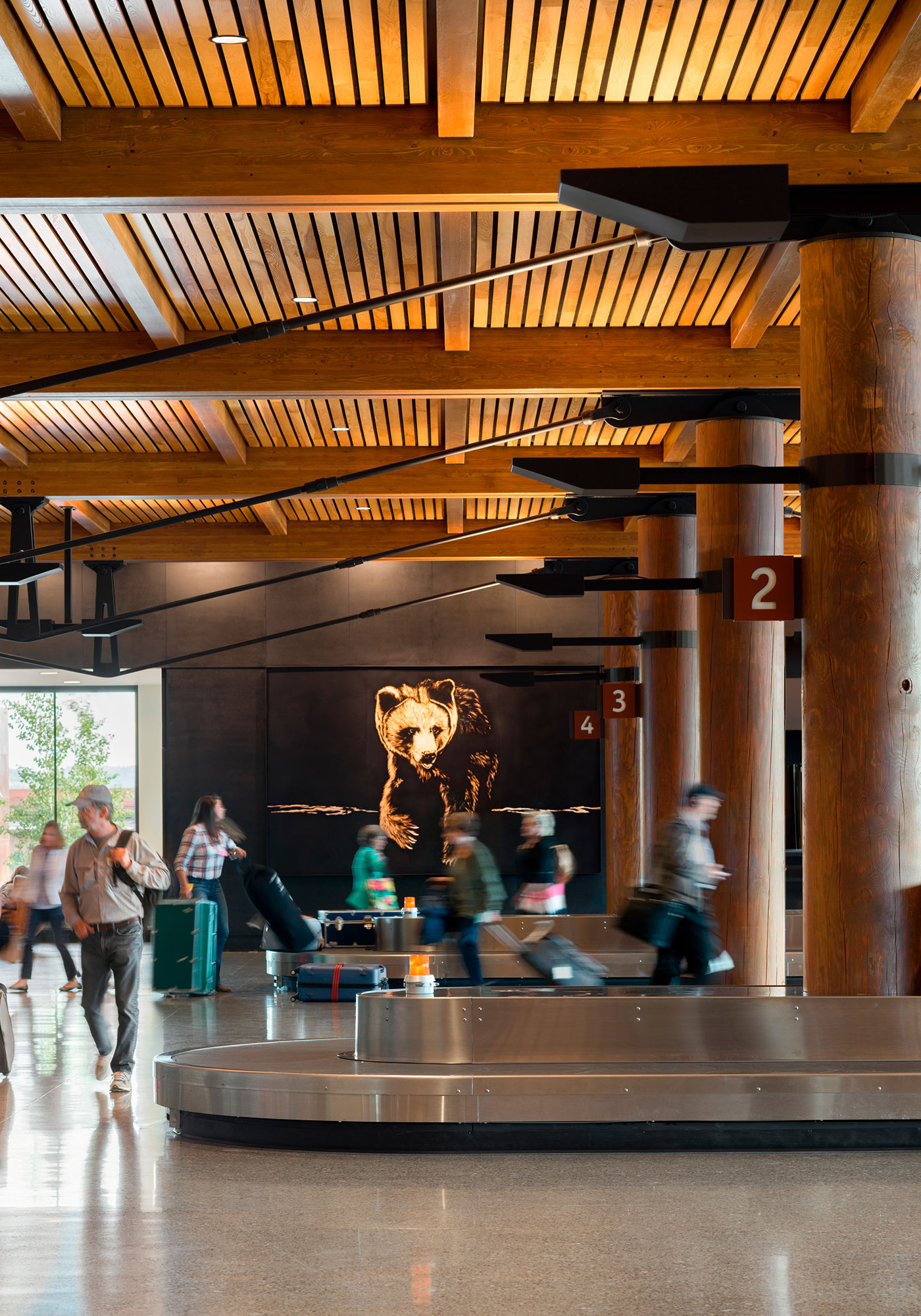 Strategy 2. Maximize the building, not the passenger and aircraft count.
For years, the rule in airports was to maximize the amount of aircraft gates, and to tightly pack those areas around the aircraft. But, what if small airports could eliminate a gate instead of holding on to a contract gate that rarely gets used? With passenger volumes down at this point, mid-sized airports should rebalance the airside space by losing a gate and making that passenger volume up through better gate management.
Most small- and mid-sized airports are constrained for space, particularly on the airside. A simple elimination of a gate temporarily could change the space allocated within the terminal. Layer in a more efficient gate utilization system with quicker aircraft turns, and the loss of gate capacity could be overcome via technology instead of space.
Strategy 3. Give it a try.
Spaces within a terminal are typically assigned and rented based on a long-term lease agreement. Rethinking that lease strategy to get quicker turn spaces will allow for experimentation in the offering. Whether that offering is in more common use for airlines or more rotational retail, these airports don't need to follow the traditional playbook. Instead of acting like a smaller-scale big airport, why not think of mid-sized airports as an opportunity to experiment, test, and learn?
For example, San Francisco International Airport (SFO), has changed the traditional model and is now providing short-term retail leases and encouraging experimentation with different retail concepts. Applying that thinking on an airport-wide scale and beyond just retail, airports might look at what other functions could be offered by third party vendors to augment the passenger journey. Mid-sized airports have an opportunity to test novel solutions in rapid succession.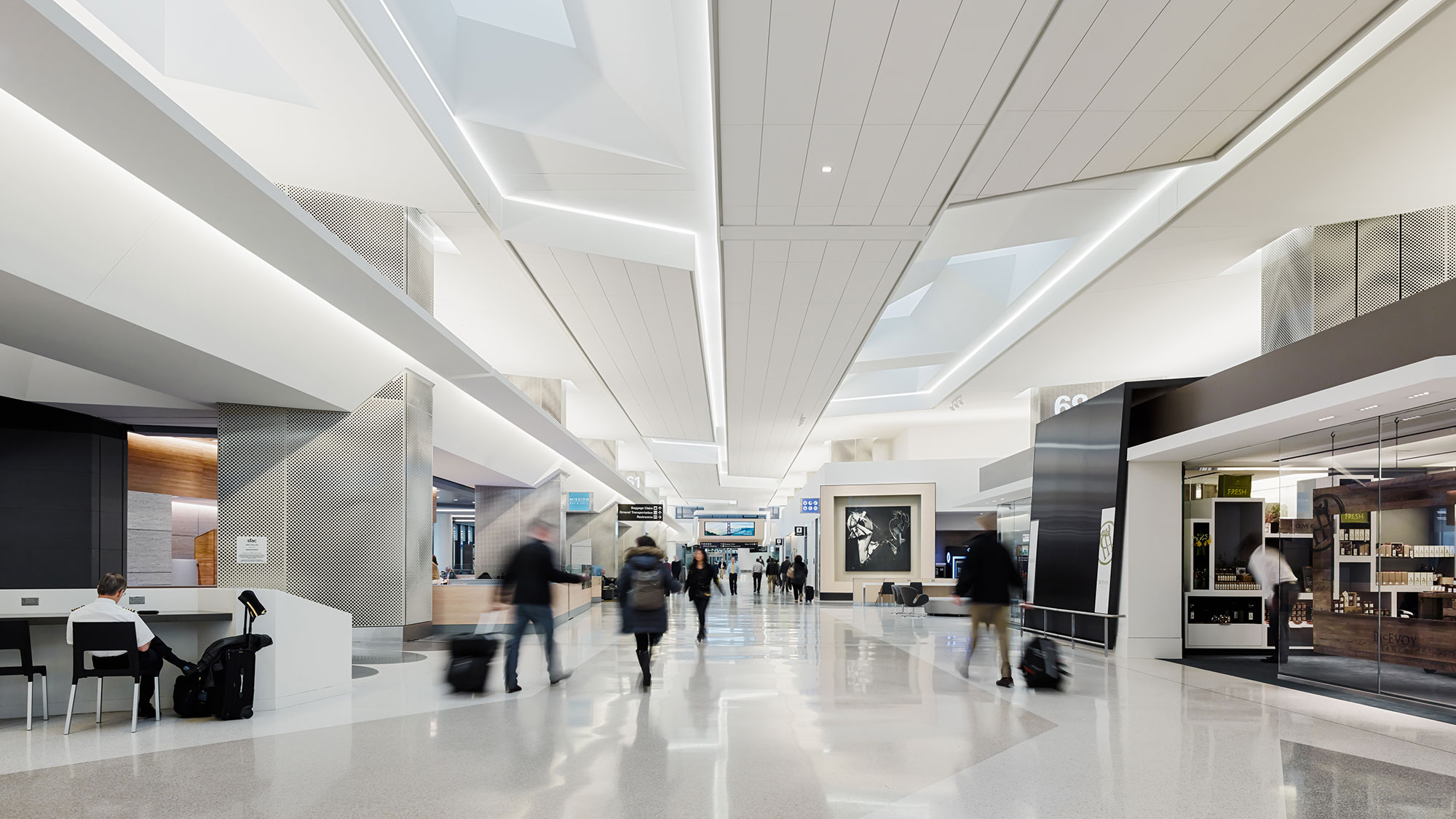 Strategy 4. Buildings that perform.
Small- and mid-size airports have the ability to bring the city much closer to the airport. The airport becomes less about airline branding and more reflective of the community fabric and regional tourism. The incorporation of regional materials, local makers, restaurants featuring local chefs, and live entertainment all bring culture and excitement, making the airport a vibrant destination in and of itself. Airport authorities can experiment with programming and partnerships by creating an artist-in-residency program or partnering with a local university for a public health research study.
One of the most successful examples is Austin-Bergstrom International Airport (AUS), where the city lives up to its moniker for being the live music capital of the world by allowing travelers to experience live performances from local musicians within the terminal five days a week. Regional food offerings and graphic pops of art weave throughout the terminal to create a unique experience that reflects the activity of downtown Austin, making passengers feel like they're 'there' as soon as they land.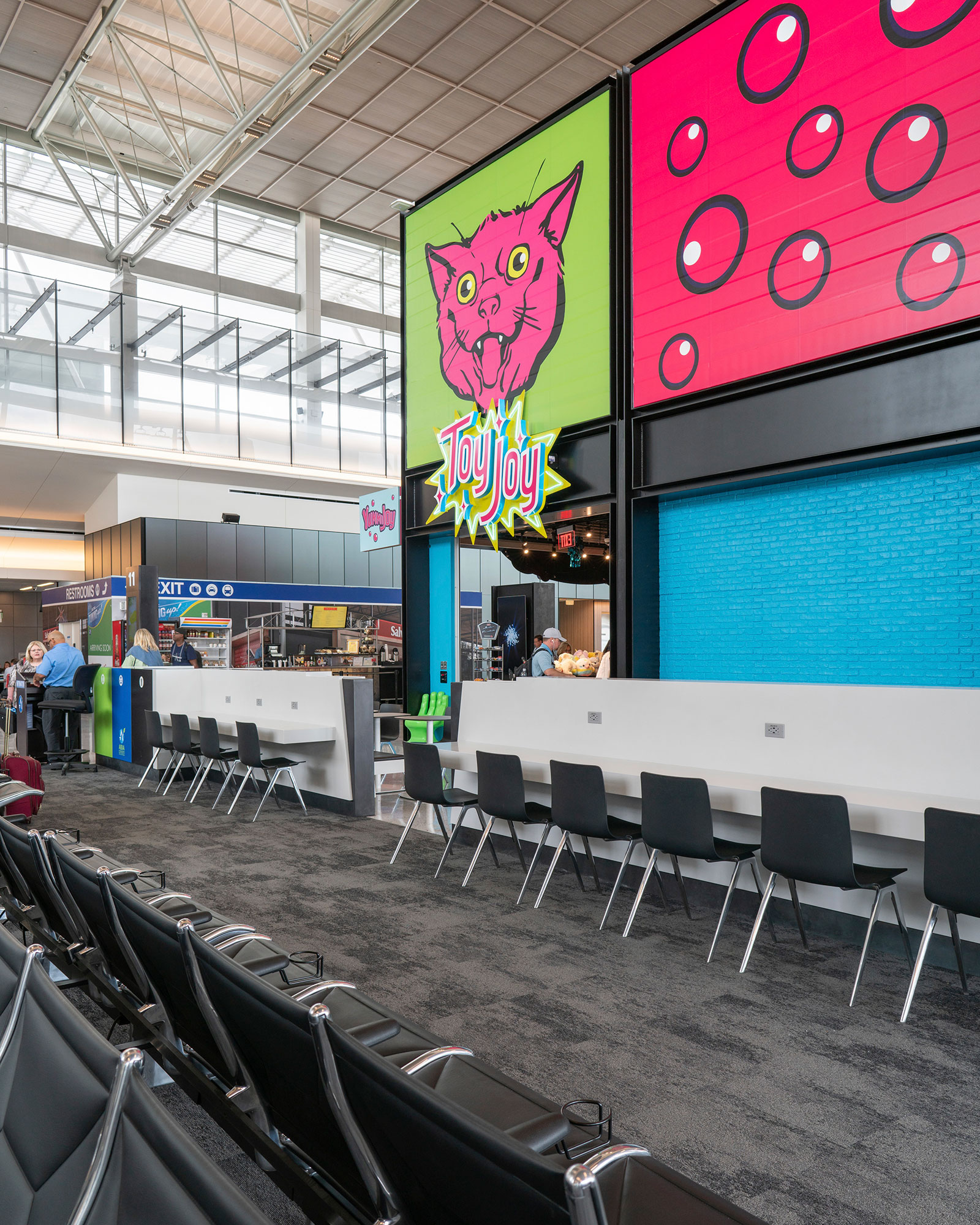 While major hub airports in global cities will continue to drive business travel needs and connect us to the larger world, small- and mid-sized airports serve as the connectors of family and culture. This isn't travel that is optional, but rather essential to our lives as people travel to visit family and loved ones. They are the engine which will drive our recovery and make us feel like we're "back" as a society. Getting the industry right this time requires that all of our cities, large and small, take a fresh look at their airports.
For media inquiries, email .