WEBINAR:
AIRPORTS
LOOKING BEYOND THE RETURN
The recent launch of Gensler's latest Design Forecast underscores the importance of reconnection, especially when it comes to the travel industry. Airports are a reflection of our cities, and in a post-COVID world, airports will encompass more of the functions we find common in cities. As airports grow into small cities with a wide range of functions, such as healthcare, hospitality, retail, and workspaces, the need for purpose increases.
In this webinar, Gensler's Aviation Leader Ty Osbaugh and Aviation Resilience Leader Jennifer Cardinal discuss how a new town square is emerging at the heart of our airports. The conversation explores the latest aviation trends and strategies that will drive airport design in a post-pandemic world, including an increased focus on personalization, autonomy, efficiency, and touchless technology to offer a more tailored and connected passenger journey. As private aviation choices and regional airports are increasingly sought, they can holistically evolve to add more character and style that reflects the region, celebrating a sense of community pride and ownership while improving the overall passenger experience.
A panel discussion follows, led by Gensler Aviation Leader Keith Thompson, Aviation Interior Designer Kim Brown, Digital Experience Design Leader Hans Neubert, Mobility Labs Leader Dylan Jones, and Aviation Design Director Brent Mather.
Watch the webinar and download Gensler's Design Forecast 2021 to discover the digital immersion strategies and key design trends that are shaping the future of airport design beyond the return.
Explore Design Strategies for a Post‑COVID World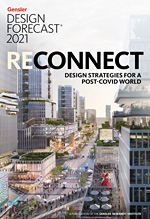 GENSLER RESEARCH INSTITUTE
DESIGN STRATEGIES FOR A POST-COVID WORLD
Download Gensler Design Forecast 2021 (PDF)