How the New SFO Terminal Reflects the Needs of Travelers Post-Pandemic
By Ryan Fetters and Scott Dunlap
Editor's Note: The Harvey B. Milk Terminal 1 was honored with the 2022 People's Choice Award by AIA San Francisco in the category recognizing projects over $10 million. The following article originally appeared in Airport Magazine.
As the world slowly emerges after a year and a half at home, people are growing more comfortable with traveling again. Much like our pre-pandemic lives, the old ways of doing things are being reexamined and adapted to better accommodate our comfort and safety in our new world.
San Francisco International's (SFO) Harvey Milk Terminal 1 already was undergoing a complete transformation long before the advent of COVID-19. But when passengers take to the skies this fall, they will find a myriad of enhancements designed to make their experience more comfortable and efficient. The desire for best-in-class passenger experience is at the core of growing trends we are seeing in airport design — including touchless technology, digital wayfinding, and a focus on the airport as a reflection of its location.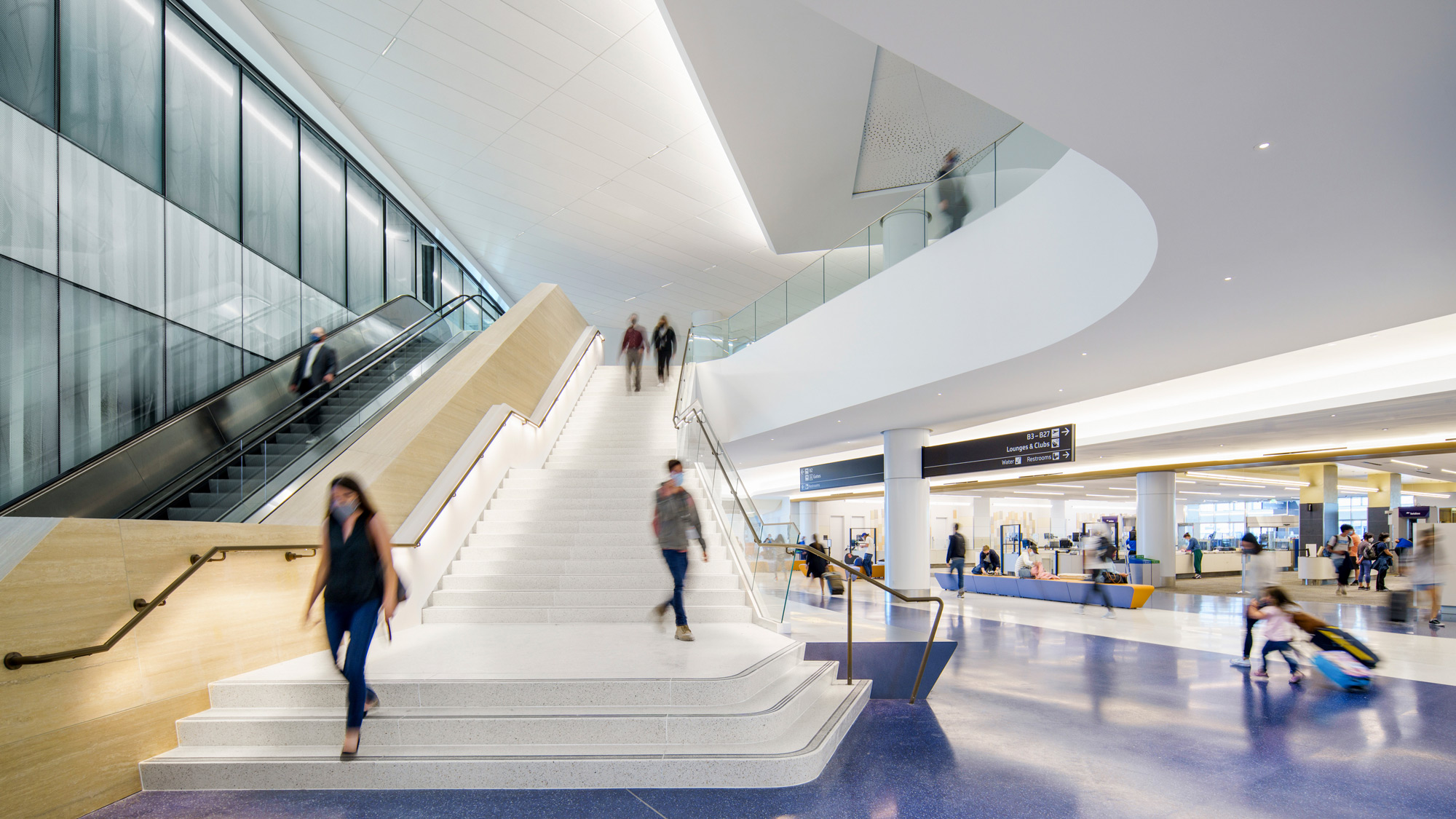 Touchless Technology
Arriving at the departures level only to be greeted by a serpentine bag check queue is enough to stress even the most seasoned traveler, especially when public health is a concern.
For this project, the Gensler/Kuth Ranieri joint venture team, Hensel Phelps Construction, and our partners at SFO prioritized making the passenger's first moments at the airport simple and touchless. Upon entering the terminal, passengers are greeted by a gracious lobby with self-service check-in kiosks and touchless features that allow them to use their phone to check in to their flight, print a bag tag, and drop off their bag.
SFO is the first airport in the U.S. to utilize a new independent carrier system (ICS) for baggage, where luggage remains in a single transport tote from drop-off to cargo load-in, reducing the number of lost bags and passenger headaches.
Developed by Beumer Group, the new baggage technology runs at a fraction of the energy of legacy systems. Passengers also will find new automated security lanes with built-in, touchless consolidation bins for scanning carry-ons that eliminate that awkward scramble when passing items (including oneself) through the X-ray.
Once through security, travelers can recompose their belongings in a generous area carefully designed for that purpose, complete with touchless water-filling stations. You will not find single-use water bottles in this terminal due to an airport-wide effort to reduce unnecessary waste. The program has been a resounding success, with an estimated 10,000 plastic bottles eliminated every day.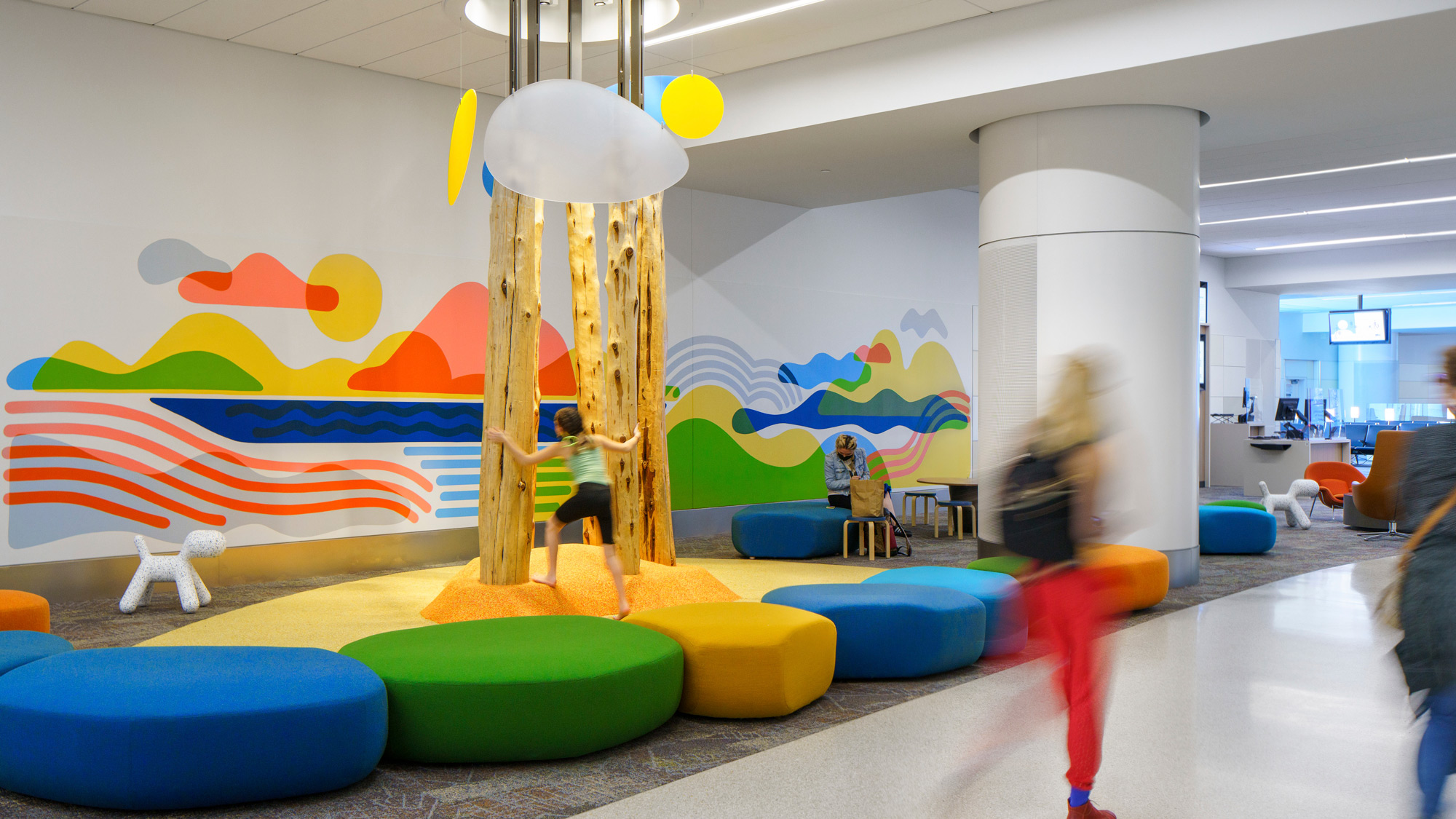 Digital Experience
The integration of innovative technology was a key consideration in the transformation of the former terminal into a modern, welcoming, and easy-to-navigate space. The designers worked closely with the SFO team to implement a communication system for passengers that is flexible and responsive. Digital "dashboards" greet passengers now throughout the terminal in strategic locations with messaging to guide travelers and reduce confusion.
Last-minute gate changes can be announced instantly and clearly to redirect passengers. COVID-19 safety protocols also easily are communicated throughout the terminal and can be updated as public guidance shifts. Harvey Milk Terminal 1 has been designated as a quiet terminal, utilizing digital signage to communicate in place of overhead announcements. The result is a more serene terminal, leading to more relaxed passengers.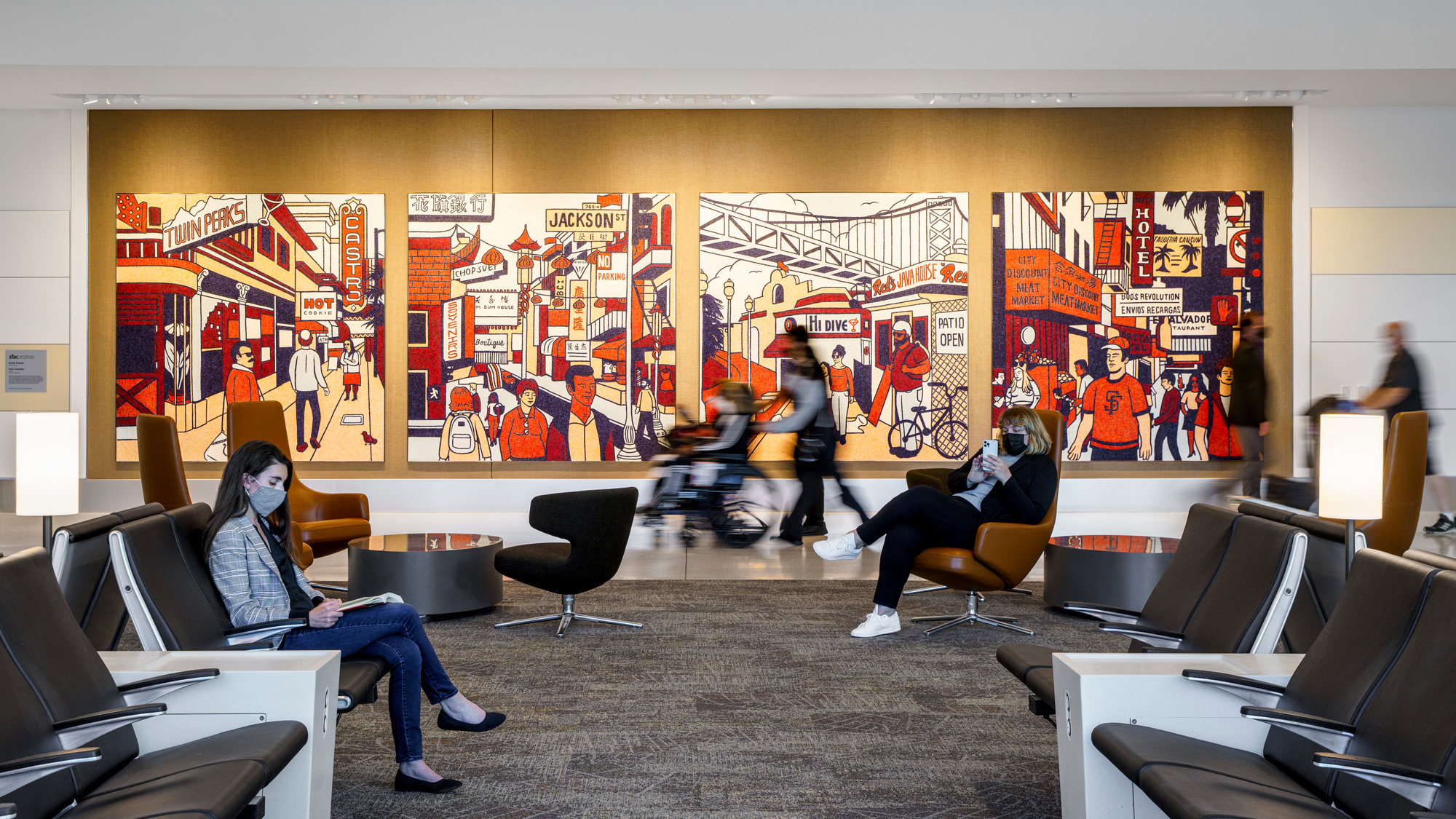 Connecting With Community
While the right technology can help make a good airport experience a great one, it often comes down to something more personal. With Harvey Milk Terminal 1, our goal was to look at the airport as a cultural hub, an updated version of a town square that is representative of its people and their values. Named for California's first openly gay elected official, the San Francisco values of humanity and acceptance are proudly on display.
Companion restrooms have been a welcome addition to SFO and other airports in recent years, but Harvey Milk Terminal 1 is the first airport in the U.S. to feature all-gender restrooms as well. With LGBTQ+ values deeply engrained in the culture of the city, our goal was to provide a comfortable and affirming experience for everyone regardless of gender identity, sexual orientation, or ability. When conceptualizing our design for the terminal, we embraced the idea of creating an inclusive environment.
From larger bathroom stalls to easy- to-traverse concourses and intuitive wayfinding, accessibility for all remained front of mind throughout all phases of project planning.
Some say the best way to immerse yourself in a new city is through its food and its art. Passengers will receive a head start on experiencing San Francisco culture via a robust concessions program featuring locally loved quick-service restaurants serving up hot bowls of pho and Mission- style burritos (with more options in the pipeline). High above the lobby hang large-scale installations by local artists, while smaller paintings and mosaics accent quiet inglenooks intended for those seeking refuge. While the terminal undergoes the rest of its reinvention (project completion is expected in 2024), temporary walls are adorned with large-scale photos from Milk's life. Once the walls come down, the art that is featured in their place will be reflective of Milk's influence. The SFO Museum, the only accredited museum located in an airport, also gains its own museum-quality gallery in the terminal.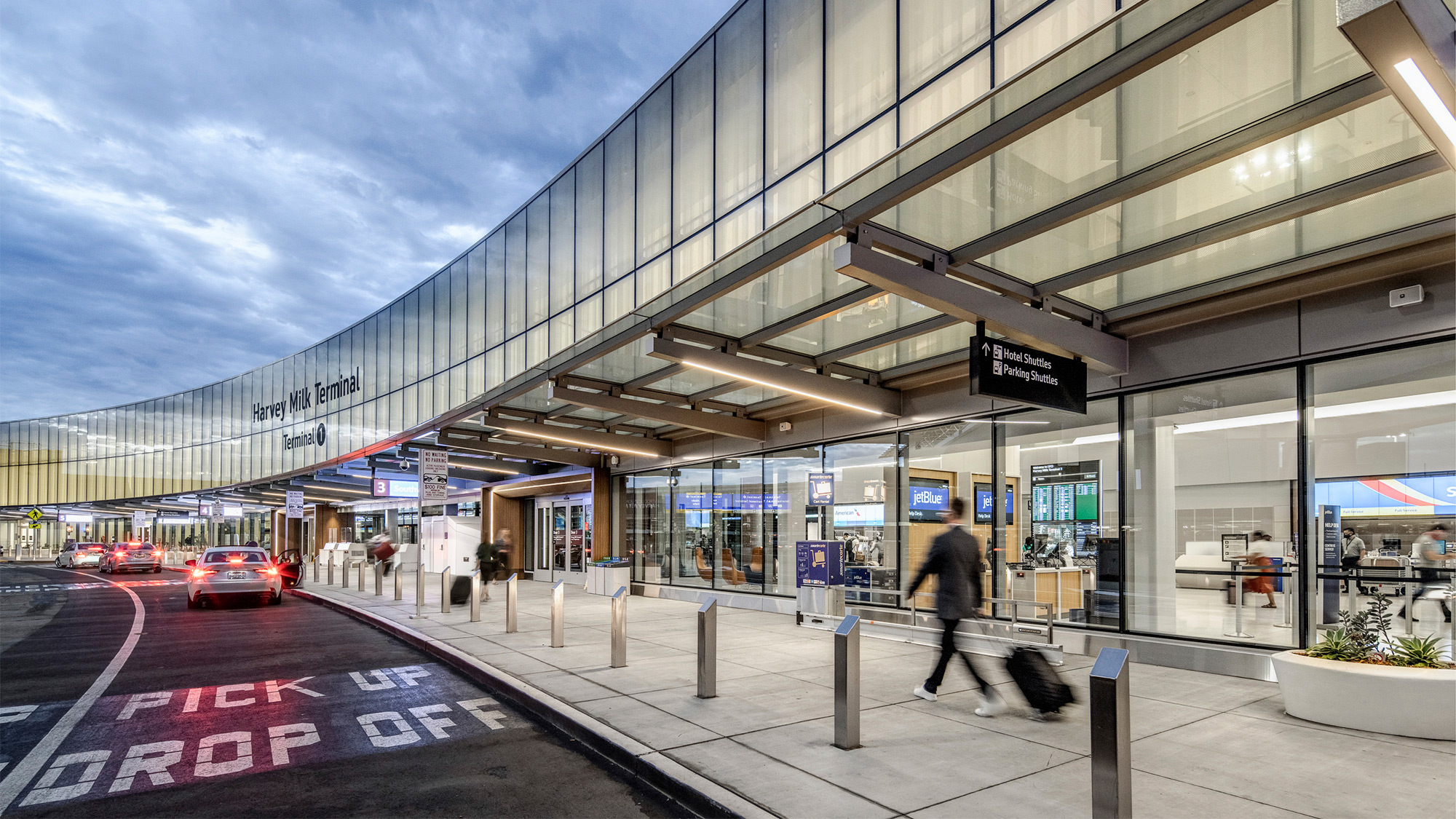 Climate Action Through Design
Sustainability and resilience have become cornerstones in all sectors of our work, and aviation is no exception. The climate crisis taught us that the most sustainable buildings are the ones that are built to last, while the pandemic showed us that flexibility is key when adapting to profound change. This terminal must meet and exceed the needs of passengers for a minimum of the next three decades, so along with our build partner Hensel Phelps, we invested in innovative technology and durable materials that meet LEED Gold USGBC standards and are approaching Platinum certification.
We also met the aviation project's goals of reducing embodied carbon from a construction standpoint by utilizing more steel than concrete and implementing design solutions that support net-zero ready operations.
At SFO, the health of everyone who interacts with the airport is of the foremost importance, especially the 30,000-plus airport employees who work in the terminals every day. Even before the pandemic, advanced mechanical air filtration was the baseline for passenger and employee health at SFO. This state-of-the-art technology, paired with new, large open spaces that easily accommodate social distancing, will provide a healthier environment for passengers and airport employees.
Bright, airy atrium spaces are enhanced by natural light without the heat or glare, thanks to new electrochromic glazing technology, affording passengers comfortable views of nature — an essential attribute when it comes to wellness and wellbeing in the built environment. Natural, biophilic elements in the space combined with safe, durable materials helped Harvey Milk Terminal 1 become the very first airport to achieve a FITWELL 2 Star rating.
In a world that has evolved and will continue to do so, Harvey Milk Terminal 1 is an example of how great design can address change and enhance the passenger experience with human-centered design principles, innovative technology, and digital communication strategies to make traveling efficient and enjoyable.
For media inquiries, email .