Cities Are Rebounding, But Their Relationship With Residents Is Changing
December 01, 2021 | By Sofia Song, Stephanie Benkert
We've reached a pivotal moment for cities. For the first time since we began surveying global city residents in May 2020 — during the early stages of the COVID-19 pandemic — living satisfaction is finally on the rise. In fact, across 10 cities globally, satisfaction has increased over the last six months, with nearly two thirds of residents feeling that their city offers a great experience. Despite these promising developments, nearly a third of urban residents now state they are likely to move out of their current cities.
Our newest Gensler City Pulse Survey, conducted in October 2021, surveyed residents of 15 cities from around the world to understand their experiences and plans as the pandemic continues to evolve.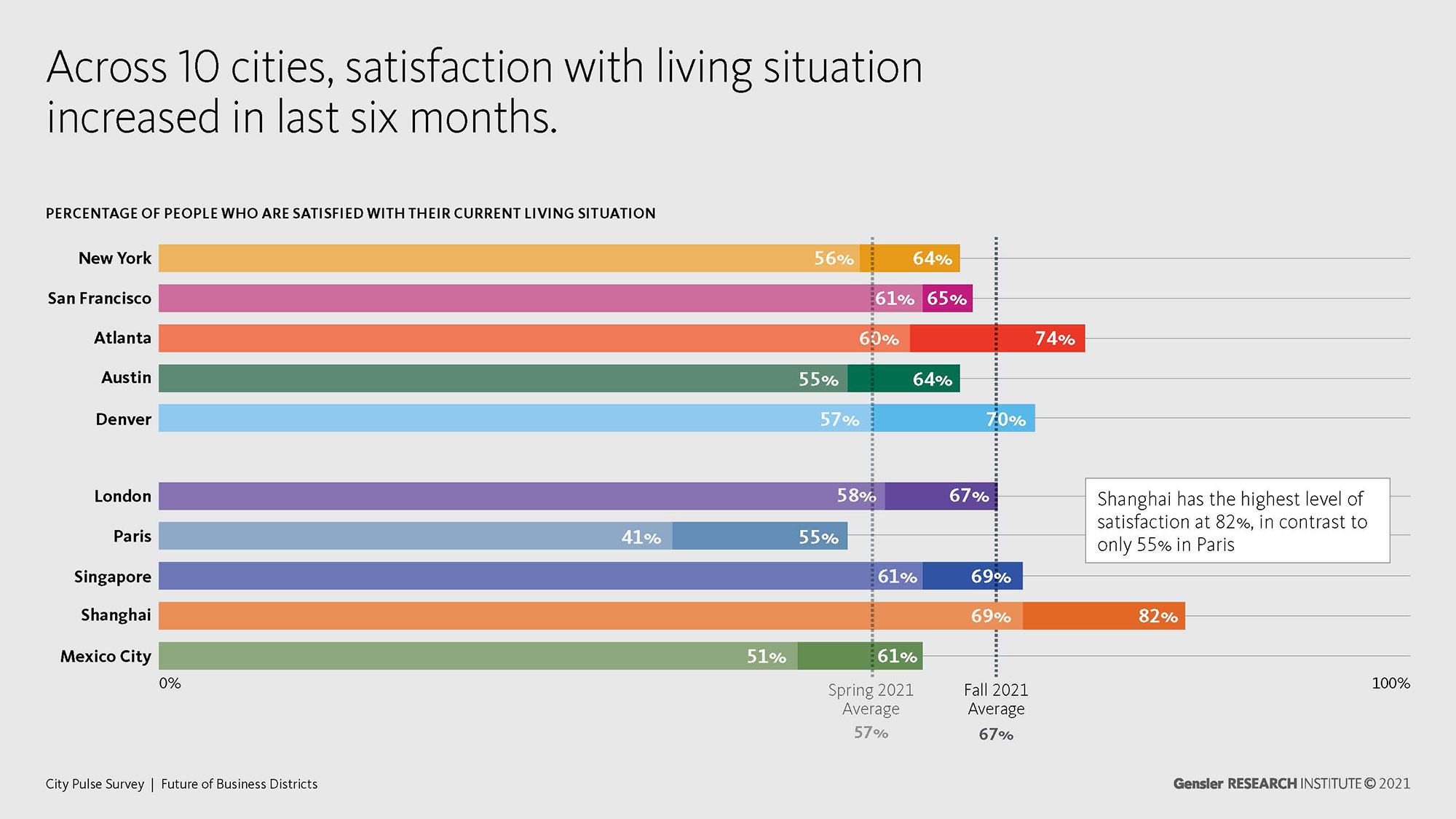 As the COVID-19 pandemic continues to impact the world, urban residents are adjusting their expectations and planning for the future of their city, post-pandemic. Overall, they are reporting a fascinating combination of optimism and restlessness — many who are more satisfied than ever with their city and living situation, but who also report a greater determination to move than ever before. But who are these residents and what is driving these seemingly dichotomous feelings on their cities?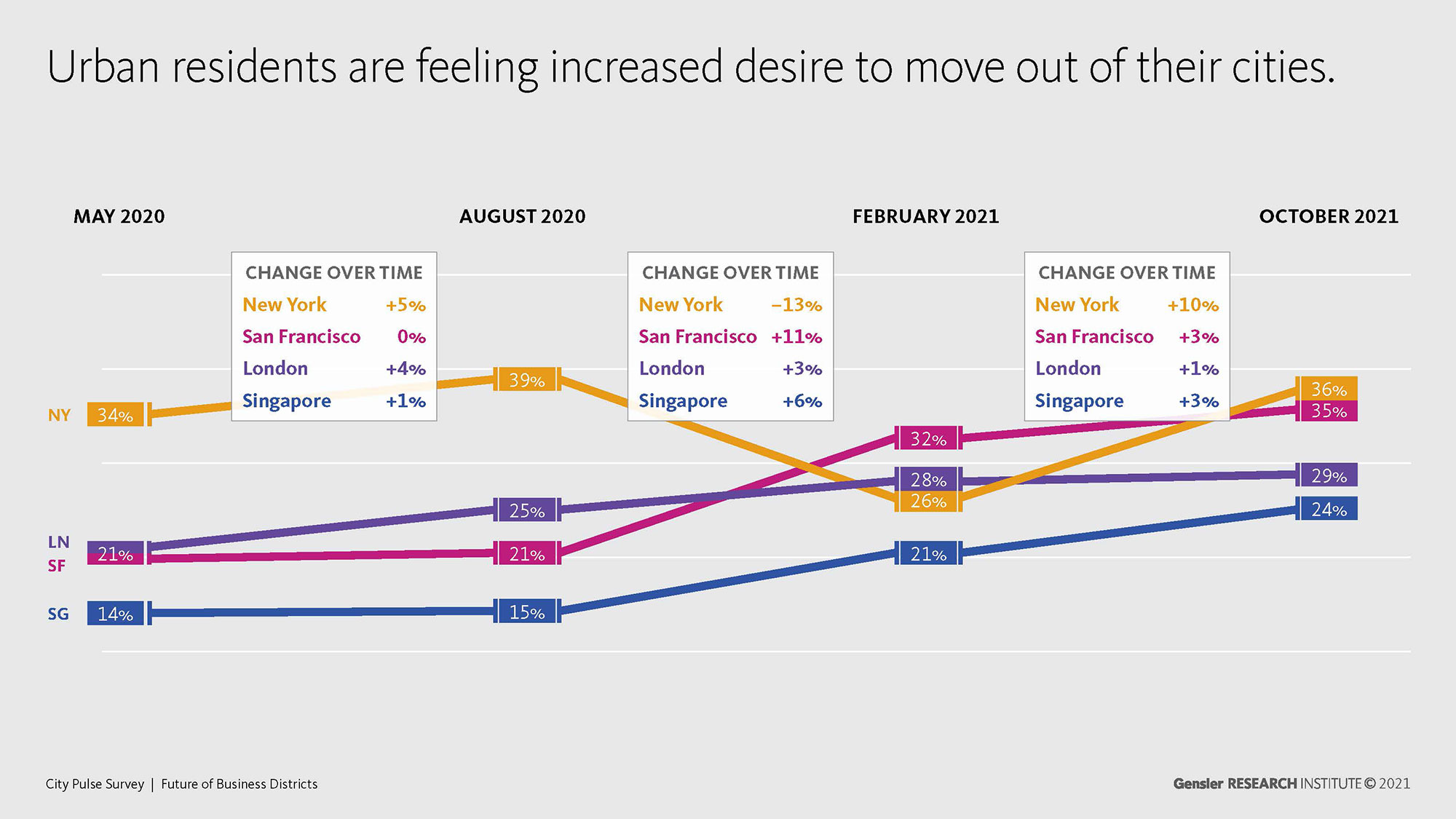 Remote work and shifting priorities
Part of the story can be told in the evolving priorities of urban residents during the pandemic. Respondents rated financial security and flexible working as most important compared to pre-pandemic, along with affordable living and access to private outdoor space. Moreover, one in three residents who can work remotely are planning a move—with 50% of these workers planning a move within a year—often to a neighboring city or suburban area. This represents a fundamental shift of workers feeling empowered to choose where they live, independent of work and away from the business district.
Interestingly, these remote workers are still having a great experience in their cities. Their positive net promoter scores (defined as the likelihood that residents will recommend their city to others) being much higher than those who can't work remotely. But the pandemic has changed how they will structure their lives: nearly half (41%) of workers with the ability to work remotely say that living in a city has become less important to them than before, while only 27% of non-remote workers say the same. And with 53% of these respondents saying they want to move to a smaller city or the suburbs, we can infer residents with remote work possibilities are planning moves more aligned with their post-pandemic priorities of flexibility and affordability.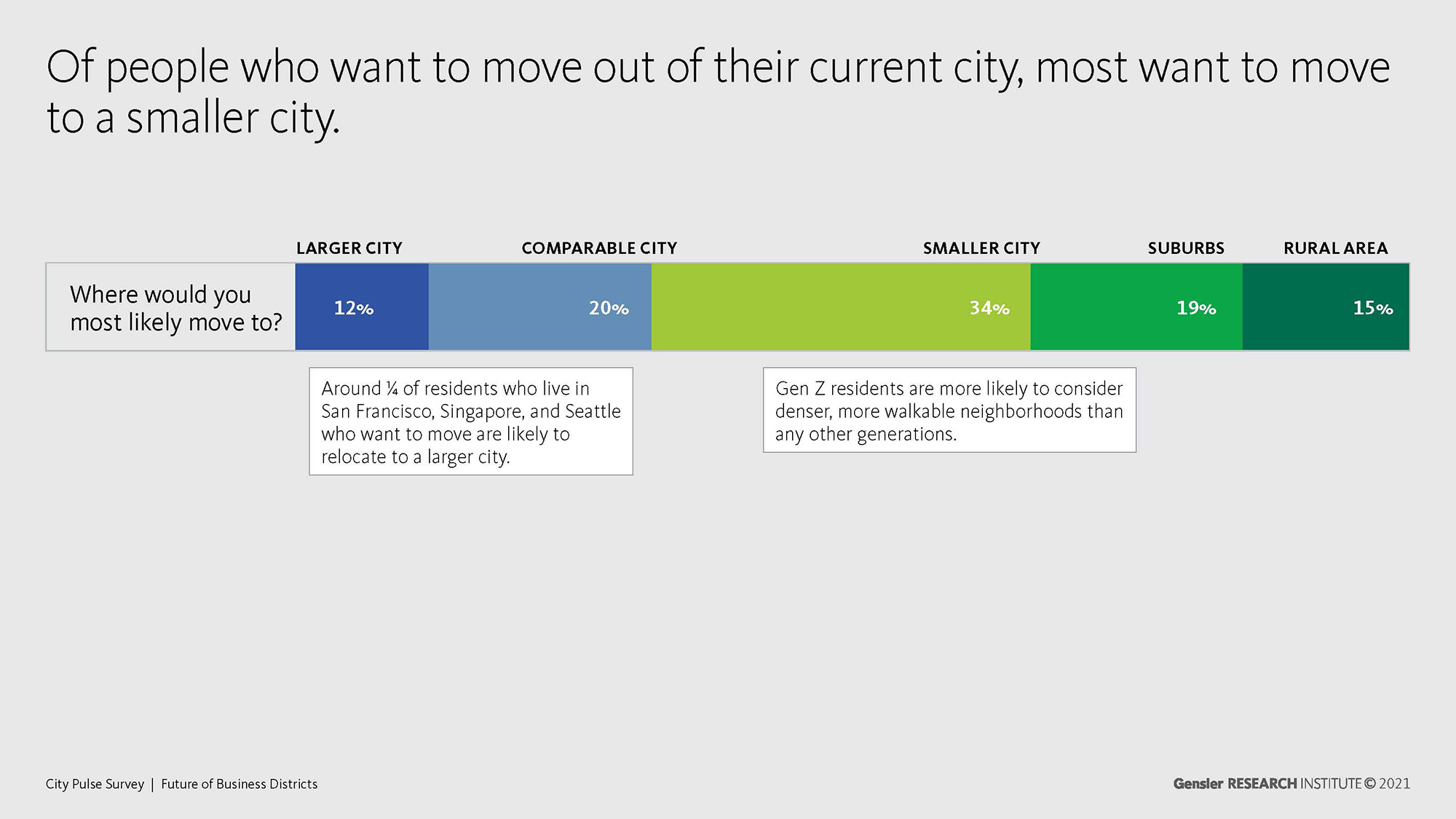 Economics and experience
While choice and evolving priorities are playing a role here, economic inequality is also a large part of the puzzle. Residents at the highest and lowest income levels are having drastically different experiences. Those respondents who identified in the upper income group are by far the most satisfied, with 90% reporting satisfaction with their living situation. In stark contrast, only 35% of the lowest income group reported the same.
A full 79% of those in the highest income group feel optimistic about their city's future compared with just 33% of those in lowest income group. While their experiences are different, they are seeming to lead to the same outcome — these residents plan on moving from their city. In both groups we saw the highest ratio of urban residents who plan on moving, when compared to the middle-income groups. While it seems that this is a clear choice for those in the upper income group — with 63% saying that living in a city is simply less important post-pandemic — this same sentiment isn't as prevalent with the lower income group.
And while the ability to work remotely does play a role in these decisions, even those in the lowest income group who cannot work remotely are more likely to move out of their cities than middle-income residents who can. This suggests that where choice and flexibility are likely the largest factors for our highest income groups, those in the lowest income groups are facing rising costs of living in larger cities, which may be forcing them to find smaller, more affordable neighboring cities and suburban areas — regardless of how it affects their quality of life.
These findings from our latest Gensler City Pulse Survey Fall 2021 show that our cities are rebounding and thriving — but that the relationship between residents and cities is changing. As remote work and evolving priorities create a new normal for cities residents, we must continue to evolve our ideas for how cities can support great experiences for all residents going forward.
For media inquiries, email .