Listening vs. Prescribing: Understanding How Students Perceive Education Spaces Today
March 13, 2023 | By Margot Kleinman
Since we began researching Urban Education and the BIPOC Experience in 2020 student engagement has been at the forefront of our research efforts. To design schools where students feel like they truly belong, it is critical to hear directly from the students about their lived experiences. From October 2021 to March 2022, we had the opportunity to work with four motivated high school students from Uncommon Schools who pushed us to listen more closely — and reminded us that "every little detail matters when it comes to school design."
Uncommon Schools is a nonprofit organization that manages public K-12 charter schools with a mission to close the achievement gap and prepare students from low-income communities to graduate from college. Together, we developed the Design Research Scholars program, which introduced students to an architectural project for the first time and exposed them to a potential career path while giving us an invaluable opportunity to directly engage with and learn from students over an extended period.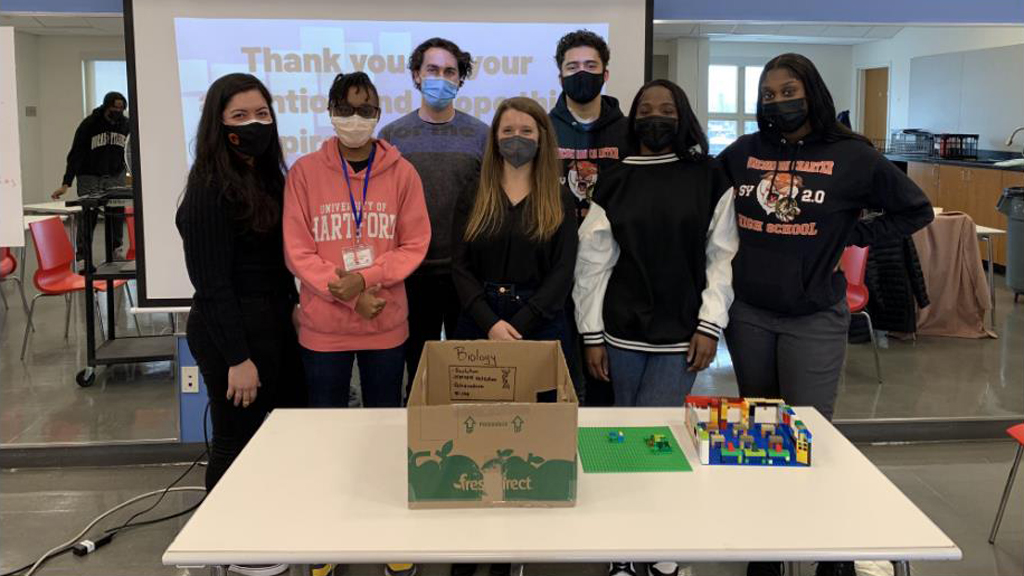 The six-month long engagement began with students Alexus Rowe, Tiffany Barnes, Matthew Santiago, and Nicollete Medford documenting their sense of safety on their way to school, upon arrival, and into the classroom. We asked them to consider what made them feel like they did or didn't belong throughout their school days and how the space and people impacted those feelings.
Oftentimes, students shared comments and insights without realizing how powerful their words were. For example, Tiffany mentioned the security bars on the windows feeling like a jail: "I don't like it, and I don't feel safe." A member of her school's basketball team, Alexus noted "cleanliness and safety make the first impression" when she arrived at different schools for games.
"I want to go above and beyond because being in this program is a chance for me to be heard, I never really had the option to say 'Oh, this is how I feel a classroom should be' — I was normally just placed in a classroom based on someone else's opinion." -Alexus Rowe
The core project for each student was to select an education space they wanted to study and develop a design proposal for. Their task was to consider the ideas of safety and belonging for themselves and their classmates, incorporating those ideas into the design of their space. Similar to a college-level architectural course, we hosted a mid-review and a final review with working sessions in between during which we would have discussions about their current school experiences and what they would like to see changed or improved.
Although we taught them the basics of architectural drawing, the students developed their own way of working and designing throughout the program. They chose to sketch, collage, use gaming and 3D modeling software, and built physical models to convey their ideas.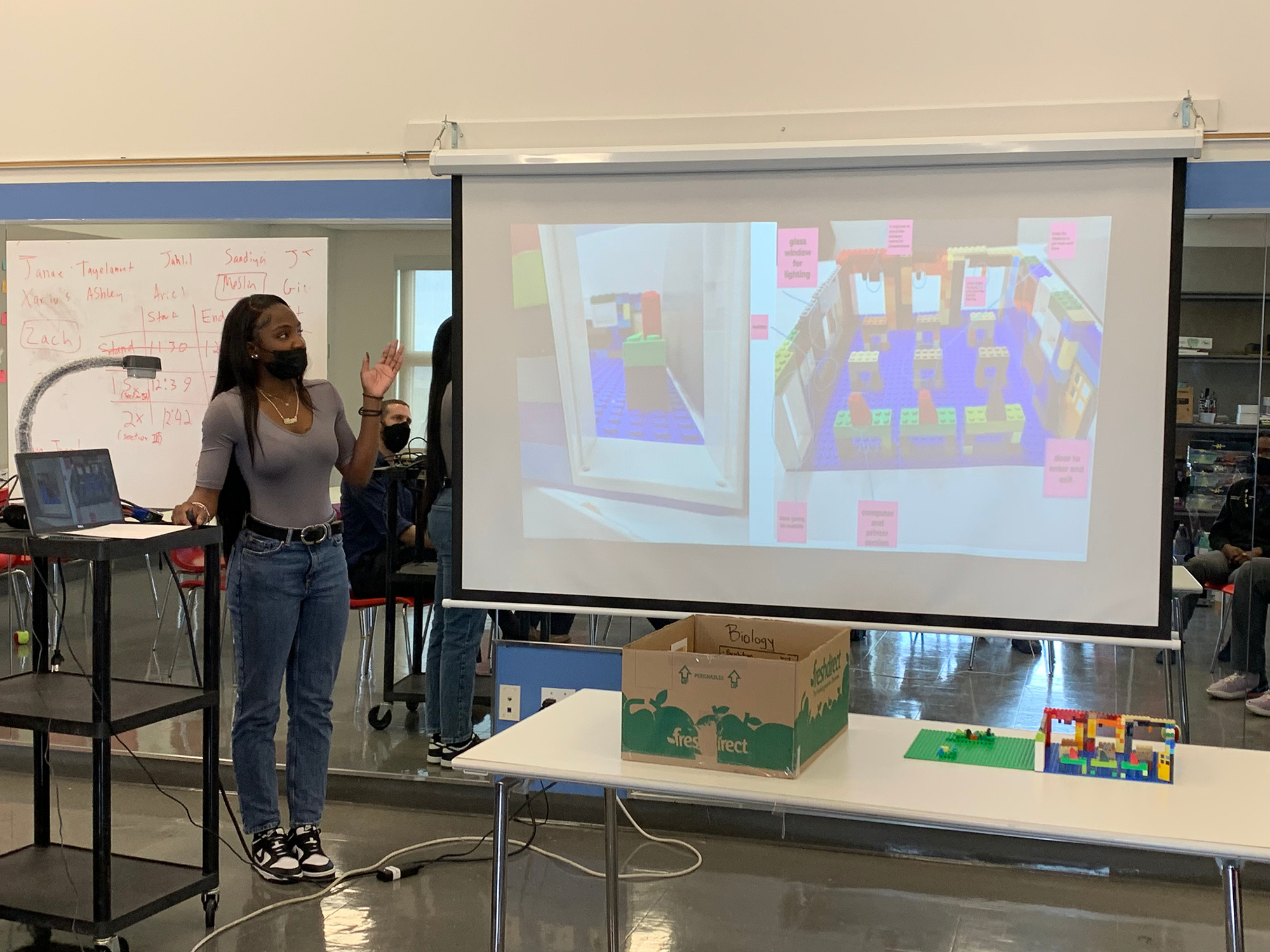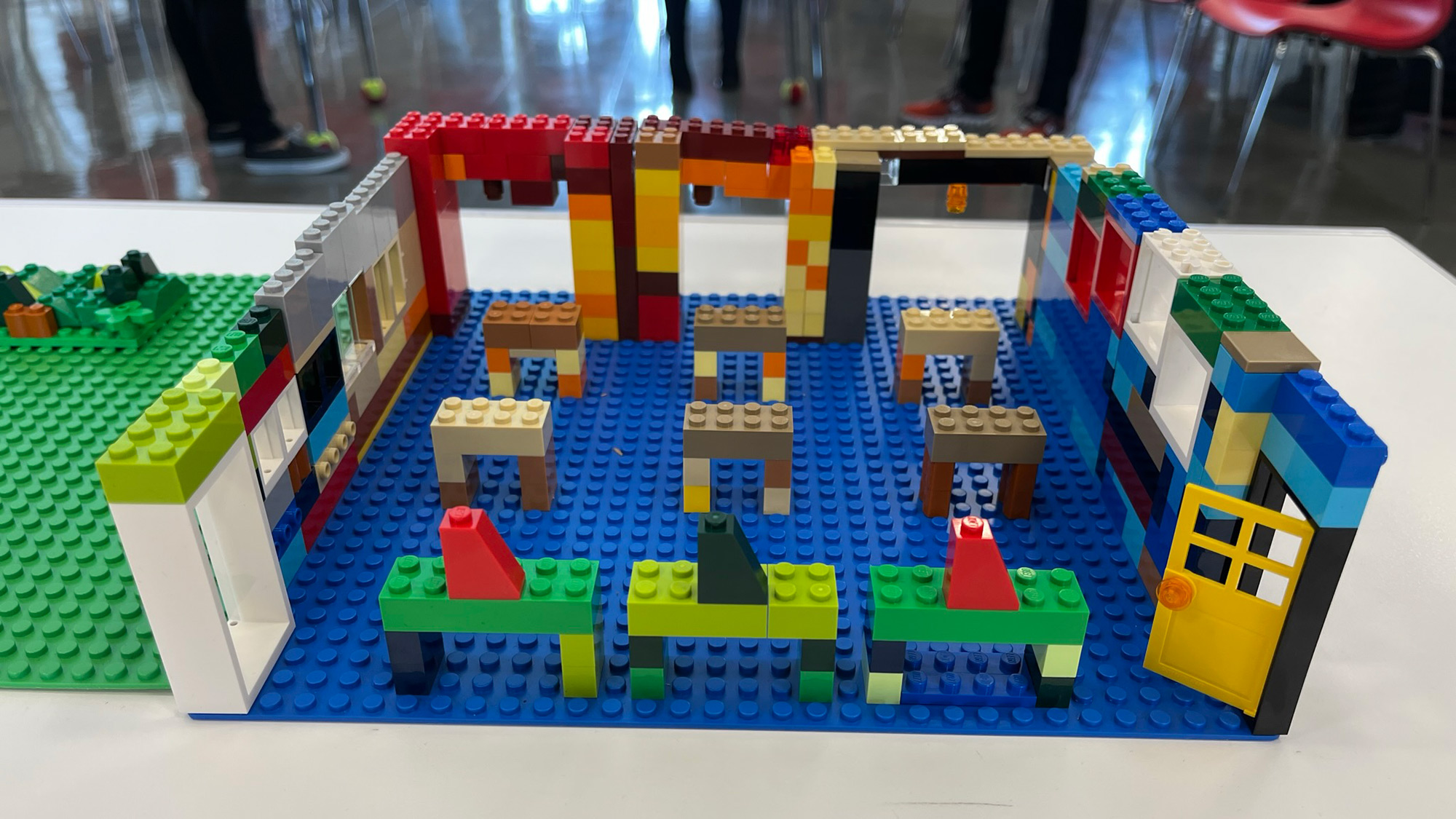 Alexus' proposal relocated the library of her school from the ground level, where it was too close to the cafeteria and school entrance to be a productive place for studying, to an upper floor, where she believed it would encourage more focused work because students would be intentional about deciding to go to the library. She created a survey and distributed this among her classmates to collect feedback on what would make this space offer a sense of belonging and safety, and proposed putting quotes on the walls chosen by students. This idea inspired her classmates and felt empowering to them by giving them a sense of choice.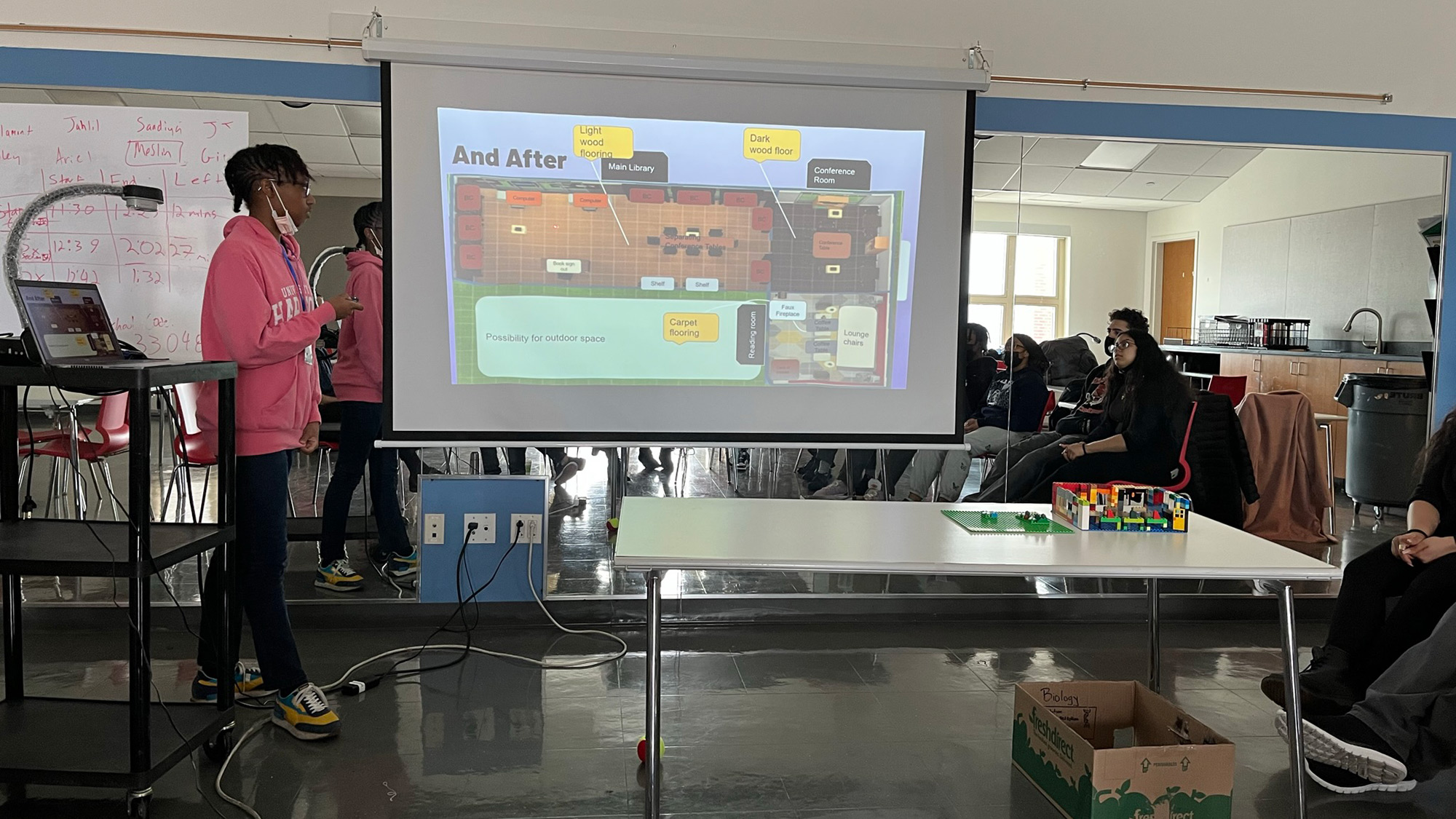 Nicolette used her strength as a writer and former experience with gaming systems to tell her story. She designed a library because her school did not have one, and it was always a safe space for her when she was growing up. She first used Minecraft and then the Sims to visualize her ideas and study materiality and furniture in a series of rooms with different materials and functions. By the final review, she had created video flythroughs of her space.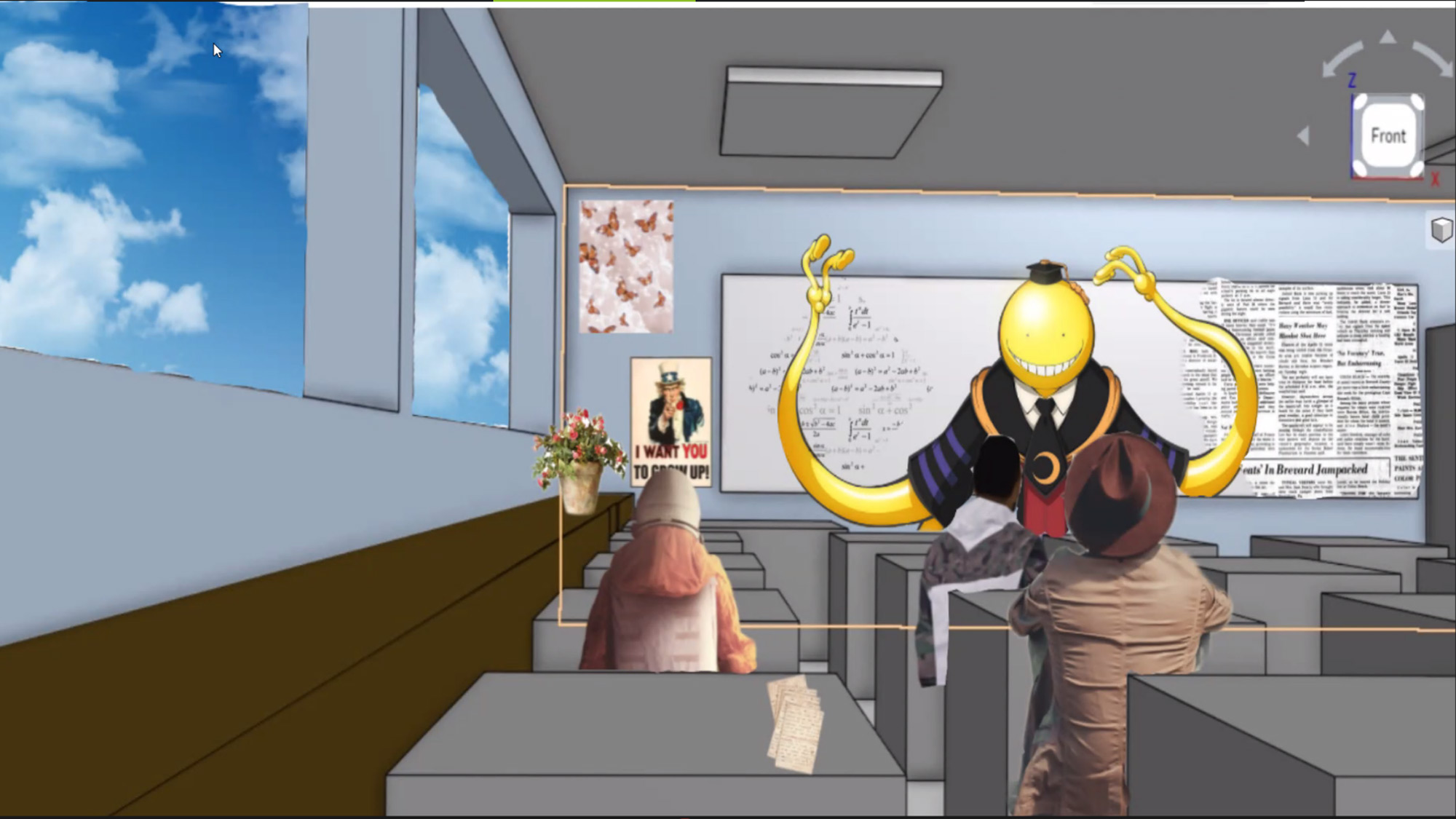 Matthew chose to focus on his history classroom and the systems within it that affect everyday users. He wanted to provide more control over ventilation and lighting (both artificial and natural) so that these variables could be adjusted individually within the classroom throughout the day and students felt safe regarding visibility from the street. He studied classroom types of different age groups to best determine the furniture and layout. He taught himself a 3D modeling program, which helped produce different iterations of classroom types throughout the course.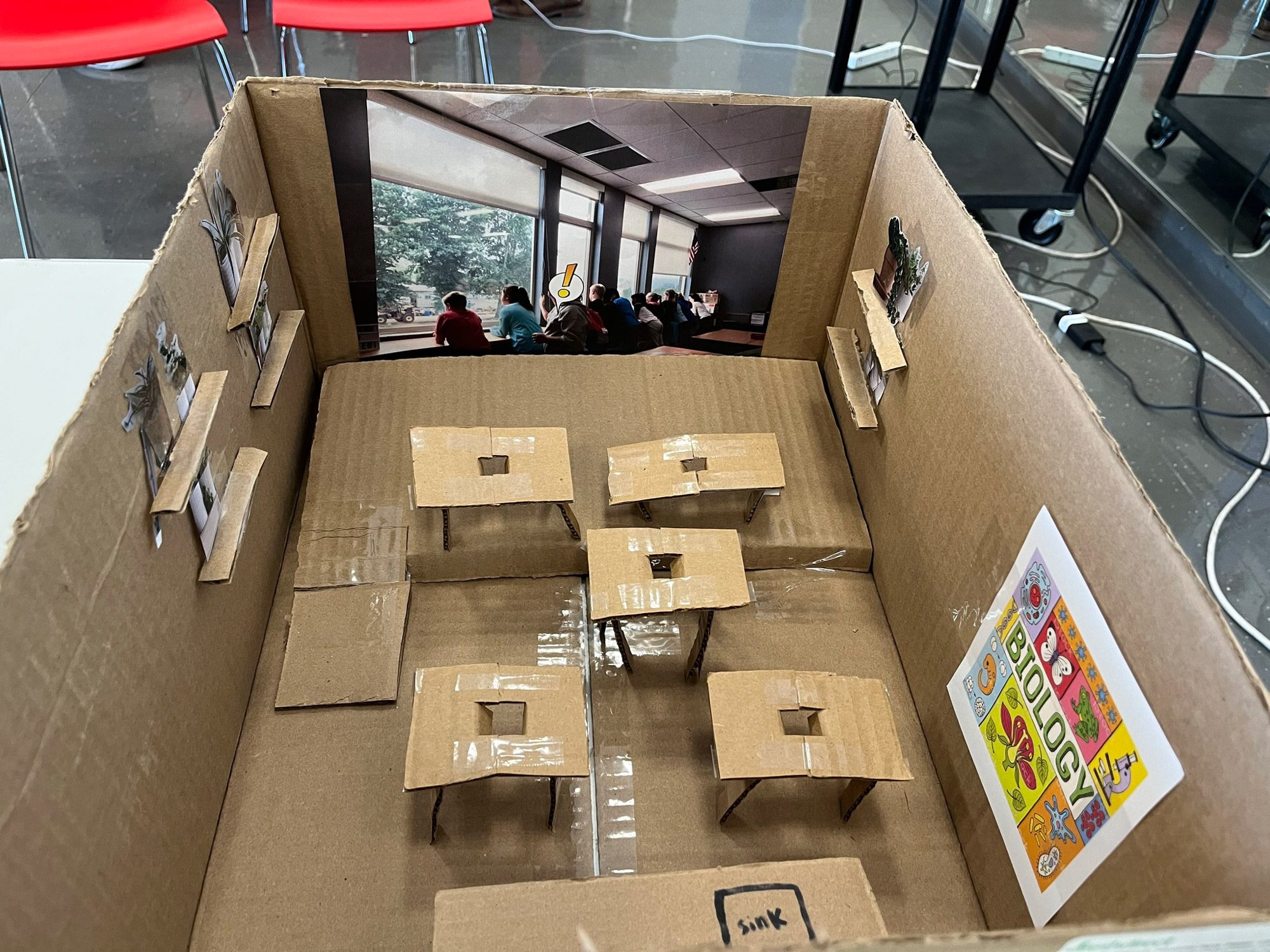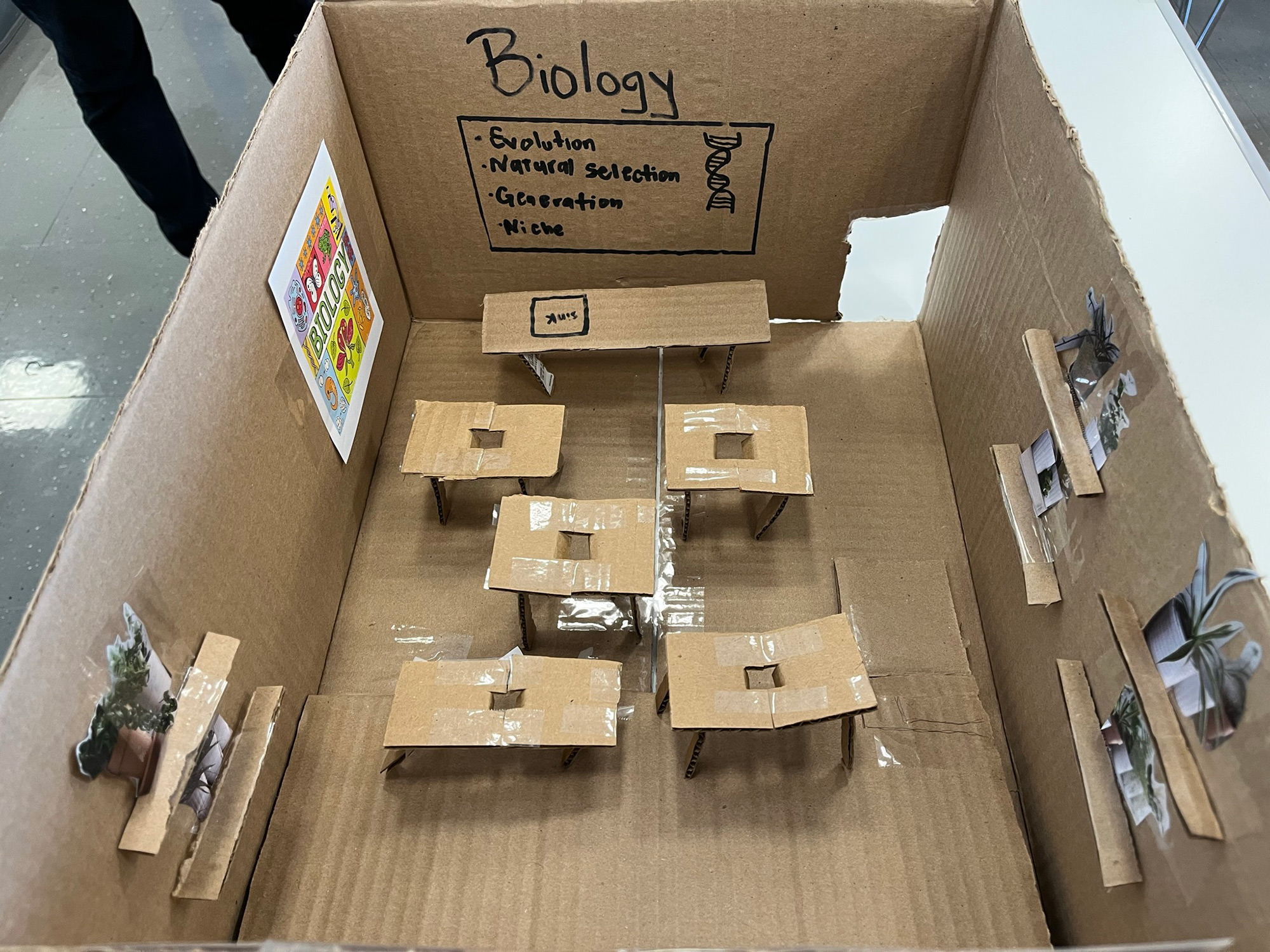 Tiffany chose to improve upon the biology lab that her school already had. Her ideas centered around creating more dynamic learning spaces with opportunities for engagement. The key feature of her classroom was a living wall of plants that would be cared for by each student, creating a sense of ownership and motivation in the classroom. She wanted furniture to allow for collaboration but not encourage socializing during class to avoid distractions.
The students were incredibly creative and insightful as they reflected on their school experiences. Not only did we discuss their chosen spaces and projects, but working together, they taught us a few important themes as we continue to engage with students:
Listen more: Students may not always have the right words, so we need to listen more closely. Once heard, they feel empowered and are more motivated, and engaged.
Students appreciate ownership and independence: High school is critical in developing personal drive and establishing oneself. Ownership over their work, time, and space greatly contributes to their sense of belonging.
Every detail matters: Students are impressionable – the way a school is managed and maintained effects the way students feel in the space.
As a result of the Design Research Scholars program, we are proud to share Matthew has since been accepted to study architecture at a university, while Nicollete is looking to pursue her library project and explore architecture as a career. This extraordinary outcome demonstrates the impact of engaging students and what it means to them to feel heard. Thank you to Mike Taubman, Shraddha Nunziata, and Raevan Henderson of Uncommon Schools for their support throughout this program.
For media inquiries, email .